The acronym OKR stands for Objectives and Key Results,  it is a popular management technique or tool to help companies focus and implement the strategy.
The introduction of OKRs is generally attributed to Andy Grove, who pioneered the concept during his tenure at Intel. John Doerr who attended a course within Intel taught by Andy Grove was an ardent supporter of the OKR concept. John then introduced the concept at a start-up he had invested in called Google. OKR's became central to Google's management methodology and is credited to have greatly contributed to Google's growth.
OKRs were successfully implemented at LinkedIn, Twitter, Uber, as more companies recognized and started to take advantage of the OKRs framework. Research shows that specific goals can lead to better performance and goal attainment.
OKRs aim to achieve business goals and superior organizational performance through alignment of employee performance and team results. It is seen as a way to focus on value creation, boost self-management, and create high-performance-oriented teams. Let's delve further into the OKR concept, benefits of OKRs, and how to write them.
What are the Objectives and Key Results (OKR)?
Objectives and Key Results help set a specific strategy and goals for a team or organization over a specified duration. At the end of the time period, you evaluate how well you succeeded in meeting those goals. Spending time in defining team goals and organizational strategy in a specific measurable manner can help align everyone's efforts.
Let's break up the words:
Objective – What you want to accomplish
Key Result – Quantitative data to know if you are there.
The key part here setting a vision and knowing how far you are from achieving it. For example, if you want to 'Win the World Cup', you can set up two key result areas such as 'Average goal rate of 2.0 in the tournament' and 'Ball possession rate of 75%.'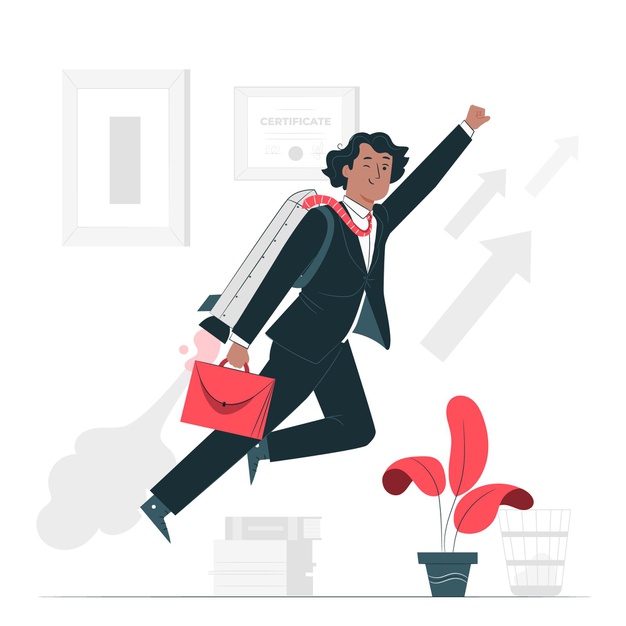 Let's go deeper into OKRs meaning:
An Objective is setting a goal to be achieved in the future. It provides a clear direction of where you want to go. It could be referred to as an inspirational vision that is time-bound and specific.
An Objective refers to the 'What' and they should:
express goals and visions,
be aggressive, aspirational yet realistic,
be time-bound,
convey endpoints or end states, and
be objective, tangible, and clear.
A Key Result is a quantifiable target value that measures the progress towards an objective. It expresses measurable milestones that describe the progress towards an objective.
A Result refers to the "How" or "How do I know I'm there?", and they should:
be measurable milestones,
be easily quantifiable (Score of 0-100% or 0 to 1.0),
include evidence of completion,
achievable yet difficult, and
measure business results and not output or tasks.
Read more: How To Create An Effective Status Report?

How to Start OKRs?
An OKR starts in a cycle so that teams and management can set goals, view results, discuss learnings, and account for environmental changes. A strong feedback mechanism will help set the right goals for the following cycles.
When setting project objectives, start with organizational OKRs and then break them down to team OKRs. Organizational OKRs should be aspirational and should have all stakeholders' buy-in.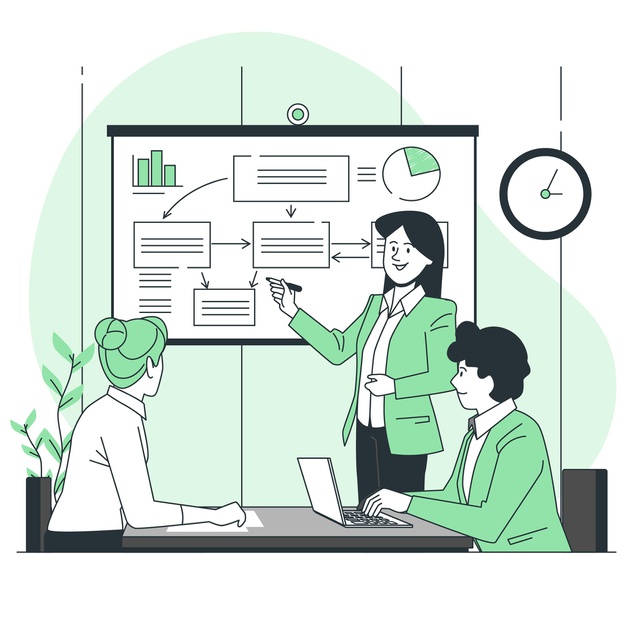 Team OKR's could be product-wise or departmental, but they must roll into the organization's objectives. They could be a mix of top-down and bottom-up suggestions, this enables all organizational employees to contribute and strive with earnest towards the shared goals.
Each team could have three to five objectives with at least three key results for each objective. It's critical that every team tracks their active progress towards their objectives.
Set specific review meetings to enable everyone to be aware of the progress and discuss the challenges they might face. OKR's are typically part of quarterly planning but they can be monthly or annual too.
It's important to be transparent on what objectives different teams are working on and their current progress. Establish clear and consistent communication to discuss progress and set accountability amongst teams and members.
Review OKRs as needed or as per environmental circumstances. Be flexible to update the company, team, or personal OKRs as necessary.
Why is OKRs Important?
OKR's enable organizations to define a specific purpose and get everyone to contribute and focus on realizing the purpose while adding value. If OKRs are implemented correctly they have multiple benefits for the organization:
1. Improves organizational goal alignment
OKRs help managers and employees align the work they do to specific organizational outcomes, this sets everyone to move in the same direction.
This is the key benefit of OKRs. Top management sets the company-wide OKRs (preferably in consultation with teams) and each team sets their OKRs in line with the same OKRs. Each individual would also set their own OKRs that roll into the team and company OKRs.
2. Increases focus
OKRs help to prioritize team outcomes in relation to their impact in achieving organizational goals. The simple and reduced number of objectives allows employees to focus on their daily work. It helps reduce time spent on urgent but unimportant tasks. It's recommended to have a few objectives per team so that their efforts are focused in one direction.
3. Increases employee motivation and commitment
As OKRs are transparent, aligned, and created in agreement it gives a sense of higher purpose to employees and management.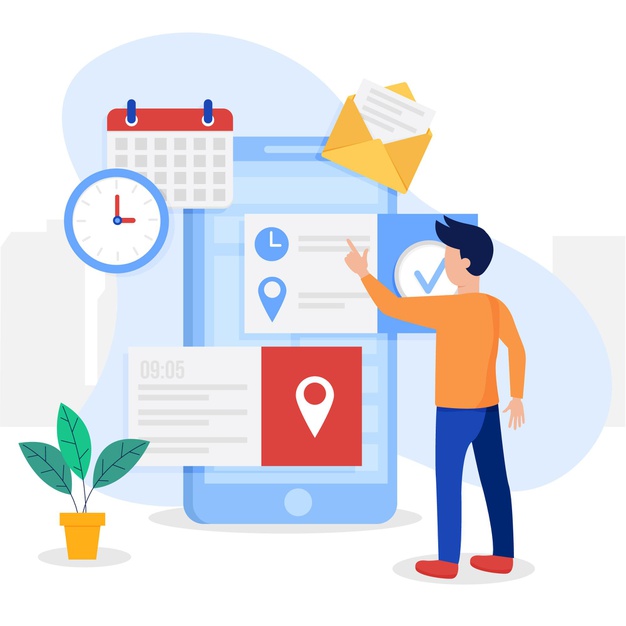 This in turn increases their engagement, motivation, and commitment.   This is an important factor as according to Gallup only a third of employees are engaged worldwide. Higher engagement in turn leads to higher job satisfaction and improved productivity.
4. Enables self-management
When team members are involved in goal setting through a bottom-up approach of OKR definition, it results in greater involvement and commitment from them. With this approach, team members hold themselves accountable and are self-motivated to achieve their goals.
5. Fosters a spirit of innovation
OKRs that are aspirational, set employees to think of creative and innovative ways to reach their goals. OKRs could be specifically structured to encourage employees to think out of the box. It's important to not get bogged down when 100% achievement scores are not met, 70-80% scores are great. If new innovative practices arise from the OKR practice then the organization either way benefits.
OKRs Examples
Let's take a quick look at how to write OKR's. As mentioned earlier, think of realistic yet aspirational objectives and keep quantifiable data for the results.
OKR Example 1:
Business Objective: Launch a financial consulting website
Key Result 1: Research and purchase the best available domain name by September 1
Key Result 2: Create a website framework, content strategy, and blog post guidelines by December 1
Key Result 3: Publish your first blog post by March 1
OKR Example 2:
Customer Objective: Improve customer experience through self-service within the year
Key Result 1: 20% Increase in the self-service method of ticket resolution
Key Result 2: Reduce cost of ticket resolution by 25%
Key Result 3: Reduce ticket closure time to 36 hours
Read more: OKRs Explained with 10 OKR Examples!
Set Your OKRs Strategy with Bit
Bit is designed to run your entire company's work, processes. and projects, so your employees can work more efficiently.
Bit's workspaces are a great way to preserve your company's OKRs and work in one space for your team to access. Create workspaces for personal use, teams, departments, clients, or the entire company.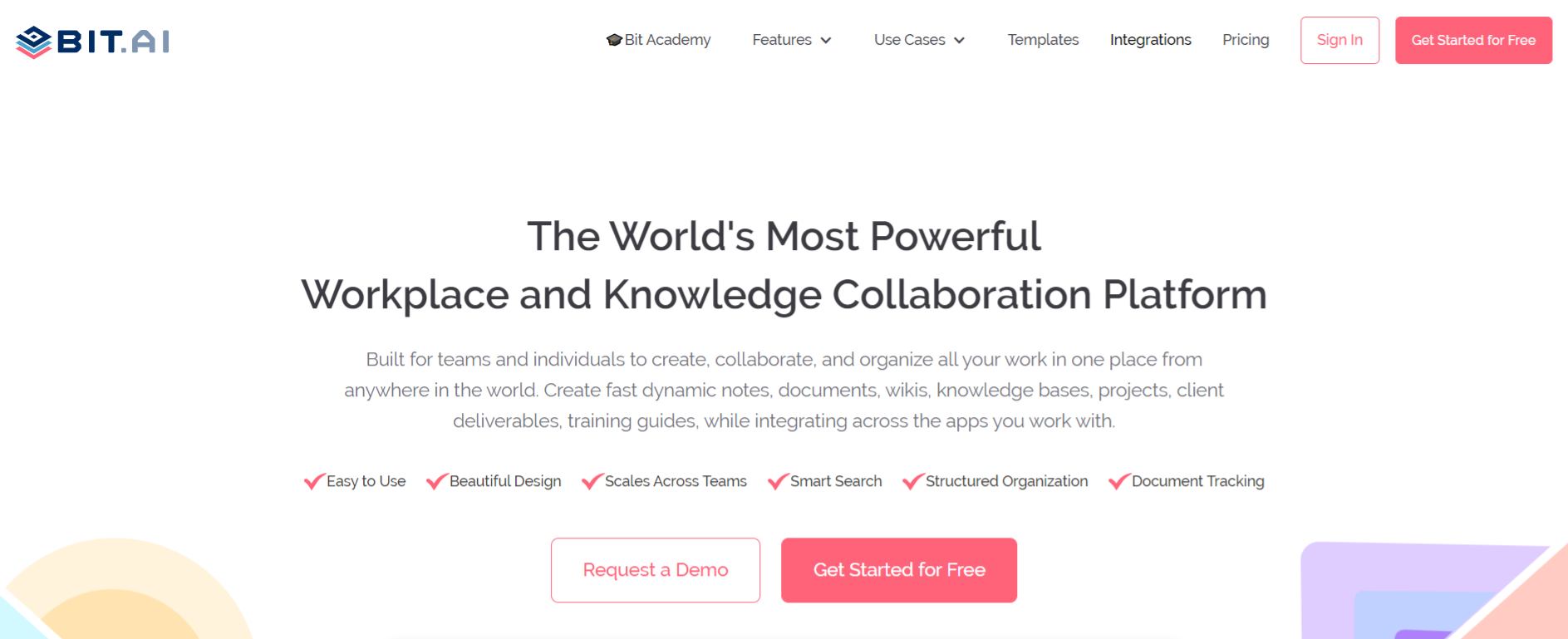 Bit helps keep all of your OKRs in one central place so you can communicate around any of your goals, weekly projects, content, notes, meeting minutes, and more. Bit is where work happens.
Work with your team in real-time co-editing and using inline comments along with @mentions to bring your colleagues in the same place to discuss your OKRs and make smarter decisions. Use Bit's chat feature so that conversations take place around work.
Bit's smart search makes it fast and easy to find what you're looking for. Search across workspaces, folders, documents, the text inside documents, and any type of digital content that has been added. Find anything you need in seconds.
Works with your team to weave content together to visually and contextually discuss work. Reduce the number of tabs that need to be opened and bouncing around applications. Do your work in one place while integrating your content across 100+ popular applications and any type of digital content into your living documents.
Share important Bit documents with a trackable link and measure when a document was accessed, how much time was spent, and how frequently it was accessed.  Enables you to monitor documents to create efficiencies in the work you do.
Get Started with OKRs Today!
Considering all the benefits of OKR, it seems that the OKR tool is easy to implement and is worth trying. It's likely due to the simplicity and inclusiveness of the OKR framework, organizations would be willing to take the exercise rather quickly.
To really adopt them effectively though, a lot of effort is required from the team. It would be worthwhile to read more on the topic before you begin. Google published its OKR playbook on the What Matters website. The Playbook explains how to write effective OKRs and common OKR-writing mistakes and traps. Do let us know your thoughts on OKRs and your tips to get it done right.
Further reads: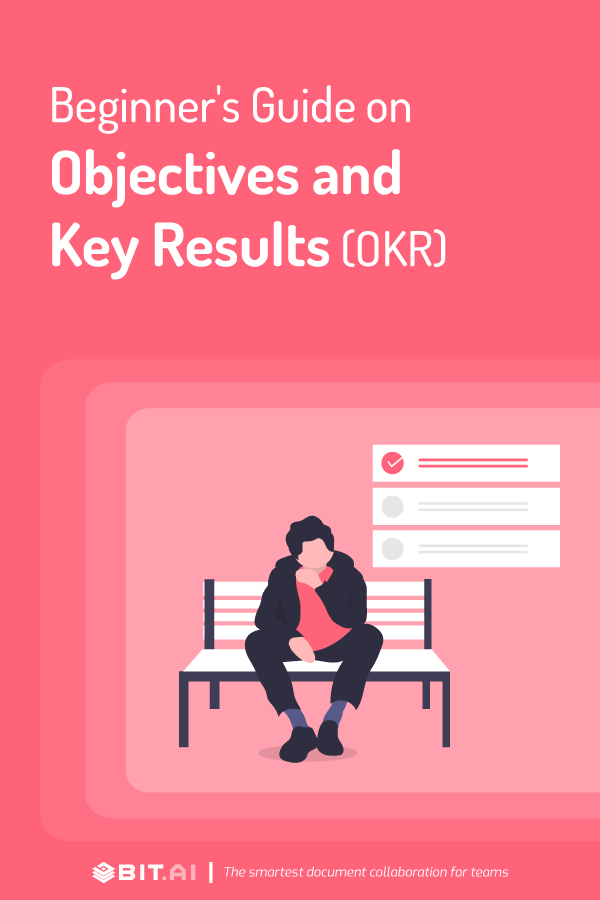 Related posts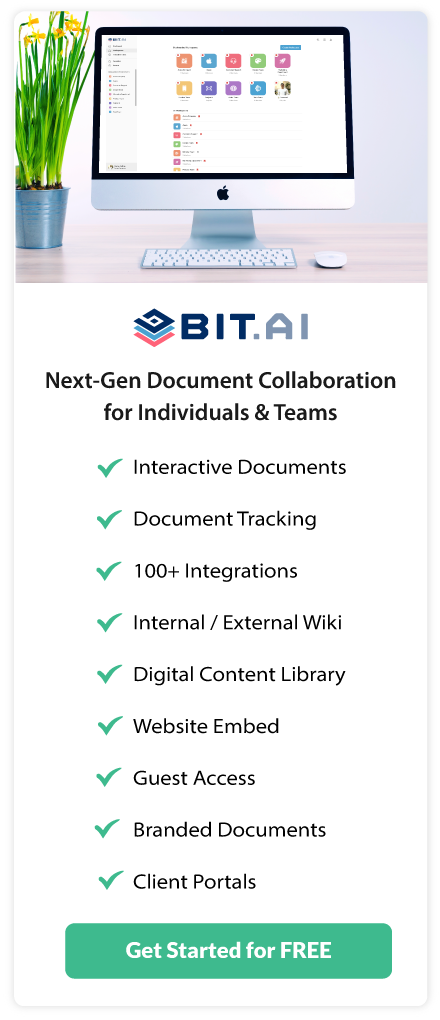 About Bit.ai
Bit.ai is the essential next-gen workplace and document collaboration platform. that helps teams share knowledge by connecting any type of digital content. With this intuitive, cloud-based solution, anyone can work visually and collaborate in real-time while creating internal notes, team projects, knowledge bases, client-facing content, and more.
The smartest online Google Docs and Word alternative, Bit.ai is used in over 100 countries by professionals everywhere, from IT teams creating internal documentation and knowledge bases, to sales and marketing teams sharing client materials and client portals.
👉👉Click Here to Check out Bit.ai.