Are you a marketer?
Do you think your products and services are the very best?
Relax, it's not uncommon to think that way. In fact, there is a high likelihood that your claim of your product being the best is actually true. Except, here lies the problem —
How do you prove to a potential customer that you're the best?
Sure, blog posts and articles are good ways of promoting your product/service, except there is still no evidence within them that proves that you're a great choice for a potential customer. A customer just has to take your word for it, which might not be as effective.
What else can you do?
That's where client case studies come into the picture! In fact, according to a survey (source), 62.6% of people said that case studies are very effective in generating leads, as opposed to 58.2% of people who said that blogs are effective.
Want to know more about creating effective case studies?
Read on!
What is a Case Study? (Definition)
Before we dive into the complete format of an effective case study, let's briefly take a look at what case studies are in the first place…
A case study explores a person's or a business's particular challenge or goal, and how they overcame it. Case studies can vary significantly in length and concentrate on several details relating to the initial challenge and the solution applied.
In business and professional settings, it is common for a case study to tell the story of a successful business partnership between a vendor and a customer.
These case studies, when made effectively, can document the positive impact your business has on existing or previous customers.

Now that we've gotten an idea of what case studies are, let's take a look a look at the format of a stunning-looking case study…
Format of a Case Study
The format of a case study is pretty simple. All that you need to remember is to keep it brief and concise. Here goes…
1. Title
The first step in the process of writing a case study is to write the title. Your title needs to be brief but interesting. The idea is to capture the essence of the work you did for your client.
2. Subtitle
The next step is to write the subtitle! Use this section to highlight your major accomplishments. The key is to answer a simple question, "what was done?"
You could summarise your major accomplishments by writing them down in bullet points. The rest of the case study will explain the process of how you attained your accomplishment.
3. Executive Summary
In the executive summary, you are supposed to write a couple of sentences giving a summary of the entire story. You can also follow that up with 2-3 bullet points that display the metrics for showcasing success.
4. About the Subject
After you've covered the basics, the next step is to throw some light on the customer/client that you have served rather than on your product and services.
This sets the foundation of the story that you're building where you introduce the main character of the story.
Pro Tip – You can use your client's LinkedIn Business profile or refer to their business website to gather some intel on who they are, and what they do!
5. Challenges and Objectives
After you've given a brief introduction to your client, in the next section, describe the challenges that your client was facing before using your product or service. You can even ask yourself, "What situation was your customer trying to change or improve?"
The answer to this lies in the challenges and objectives that you're trying to mention. You could also include the goals and objectives that your client was out to achieve. This is a good section to use quotes from the client's experience.
Furthermore, you can also share the client's journey and talk about the steps that the customer took to solve their problem.
Once you're done writing that, you can also share the story of how the customer found out about your company, which can then be tied up to the next part of the case study…
6. How the Products/Services Helped
In this section, you get a free pass to boast about your product. You need to mention how your product or service helped the customer solve their problem. You can easily pitch your product or service without thinking about sounding too flashy or promotional.
You can also get into the details and share how the customer implemented your product or service, including things like time commitment or obstacles that they were able to overcome. You need to be honest about the kind of problems that arose and how they were ultimately resolved.
7. Results
This section basically proves how your product or service particularly benefitted the person or company and helped them achieve their goals. You can provide details on how well your product solved the customer's problem.
This section should ideally be data-driven, where you should use numbers to quantify your contributions. Some examples of that could be savings, revenue gains, sales growth, and return on investment, etc.
8. Supporting Visuals or Quotes
An important component of any case study is supporting visuals or quotes. You should pick out some of the most powerful quotes that you can feature in your sections, as well as visuals that support your story.
9. Future Plans
One of the final sections of a case study is the part where you showcase what the future ahead looks like for your clients. You could comment on the plans of your client, irrespective of whether or not those plans involve you.
10. Call to Action (CTA)
Although this step isn't compulsory for every case study, it's always encouraged to put a passive CTA at the end of a case study. This allows you to encourage your readers to take any action on your website after they've learned about the kind of work you do.
You've got the perfect method of writing a case study, but do you have the perfect tool for writing a case study?
Scroll ahead!
Bit.ai: The Ultimate Tool for Creating Case Studies
Since case studies can act as one of your key marketing tools, you MUST put your best foot forward.
What does that mean?
That means no more sloppy looking documents, with erratic formatting, and boring layouts!
Bit.ai has got your back.
What is Bit.ai?
Bit.ai is the world's most powerful document collaboration platform and virtual workspace. It was built to help teams collaborate on their work, weaving in every type of digital content, and share knowledge intelligently.
Why should you use Bit.ai for creating case studies?
Multiple Workspaces – One of the best features of using Bit for the creation of case studies is the fact that you can organize your team into multiple workspaces where they can work easily.
Auto Formatting and Tables – Another A+ on our report card, you don't really have to worry about formatting anymore when we do it all for you! You can simply focus on your content and we'll help you with the design and formatting bit.
Document Templates – Feeling uninspired? Bit's template gallery makes it easy for you to create and get started on your case study.
Supports 100+ File Formats – You can add hundreds of file types to your case studies, from rich media, and embeds that'll make your documents stand out.
Visual Embeds & Weblinks – From your client's LinkedIn profile to the graphics and tables that you want to add, Bit will easily integrate all of this seamlessly in your case study document.
Real-Time Collaboration – You can also invite your colleagues, partners, and clients to join you to collaborate on your case study and work together in real-time.
Import Documents – If you wish to import documents from any major platforms into Bit, you can do that! Using Bit, it's easy to move your content over and start working intelligently!
Wrapping Up!
…and voila! With that, you're all set to write your very own perfectly-formatted case study! Just make sure that your case study sounds more like a story than anything else, and it's surely going to get you more leads and sales! Take our word for it!
Have any more doubts or queries on how to create case studies? Feel free to reach out to us on @bit_docs on Twitter and we'd love to help you out!
Further reads:
Scientific Paper: How to Write it? (Steps and Format)
Release Notes: How to Write it? (Free Template Included)
Technical Documentation: What, Why, and How?
How to Write an Insane White Paper that Gets High Engagement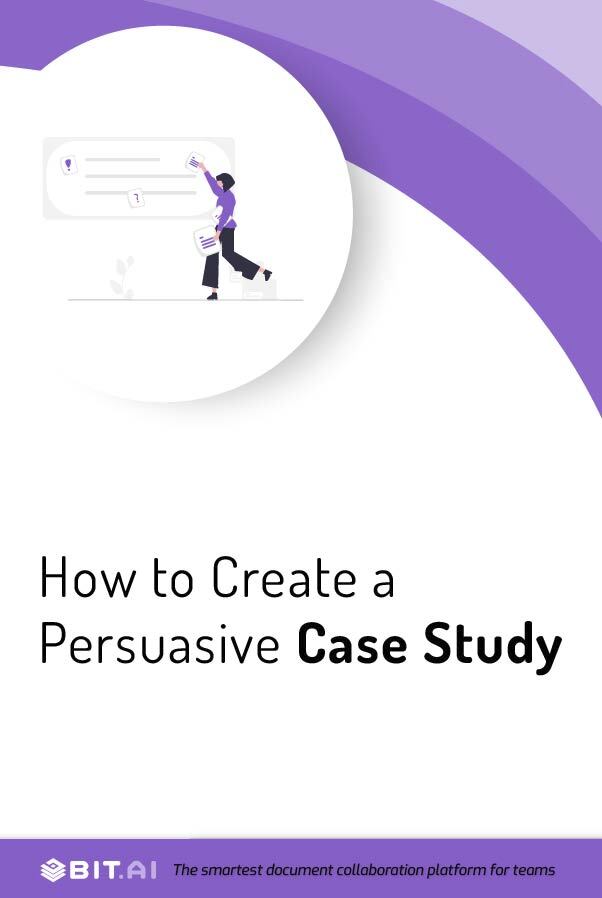 Related posts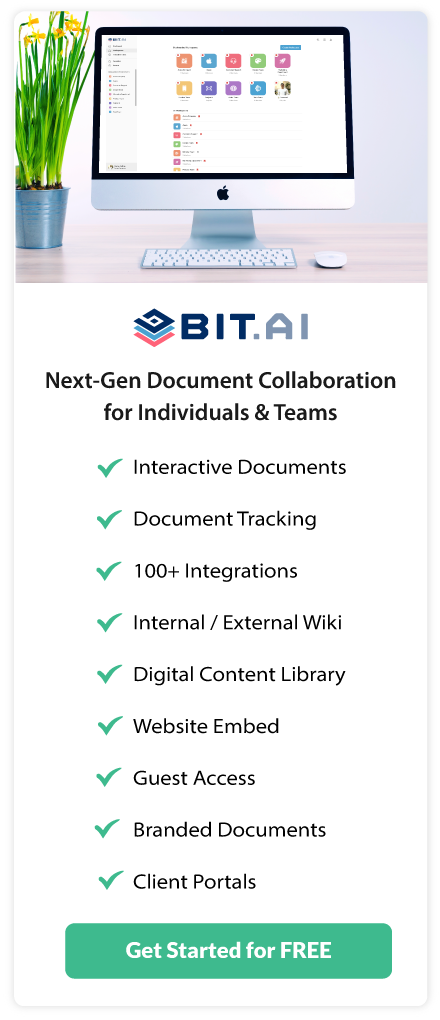 About Bit.ai
Bit.ai is the essential next-gen workplace and document collaboration platform. that helps teams share knowledge by connecting any type of digital content. With this intuitive, cloud-based solution, anyone can work visually and collaborate in real-time while creating internal notes, team projects, knowledge bases, client-facing content, and more.
The smartest online Google Docs and Word alternative, Bit.ai is used in over 100 countries by professionals everywhere, from IT teams creating internal documentation and knowledge bases, to sales and marketing teams sharing client materials and client portals.
👉👉Click Here to Check out Bit.ai.