What comes to your mind when you first hear the word 'documents'?
Let us guess.
You probably think of a page full of words.
But, do you think words and sentences are enough to do the job?
Are they enough to make your document more engaging and interactive?
Probably not.
Now you will most likely say – "I'll add images to the document to make it better."
Yes, that's indeed a great idea.
A picture is worth a thousand words, but there's something else out there that's worth a million words – videos.
But adding videos to documents sounds like a daunting task, doesn't it?
What if we tell you that there's a tool out there that can help you create beautiful, interactive documents that include videos in no time?
Yes, you read that right. Bit.ai, a new-age document collaboration and communication tool, has transformed the cumbersome task of creating interactive documents into an effortless one.
We're going to tell you all about this tool and how it works, but first, let's find out why you need to add videos to your documents. (In case you're still looking for that final nudge!)
Why Should You Add Videos To Your Documents?
Let's start with some stats.

We, humans, are visual species. We find videos more engaging and memorable than any other type of content out there.
Videos help in easily dissecting a complicated theory, concept, or idea, and if you want your documents to shine out, videos are exactly what you need.
There's another reason why you should add videos to your documents – because embedding videos from any video sharing platform in your documents is now easier than ever.
How? Let's find out.
Everything You Need To Know About Bit.ai

Bit.ai is a new-age document collaboration platform that helps teams to collaborate, share, track, and manage all documents in one place.
Bit helps you create documents that are dynamic and much more than plain-boring text.
Multiple people can simultaneously collaborate on a Bit smart document in real-time. You can co-edit and use inline comments to bring your colleagues to the same place to make decisions related to your documents.
Bit allows users to embed any sort of rich media in their documents like Videos, SoundCloud Playlists, PDFs, Tweets, Cloud files, Pinterest boards, Spreadsheets, GIFs, and more.
In short, anything on the internet with a link can be embedded in your doc, and Bit will turn it into visual content automatically.
Just enter any web link on a blank line and hit enter. Bam! The content will show up beautifully.
Bit.ai allows you to embed videos from any video sharing platform directly in your Bit document.
Here are some of the bit's video integrations that you can use:
Youtube
Vimeo
Ted
Streamable
Loom Cloud app
Fleeq
Yuja
Screencast
Screen-o-matic
Matterport
MP4 files
Everyone who opens the document file can play the video right from the document.
How cool is that?
That's not it! You can even modify the layout and size of the video player and add a custom caption below the video.
Read more: Top 13 Video Hosting Sites You Need to Check Out!
How to Embed a Video Inside a Bit Document?
Follow these simple steps to add videos or any weblink into your smart Bit documents.
Step 1: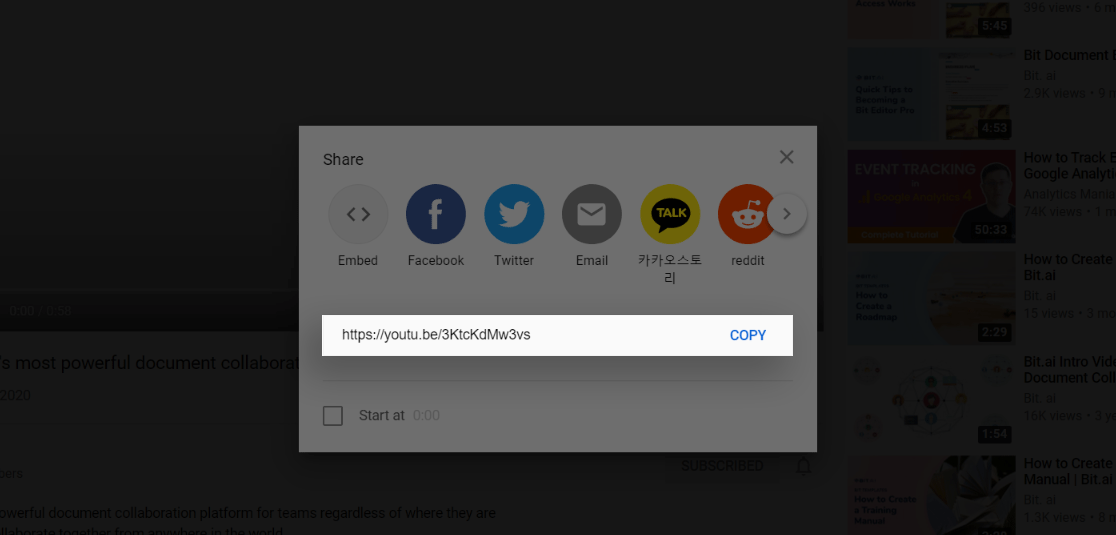 Go to any video streaming platform like YouTube or Vimeo. After that, open the video that you would like to add to your Bit document, and copy the URL on top.
Step 2:
Now, open your Bit document and paste the URL on a blank line.

Step 3: 
Your video will show up in your document. Yes, your audience can click play and watch it inside your Bit document!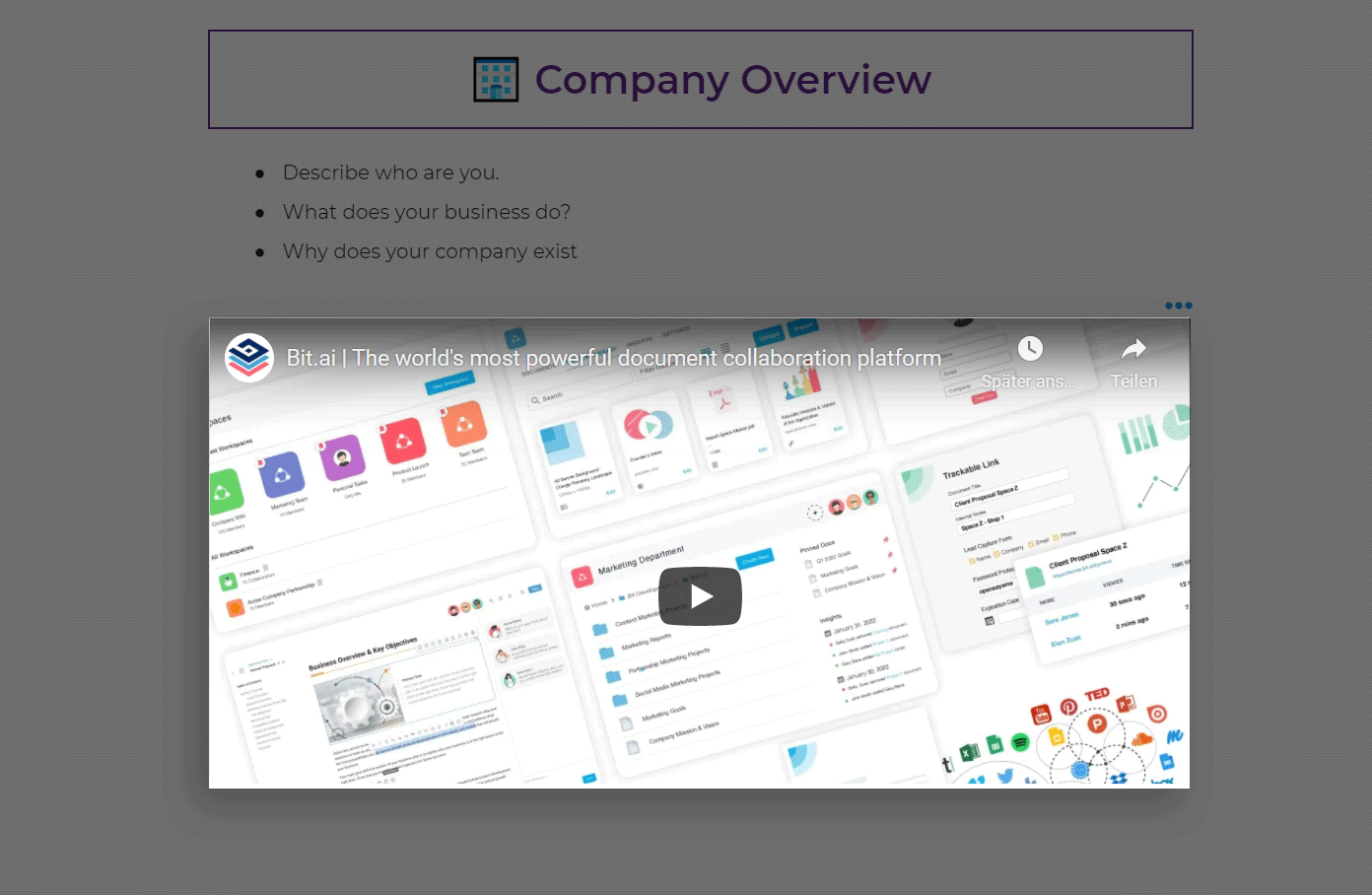 Step 4: 
To get the additional formatting options, you can click on the three dots on the top right corner. This toolbar will allow you to make your video larger, add a caption, or delete it.
We told you it's super easy, didn't we?
Wrapping Up
Eight seconds.
That's the average attention span of humans.
Believe it or not, it is less than that of a goldfish (which is nine seconds).
That means a reader takes eight seconds to decide if a document is interesting enough to keep reading.
One of the best ways to make them read your document is by making it interactive.
…and how do you make it interactive?
By adding videos, obviously.
Adding videos to your documents can make them incredibly powerful if used right.
And this starts by using Bit.ai. 
Whether you want to add an explainer video in a press release, share product demos with your clients, or an educational video in a step-by-step text guide, Bit.ai has got you covered.
So, what are you waiting for? Go ahead and tap into the potential of adding videos to your documents.
Let us know how it goes by tweeting us @bit_docs!
Further reads:
How to Use Document Templates in Bit.ai?
Embed Spotify Music in Your Documents With Bit.ai!
12 Video Editing Apps You Must Check Out!
How to Embed Canva Designs into Your Documents?
6 Awesome Video Presentation Software and Tips to Follow!
Related posts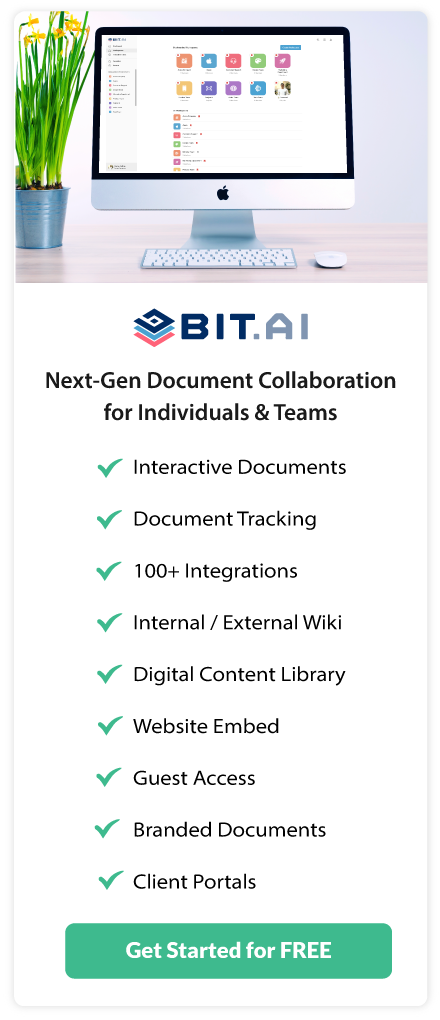 About Bit.ai
Bit.ai is the essential next-gen workplace and document collaboration platform. that helps teams share knowledge by connecting any type of digital content. With this intuitive, cloud-based solution, anyone can work visually and collaborate in real-time while creating internal notes, team projects, knowledge bases, client-facing content, and more.
The smartest online Google Docs and Word alternative, Bit.ai is used in over 100 countries by professionals everywhere, from IT teams creating internal documentation and knowledge bases, to sales and marketing teams sharing client materials and client portals.
👉👉Click Here to Check out Bit.ai.