What's the first thing that you work on when you are looking for a job?
That's right! A resume. Whether you are a fresh-out-of-college graduate looking for your first job or an experienced person looking for a change in profession, your resume is what creates the first impression.
And you know how much first impressions matter, especially when it comes to hiring. Of course, you do! That's why you are here.
The thing about writing resumes is that you cannot just use a single format to apply for every job that you want to get. You need to alter and redesign it according to the nature of the jobs that you are applying for.
Be it marketing, business, finance, or any other field, you have to tweak your resume accordingly.
In this blog, we will cover how to write a perfect marketing resume to help you stand out and get noticed by hiring managers from the marketing industry.
Let's dive in!
What is a Marketing Resume? (Definition)
A marketing resume is a resume that is particularly tailored to the specific requirements for a job in the marketing field. Essentially, it's you marketing yourself for a job.
And, marketing is all about convincing and persuading the consumer to buy something. In this case, it's selling your skills and knowledge in a way it catches the eye of the recruiter.
Simply put, a marketing resume needs to sell itself.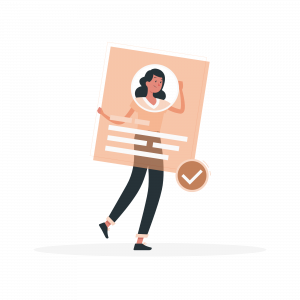 But, what should be the contents of a great marketing resume, other than your knowledge, skills, and experience? How is creating a marketing resume beneficial? What's so great about it?
Let's find out!

Benefits of a Marketing Resume
While a marketing resume may not be very different from a regular resume, it has some unique features that make it stand out from the rest.
Creating a marketing resume has its own benefits when it comes to catching the eye of a recruiter. Listed below are some of them. Take a look!
1. More Visible to Recruiters
A recruiter will have hundreds of resumes to go through and they will only take notice of resumes that are specifically tailored to the job position. All the other resumes will probably just end up in the trash.
So, creating a marketing resume clearly indicates that you are applying for a particular job post.
This makes your resume stand out and become more visible to a recruiter who is specifically looking for marketing job candidates.
Your chances of getting discovered will just shoot up!
2. Helps Define your Unique Value Proposition
Creating a marketing resume will help you understand and categorize your skills as a marketer.
You have a unique blend of skills, knowledge, and experiences that make you different from other marketers and create a value proposition.
Making a marketing resume helps you identify and define those skills and experiences. It also assists you in how you can utilize it to contribute to different job positions.
In essence, it will help you discover your capability and potential.
3. Shows Effort
Most candidates end up sending a resume that is slightly tweaked based on the job description. This doesn't make it stand out. This is exactly why you need a marketing resume.
Making a resume that is customized for the marketing industry shows that you have put in the effort. This creates a good first impression.
Normally, such efforts are appreciated by a call from the recruiter offering an interview for the job.
4. Highlights Specific Industry-Related Skills
A marketing resume is very industry-specific, which means that its content will also be industry-specific. Creating a marketing resume will highlight your specialized knowledge and skills as a marketer.
It will also contain your experience level emphasizing your expertise in marketing. This particularly shows the recruiter all your industry-related knowledge, thereby increasing your chance of getting hired!
We tend to overthink when it comes to writing our resumes. Who doesn't? And, a marketing resume? Where do you even start with that! Don't worry, we have it all covered. Read on!
How to Create a Perfect Marketing Resume? Follow these Steps!
Before kick-starting your resume writing process, take these two things into consideration:
Know your Target
Always be informed about your target, in this case, your recruiter. Find out every possible detail about their company, their expectations, and so on.
Now, imagine them as a customer to whom you are going to sell something.
Being prepared about your target will give you an idea about what they want from you. Thus, allowing you to present your skills in a way that caters to their expectations.
Read more: Buyer Persona: What is it & How to Create it?
Decide a Messaging Strategy
Once you know what kind of marketing position you are going to apply for and what their expectations are, you need to decide how exactly you are going to write your resume.
Some key things to consider while writing your marketing resume includes the chronology, the template and design, and keywords.
Now that the target and strategy are on the table, let's get straight down to the steps involved in creating a perfect marketing resume!
Step 1. Start with your Professional Summary
Add a profile summary at the top. It should briefly summarize who you are and what you are looking for in the job.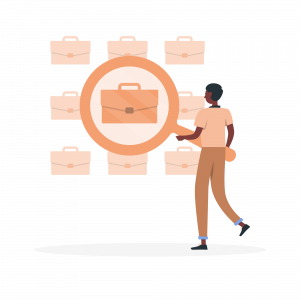 It's a nice way to personalize your resume. This will differentiate your resume from the other candidates. It will easily catch the attention of a recruiter who is going through resume after resume.
Read more: Marketing Brief: How to Write it? (A Step-By-Step Guide)
Step 2. Emphasize the Numbers and Stats
The numbers matter!
A marketing manager always searches for candidates who can improve their company's current performance. This is why it is crucial that you quantify your success on your marketing resume.
In addition to describing your role in the company, translate your responsibilities into numbers and stats so that the hiring manager can see how well you have performed in your previous jobs.
It could be anything, like an increase in monthly sales or profit percentage or social media followers.
Here's an example: "Increased followers on social media by 60%, resulting in $40,000 in increased sales"
Step 3. Refine the Skills Section
The skills section is where you flaunt yourself.
Make sure the skills you write are relevant to the marketing job position.
Steer clear from writing down basic skills. Instead include marketing-specific skills (like SEO, email marketing, etc.), software skills (like HTML, WordPress, etc.), and soft skills (like communication, creative thinking skills, etc.).
But, do not just list them down. Weave them into your experience and showcase how you have used those skills in practice.
Step 4. Keep the Academic Section Simple
Educational qualifications are important. But for a marketing recruiter, your value as a marketer matters more. They do not need a detailed description of your grades or marks.
So unless you are a new graduate or a fresher, keep the academic section as simple as possible.
You can list your educational qualifications, but try to stick to just mentioning your degree, university/institution, and duration of course.
The simpler, the better!
Step 5. Include Keywords
It is highly likely that recruiters employ software that goes through the applications. This often means that it scans for keywords.
Therefore, it extremely important that you try to add the marketing industry-specific keywords in your resume.
Make sure the keywords or terms align with the job description of the company.
Step 6. Add Important Links
You can claim anything on a resume, but the key is providing evidence to back them up.
Links can make that connection!
Nothing cements your claims more than a link that will take the recruiters to your online portfolio, your personal blog, or even social media profiles like LinkedIn and Instagram.
Step 7. Layout Matters
 A marketing resume is basically your advertisement. So you need to make it worth taking a look at.
A striking and sleek layout really does catch the attention of recruiters going through a boring set of resumes.
A little pop of color, nothing too bright or quirky, will set your resume apart from the generic black-and-white ones. Use appropriate fonts and font sizes for the heading and the body of the content.
It is important to remember to limit yourself to a single page. Nobody wants to turn to another page. A two-column design should help you with that because it makes it easier to go through your resume.
Step 8. Proofread!
The last thing you want a recruiter to see is a typo on your resume.
Once you are done preparing your marketing resume, run through it for spelling errors or typing mistakes, or any other possible mistakes.
Get a friend to proofread your resume to ensure there are no errors at all.
We know how tiring creating writing resumes can get. We all wish it was easier! That's why we bring to you Bit.ai!
Read more: Brand Voice: What is it & How to Define it for your Business!
Bit.ai: The Best Tool for Creating Resumes & Other Documents
Bit.ai is a new cloud-based document collaboration tool that will help you create beautiful interactive documents like resumes, cover letters, and so much in just a few clicks!
Bit has an extensive template gallery that has over 70 templates from which you can choose your favorite. Yes, that includes resume templates! No more worrying about the design and layout of your resume because Bit will take care of it for you while you focus on the content!
Another important feature of Bit is that it automatically formats all your documents even if you don't! This not only saves you the time and energy of constantly formatting documents but will also give your resume a clean appearance.
That's not all! If you want to make sure that your resume doesn't end up in the trash, then you must use Bit!
Why? Because Bit supports over a hundred file formats which allow you to add as many file types as you want to your resume. This means that you can personalize your resume with web links to your persona blog or portfolio and help the recruiter see how unique you are.
What's more? Bit's offers real-time collaboration, which lets you invite your peers to join you and work together on your marketing resume in real-time. This means they can also make edits, add comments, and highlight within the same document at the same time! Bit just made proofreading and editing a resume a whole lot fun!
Wrapping Up
Marketing is a field that is growing and evolving.
Yes, it definitely is a competitive industry and you need to stand out from the rest to get noticed. We really hope this blog has equipped you with the necessary steps in creating a perfect marketing resume.
Remember, your communication skills are your gift. Channel it into your resume and the rest will take its course.
Go get that job!
Further reads:
Marketing Proposal: What is it & How to Create an Effective One?
How to Create a Talent Acquisition Process Documentation?
Internship Cover Letter: How to Write a Perfect one?
How To Write An Awesome Cover Letter To Woo Your Recruiters!
How To Write An Awesome Job Description?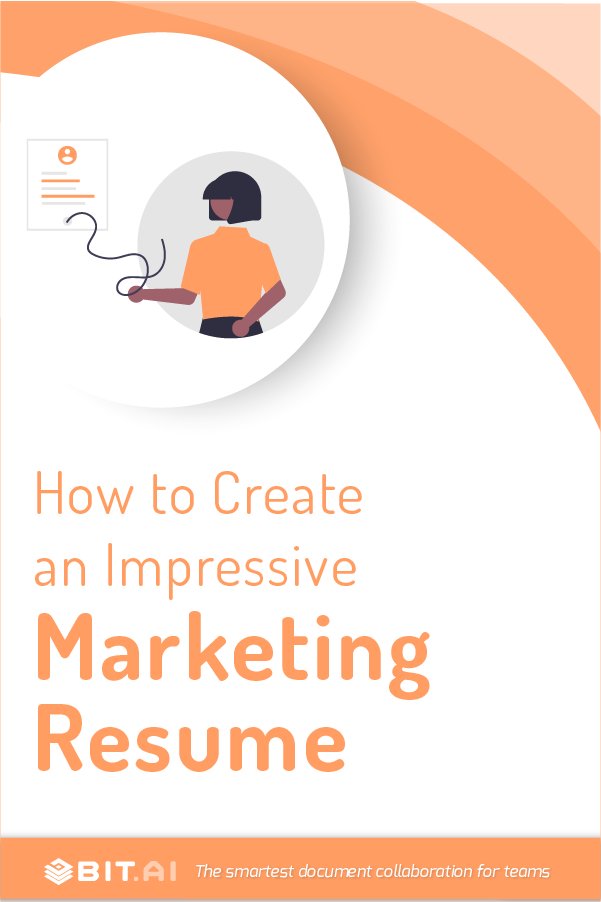 Related posts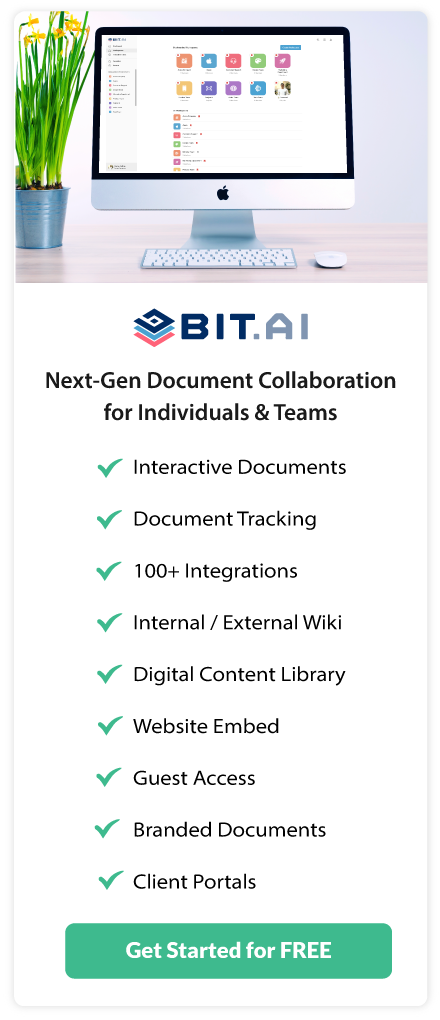 About Bit.ai
Bit.ai is the essential next-gen workplace and document collaboration platform. that helps teams share knowledge by connecting any type of digital content. With this intuitive, cloud-based solution, anyone can work visually and collaborate in real-time while creating internal notes, team projects, knowledge bases, client-facing content, and more.
The smartest online Google Docs and Word alternative, Bit.ai is used in over 100 countries by professionals everywhere, from IT teams creating internal documentation and knowledge bases, to sales and marketing teams sharing client materials and client portals.
👉👉Click Here to Check out Bit.ai.