A talented workforce makes up successful organizations. However, those talented team members don't generally come knocking at your door – you must proactively procure them. Therefore, this process of procuring the best talent amongst the pool of applicants is called Talent Acquisition!
Talent acquisition process helps with coordinating efforts across hiring managers, HR and external partners to help find the best talent to move your company ahead. It's important to create efficiencies and fill job positions quickly so that work doesn't stop.
In this article, we'll help you explain what is the talent acquisition process, why is it important in today's competitive environment, and how can you create such documents!?
PS: There is a customizable Talent Acquisition template at the bottom to help you get started quickly.
What is a Talent Acquisition Process?
A talent acquisition process is defined as an ongoing process that ensures that the hiring team is well coordinated and takes the right steps in their strategy to screen, source, interview, hire and retain the best talent for the competitiveness and growth of a company.
Having all members of the hiring process coordinate together it helps reduce the time spent in hiring.
Why Talent Acquisition Process is Important?
If you are willing to see better work performance or are hoping to outperform your competitors by retaining and hiring the best talent available, then the talent acquisition process is the key. Here are some more benefits to showcase the real importance of this process!
1. Get the right people
People engaged in talent acquisition are more interested in finding the perfect candidate for the job. This simply means that—from skills to cultural fit to future development — everything is examined, when a person is "acquired" rather than recruited.
2. Realize a competitive advantage
Without the right people in place, your business may have to struggle; hence, talent acquisition helps you make better decisions when hiring and offers a rise in productivity. Motivated staff may take fewer leaves. That can seriously pump your ability to maneuver in a competitive market.
3. Save time and money
Acquiring talent, can save you from expending available resources— like training— an employee who is ultimately not going to work out, or will leave, and eventually send you back to the hiring board. Which means that you'll save both time and money over the long haul.

Read more: How to Write an Unavoidable Job Offer Letter
What You Should Include in a Talent Acquisition Process?
A typical Talent Acquisition process document contains the following elements:
Title:
Job Title: Add the title of the job you are hiring for.
Hiring Manager:
Ideal Hire Date:
Job Position Details: Describe the job position.
Reasons for Opening: Explain whether it's a new position or replacement.
Salary: Include the salary range.
Direct Manager: Include who the direct manager would be.
Management Position: If yes, what does team structure look like?
Job Requirements:
Must-Have Skills
Preferred Skills
Keywords
Deal-breakers
Soft Skills
Additional Notes
HR Job Promotion Strategy:
HR Point Person
Job board, LinkedIn, headhunters
Networking
Screening Process:
Phone Interview:
Onsite Interview Process:
Talent Acquisition Process flow
Hiring the right person can be lengthy and a tiring procedure for both employer and employee. Generally, it can be categorized into the following steps:
1. Sourcing:
You have to start with a clean & irresistible job description and find various jobs and social media platforms where you can post your description. You can then network, build relationships and thereby make your talent needs to be heard by all potential applicants.
2. Inbound Marketing:
Building and marketing the business, creating a competitive compensation package and thereby fulfilling the brand needs are some of the crucial components of attracting the perfect applicant to your organization.
3. Pre-Screening:
Pointing out essential skill and Key Performance Indicators (KPIs) that the position requires, can help you find the perfect employee. Besides that, aptitude tests, and cognitive evaluations can also help with the procedure.
4. Checking references:
People usually skip this step but checking an applicant's valid references can help consolidate your decision in case you are fickle-minded about hiring that person.
5. Hiring and Onboarding:
This step can make or break a new hires' perspective towards the organization. So, streamline and prepare the itinerary that needs to be followed on the on-boarding day to offer the best employee experience.
6. Retention:
Lastly, once you are done with the hiring process, it's time to developed a clear retention strategy. Where you constantly provide training to the employees, take monthly/quarterly feedbacks on their performance goals, acknowledge them with some kind of reward to keep them motivated.
Read more: How To Write A Letter Of Recommendation
‍Create a well-defined Talent Acquisition Process document the Right Way with Bit
All set to create that clear Talent acquisition process document to lure your prospective candidates? Well, we have got the perfect tool for you!
Bit.ai is a new age online document collaboration tool that helps anyone create awesome talent acquisition documents, offer letters, employment contracts, employee handbooks, and other company documents in minutes.
Bit is the dream tool for both employers and employees as it helps revolutionize the hiring process and makes it more modern, fun and interactive.

Bit has an amazing UI that's easy to understand by a new user, making onboarding easier. The user experience is phenomenal too as everything is easily organized in workspaces, folders and content libraries.
Still not sure how Bit can help you write an impressive marketing strategy to help you execute that business plan? Let's see some more of Bit's awesome capabilities!:
Collaborate in real-time
Multiple people can simultaneously collaborate on a Bit smart document in real-time. Suggest edits, work collectively and ask questions with real-time mentions, and comments.
Interlink business plan documents
Now, you can interlink your document with other important assets that are supposed to be posted like an employment contract, offer letters and more within the platform.
Multiple ways to share
Bit documents can be shared in a live state meaning that all changes that you make to the document will update in real-time. If you are sharing your documents with employees, they will always get your most up-to-date changes.
You can even embed talent acquisition process documents on your own website or blog. Since Bit documents render and are responsive, any changes made to the document will reflect live on the site! Moreover, features like document tracking, password protection, file access restrictions, etc. help keep your documents safe.
Distraction-free and quick documentation
The best part is Bit's support for Markdown which allows developers to quickly create and format text without any distractions. Once you are done creating your job description, you can easily export it as PDFs, Word files, Markdown and much more.
Markdown is supported by GitHub and other software development tools, making it easy to share the work you do inside of Bit with other platforms.
Track engagement on shared employee contract documents with HR, partners, etc.
Imagine if you were able to track the time spent by others on your document, how frequently they were viewed, and if they were viewed at all.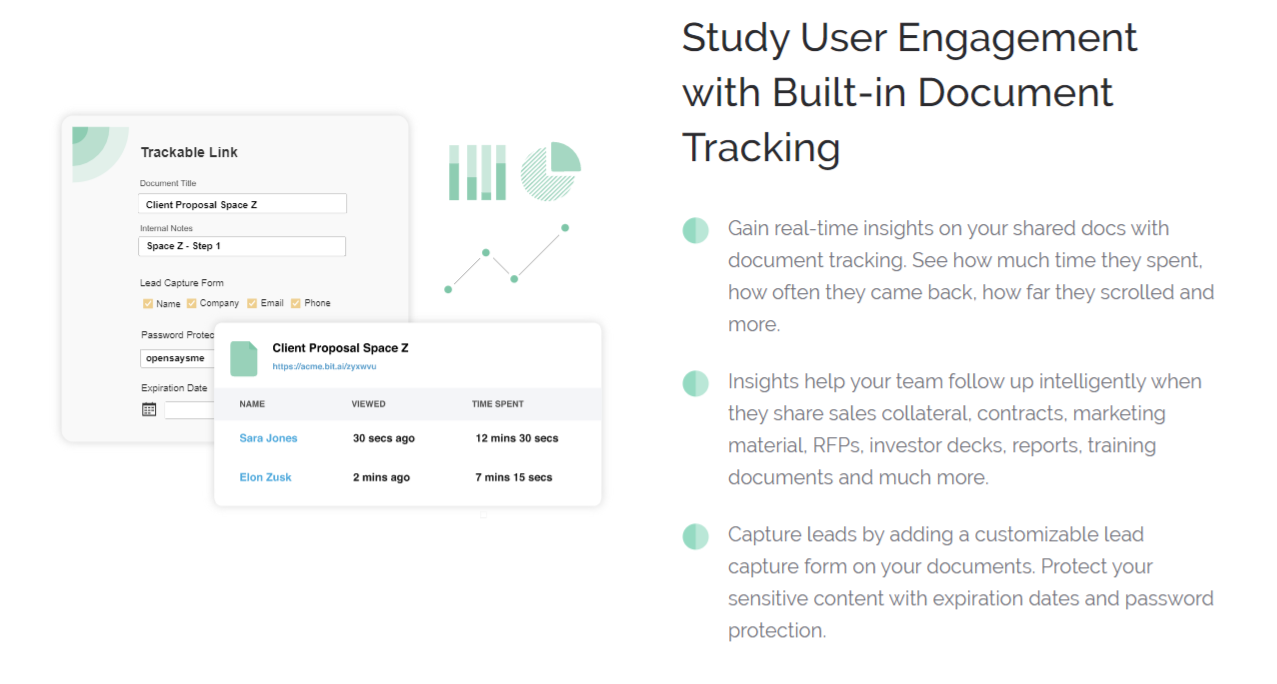 Well, Bit allows you to track your documents and gain amazing insights, helping you create an even better version of your documents.
Automated table of contents
Bit also has an automated table of contents based on the headers you add to your document. This makes sure you can scroll to different sections of your document quickly as an employer, employee and for your HR viewing the final published document!
Now, that you have learned everything about the Talent Acquisition and how to create a document on it, feel free to check out Bit's amazing Talent Acquisition template to make the recruitment process a success!
To make the process of crafting a Talent Acquisition Document easier and fun, we have created a ready-made template for you! Check it out below:

How to use Talent Acquisition Template with Bit
The process of creating a talent acquisition document on Bit is insanely easy! Just follow these four simple steps to create a talent acquisition document quickly:
Step 1: Create a Bit Account
Go the home page of Bit.ai and click on Get Started for Free or Sign Up to get started. Enter your email address to sign up. Once in, you can create your personal profile.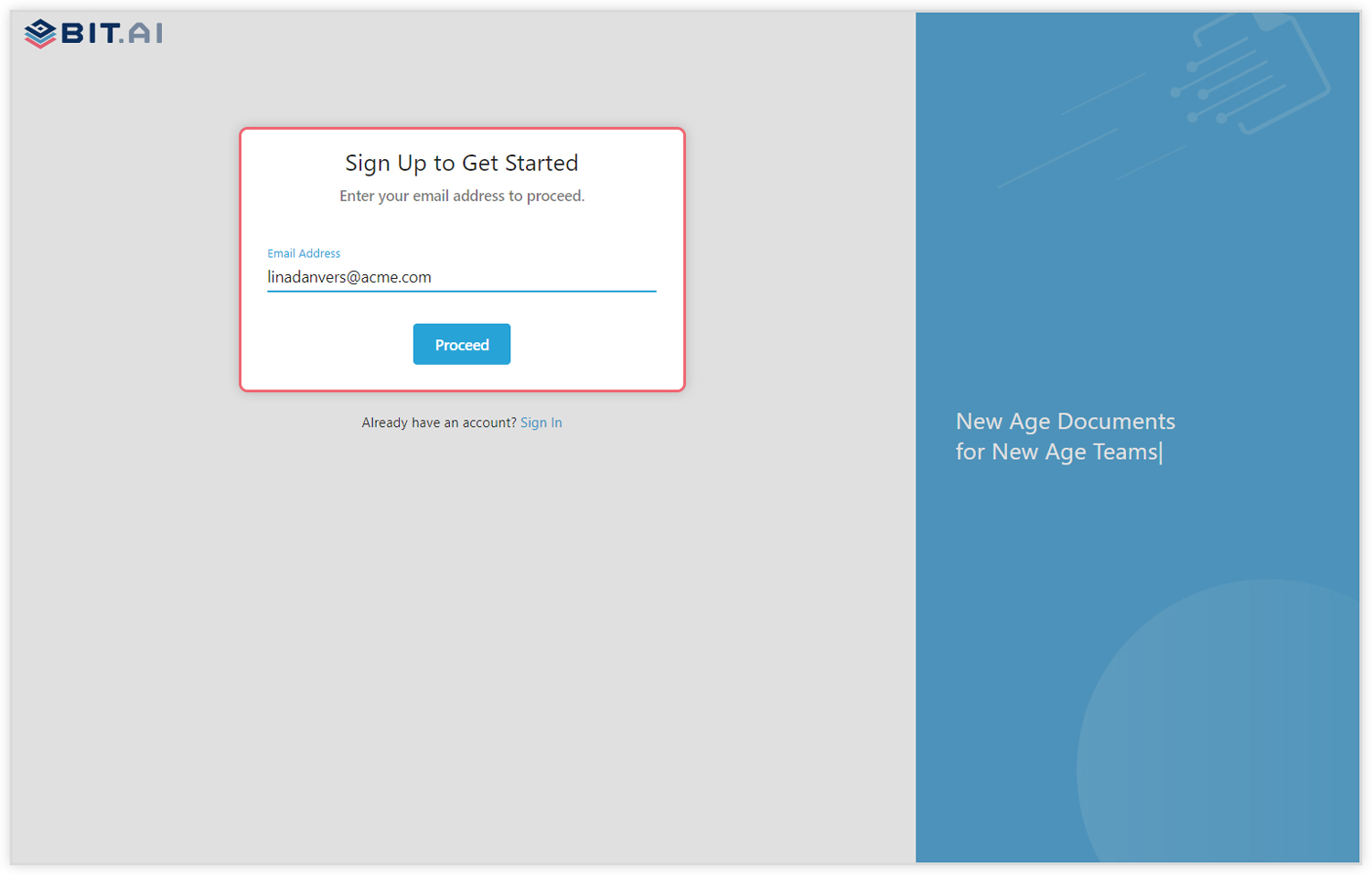 Step 2: Create a Workspace
Workspaces are where the work gets done. Click on the 'Create Workspace' button on the right. A popup will show up prompting you to add a name for your new workspace.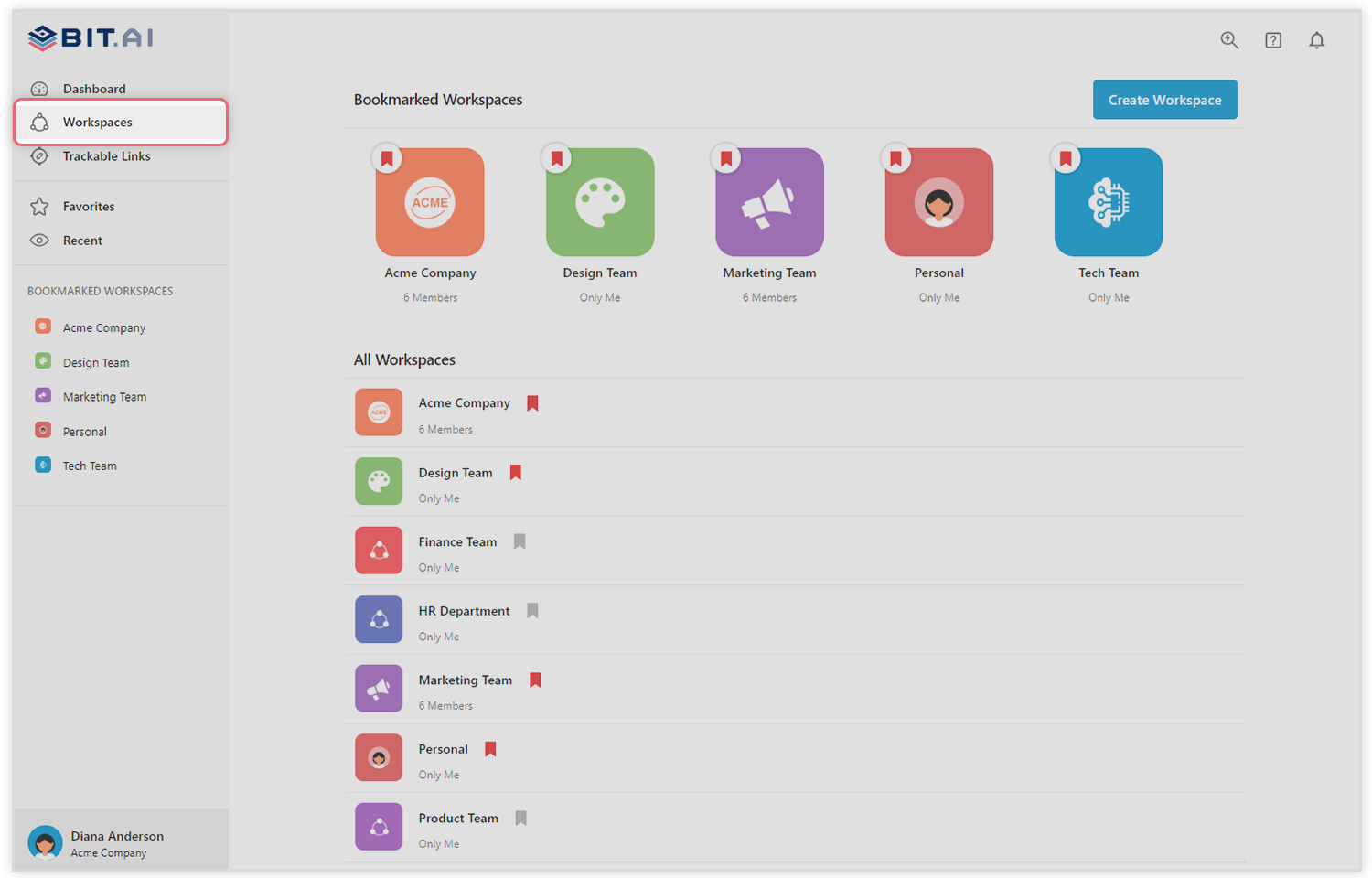 You can create a workspace around a team, department, large project, client, partner, etc. Inside each workspace, you can create an unlimited amount of Bit documents and access your content library (storage area for all of your digital assets – web links, files, cloud files, rich embeds, etc.).
Step 3: Add Team Members
Bit allows your team members to collaborate in real-time and get work done. Collaboration starts at the workspace level.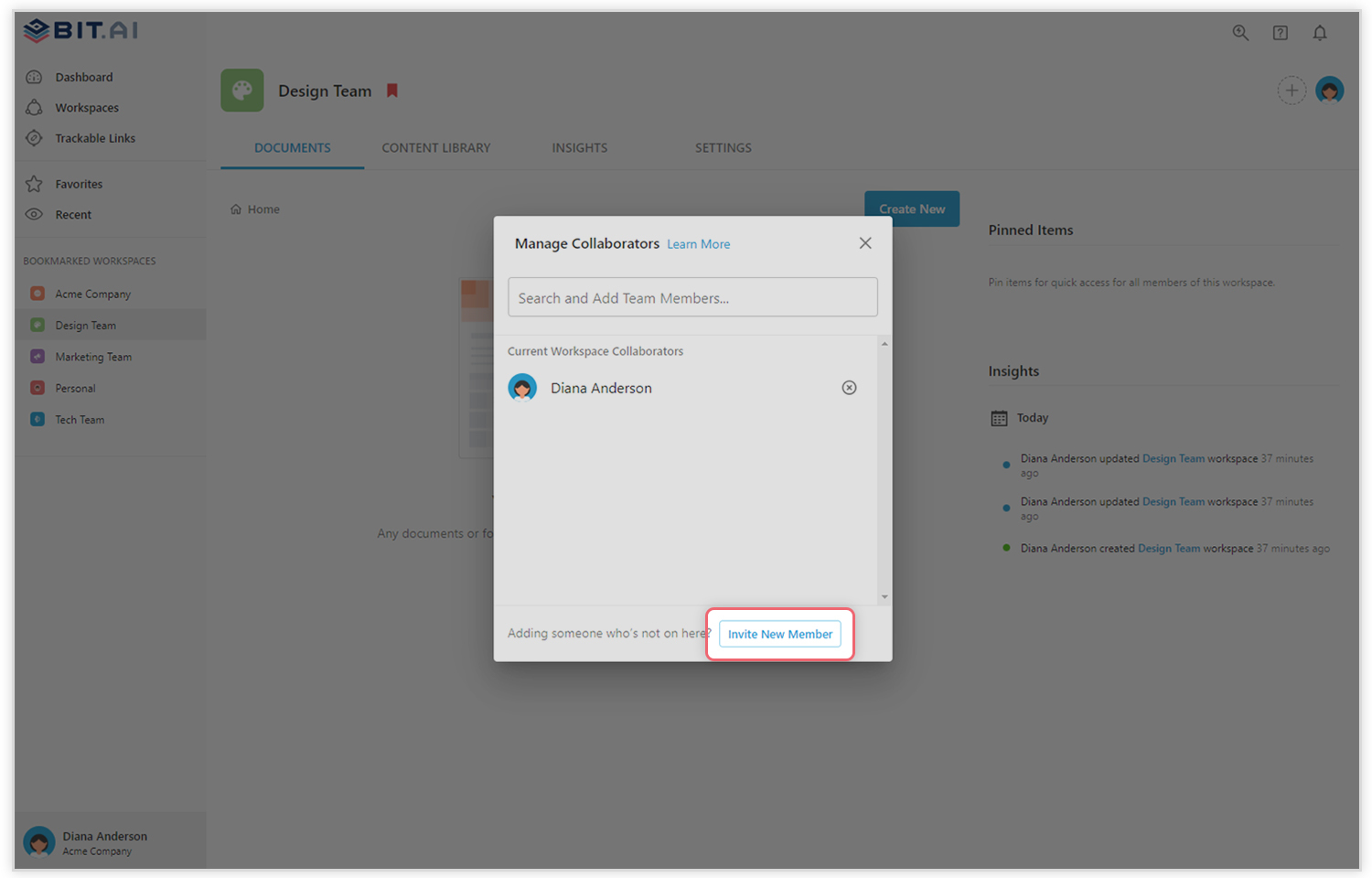 You create private workspaces by default. However, you can invite others to join you inside of a workspace and collaborate together with the knowledge, projects, documents and content inside of the workspace.
Step 4: Create Your Desired Document
Once you are in the workspace, click on the 'Create New' button. Select 'From Template' in the dropdown. A pop up will display allowing you to select a template from the gallery.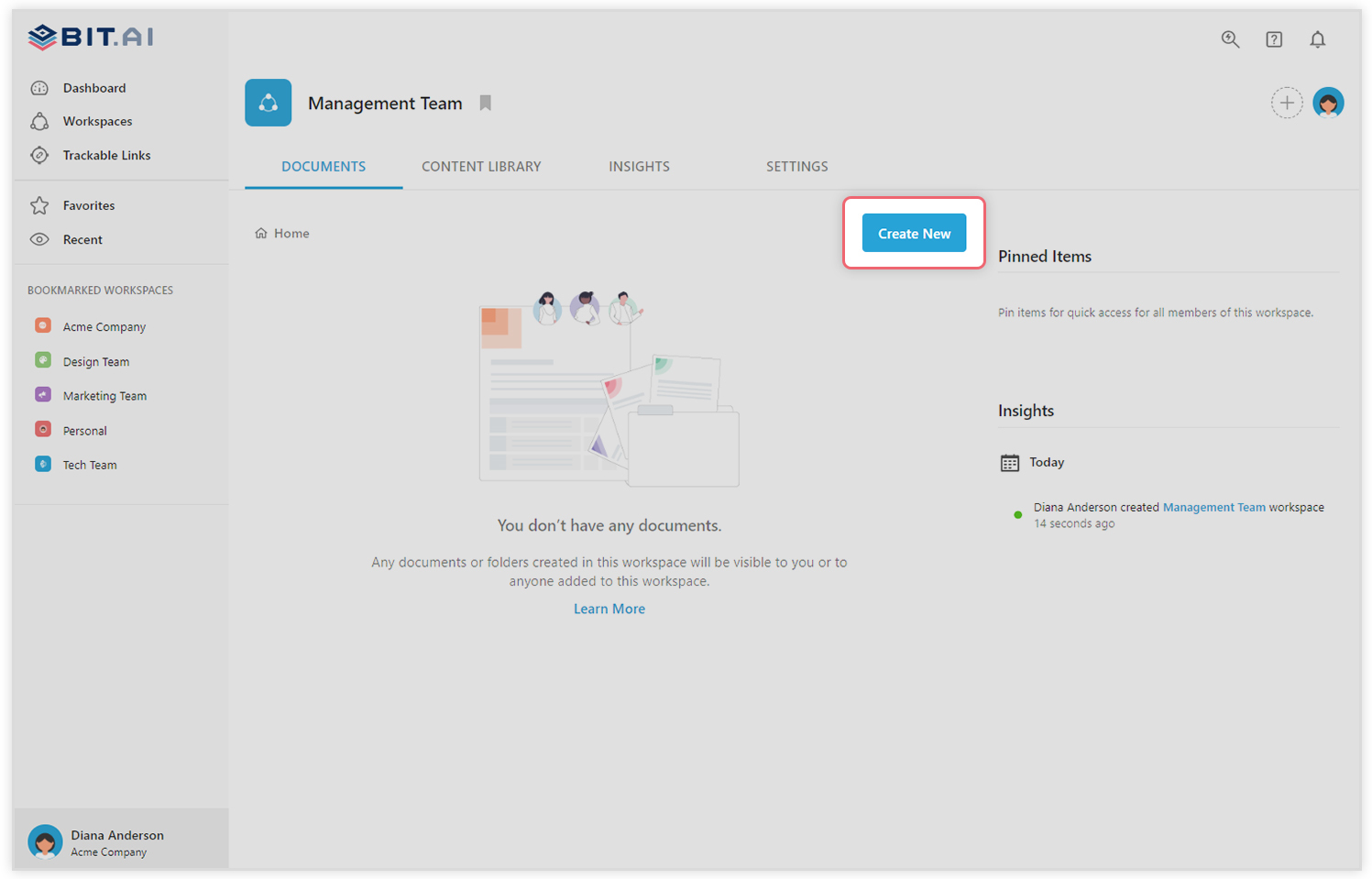 In the search box on the top left corner, you can search for "talent acquisition template". Once your desired template pops up, click on it and click on the "Use Template" button on the bottom right corner.
That's it! Your talent acquisition document is ready for use!
🎥Watch this video to learn more👇
Conclusion
Budding a healthy relationship with applicants in time, even when they are not actively looking for a job, is important for your business.
The talent acquisition process we mentioned above does not only equip your business with a bird's eye vision of an applicant's skill set but also adds up to their creativity and loyalty that can take your company one step ahead of the competitors.
Further reads: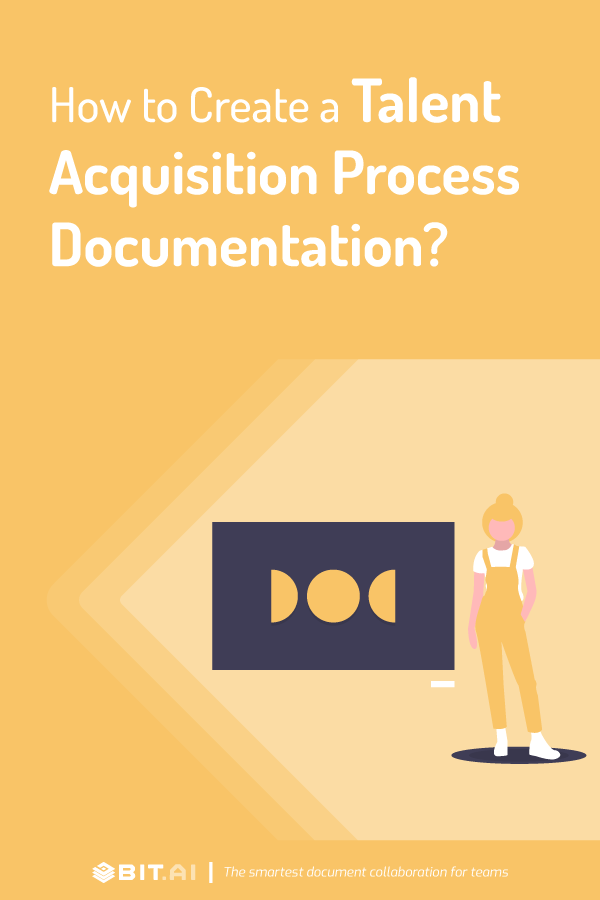 Related posts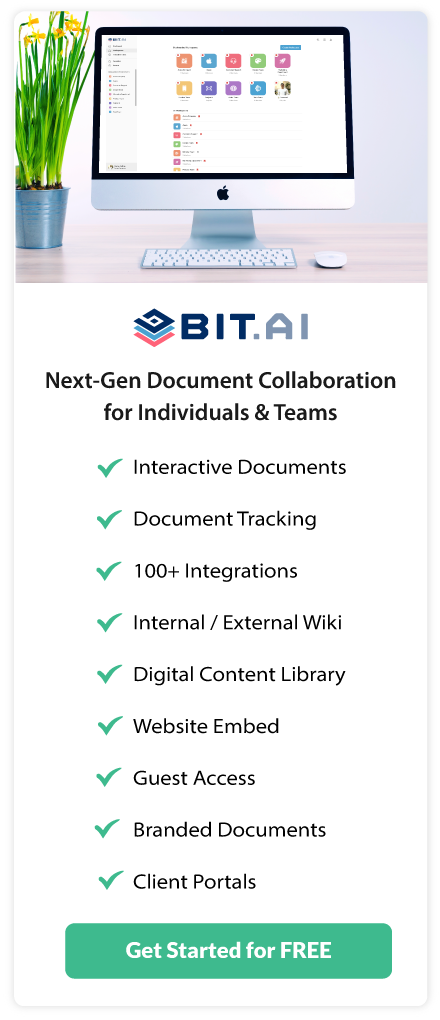 About Bit.ai
Bit.ai is the essential next-gen workplace and document collaboration platform. that helps teams share knowledge by connecting any type of digital content. With this intuitive, cloud-based solution, anyone can work visually and collaborate in real-time while creating internal notes, team projects, knowledge bases, client-facing content, and more.
The smartest online Google Docs and Word alternative, Bit.ai is used in over 100 countries by professionals everywhere, from IT teams creating internal documentation and knowledge bases, to sales and marketing teams sharing client materials and client portals.
👉👉Click Here to Check out Bit.ai.