Are you running out of money like water? Or you can't keep up with your business expenses so much so that you've started wondering where all your money went?
Well, your current budget plan is clearly failing you! And budget issues may be detrimental to your business because 82% of businesses fail due to cash flow issues.
So if you don't want to end up knocked out, you need to beat the clock and use business budgeting software! These software will ease your overall budgeting process and streamline all your work processes.
So, say goodbye to spreadsheets and hello to high-tech budgeting software which are super easy to use and work at lightning speed! Let's learn more about what budgeting software are all about…
What is Budgeting Tool or Software? (Definition)
Businesses use budgeting software to track, record, and report their budgets. In a matter of a few clicks, budgeting software can help you create powerful profit & loss statements, cash flow reports, and more.
Simply put, creating budgets has become a breeze because of budgeting software.
Budgeting software is also a great way to forecast future revenues, profits, and more. The best software is constantly updated to make processes more agile and up-to-date with changing times.
Now, we'll be listing the best and most widely used budgeting software so that you can find the one that fits your needs. Without further ado, let's dive in…
List of 11 Excellent Budgeting Tools and Software You Need:
1. Float

Float is the perfect cash flow management budgeting software. It has awesome visual reports and is super quick to set up! You can get easy insights into all your cash flow data on a daily, weekly, or monthly basis.
You can carry out projects with precision by adding a proper budget and assign tasks quickly with easy-to-use scheduling tools. And you can access all this on the go with its mobile app on iOS and Android.
Key Features:

14-day free trial
Integrates easily with other software like Xero, etc.
User-friendly
Creates actionable insights and alerts users
Smart cash flow forecasting
Pricing: Standard plan (1 user) – $35/month
Read more: Project Budget Plan: What is it & How to Create it?
2. QuickBooks Online

Quickbooks is a web-based accounting solution that caters to individual accountants and small businesses all around the globe,
It is the most popular budgeting software pick on the list. From accounting, budgeting, and billing expenses – it does QuickBooks does it all!
It also allows businesses to organize weekly timesheets and track bank deposits. And it helps to generate various financial reports such as profit and loss, balance sheets, cash flow statements, and more.
Key Features:
Choose from hundreds of integrations of your liking
Automated downloading and categorizing of banking transactions
Overview reports and detailed comparisons
Customized invoice templates
User-friendly interface
Pricing: Simple starter plan – $25/month
3. GIDE

Gide is a business budgeting software that is very comprehensive and includes everything you need from budgeting to forecasting to creating reports. It's the perfect all-in-one tool!
Gide has a powerful and error-free calculation engine of tailor-made systems, supporting real-time collaboration. This is why it makes life easier for financial professionals and investment managers.
Key features:
Free plan available
Fast implementation in just 2 weeks
Drag & drop feature
Predictive analytics
Capital asset planning
Corporate reporting
Pricing: Standard Company plan – $104/month
4. PlanGuru

A simple budgeting and forecasting software, PlanGuru is great for small businesses and their financial needs. And the best part?  It is Excel & QuickBooks compatible.
You can create cash flow forecasts from balance sheets & income statements and get cash flow projections, financial ratios, and debt modeling tools to help you evaluate and improve your overall business performance
Even with its robust features, it's very economical and perfectly accommodates highly intricate tasks.
Key features:
Video tutorials
20+ forecasting methods
Integrates with Excel, Xero, etc.
Additional analytical tools
Strategic planning & what-if analysis
Pricing: App – $39/month, Desktop – $99/month
5. Zoho Books

Zoho Books is another simple and easy-to-use accounting software to help manage all your accounts online. It is a cloud-based solution and suitable for mid-sized firms.
Organizations can automate recurring activities such as billing, payment reminders, auto charge, and payment thank you note – making it perfect for businesses to stay atop their cash flows and manage all their finances in one place.
Key features:
14-day free trial.
Client Portal
Mobile app available
Integrations with other Zoho apps, Google Drive, and more
Customized Invoicing
Pricing: Standard plan: $15/month
Read more: Financial Plan: What is it & How to Create an Impressive One?
6. Scoro

Scoro helps you plan and track your budgets with ease and get a detailed overview of your firm's financial performance.
It offers an all-inclusive set of tools including budgeting, CRM, project management, and more, so that your entire business and transactional data can stay in one single place.
Scoro has been listed in the Technology Fast 50 list by Deloitte and has also been selected as one of the top software companies in EMEA by G2.
Key features:
Financial KPI dashboard
Multiple integrations available
Automated revenue stream from invoices
Enterprise-grade security
Activity logs
Pricing: Standard plan – $26/month
7. Mint
Mint is an absolutely free solution for all your budgeting needs. Mint brings together everything from your budget to your credit score and more.
Mint's robust dashboard gives a quick summary of your finances at a glance. Although it is more specifically curated for individuals, it can be used by small businesses too!
Key features:
Custom budget creation
Personalized MINTsights
Easy consolidation of all finances in one place
Budget-friendly, totally free
Credit Monitoring
Pricing: Free
8. Prophix

Prophix aims at steering all your financial challenges into genuine opportunities by way of performance management. It helps you set budgets, plans, consolidates, and report all your data automatically.
It even helps you automate mundane financial tasks, and improve profitability by focusing on what matters.
Key features:
Free trial available
Virtual financial analyst
Performance reporting
Cash flow planning
Financial consolidation
Pricing: N/A
9. Adaptive Planning 

From planning, modeling, budgeting to forecasting, Adaptive Planning can do it all!
In just a few clicks, you can streamline budgeting expenses and easily track budgeting costs and analyze total spending. And the best part is that it can be used by companies of every size!
You can easily collaborate with your entire enterprise with adaptive planning!
Key features:
What if scenarios for budgeting
World-class security
Integrates with all enterprise systems
Super-sleek dashboards & analytics
Profitability analysis metric
Pricing: N/A
10. Budget Maestro

Need awesome collaborative budgeting software? This one's for you!
Budget Maestro is a cloud-based budgeting software that offers an efficient and reliable way to budget and plan. Budget Maestro allows users to do things like building a complete budget, performing numerous what-if scenarios, and more.
Its built-in modeling capabilities handle everything from workforce planning to expense detail, revenue recognition, and more.
Key features:
Smart dashboards
Workflow collaboration
Integrations with Microsoft tools, Quickbook, and more.
Easy forecasting and reporting
User-friendly interface
Pricing: N/A
11. Xero

Known for its simplicity and sleek design, Xero makes budgeting easier without the hassle of too many complex features.
It's your one-stop for anything finance – like accounts, invoices, budgets, and more. Xero offers great user support and integration with a variety of systems, including ADP, Bill.com, and Vend.
It also includes a guide for startups and new ventures for an easy step-by-step procedure on creating a budget.
Key features:
Free trial available
Great customer service
Simple to use
Robust integrations capabilities
Expense & project management tools
Pricing: Base plan – $9/month
Conclusion 
Beware of little expenses, a small leak will sink a great ship. – Benjamin Franklin
Rightly so, your budget needs to be a foolproof plan that stands the test of time! And automation is the way forward – your budgeting process needs to be automated at some point!
No one would be carrying huge ledgers every time they need to check a previous transaction, neither will spreadsheets come in handy given their complex usability.
Trust us, budgeting software assures you of all of it! With the use of reliable budgeting software, you'll reap many benefits that will ensure your firm's longevity.
And now you also have a perfect list to choose from. Make your decision based on functionality, your needs, and which loopholes your firm needs to overcome.
Overall, every budgeting software on this list is equally robust to help you ease your budgeting process, it's just a matter of choice.  And we leave that up to you!
We'd love to know if any of these budgeting software worked out for you. Tweet us @elink_io and tell us about your experience!
Further reads:
Marketing Budget: What it is & How to Put it Together?
15 Most Important Financial KPIs You Should Be Tracking!
10 Best Online Subscription Billing Software Platforms!
Top 10 Financial Tools for Businesses in 2022!
Best Resource Management Tools and Software
Objectives and Key Results (OKR): What, Why, and How?
13 Business Goals You Must Set In 2022
10 Best Reporting Tools and Software for Businesses
15 Business Intelligence Tools & Software Every Business Needs!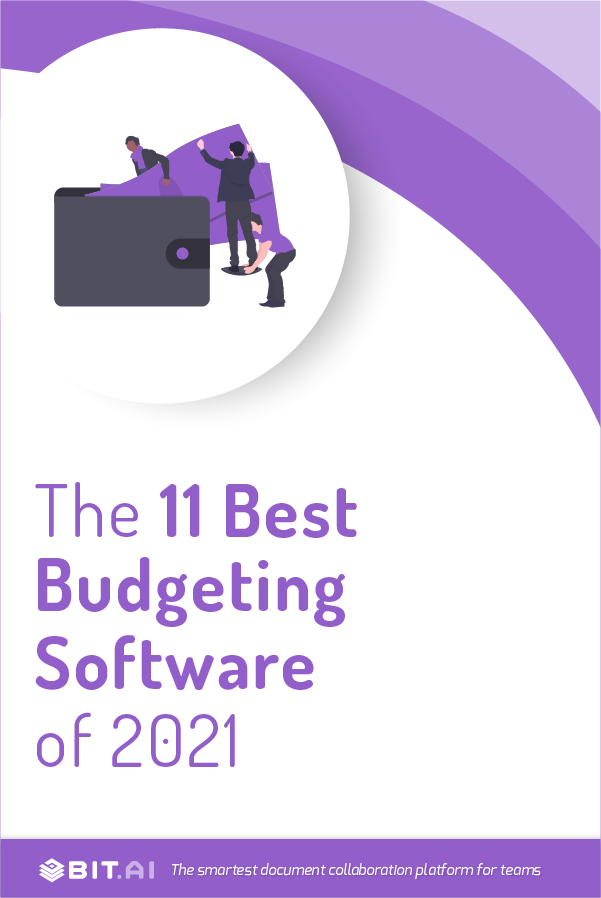 Related posts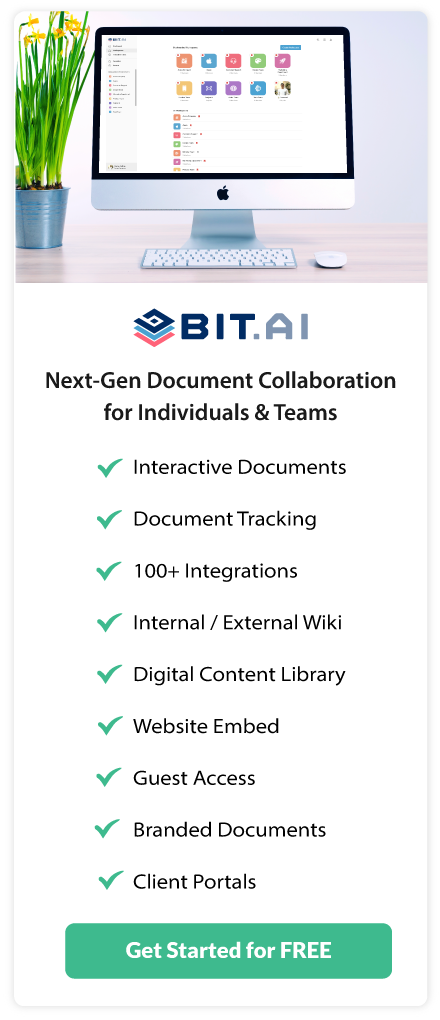 About Bit.ai
Bit.ai is the essential next-gen workplace and document collaboration platform. that helps teams share knowledge by connecting any type of digital content. With this intuitive, cloud-based solution, anyone can work visually and collaborate in real-time while creating internal notes, team projects, knowledge bases, client-facing content, and more.
The smartest online Google Docs and Word alternative, Bit.ai is used in over 100 countries by professionals everywhere, from IT teams creating internal documentation and knowledge bases, to sales and marketing teams sharing client materials and client portals.
👉👉Click Here to Check out Bit.ai.