Want to create a progress report to highlight the project's achievements? No worries, we have got you covered! Read on…
A quick question – on a scale of 1 to 10, how important is it to regularly keep track and provide project updates to your supervisors, colleagues, or clients? The answer is 12! Simply, because nobody likes being left in the dark!
For any project in a company, people around it need to be well-informed about the project status, the research being done by the project team, their decisions, and the scope for improvement. These updates are an integral part of project management and ensure that every team member is operating efficiently with their goals being met on time.
One way to showcase the status of your project and keep track of it is to write a powerful progress report!
In fact, the American Society for Training and Development shows that having a specific place to check your progress increases the probability of meeting a goal by 95%.
Progress reports are a great place for project managers to inform and engage their supervisors, clients, or associates, about the progress they have made on a project over a certain period.
If executed well, progress reports provide a quick overview of how things are humming along, offering valuable insights to increase productivity, provide the necessary guidance, and quickly solve emerging difficulties.
However, writing a progress report can be a little daunting, especially, when you have a diverse team and various sub-projects to manage. Well, don't fret! We're going to fix that. In this blog post, we'll teach you everything about progress reports, why they are important, and how you can write one that will make everyone say 'wow'!
Read on…
 What is the Progress Report? (Definition)
A progress report is a document that explains in detail how much progress you have made towards the completion of your ongoing project.
A progress report is a management tool used in all types of organizations, that outlines the tasks completed, activities carried out, and target achieved vis-à-vis your project plan.
In a progress report, you explain any or all of the following:
The amount of work complete?
What part of the work is currently in progress?
The problems or unexpected things that have occurred?
What work is pending?
How the project is going in general?
Read more: How To Write An Impressive Project Proposal?

Why are Progress Reports Important?
No project manager wakes up thinking "I wish I could make reports for my supervisor and team all day"! We get it. Writing progress reports are not very fun.
However, you know that writing progress reports are part of the deal. Progressive reporting demands talking with your team or client to understand the goals and showcase the information that closely relates to the said goals.
Whether the report is about updating the investors, marketing performance, or resource management. These reports let everyone see what's going well and what isn't.
It also assists managers to see the overall success or failure of projects. Furthermore, progress reports help to:
1. Make Information Transparent
The glue that holds together any relationship is visibility and transparency. A well-defined progress report directly presents how your work affects the project's bottom line and showcases the rights and wrongs!
By adding transparency to your project plan, you can build an unmatched level of credibility and trust with your team and clients.
2. Encourage Constant Interaction
Creating and discussing progress reports results in constant communication and keeps everyone in the loop. Being in constant contact with others on a weekly or monthly basis ensures a clear understanding of roles and responsibilities.
3. Improve Project Evaluation and Review
Previous progress reports will help you in clarifying loopholes, and systemic issues, and examine documents to find out what went wrong, what can be done right, and which area needs improvement.
4. Provides Insight for Future Planning
When a progress report shows all the delays that have occurred, the supervisor or a project manager can monitor and investigate the issue that hindered progress and take additional steps to prevent them from happening in the future.
Read more: How to Write Project Reports that 'Wow' Your Clients?
How to Write a Progress Report with 4 Simple Steps?
Progress reports are essential documents for tracking project plans and initiatives, but if the readers and writers are not in sync, these reports can be a hit-or-miss exercise for everyone involved.
Therefore, here are some steps to help you deliver the right information to the right people at the right time.
Step 1. Explain the purpose of your report
There are many reasons for someone to write a progress report. Obviously, for many of them, it's to brief the progress and status of the project.
Readers might also want to know detailed information about the project's purpose, its duration, and other important insights.
Step 2. Define your audience
Once you have sorted out the purpose of writing the progress report, consider the type of audience you will be targeting and the details that your readers are going to acknowledge in the report.
These can be, what decisions your readers are going to need to make after reading the progress report, the information they are going to need to know to oversee and participate in the project effectively, etc.
Step 3. Create a "work completed" section
In this section, you should describe everything that has already been done and the best way to do this is to mention the completed tasks chronologically.
You can specify dates, tasks you and your team were working on, information on key findings, etc.
Step 4. Summarize your progress report
In the summary section, provide the essential details about the to-do and completed work. Also, add a short description of the problems your team encountered, recommendations from your supervisor for their resolution, and whether any assistance on the project is required.
Read more: Business Report: What is it & How to Write it? (Steps & Format)
Creating a Progress Report that Stands Out with Bit.ai!
If you are planning to show a progress report that looks exactly like any other bland report, chances are your readers are just going to skim it along the way or won't read it at all.
Well, to lure your reader's attention and proudly display the work you have done on the project, you have to make the progress report irresistibly compelling!
How about awesome visuals, accompanied by quality content that could grab the reader's interest and encourage them to read the whole thing? No doubt, everybody likes reading something easy to grasp and visually stunning!
Luckily, we have got the perfect tool for you that will provide a reading experience like never before and bring your grey-scale progress reports to come alive! A solution like Bit.ai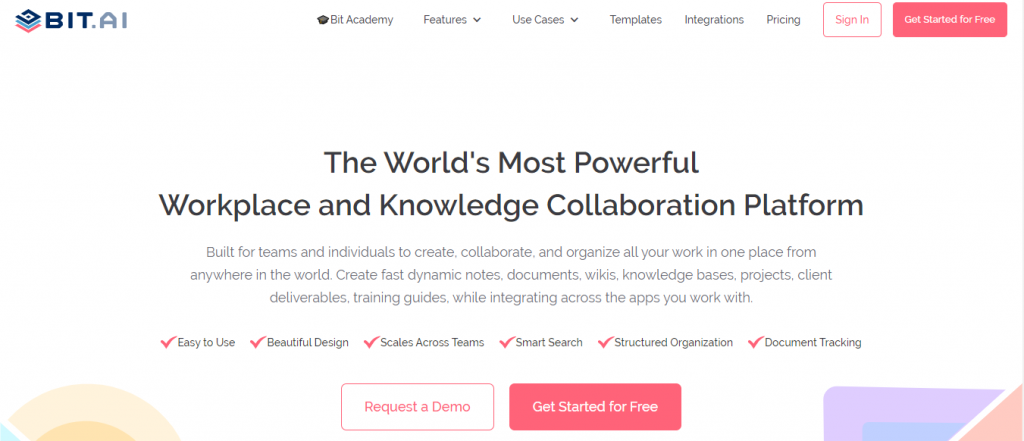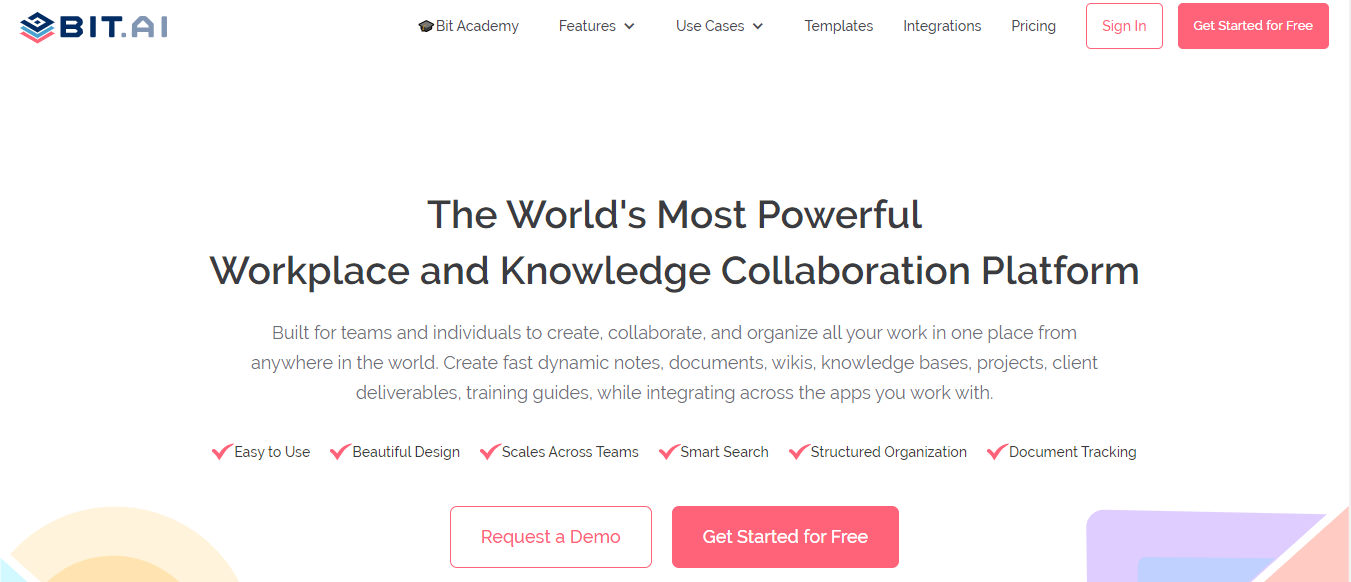 Bit is a new-age cloud-based document collaboration tool that helps teams create, share, manage, and track interactive workplace documents.
Bit helps you make sure your reports are more than just plain bland text and images. Thus, apart from allowing multiple users to collaborate on reports, Bit also allows users to share any sort of rich media like campaign video, tables, charts, One Drive files, Excel Spreadsheets, GIFs, Tweets, Pinterest boards, etc. Anything on the internet with a link can be shared and Bit will automatically turn it into visual content.
Bit has a very minimal design aesthetic which makes every design element pop, awesome readability, and rich features that will prevent collaborators from messing up any documents and help them rethink the way they work!
Besides writing progress reports, you can easily create other beautiful documents like the statement of work, project documentation, operational plan, roadmap, project charter, etc. in a common workplace for other team members to collaborate, document, share their knowledge, brainstorm ideas, store digital assets, and innovate together.
The best part is that this knowledge is safely secured in your workspaces and can be shared (or kept private) with anyone in your organization or the public!

All-in-all Bit is like Google Docs on steroids! So, no more settling for those boring text editors when you have an excessively robust solution to walk you through!
Still, not sure how Bit can help you create that perfect progress report to woo your readers? Let's see some more of Bit's awesome capabilities!
Key Benefits of Creating Your Progress Reports on Bit.ai
Simple, clean UI: Bit has a very minimal design aesthetic to it, allowing a newbie to quickly get on board with the platform. Even though the platform is feature-rich, it does a great job as to not overwhelm a new user and provides a systematic approach to work.
Organization of information:  Information is often scattered in cloud storage apps, emails, Slack channels, and more. Bit brings all your information in one place by allowing you to organize information in workspaces and folders. Bring all your documents, media files, and other important company data in one place.
Brand consistency: Focus on the content and let Bit help you with the design and formatting. Bit documents are completely responsive and look great on all devices. With amazing templates and themes, Bit docs provide you with the type of brand and design consistency that is unheard of in the documentation industry
Smart search: Bit has very robust search functionality that allows anyone to search and find their documents swiftly. You can search workspaces, folders, document titles, and the content inside of documents with Bit's rich-text search.
Media integrations: Companies use an average of 34 SaaS apps! No wonder why most of our time is spent hopping from one app to the next, looking for information. This is why Bit.ai integrates with over 100+ popular applications (YouTube, Typeform, LucidChart, Loom, Google Drive, etc) to help teams weave information in their documents beyond just text and images.
Multiple ways of sharing: Bit documents can be shared in three different states:
Live state: A live state meaning that all changes that you make to the document will update in real-time. If you are sharing your documents with clients, partners, or customers they will always get your most up-to-date changes.
Embeds: You can embed Bit documents on any website or blog. Bit docs are fully responsive and render perfectly on your website.
Tracking: You can track your documents and gather real-time insights to understand how users interact with your content. See how much time users spend viewing documents, scroll ratio, user information, and more.
Our team at bit.ai has created a few more templates to make your business processes more efficient. Make sure to check them out before you go, your team might need them!
Conclusion
A well-defined progress report is like the pulse of a project! It determines your relationship with your readers, highlights all the updates- big or small, and keeps everyone on the same page. Remember, depending on the complexity and scope of the project, you might need to share your progress report on a weekly or monthly basis for better efficiency!
Once you follow all the steps that are mentioned above, your reports are surely going to feel like a breeze of fresh air to your readers, making you look credible and professional. So what are you waiting for?
Do you write such reports in your organization, if yes, which tool do you use? Let us know in the comments below or tweet us @bit_ai
Further reads: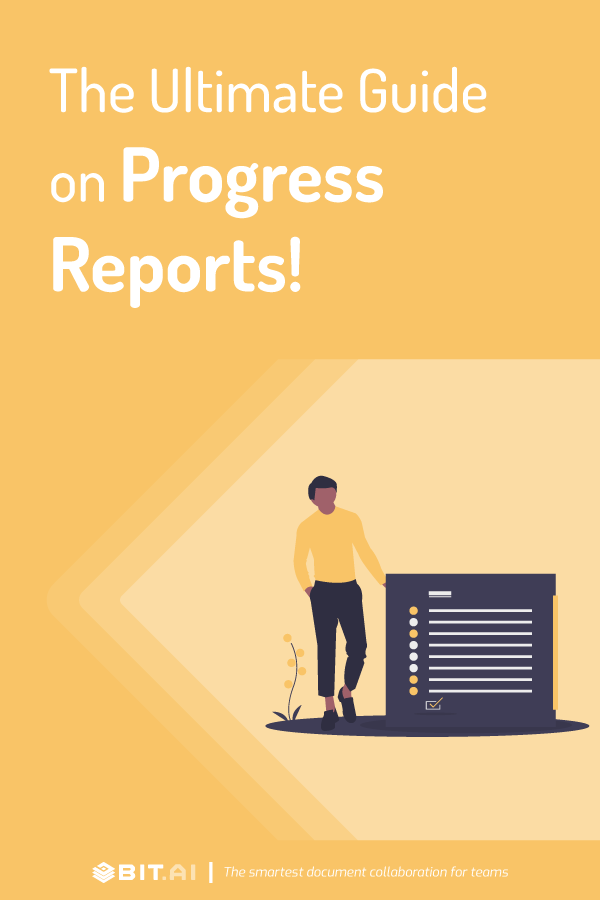 Related posts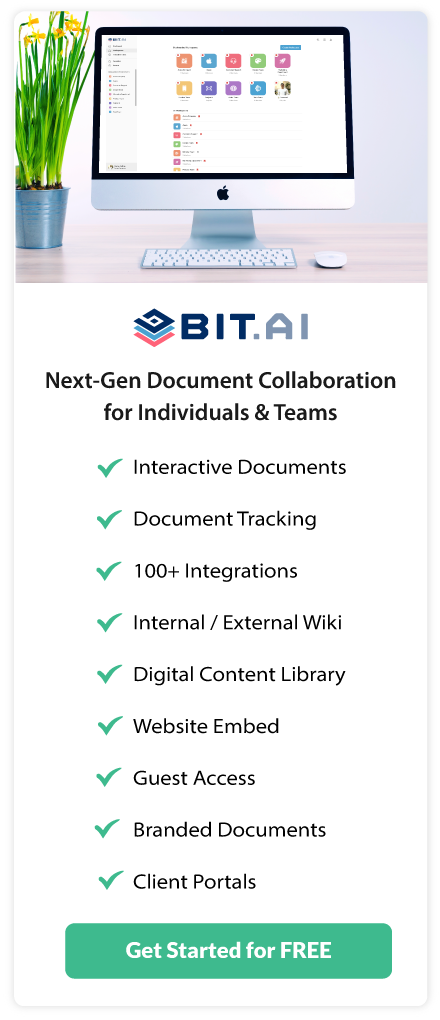 About Bit.ai
Bit.ai is the essential next-gen workplace and document collaboration platform. that helps teams share knowledge by connecting any type of digital content. With this intuitive, cloud-based solution, anyone can work visually and collaborate in real-time while creating internal notes, team projects, knowledge bases, client-facing content, and more.
The smartest online Google Docs and Word alternative, Bit.ai is used in over 100 countries by professionals everywhere, from IT teams creating internal documentation and knowledge bases, to sales and marketing teams sharing client materials and client portals.
👉👉Click Here to Check out Bit.ai.