What's something a business can't run without? We're totally sure the first two things that came to your mind were money and people.
Well, you're not wrong, but you're not totally right either. There's another thing that's equally important for a business, and yet it's often overlooked – reports.
We mean, think about it: You had a wonderful sales year. Your sales touched the roof. Now what? How do you tell the people within and outside your organization the details of it? How do you present this information?
Honestly, you can't do any of it without a report. It's the place where you can specify each and everything that you did to increase sales. This report is something that'll help you make sure things stay the same next year too.
Let's consider another scenario: You've hired a new director. You want him to get familiar with the current status of your business, your business processes, the assets and liabilities you've, and everything else.
You can just talk to him about these things over a cup of coffee, but would that be efficient? Of course not. He needs a thorough understanding of the business, and only business reports can give him that.
Well, now that you know the importance of reports in the business world, we'll tell you about a few types of business reports that you must create. Ready? Let's go!
7 Types of Business Reports That You Should Be Creating
Type 1. Performance Report
How much traffic did you get on your website this month? Did your sales team achieve its target? What's your ROI? These are the kind of questions that you need to answer in a performance report.
In a nutshell, a performance report includes anything and everything related to your company's performance. In the report, you've to mention how each and every department in your business is performing.
This will help you get a clear idea of what's going on in your business, where you're succeeding, and where you're falling short. To get the best out of your performance reports, you should prepare them every month!
Type 2. Annual Report
To be honest, this report is the king of all the other business reports. Why? Because it shows each and everything that your business has done over the year, which makes it a very, very important piece of document.
An annual report is usually prepared after a financial year is over, and it presents an overview of every segment of your business – from operations to marketing.

This report can give you, your customers, and your stakeholders a perfect picture of what lies ahead for the company – but only if you take the time to create it the right way.
Type 3. Meeting Report
As you might have guessed already, a meeting report is prepared after a meeting. It's very much like 'minutes of the meeting', but a little more detailed.
In a meeting report, you've to mention everything that was discussed in the meeting, the names of the attendees, the purpose, and a brief about the next meeting.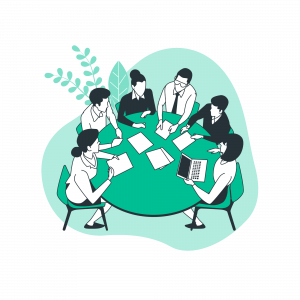 Creating meeting reports is a wise idea because it helps you keep track of all the important plans that were discussed in the meeting. Also, it gives you a foundation for the next meeting!
Type 4. Research Report
Whether it's research on your target market or your competitors – research is an inevitable part of the business world. You can't really make sound business decisions without proper research.
But conducting research isn't enough – the way you present it matters too. That's exactly why research reports are SO important. If you report all your research results efficiently, no one can stop you from making good decisions.
Research reports can also help you and your team understand the market in a better way, which means, you'd be able to target all your efforts in the right direction.
Type 5. Sales & Marketing Report
Marketing is expensive and a lot of work – we all know that. You don't want your money and efforts to go down the drain, right? Well, good sales and marketing reports can actually prevent it from happening.
See, when you'll prepare a marketing report, you'll have all the data related to your marketing strategies right at your fingertips. You can observe it, analyze it, and do a lot more every time things aren't going well.
Remember, if you can't measure something, you can't make changes to it, and you can't measure something without a good report in place. As simple as that.
Read more: Sales Report: What is it and How to Create One?
Type 6. KPI Report
First things first, let's understand what KPI exactly is. KPIs are the metrics that are 'key' in determining your business's success. KPIs can be anything from your profit margin to your advertising ROI.
A KPI report gives you a quick overview of all the KPIs you've set and helps you figure out whether your organization is on track or not. These insights ultimately lead to better business results.
This report can also help you navigate between important business processes and get concise, up-to-date, and accurate information about your business. What more could you possibly ask for?
Type 7. Informational Report
Trust us, this report is not as boring as it sounds. In fact, it's a report that acts as a knight in shining armor. Remember the example we gave in the introduction? Let's talk about it again.
You've hired a new director, and you want him to know everything about your business in as little time as possible. Well, you can share the informational report with him.
The report will have a summary of all the crucial information the new director needs to know and will basically act as a guide for him. You can share the report with every new person that joins your company.
Good job! You now have AMAZING knowledge about the types of business reports that you should be creating. But, even though knowledge is power, putting it into practice is a little difficult, especially in the business world.
What we're trying to say is, you know all about business reports now, but without knowing how to create them, that knowledge isn't of much use, is it?
You are probably wondering, "Oh, I can just type things out in a Word document or Notepad, and my report will be ready." Well, you certainly can, but would that report be efficient? No. Nope. Nada.
All the reports that we've mentioned above are super important, so you need to make sure that you create them using the best tool out there, which is Bit.ai.
Bit.ai – The Best Platform to Create Business Reports & All Other Documents

Bit.ai is literally the easiest, most convenient way to create the perfect business reports and every other kind of document that exists on the planet.
We're serious. With Bit, you can create business reports in no time. You can just focus on the content because Bit is going to help you with every other aspect of your report – from formatting to sharing!
Want to know more reasons why you should use Bit for creating your business reports? Let's go!
1. Stunning, Fully Responsive Templates: Whether you want to create a product report or a marketing report – there's a gorgeous template for that on Bit. With over 90 pre-built, fully responsive, and gorgeous templates, Bit has made the complicated and long process of creating business reports a walk in the park.
2. Design Automation: Writing reports is not an easy feat. It takes so much of your time that you end up having no energy to format the report and make it look appealing. Well, Bit solves that problem for you by automating the design aspect for you. With just one click, you can change the look of your entire document. You can change the layout of the theme and update the color of your document too.
3. Interactive Documents: Why give someone a boring, static report they'll never open when you could turn it into something much more engaging? Yes, Bit lets you add PDFs, cloud files, maps, surveys/polls, charts, videos – basically all kinds of rich media in your document. Right now, there are over 100 rich media embed integrations on Bit!
4. Real-Time Collaboration: Reports are important, and you certainly can't create one entirely on your own. That's why this feature of Bit is the BOMB. Using Bit, you can collaborate with your team on your documents in real-time, no matter where they are located. You can co-edit, make inline comments, access version history, chat via document chat, @mentions, and much more!
5. Smart Workspaces: Organizing and managing all your business reports can be a pain, but Bit is here to take it away. Bit lets you create as many workspaces as you want around different teams and departments, invite guests into the workspace, and manage everything much more efficiently.
So, before passing off another terrible business report, use Bit.ai to wind up with a report you can be proud of!
Wrapping Up
You probably didn't get into business to create reports, but that doesn't change the fact that reports are a quintessential part of any business.
A report is what guides you when things are going wrong, and helps you make things right. Just change your perspective a little, and you'll realize that reports aren't a burden, but an asset for your business.
Yes, we know you have a hundred other things to do when you're running a business, but creating and analyzing the reports we've mentioned above should always be one of those hundred things.
By the way, if you've anything to ask related to Bit.ai and creating documents on it, just hit us up on Twitter @bit_docs. We'd be happy to help you out.
Cheers!
Further reads:
Incident Report: What is it & How to Write it the Right Way!
Consulting Report: What is it and How to Create it?
Weekly Report: What is it & How to Create it? (Steps & Structure)
How to Write Project Reports that 'Wow' Your Clients? (Template Included)
Formal Report: What is it & How to Create it!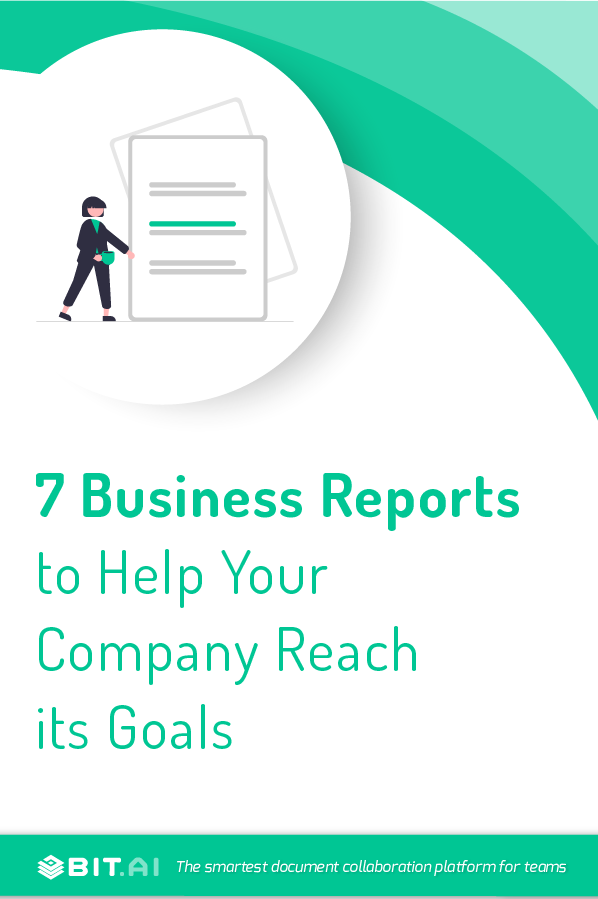 Related posts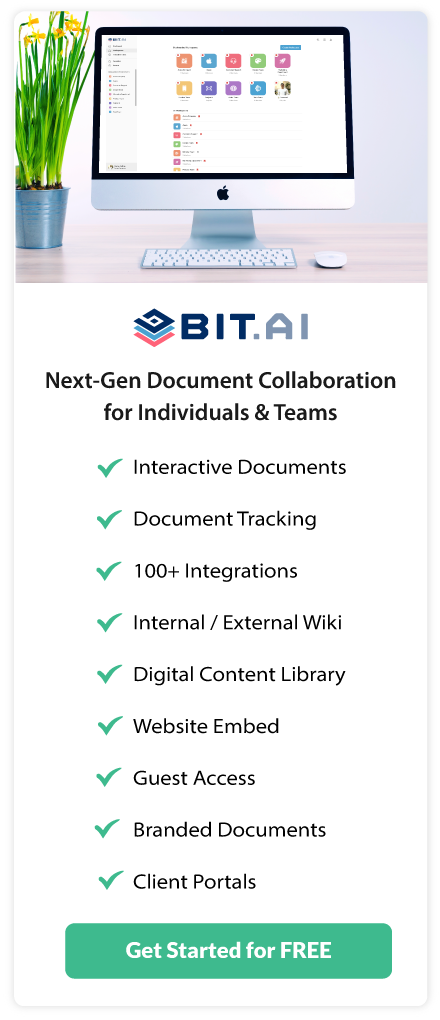 About Bit.ai
Bit.ai is the essential next-gen workplace and document collaboration platform. that helps teams share knowledge by connecting any type of digital content. With this intuitive, cloud-based solution, anyone can work visually and collaborate in real-time while creating internal notes, team projects, knowledge bases, client-facing content, and more.
The smartest online Google Docs and Word alternative, Bit.ai is used in over 100 countries by professionals everywhere, from IT teams creating internal documentation and knowledge bases, to sales and marketing teams sharing client materials and client portals.
👉👉Click Here to Check out Bit.ai.