You've worked super hard to generate leads.
Now, it's time to send your potential clients a quotation.
If you know how to create quotations that work for your business, poaching clients can be a cakewalk for you.
But, if you're one of the business owners or freelancers who don't realize that the way they create quotations can cost them business, you can kiss those hard-earned leads goodbye.
Why are we saying that?
Because the truth is, a quotation is so much more than just the price, and how you provide it can make all the difference. It is a window into you, your professionalism, and your business.
You are competing with many other companies who want to win that particular client, so you need to be on the ball.
The swiftly and more efficiently you respond to their requests, the bigger are your chances of closing the deal.
But, how do you write a professional quote that stands out among the rest?
How do you write a quotation that speaks volumes to your clients and consistently converts sales?
How do you create a quotation correctly, as fast as possible, and that meets the marketing budget?
We're going to give you answers to all these questions and more in this blog!
But, before that, let's start with a small vocabulary lesson.

What Exactly is a Quotation?
A quotation is a document that you send to clients in which you offer products or services at a given price, under specified conditions. It provides a breakdown of the work which you'll do for your client.
Simply put, a quotation is an expression of how much your goods or services will cost the potential buyers before they commit to the purchase.
A quotation is usually not legally binding unless specified that it's an official part of a contract. Also, the quoted price can't be changed once the client accepts it.
With that said, a quotation might have some flexibility built into it. Ensure that you clearly specify whether your price will remain the same or if it might change depending on deliverables.
You should write quotations in a way that your potential clients get convinced to choose your offerings over others and seal the deal.
If your quotation lacks some information, it might turn your client off.
This document is extremely crucial and you need to make it as good as it can be.
We're going to help you do just that. Read on!
What You Should Include in a Quotation?
Here is a checklist of the components that a quotation should have:
Your business information
Your prospective client's business information
The date of issue and validity period
Services you're offering and the pricing structure
The terms and conditions
Notes for clarity
1. Your Business Information
Yes, this one seems a little obvious, but we had to get it out there because it's important.
If you want your company to stand out from the rest, your potential client should be aware of what your company does.
So, give all the necessary information about your company including your company's name, address, contact numbers, and e-mail.
It's best (and most effective) to use your company's letterhead.
2. Your Prospective Client's Business Information
Do not forget to include details about the client who is going to receive the quote.
Mention standard information like business name, company address, contact name and title, contact number, fax number (if any), and email address.
If you want to make your quotes look more professional, you should include this information.
3. The Date of Issue and Validity Period
Mention the date on which you're sending the quotation to your prospective client.
Why do you need to do that?
Because market factors like supplier prices and worker availability fluctuate, and so does your pricing.
If you want to ensure an accurate and favorable price, you should specify the date of issue and the validity period of your quotation.
Generally, a 'valid until' date is set at 30-45 days from the issuance of the quote.
However, if you want to, you can extend or decrease the quoted time.
That's not it! There's another benefit of mentioning an expiration date – it lets your clients know how much time they have to accept or reject the quotation.
It results in a sense of urgency resulting in a quicker response by the client.
Bonus Tip: Give your clients a friendly reminder before the expiry date!
4. Services You're Offering & The Pricing Structure
Your aim is to help your clients understand what you are providing and what they are getting, and this is the section where you do that.
Clients want to know what they are paying for, so list out each product and service with the associated price.
Divide the products and services according to different project stages and include the cost wise breakdown.
For example, if you have a SaaS company that offers multiple packages, mention the features of the package that you are offering in the quotation. Include every possible detail!
Bonus Tip: Do some research to make sure your prices are realistic and not out of whack (higher OR lower). Leave room for a little negotiation but not for any confusion.
5. The Terms & Conditions
If you want to avoid any dispute in the future, specifying terms and conditions is a must.
In this section, you've to mention:
Additional charges are applicable to the product.
Under what conditions extra work might be needed.
How and when you want to be paid for the project.
Payment modes and details.
Advance deposit for the project.
Any possible variations in the project.
6. Notes for Clarity
In this section, you can paint a clearer picture of what you'll be working on, the scope of your project, and any additional details you want to include.
For example, if certain elements in the pricing structure or the terms and conditions section is a little complex, you can add small notes for clarity.
This is also an ideal place to write information regarding the time and anticipated completion date!
Also, thank your client for the opportunity, and let them know you are waiting to work with them.
So, What's Next? 
We're going to be very honest with you.
If your quotation is poorly formatted, unappealing, or has missing information, your potential clients will assume your company runs the same way.
On the other hand, a precise and well-structured quotation will show your attention to detail, professionalism, and ability to listen to the client's needs.
Basically, a good quotation will increase the chances of the client saying 'yes' to you.
So, do you want to create comprehensive, perfectly formatted quotations that your clients will love?
We've just the right tool for you – Bit.ai. 
Read more: 9 Client Management Software You Must Check Out!
Bit.ai – The Ultimate Tool for Writing Quotations

Bit.ai is a powerful, new-age documentation and knowledge management tool that helps you collaborate, share, track, and manage all your documents under one single roof.
Using Bit's integrated and intuitive tools, you can create a 'live' quotation for your clients that has the ideal format, is easy on the eyes, and great to look at! You can even track and see when it was opened, what device they used to read it, get notifications alerting you every time clients open its and see how much time your client spent reading it.
Want to know more reasons why you should use Bit for writing quotations? Read on!
Real-Time Collaboration: While creating quotations, you might need inputs from your team so that you don't end up giving the wrong estimate. Well, Bit.ai helps you do that with ease. Instead of communicating back and forth through emails and messages with your team, Bit lets you and your team simultaneously collaborate on a Bit document in real-time. It is a great way for your team to handle different aspects of your quotations together in one place.
Smart Workspaces: Every client needs a different quotation and storing all this information can be a headache. Bit solves that problem for you. You can gather your team and create workspaces around projects, teams, departments, and clients to keep all your data organized.
Sleek Editor: Creating quotations requires all your attention and we understand that. Bit's minimal and distraction-free editor makes it a great tool for creating quotations. Once you are done creating your quotation, you can easily export them as PDFs, Word files, Markdown, and much more.
Interactive Documents: More often than not, you're not the only one who's sending a quotation to the client. You're competing with a lot of different companies. One of the ways to stand out from the competition is by making your quotations interactive. You can add videos, social content, music, cloud files, maps, charts, surveys/polls, code, presentations – basically any rich media you can think of in your Bit doc.
Content Management: Need a place to store all your media that you might need in your quotations? Bit has a powerful content library to save and access all your videos, images, files, and digital content you add to your quotations so that you can use and reuse them easily.
Permissions: Client quotations are important documents, and you've to make sure that the right person has access to them at the right time. Well, Bit supports features like document tracking, password protection, file access restrictions, etc. that help keep your important company information safe. You can easily share your quotation with your internal teams and clients.
You can also get real-time insights on your shared docs with document tracking. You can see how much time your potential client has spent reading your quotation, how often they come back to read the quotation, how far they've scrolled, and more.
There's nothing like Bit out there when it comes to creating quotations, or any other document for that matter. With a free account for up to 5 members, there's no reason why you should not give Bit a try!
Wrapping Up
Yes, it isn't impossible to win a client without writing a quotation.
But, that only works when your prospect is only interested in your product or services.
They don't give a hoot about the price because they want you and nobody else.
…and that, folks, happens once in a blue moon.
Therefore, if you really want to win a client, you've to do a lot more than sending an unexplained total cost in a brief email.
If you want to be successful at finding clients and work, you have to write the perfect quotations.
Remember, the quotation is often the first impression, and the first step to securing a contract.
You obviously can't ruin that, right?
The cherry on the cake: If you create and share your quotations using a tool like Bit.ai, you'll also show your potential clients that you run a smart, modern business and are fabulous to work with.
Are you all set to create ultimate quotations for your prospects? Don't forget to let us know how it goes by tweeting us @bit_docs.
Further reads:
Client Portals: Communicate with Clients the Right Way
Purchase Orders: What are they & How to Create them?
Operating Agreement: What is it & How to Draft One for your LLC?
Shareholder's Agreement: What is it & How to Create it?
Survey Report: What is it & How to Create it?
Client Brief: What is it and How to Write it? (Steps Included)
What's the Best Way to Create an Internal Wiki?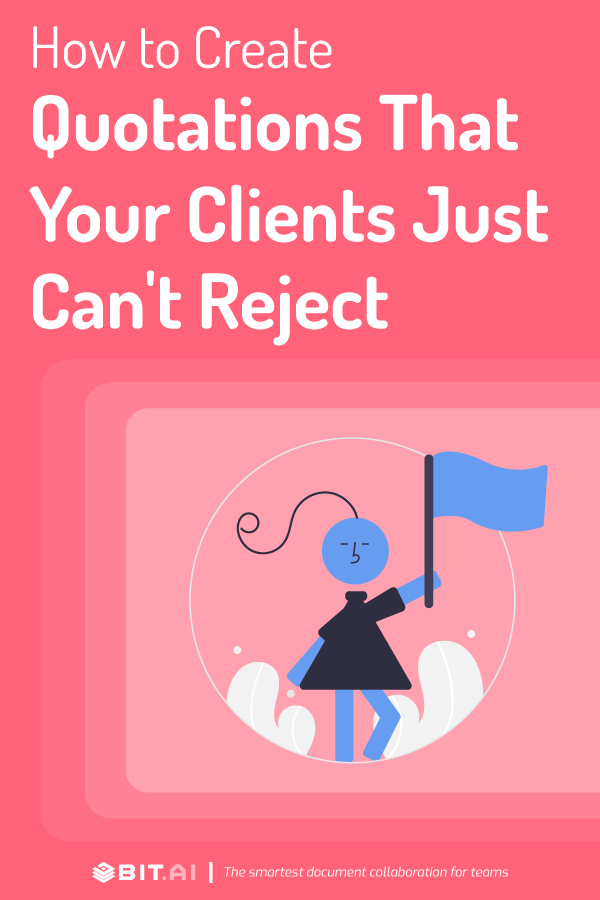 Related posts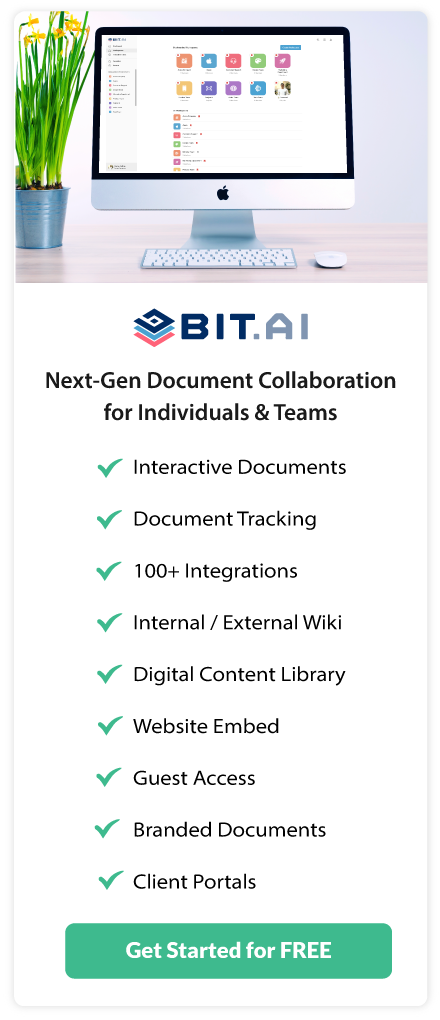 About Bit.ai
Bit.ai is the essential next-gen workplace and document collaboration platform. that helps teams share knowledge by connecting any type of digital content. With this intuitive, cloud-based solution, anyone can work visually and collaborate in real-time while creating internal notes, team projects, knowledge bases, client-facing content, and more.
The smartest online Google Docs and Word alternative, Bit.ai is used in over 100 countries by professionals everywhere, from IT teams creating internal documentation and knowledge bases, to sales and marketing teams sharing client materials and client portals.
👉👉Click Here to Check out Bit.ai.