They say that a happy customer is a loyal customer. And we totally agree with that!
Your customers control the success of your business. If they do not find your business satisfactory or worthy, they will simply spend their money elsewhere.
In fact, statistics say that customers tell twice as many people about their negative experiences than their positive experiences. Imagine the impact that can have on your business!
But, on the bright side, if your customer service reps solve an unhappy customer's problem, 70% of those customers will shop with your company again.
Not only that, a whopping 91% of customers say that good service makes them more likely to purchase from the same company again.
So we think it's safe to conclude that you need to invest more in your clients and their experience. But how?
Obviously having a team of dedicated professionals is the first step, but also having the right tools and technology is a game-changer. This is where client management software enters the scene.
In this blog, we will provide you with a list of some of the best client management software that you can use in your business to reap the benefits that come with making a customer happy. Jump right in!
What is a Client Management Software?
First off, let's try to understand what client management is. It is the act of building a relationship between your business and your customers. It's basically all about setting standards, establishing trust, and maintaining a long-term relationship with a client or a customer.
A client management software is an application that keeps track of the relationship between a business and its customers.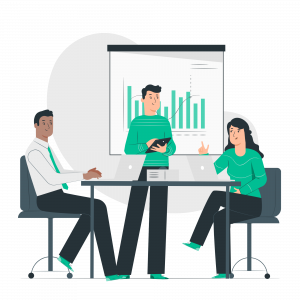 It provides your business with a clear picture of your relationship with your clients, including your first contact, sales funnel, ongoing sales, marketing, and all other possible data. You can use this data to nurture the relationship into a long-term one.
Now you must be wondering whether a client management software is actually an investment worth making. And we are here to tell you that it is. Why? Read on and find out…

Why You Need a Client Management Software?
While the main objective of your business is to earn profits, it is impossible to do so without your customers and clients. And even though it's great to acquire new customers, it is important to maintain your existing customer base.
Studies estimate that 80% of a company's future revenue will come from 20% of its existing customers. That's the reason why is it crucial to build and nurture a good and long-lasting relationship with each of your customers.
As your customer base increases, it becomes more and more difficult to keep track of all the data and progress of each customer. This is where a client management software steps in to organize and make your business life easy. A client management system allows you to:
Keep tabs on all the data and analytics of each customer and their communications.
Track the activity of your clients and their purchasing history to anticipate and prevent any roadblocks.

Provides a communication system to contact clients using personalized emails and messages

Provide automated workflows to organize and schedule meetings within the company.
In short, a client management software:
Organizes information and data.
Offers better work collaboration.
Ensures higher revenue and success rates.
And for these reasons, client management software is one of the best investments you can make for your company and your clients. Now that we have established that, let's take a look at some of the best client management software out there!
List of 9 Client Management Software You Should Check Out!

Lastly, we have Freshworks, a client management software that provides you with a 360-degree view of all your customers. It lets you track customer requests and engagements and helps you locate customer touchpoints like interactions, websites, appointments, etc.
This software offers website and in-app tracking, behavior-based segmentation, activity timeline, etc. to help you understand your visitors in real-time. It also provides a lead scoring feature and in-depth reports.
Furthermore, Freshworks also has a built-in email and phone which allows you to send emails and make calls directly from the software or system itself. This also helps in automatically recording every email and call.
Features:
Provides a 360-degree view of customers
Comes with a built-in email and phone
Offer lead scoring and website tracking
Pricing
Blossom plan at $12 user per month
Garden plan at $25 user per month
Estate plan at $49 user per month
Forest plan at $79 user per month
Read more: Management Plan: Definition, Benefits & How To Create One?

Keap is a client management software that maintains communications, marketing, payments, and client activity – all under one roof. This tool helps you collect leads and convert them into clients.
The email and SMS marketing tools offered by Keap help in segmenting your leads into prospects based on specific characteristics. It even has a form builder which creates custom forms that can be embedded directly onto your website. It automatically triggers actions to ensure follow-up!
Keap also allows you to choose from pre-written emails and automates processes to send messages to new leads. Furthermore, it integrates with Gmail and Outlook.
Features:
Embeds custom forms directly to the website.
Provides pre-written emails
Offers advanced reporting features
Pricing
Keap Grow starts at $79 per month
Keap Pro starts at $149 per month
Infusionsoft starts at $199 per month

Let's kick start our list with Zoho, a highly popular client management software that provides multi-channel communication, sales automation, sales management, and predictive sales.
Zoho's multichannel communication allows you to integrate with several business applications like Slack, Dropbox, Google Suite, LinkedIn, Mailchimp, and many more. This means that you can connect with any of your customers via email, phone, live chat, or even social media – irrespective of where they are
Zoho also comes with customizable dashboards and reports to give you data insights and also has an AI-powered sales assistant (Zia) which helps predict sales outcomes, detect anomalies, and much more.
What's more? Zoho has a mobile CRM app that records data, schedules tasks, and updates information even while you're offline.
Features:
Allows multi-channel communication
Comes with an AI-powered assistant
Supported on mobile CRM app
Pricing
The standard plan starts at $12/month
The professional plan starts at $20/month
Enterprise plan starts at $35/month
Read more: 10 Task Management Tools Every Business Must be Using!

Here is another popular client management software, Hubspot. It offers free marketing tools, functionalities, and CRM for marketers, business owners, salespersons, customer services teams, and so on.
Hubspot provides detailed reports on sales activity, productivity, and individual performances and shows website insights, company activity, and deal tracking on its reporting dashboard. It also supports other functionalities like email-tracking, meeting scheduling, prospect tracking, live chats, and ticketing.
This software can be integrated with third-party applications like Gmail, G Suite, Office 365, and Outlook. Furthermore, you can add unlimited users and data without a time limit or expiration date.
Features:
Provides detailed reports
Supports third-party integrations
Allows unlimited users and data
Price
Next on the list, we have Monday.com, a client management software that helps you centralize all your client's data in a customizable layout.
Monday.com lets you create lead forms and place them directly on your website, which will collect and save all data and activity related to your clients on its CRM board.
This software has a collaboration and communication functionality that lets you invite, collaborate, and share conversations, files, and projects with your clients – all under one roof. It even lets you see who saw what.
In addition to this, the tool organizes all your deadlines in order so that you can get your tasks done on time.
Features:
Centralizes client data
Helps create lead forms
Allows collaboration with clients
Pricing 
Basic starts at $39 per month
Standard plan at $49 per month
Pro plan at $79 per month

Insightly is easy-to-use marketing automation and client management software that helps you build better relationships with your clients. It's suitable for both small businesses and large enterprises.
This software comes with drag-and-drop customization that allows you to create graphs, charts, and visualizations to share throughout your organization.
In addition to robust customer support, Insightly also offers features like relationship linking, lead routing, and workflow automation.
The software also has an option to build custom apps and also integrates with third-party apps like Gmail, Microsoft Outlook, Mailchimp, etc., and even web-based services like Zapier.
Features
Offers features like relationship linking, lead routing, and workflow automation
Comes with drag-and-drop customizations
Supports third-party integrations
Pricing
 Plus $29 per user per month
Professional $49 per user per month
Enterprise $99 per user per month
Read more: 13 Online Meeting Apps and Software for Remote Teams!

Next on the list, we have Salesforce, a cloud-based client management software that helps you track customer interactions and information, automate marketing processes, and personalize email marketing all in one place.
Salesforce offers robust customer service which includes self-service portals and call center software. It allows team collaboration and ensures a proper flow of communication. It also integrates with AI and provides automation to boost the productivity of your business.
With Salesforce's sales forecasting feature, you can predict sales and budget, get a real-time view of your sales and track its accuracy. This helps you compare sales expectations and benchmarks, set realistic goals, prevent problems, and make management decisions.
Features:
Integrates with AI features
Provides self-service portals and call center software
Offers a sales forecasting feature
Pricing
Essential at $25 per user per month
Professional at $75 per user per month
Enterprise at $150 per user per month

Pipedrive is a client management software that provides pipeline management, web forms, chatbots, workflow automation, and AI-powered sales assistance.
The AI sales assistant is what makes Pipedrive unique, because not only does it provide training to your sales reps, it also uses algorithms to analyze their past performances and send them personalized tips and automation recommendations.
Pipedrive syncs your contacts and calendar with Google and Microsoft and also offers you a full timeline of your contact activity history. It even has features that help manage leads and deals.
What's more? This software can be integrated with sales-boosting apps and is also available on Android and iOS mobile apps.
Features:
Offers an AI-powered sales assistant
Provides contact management features
Shows timeline of contact activity history
Pricing
Essential at $12.50 per user per month
Advanced plan at $24.90 per user per month
Professional plan at $49.90 per user per month
9. Drip

If you are looking for client management software for your eCommerce business, then we recommend Drip to you. It supports features like contact management, email marketing, segmentation, and multi-channel touchpoints.
With Drip's tagging system, you can add tags or labels to your clients and customize them according to their status within the company. It also creates detailed reports on every customer's interactions and activities.
Drip visualizes each and every complex process and simplifies interactions with its user-friendly and graphic interface. Moreover, it comes with API integrations from third parties.
Key Features
Supports an advanced segmentation feature
Comes with full API integrations
Visualizes complex processes
Pricing
Free accounts for the first 100 subscribers
Basic plan starts at $49/month
Pro Plan starts at $99/month
Read more: 10 Best Microsoft Project Alternatives You Must Explore!
Conclusion
A happy client is an indicator of your business' success. Like we already mentioned before, a happy client is a loyal one, and they can help increase your sales instantly.
With client management software by your side, client servicing will get a whole lot easier than before. And in this blog, we have provided you with a list of some of the best ones out there!
Now all you have to do is, pick the one that suits your business and get to work! Go make your clients happy!
Further reads:
Top 9 HR Software and Tools for Human Resource Departments!
Reputation Management: What is it & How to Do it?
11 Task Manager Apps You Must Know About!
9 Powerful Mind Mapping Software & Tools You Need to Check Out!
Best Resource Management Tools and Software!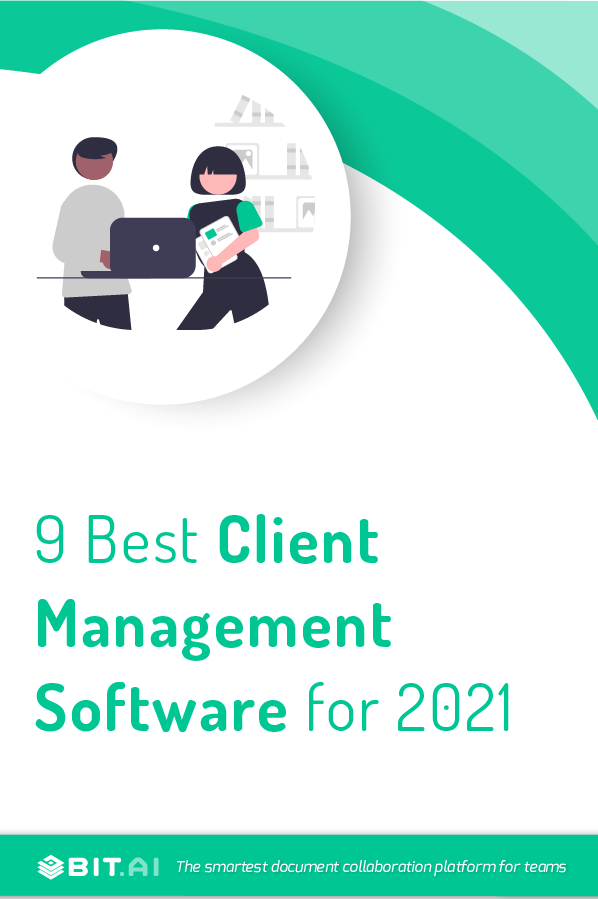 Related posts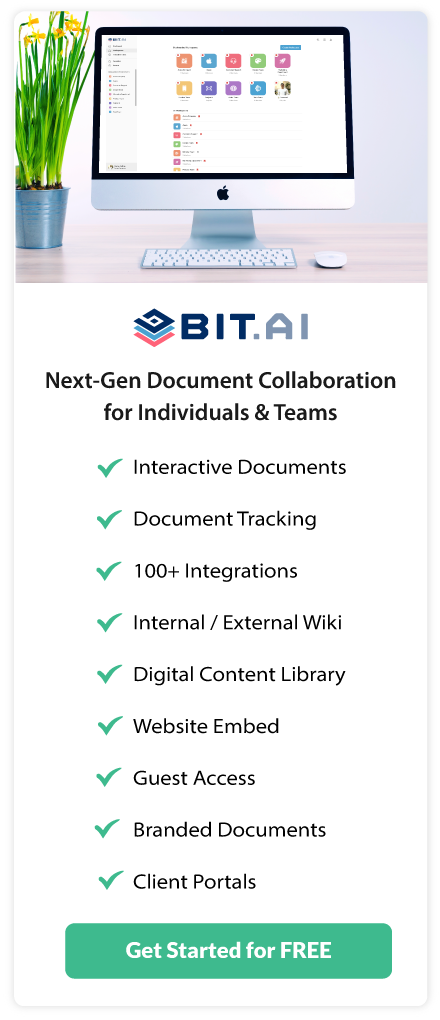 About Bit.ai
Bit.ai is the essential next-gen workplace and document collaboration platform. that helps teams share knowledge by connecting any type of digital content. With this intuitive, cloud-based solution, anyone can work visually and collaborate in real-time while creating internal notes, team projects, knowledge bases, client-facing content, and more.
The smartest online Google Docs and Word alternative, Bit.ai is used in over 100 countries by professionals everywhere, from IT teams creating internal documentation and knowledge bases, to sales and marketing teams sharing client materials and client portals.
👉👉Click Here to Check out Bit.ai.