Intimidated by all the gazillion ideas you came up with while planning out your content marketing strategy, and wondering where, to begin with. Well, we are here to help you figure out- how to optimize your content schedule and structure your content with the help of a Content Calendar!
"Never begin the day until it is finished on paper." ― Jim Rohn,
And in this case a document!
So, let's dig into learning more insights about what, why and how of a content calendar with an amazing content calendar template to make the whole process a lot easier!
What is a Content Calendar?
A content calendar document is a collaborative document where everyone is in the loop with upcoming content that needs to be created, who is the owner of the content and deliverables that have to be coordinated. A content calendar helps you keep a track of content types like-
Topics,
Channels,
Team members
Deadlines.
Content calendar often referred to as a "blog calendar", "marketing calendar", "editorial calendar" or a "social media calendar" can be created on a weekly, monthly or yearly basis to plan, organize and schedule content.
Read more: 10 Best Content Curation Tools For Marketers
Why Content Calendars are Important?
By now you must be thinking "Why can't I just pick a new idea from my endless list of ideas and put on a blank sheet to see if it works as a content calendar? Well, content calendars do a lot more than just organizing ideas!
A content calendar is a document that helps with the collaboration of people involved in publishing, creation, and distribution. It banishes the need to send a bunch of chat messages and email chains so that each person knows what their deliverables are and the duration they have to complete those tasks.
Creating a content calendar for your marketing strategy comes with some amazing benefits:
Get a clear view of your content: Gives a clear vision of how your content is distributed throughout the year in terms of themes, timing, formats, etc. Blog posts, email newsletters, social posts, podcasts, videos or anything else, you'll see everything in one place.
Strike deadlines more easily: Have your content ready on time so you don't have to scramble to get assets together last minute.
Keeps you on track: You can not implement your content strategy and hit those targets if you're just posting randomly assets every day. A calendar helps you keep a track of everything.
Keep your audience engaged with fresh content: It helps you prevent the content from getting stagnate or repetitive.
Plan much farther ahead: Having a content calendar makes it easier to plan out your content efforts for the future. It Can be a week, month, or however far ahead you'd like to plan.
Components of a content calendar
Content calendars should be built according to these primary components:
Title
Date Range
Participants
Message to Team: Explain how the team should coordinate together
Color code – for your different types of content
Add a calendar – to keep track of all content being published
Content Ownership: Assigned Date, Type, Ownership, Name of Content, Due Date
These components will help you come up with a well-constructed calendar as a core part of your content strategy that pushes your organization toward its objectives.

Read more: How To Write A Blog Post Readers Will Love!
Process of creating a content calendar- 6 easy steps
Step 1. Auditing the current content
Start with a deep content audit. There is always a lot of focus on creating fresh content when you should really be focusing on creating more with less and use what you already have. Take note of the content you already have that needs revamping or updating.
Also, consider the type of content that performed well in the past and the type your competitors are posting, then plan accordingly
Step 2. Audit your platforms as well
Since you are auditing your content, you might also want to audit the current distribution platform used by your organization and ask yourself:
What platforms have you been using?
Which ones are performing the best?
Should you keep publishing on all of them?
The number of times a day are you currently posting on each platform?
What are the goals for each platform?
As you plan out your content based on each platform, keep in mind that you post content that is tailored to each platform and its unique audience.
 Step 3. Coming up with categories for your content
Your content calendar has a proper content categorization structure. Not only it helps you track which type of content gets the most engagement and reach, but it also makes it easier to keep things fresh and differing for the audience.
For any category, you choose, make sure to add labels that are descriptive and helpful. You can even use more than one label, for instance, "Newsletter" + "email marketing" + "sponsored".
Step 4. Input your content
Finally– after all that preparation work, you are ready to start filling up your content calendar!
If you're using a digital spreadsheet or a document, use the components we discussed above and your calendar is all ready to be pinned!
 Step 5. Get your team organized
Decide on well-defined roles for everyone on the team before you start with creating content. Based on your organization's size, It's better to share your content calendar with other teams as well, who would be interested in knowing what you're up to.
Consider sharing your content calendar with video producers, copywriters, graphic designers, project managers, even the SEO specialist.
Read more: Best Organizational Tools To Get Rid Of Work Chaos!
Step 6. Schedule your content for publishing
By now, you might have got your content calendar up and running, it's time to actually start publishing your content. Plan out your day with a variation of assets that are to be published for various platforms like social media, emails or Youtube.
Create a content calendar the Right Way with Bit
After learning about all the key steps on how to create a content calendar, we know you are excited to get on with creating one.
However, what is the purpose of knowledge if you don't have the means to deploy it? That's why we would like to introduce you to Bit, the smartest document collaboration tool to help you create the perfect content calendar!

Bit.ai is a new-age document management and collaboration tool that helps teams collaborate, share, track and manage all information in one place.
It's the perfect tool to create, store and share your calendar. Apart from calendars, one can create everyday documents like meeting minutes, to-do's, ebook, case studies, onboarding docs, fact sheets, sales decks, project proposals, media kits, and much more.
Bit has an amazing UI that's easy to understand by a new user, making onboarding easier. The user experience is phenomenal too as things flow from documents to workspaces swiftly.

Still not sure how Bit can help you write an impressive content calendar to help you execute that content strategy? Let's see some more of Bit's awesome capabilities!:
Collaborate in real-time– Multiple people can simultaneously collaborate on a Bit smart document in real-time. Suggest edits, work collectively and ask questions with real-time mentions, and comments.
Interlink content calendar documents and other documents– Now, you can interlink your calendar with other important assets that are supposed to be posted like newsletters, blog posts, videos, and more on the web or inside the platform.
Minimalistic design – Bit's editor allows you to focus on writing and the work you're implementing, without any distractions. The platform interface is easy to understand, making it easy for new visitors to get onboard quickly.
Create a fully interactive document– Make your document more engaging and interactive and by adding rich media content from anywhere.
Track engagement on shared content calendar documents with freelancers, partners, etc.– Imagine if you were able to track the time spent by others on your content calendar, how frequently they were viewed, and if they were viewed at all. Well, Bit allows you to track your documents and gain amazing insights, helping you create an even better version of your documents.
Multiple ways to share

: Bit documents can be shared in a live state meaning that all changes that you make to the document will update in real-time. If you are sharing your documents with clients, they will always get your most up-to-date changes. You can even embed Bit documents on any website or blog. Since Bit documents render and are responsive, any changes made to these documents will reflect live on the site! Moreover, features like document tracking, password protection, file access restrictions, etc. help keep your content calendar and other workplace documents safe. 
Now, that you have learned everything about the content calendar and how to create one, feel free to check out Bit's amazing content calendar template to make that content marketing strategy a success!
Read more: Top 10 Content Collaboration Platforms
To make the process of crafting a content calendar even easier for you, we have created a ready-made template for you! Check it out below: 

How to use Content Calendar Template with Bit
The process of creating a content calendar document on Bit is insanely easy! Just follow these four simple steps to create a content calendar document quickly:
Step 1: Create a Bit Account
Go the home page of Bit.ai and click on Get Started for Free or Sign Up to get started. Enter your email address to sign up. Once in, you can create your personal profile.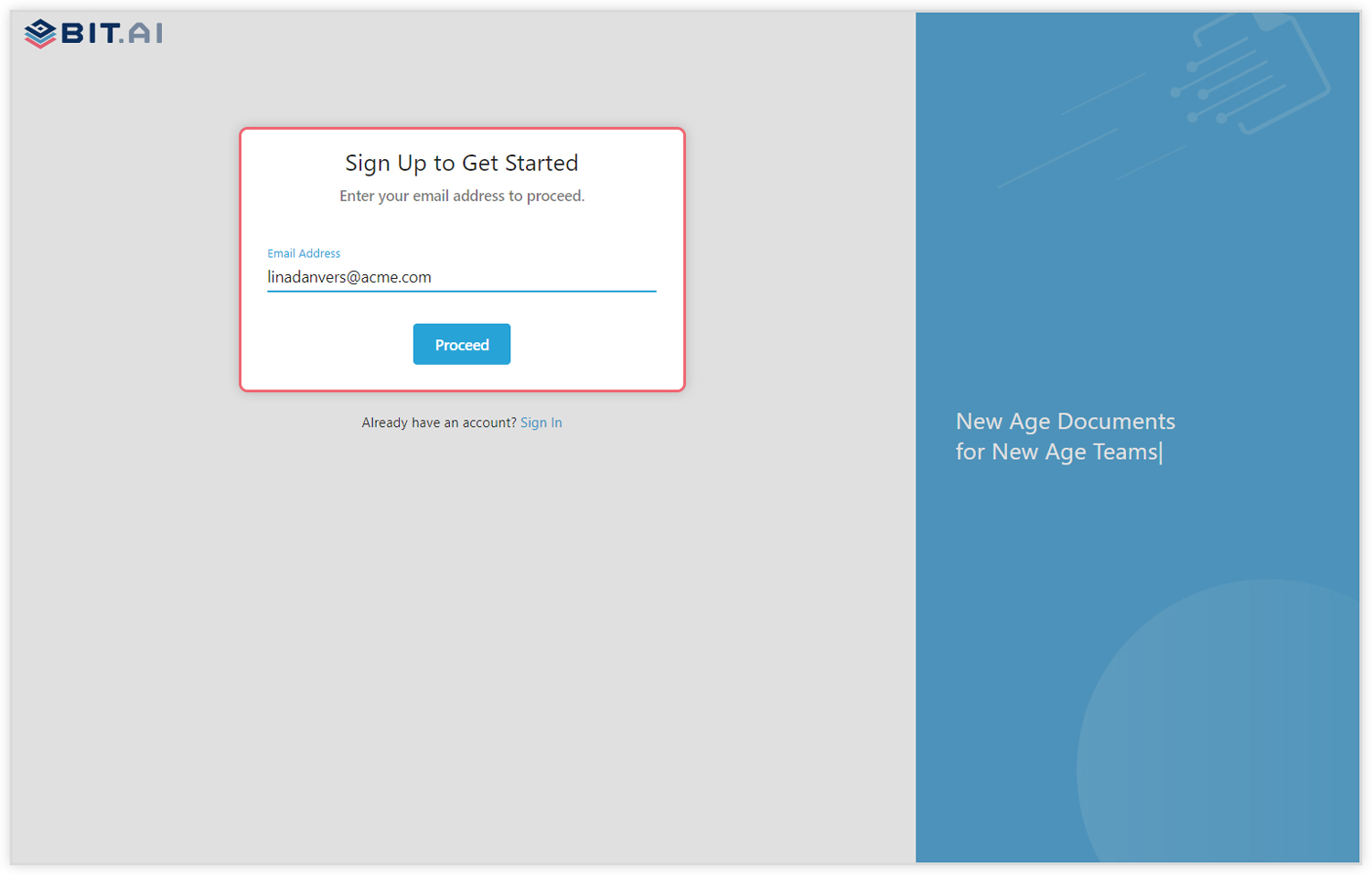 Step 2: Create a Workspace
Workspaces are where the work gets done. Click on the 'Create Workspace' button on the right. A popup will show up prompting you to add a name for your new workspace.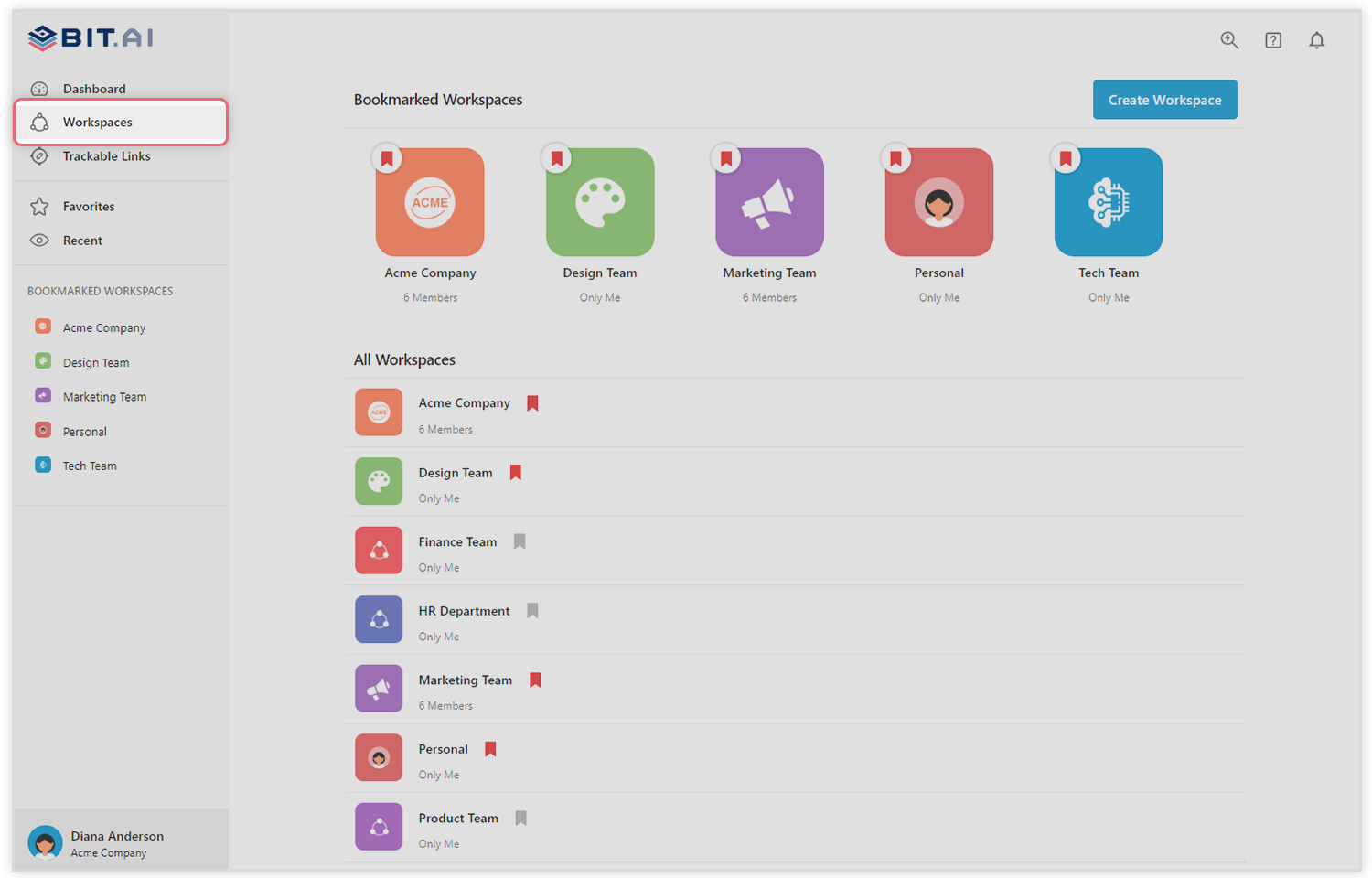 You can create a workspace around a team, department, large project, client, partner, etc. Inside each workspace, you can create an unlimited amount of Bit documents and access your content library (storage area for all of your digital assets – web links, files, cloud files, rich embeds, etc.).
Step 3: Add Team Members
Bit allows your team members to collaborate in real-time and get work done. Collaboration starts at the workspace level.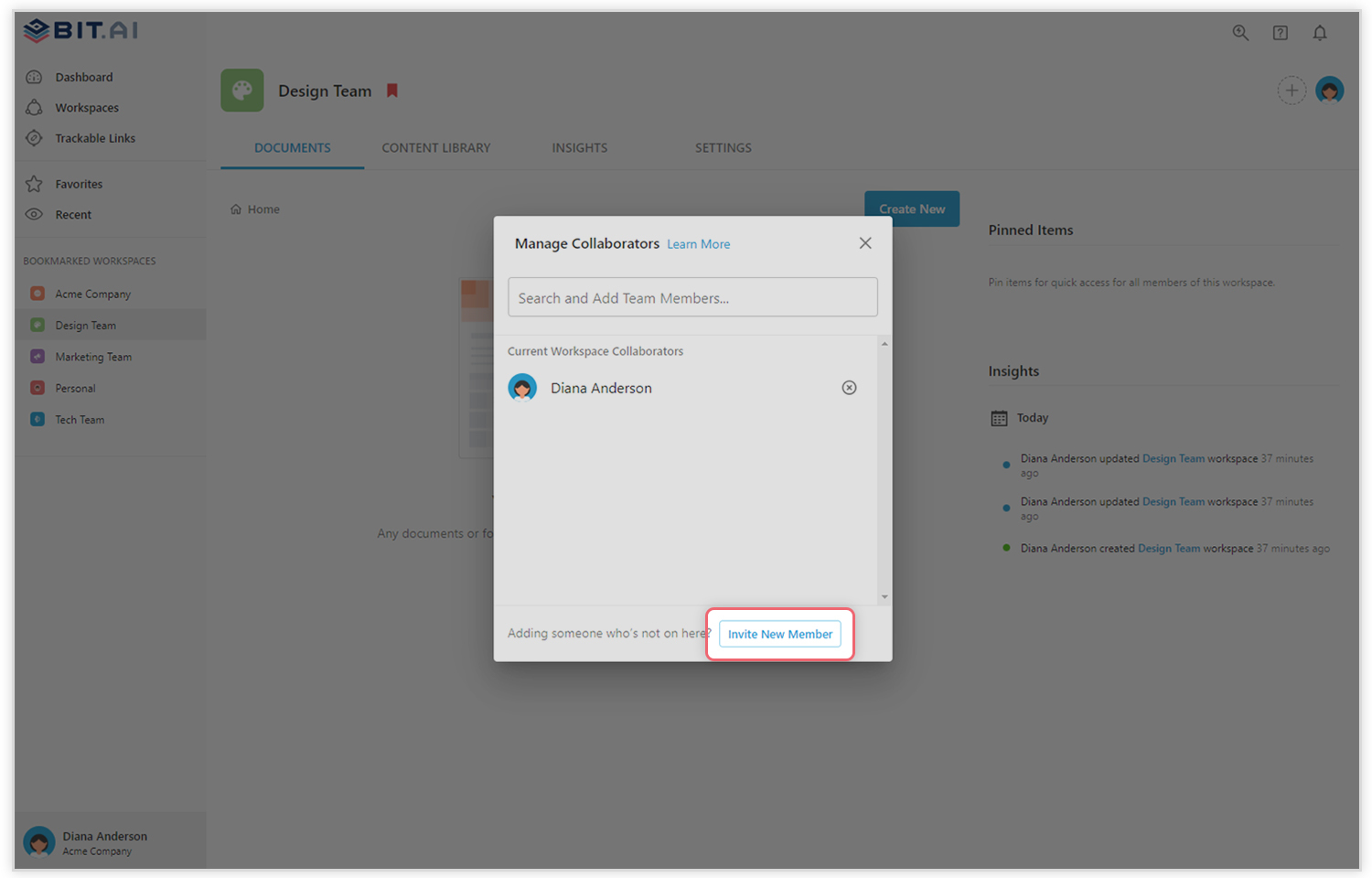 You create private workspaces by default. However, you can invite others to join you inside of a workspace and collaborate together with the knowledge, projects, documents and content inside of the workspace.
Step 4: Create Your Desired Document
Once you are in the workspace, click on the 'Create New' button. Select 'From Template' in the dropdown. A pop up will display allowing you to select a template from the gallery.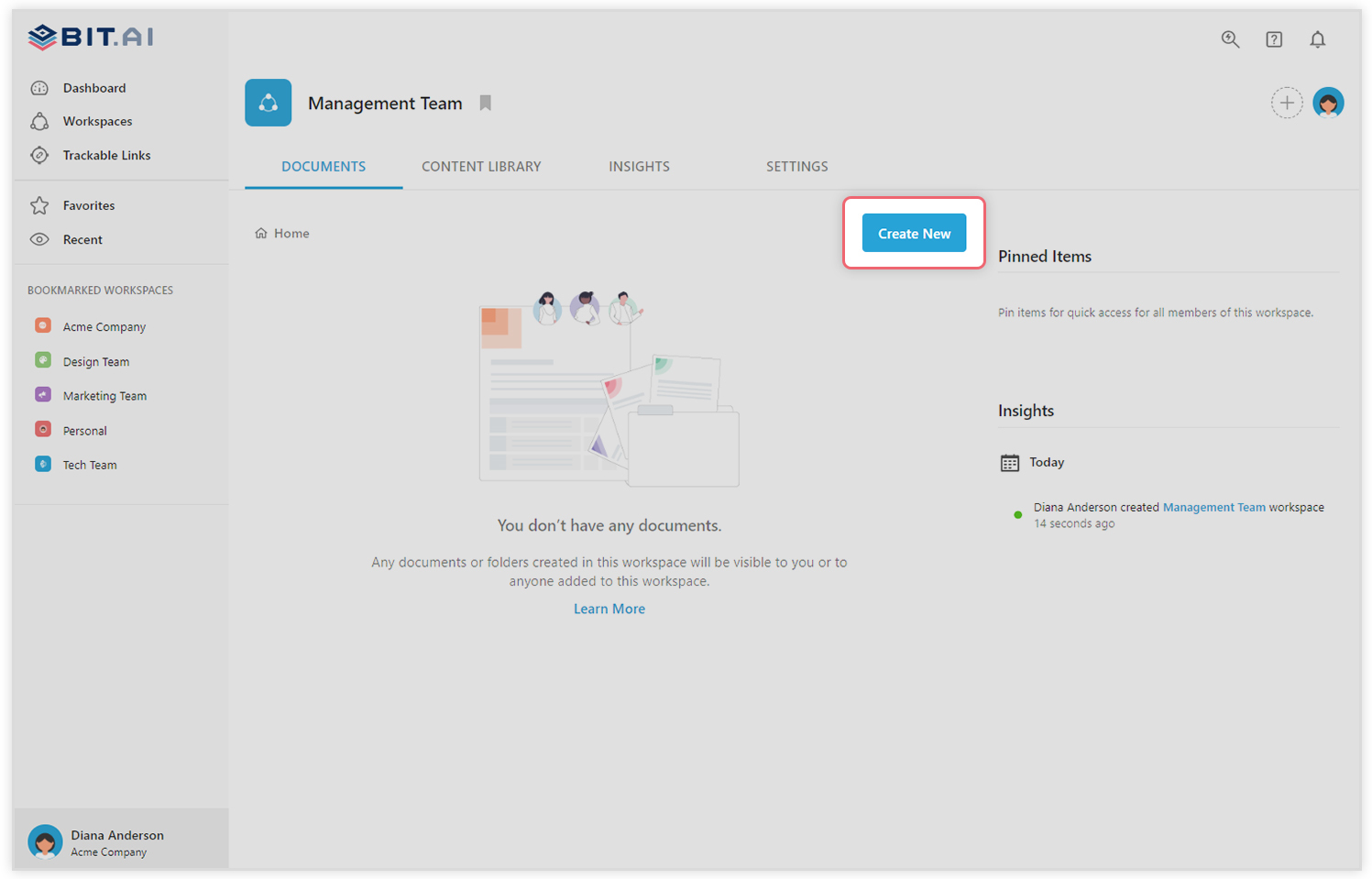 In the search box on the top left corner, you can search for "content calendar template". Once your desired template pops up, click on it and click on the "Use Template" button on the bottom right corner.
That's it! Your content calendar document is ready for use!
🎥Watch this video to learn more👇
Notes for Content Calendar Success
Without a proper plan, you'll end up draining time and will less likely to succeed. When your entire content strategy is forecasted out on one calendar, it's way easier to manage assets, focus on deadlines, and be more productive. Think of your content calendar as it is a living document and it should change & grow constantly.
Analyze, experiment, repeat- This loop for a successful content strategy shows that you should keep searching for elements like the right times to plan your content, platforms that work best for your audience, etc. The process doesn't stop after hitting the publish button.
Let us know, how a content calendar performed as an element of your content marketing strategy in the comments section below or tweet us @bit_ai
Further reads: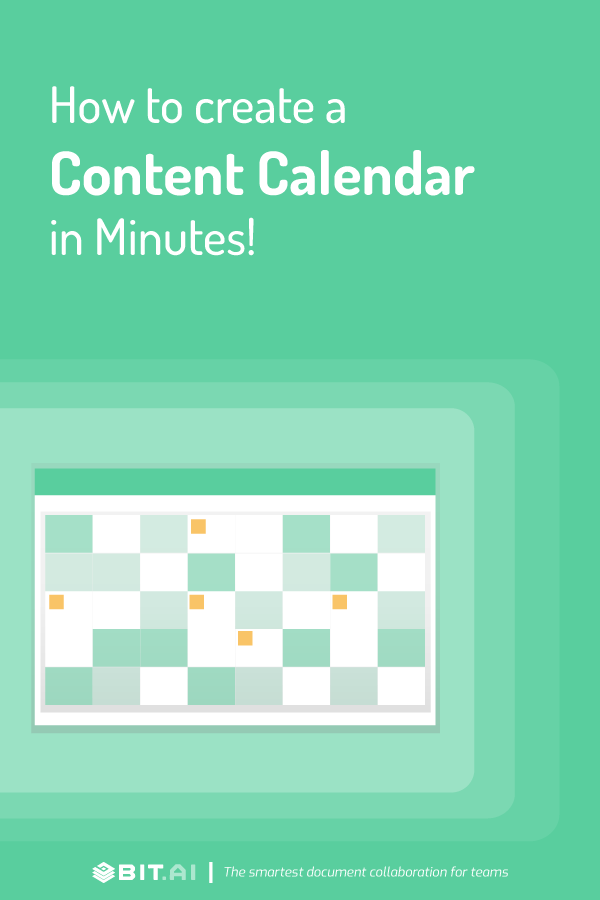 Related posts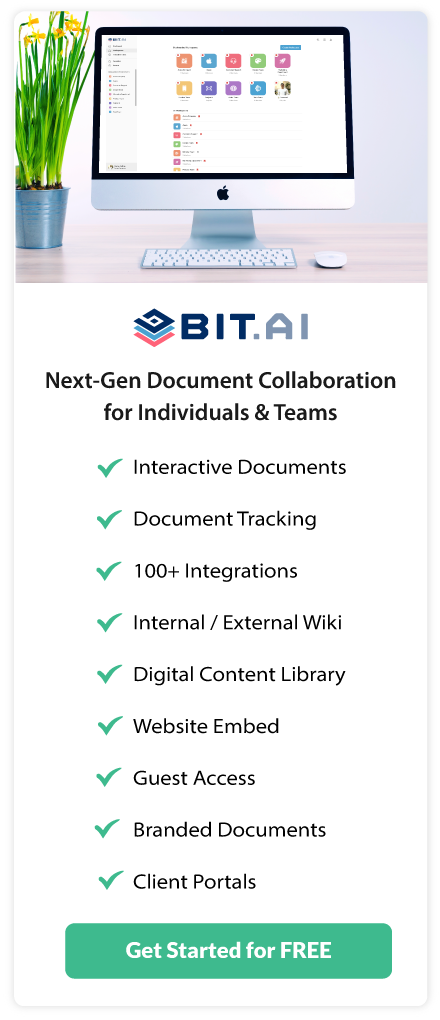 About Bit.ai
Bit.ai is the essential next-gen workplace and document collaboration platform. that helps teams share knowledge by connecting any type of digital content. With this intuitive, cloud-based solution, anyone can work visually and collaborate in real-time while creating internal notes, team projects, knowledge bases, client-facing content, and more.
The smartest online Google Docs and Word alternative, Bit.ai is used in over 100 countries by professionals everywhere, from IT teams creating internal documentation and knowledge bases, to sales and marketing teams sharing client materials and client portals.
👉👉Click Here to Check out Bit.ai.