Want to remove the stress and chaos from your marketing activities?
Want your team to create better deliverables, stay more focused, and hit greater marketing and business goals?
Want to avoid the "I thought you were working on that task" problem?
Well, a marketing calendar is all you need! A marketing calendar saves you from scrambling your brains in the final hours, right before the deadline. It allows you to plan in advance and get excellent results on time.
Whether you have a big product launch or you want to create a brand new social media campaign, a marketing calendar can avoid all the roadblocks you might face.
In this blog, we will walk you through everything you need to know about creating a marketing calendar and boosting your productivity. Let's roll!
What is a Marketing Calendar?
A marketing calendar is a roadmap for all your marketing-related activities. It's a tool that helps you plan and organize your marketing projects in one central location.
A marketing calendar covers three essential things: the marketing projects you're working on, the people responsible for each project, and the deadlines of the project.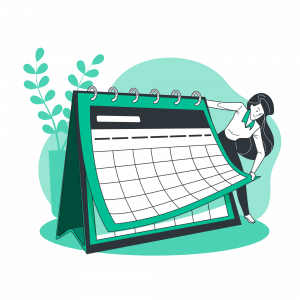 Yes, we totally agree. Creating a marketing calendar can be a time-consuming process that requires quite a lot of planning and forethought.
However, that doesn't change the fact that creating a marketing calendar is a process every marketing department should undertake.
So, now that you know the basics of a marketing calendar, let's explore a few reasons why you should create one. Ready? Let's go!

Why Do You Need to Create a Marketing Calendar?
Firstly, if you've your marketing budget, ideas and processes laid out clearly, you can delegate, plan your day, and get things done in a better way.
Moreover, a marketing calendar is the best way to show others what's happening now and what you have planned for the future.
Secondly, a marketing calendar helps you manage your deadlines more effectively, see how your marketing campaign is working out, and who is responsible for each of the tasks.
This calendar can help your team members view all the scheduled tasks at a glance and ensure that they're meeting all the deadlines. It literally keeps your important marketing activities from getting lost in the shuffle!
Lastly, if you don't have a solid marketing calendar, you might not be able to organize your marketing activities in a way that attracts, converts, and retain customers.
For example, without a marketing calendar, you won't be able to specify the dates on which your blogs need to be published. The result? The blogs might be posted at inconsistent times, leading to poor results!
Well, now that we've convinced you to create a marketing calendar, let's go ahead and learn how you can create one that works perfectly.
Read more: Editorial Calendar: What is it & How to Create a Solid One?
How to Create a Rock-Solid Marketing Calendar? (Step By Step)
Step 1. Choose a Template/Software
First things first, you need to choose a marketing calendar template or software that works for you. For that, you need to figure out what you want to do with the calendar.
For instance, if you want to collaborate with 20 team members with the calendar, you need to find software that lets you do that. Alternatively, you can find an editorial calendar template and create a calendar yourself. A good document collaboration platform that allows you to add tables and multimedia should do the trick.
Step 2. Define Your Team & Their Roles
Now, it is time to define the roles and responsibilities of your team members. This is super important, especially when you have got a large team.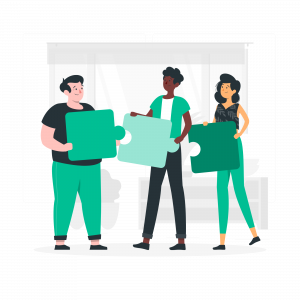 Usually, the key members of a marketing team include the team lead, editorial manager, content creator, content editor, designer, developer, and analytics manager.
Step 3. Specify Your Target Audience
Every marketer knows the importance of defining the target audience when it comes to developing content and communication strategies. It makes it much easier for you to create relevant and valuable content.
So, dig deeper into your target audience, understand their interests and pain points, and clearly define who your target audiences are in your marketing calendar.
Step 4. Identify Themes & Brainstorm Content Strategies
If you're a B2C retailer, your themes might revolve around specific dates or seasons. For example, a fashion brand might want to promote back-to-school outfits when summer is about to end.
On the other hand, as a B2B brand, your focus could be more on the opportunities and challenges of your industry. For instance, due to the pandemic, some businesses might want to focus more on topics like 'future of work', 'digital transformation', etc.
Just list down all the potential themes that are pertinent to your business in the marketing calendar. You can also invite your team members and brainstorm all the topics relevant to your target audience.
Step 5. Create a Schedule & Set Deadlines
Well, by this stage, your marketing calendar will start looking more like a calendar. The only thing you need to do now is set deadlines for all the tasks you've listed in the calendar.
While setting the deadlines, keep in mind your team's ability to complete the tasks. Also, when you're specifying the deadlines, keep them as clear as possible!
Create your Marketing Calendar on Bit.ai
Bit.ai

 is a new-age document management and collaboration platform that helps teams collaborate, share, track and manage all information in one place. It offers an amazing UI and a phenomenal user experience as things flow from documents to workspaces smoothly.
Bit is, undoubtedly, the perfect platform to create, manage and share your marketing calendar. Apart from calendars, you can also create everyday documents like meeting minutes, to-do's, ebooks, case studies, onboarding docs, fact sheets, sales decks, project proposals, media kits, and much more.
Still not sure how Bit can help you create an impressive marketing calendar? Let's check out some of the best features of Bit.ai!
1. Pre-Built, Beautiful & Fully Responsive Templates: Okay, you've created the marketing calendar. But, what if the calendar looks dull and poorly formatted? Your team won't understand a thing, and that's for sure. You might not have the time to pay attention to the presentation aspect but don't worry, because Bit does the formatting and designing for you! Bit.ai has over 90 fully responsive and gorgeous templates. Just pick one, add your content and let Bit handle the rest.
2. . Collaborate in Real-Time: If your team members work on the editorial calendar together and take inputs and ideas from one other, it is bound to be perfect! Luckily, Bit.ai helps you with that. It allows you and your team to collaborate on a Bit document in real-time using @mentions, highlight features, and comments. Every document comes with a separate comment stream.
3. Interlink Your Marketing Calendar With Other Documents: On Bit, you can interlink your calendar with other important assets that are supposed to be posted like newsletters, blog posts, videos, and more on the web or inside the platform.
4. Create a Fully Interactive Marketing Calendar: Bit lets you embed over 100 rich media integrations, including Excel Sheets, Google Drive files, and more. Basically, on Bit, you can create media-rich and interactive, modern workplace documents. That means, your team won't have to jump through different files to get information.
5. Track Engagement & Get Insights: Imagine if you were able to track the time spent by others on your marketing calendar, how frequently they were viewed, and if they were viewed at all. Well, Bit allows you to track your documents and gain amazing insights, helping you create an even better version of your documents.
There's nothing like Bit.ai out there when it comes to creating documents like marketing calendars. With a FREE account for up to five members, there's no reason why you should not give this super cool platform a try.
Our team at bit.ai has created a few awesome marketing templates to make your marketing process more efficient. Make sure to check them out before you go, your marketing team might need them!
Wrapping Up
You should always proactively plan campaigns in advance.
By planning in advance, we don't mean that you should plan out everything one year before. Instead, planning on a monthly or quarterly basis will allow you and your team to be flexible and respond to changes effectively.
Once you've created a marketing calendar, start testing your marketing strategies. Identify what works and what doesn't, and come up with better ideas.
Remember, analyzing your marketing calendar is crucial to improving your marketing efforts. Here are some of the questions you can ask yourself while evaluating the effectiveness of the calendar:
Was there something your marketing calendar missed out on?
Did any of the team members miss deadlines? If they did, what was the reason?
Did the communication system incorporated within your marketing calendar work well?
Does the team have any complaints/suggestions about the marketing calendar?
Last but not least, always be always clear about your marketing goals and strive for the best. Good luck!
Further reads: 
How to Create a Content Calendar?
17 Marketing Terms You Must Be Aware Of!
User Persona: What is it & How to Create it?
Marketing Resume: How to Write One to Impress Recruiters!
Project Timeline: What is it & How to Create it? (Step By Step)
Marketing Report: Definition, Types, Benefits & Things to Include!
Marketing Budget: What it is & How to Put it Together?
Marketing Communication Strategy: What is it & How to Create it?
Marketing Research: Definition, Process & Tools!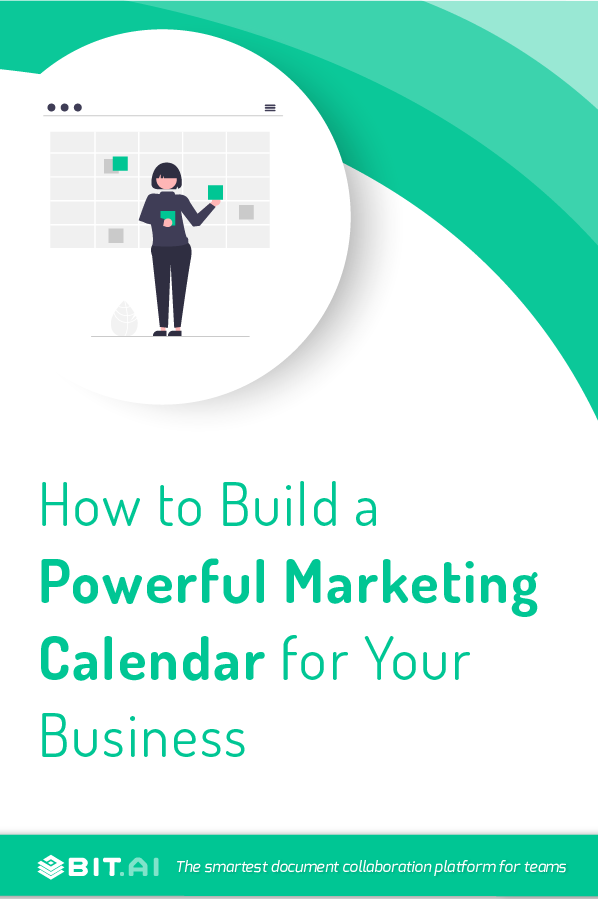 Related posts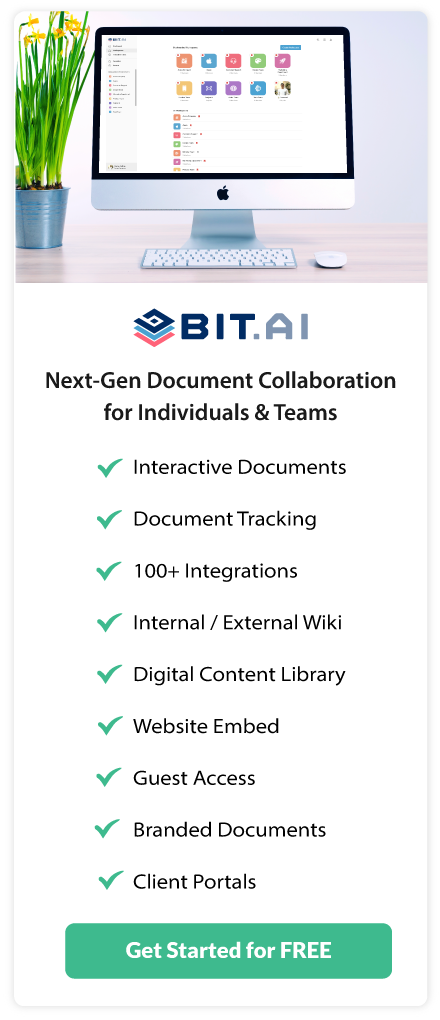 About Bit.ai
Bit.ai is the essential next-gen workplace and document collaboration platform. that helps teams share knowledge by connecting any type of digital content. With this intuitive, cloud-based solution, anyone can work visually and collaborate in real-time while creating internal notes, team projects, knowledge bases, client-facing content, and more.
The smartest online Google Docs and Word alternative, Bit.ai is used in over 100 countries by professionals everywhere, from IT teams creating internal documentation and knowledge bases, to sales and marketing teams sharing client materials and client portals.
👉👉Click Here to Check out Bit.ai.