We'd like to start with some stats.
What we're trying to say is, the way businesses interact with their customers is changing, and having a website and sending out the odd newsletter is just not enough anymore.
And as a social media marketer, you probably know this by now – all the businesses, regardless of their industry, need to have a sound social media strategy.
But when it comes to selling social media services to clients, you meet the common fear their clients have — the fear of the unknown.
Despite the mind-boggling stats, there are still some specters of doubt, uncertainty, and pre-conceived notions like "Social media provides too little ROI", "Social media is time-consuming" or "I'll just handle my social media account myself."
That's why you need to effectively introduce your services to your prospects and how you are best equipped to fulfill their requirements.
You need to tell them about the benefits they can get at the end so that they start seeing social media as a part of their marketing plan.
You need to show them that you're the reigning champion of the social media marketing game.
And for all this and more, you need to create an ultimate social media proposal. 
Because if your social media proposal isn't ironed out, there might be a lot of kinks in the process that can irritate your prospective client (and you) before you even start.
But what exactly goes in a social media proposal?
How to make clients give a big, resounding yes to your social media skills?
Let's find out!

What Exactly is a Social Media Proposal?
A social media proposal is a blueprint that you present to your prospective client to make him go "wow" and choose you as a marketing partner.
It outlines the goal, the scope of work, deliverables, strategies, milestones, timeline, type of content, and how you'll measure success.
A social media proposal is a way to showcase your value to the client, the results of your research and your experience to prove that you are exactly the one he has been looking for.
When your prospect sees your proposal, they must feel that you've understood their needs and offered them the best ways to achieve them.
Simply put, your social media marketing proposal is your time to shine.
Things You Must Include in a Social Media Proposal
1. Problems & Opportunities
Here, you have to talk about what the proposal is for/about. Highlight the goals, scope of work, target audience, channels, and campaigns.
You can't really make someone hire you if you don't know anything about them, right?
So, mention your client's problems and how you're going to solve them in the proposal.
Try to answer these questions in the proposal:
What are the clients' business goals?
What are the challenges they're looking to address?
What's working and what's not?
It's the perfect chance to show off your knowledge from the get-go. Learn as much as you can and craft social media proposal that specifically addresses your prospect's pain points.
Also, don't be boring and let your brand personality shine through.
After all, no one wants tedious, bog-standard social media posts!
Read more: 7 Social Media Trends To Watch Out For in 2022
2. Strategies and Deliverables
You've talked about where they're lacking behind, and now it's time to say ok; this is how we're going to solve that for you.
Specify what your clients will get in return for the money they spend and provide context around how you're going to take them from Point A to Z.
For effective goals that will make sense to your client, follow the good old SMART criteria – Specific, Measurable, Achievable, Relevant, and Time-bound.
Also, we all know that the best way to tell someone what you can do is by giving examples.
Tell your prospects what you've accomplished by showing a few campaigns you've run for other clients, and top it off with the results you were able to achieve.
Build a social media proposal that not only speaks to specific goals and the path to those goals but also suggests urgency and generates excitement!
3. Scope & Timeline
Okay, so you've told your prospect that you can get the job done.
Now what?
Your clients want to know when they can have a finished social media strategy and when you can get started. So give an exact timeline of when certain tasks will be done.
If certain parts of the project are only supposed to be done in a specific month, then you should make sure that's clear.
Here's an example:
Month 1:
Customer research
Facebook Ad campaign
Website promotion on Facebook
Throughout the campaign:
Content curation
Posting on Facebook, Twitter & Instagram
Organic growth
Brand monitoring
Daily report on engagement
Read more: Grant Proposal: What, Why & How to Write it?
4. Agency Selling Propositions
If you keep talking about who you are and what you do, you'll probably end up boring your prospect.
What you can do instead is talk about your values.
Give an overview of what you stand for, and then pick out the most relevant parts of your identity and how they'll make a difference to your client.
Pro Tip: Keep yourself in the client's place and review the proposal. Ask yourself: Is everything relevant and useful? If not, don't hesitate to remove it.
5. Payment and Terms
Here comes the big, chunky bit – telling the cost of your services.
Do not forget to support the cost with explanations because if your client understands why you're asking them to pay the price you've given, they're much more likely to get on board.
Needless to say, this part deserves more attention and time than the rest!
Lastly, include any special terms and conditions that your client needs to know about working with you. The clearer the boundaries and expectations, the better!
Bit.ai – The Ultimate Tool for Creating Social Media Proposals
Yes, social media proposals have to be formal and formatted in a particular manner, but once you get the hang of it, you'd realize that writing them isn't such a pain after all, especially when you have a tool like Bit.ai with you!


Through its intuitive and integrated tools, Bit.ai has simplified the often complex and long process of writing a social media proposal.
Using Bit.ai, you can create a 'live and interactive' social media proposal that highlights your text has just the right format is easy on the eyes, and great to look at!
You can easily share this proposal with the clients, internal teams, and interested stakeholders.
Why You Need to Use Bit for Creating Social Media Proposals?
Using Bit will bring happiness into your workday, while also making your social media proposals more effective! Don't believe us? Check out all these mind-blowing features of Bit! 
1. Real-Time Collaboration: While creating a social media proposal, you need inputs from your team so that you don't end up giving the wrong ideas and strategies. Well, Bit.ai helps you do just that. Rather than communicating back and forth with your team through emails, Bit allows you and your team to collaborate on a Bit document in real-time and handle different aspects of your social media proposal together in one place.
2. Smart Workspaces: Every client needs a different social media proposal, and storing all the different kinds of information can be a pain. Bit solves that problem for you. Using Bit, you can gather your team and create workspaces around projects, teams, departments, and clients to keep all your data organized.
3. Interactive Documents: Chances are, you're not the only one who's sending a social media proposal to the client. One of the ways to outshine the competition is by making your proposals interactive. You can add videos, social media posts, music, cloud files, presentations, maps, charts, surveys/polls – basically any rich media in your Bit doc.
4. Permissions: Social media proposals are crucial documents, and you don't want them to end up in the hands of the wrong people. Well, Bit supports features like password protection, file access restrictions, etc. that help keep your important company information safe. You can also easily share your social media proposals with your internal teams and clients.
5. Get Real-Time Insights – With the document tracking feature for Bit, you can get real-time insights on your shared docs. You can see how much time your prospect has spent reading your social media proposal, how often they come back to read the proposal, how far they've scrolled, and a lot more.
6. Client Portal – Bit provides a smooth experience for your clients to review your work, share knowledge, and collaborate with your team in a secure place. All you need to do is invite clients into your workspaces by giving them 'guest access'.
The 'guests' aka your clients can get two types of access to the documents: comment-only and read-only. With the comment-only access, your clients can @mention team members and give their suggestions or feedback while read-only access only allows them to read the content you have shared with them.
There's nothing like Bit.ai out there when it comes to creating social media proposals, or any other document for that matter! It's time to step up your game from Google Docs and Word and start using Bit.
Wrapping Up
We're sure that the mere words "social media proposal" will not make you turn away your head in disgust anymore.
Because with Bit.ai, writing, sending, and managing social media proposals don't have to be a chore.
So what are you waiting for? Take what you've learned here, use Bit.ai, and start winning more business.
Remember, the stronger the proposal, the higher the chances of turning your lukewarm leads into big-ticket clients!
Also, don't forget to let us know how it goes by tweeting us @bit_docs.
Further reads:
Content Creation Tools Every Marketer Needs in 2022
Sponsorship Proposal: What is it & How to Create it?
Marketing Proposal: What is it & How to Create an Effective One?
Proposal Writing: Everything You Need to Know!
Proposal Letter: What is it & How to Write it?
Consulting Proposal: What is it & How to Create it? (Steps Included)
Related posts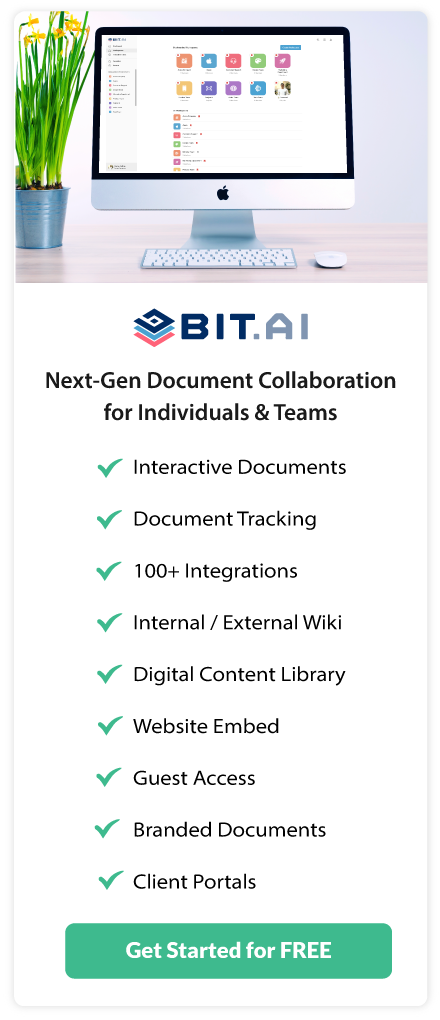 About Bit.ai
Bit.ai is the essential next-gen workplace and document collaboration platform. that helps teams share knowledge by connecting any type of digital content. With this intuitive, cloud-based solution, anyone can work visually and collaborate in real-time while creating internal notes, team projects, knowledge bases, client-facing content, and more.
The smartest online Google Docs and Word alternative, Bit.ai is used in over 100 countries by professionals everywhere, from IT teams creating internal documentation and knowledge bases, to sales and marketing teams sharing client materials and client portals.
👉👉Click Here to Check out Bit.ai.