When someone establishes a startup, they are most likely to turn to their friends, colleagues, and family members to build a team.
They place the foundation of their start-up on trust.
They make agreements verbally without any written documentation done.
Moving on without doing this formal documentation task is the biggest mistake that an entrepreneur can make.
For any company, big or small, formalizing the internal procedures is quite important.
It is important to clearly document the roles and responsibilities individuals will have on paper.
If you don't have this written kind of agreement, be prepared to face potential conflicts later. And if you are a co-founder, then beware because you are on your way to make the most fatal mistakes.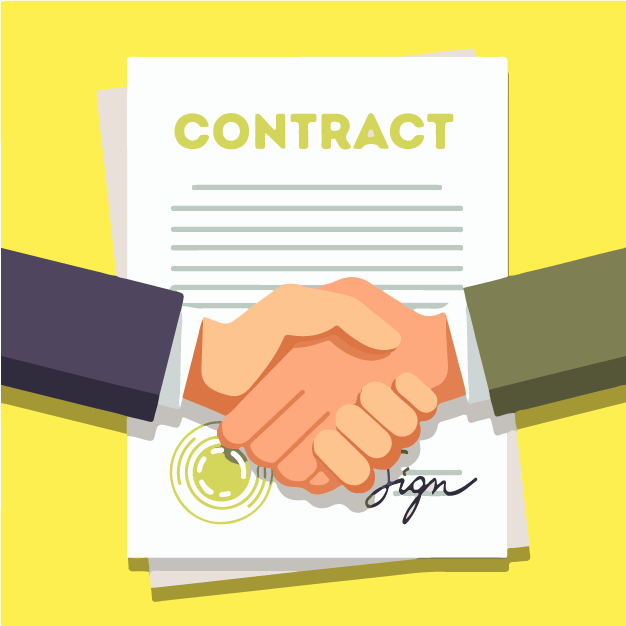 Imagine what types of problems can arise…
What are the role and responsibilities of each founder?
How will the equity of the company be divided?
Who will own the intellectual property rights (IPR) of the company?
What kinds of rights and duties will be shared between multiple founders?
How will disagreements be tackled?
…and so on. The list is endless!
Hey, but don't worry. There is still time.
Save yourself from conflicts by writing a founders' agreement (FA) for your company. Having an agreement prior will safeguard your startup/ company from founder conflicts.
But before that, you need to take time and understand the underlying principles and mechanics of a founders' agreement.
So without much ado, read on…

What is a Founders' Agreement? (Definition)
A founders' agreement or contract is a written formal document that is created between the co-founders of a company. This contractual document, clearly lays out all the ownership, rights, responsibilities, dispute resolution, and other aspects that are quite important to be documented between founders and the company.
The main agenda that the founders' agreement (also known as shareholder agreement) serves is to protect each member's interests and avoid future conflicts.
Thus it clearly defines the role and expectations of each founding member.
A founders' agreement is mostly recommended to be formed during the initial phase of the business or start-up because it gives more clarity and helps in visualizing long-term goals as well.
Helping you avoid the ambiguity that might surface in the future, there's no reason why you should ignore this really important business document.
Still not convinced?
Dive to the next section and see for yourself why you should get a founders' agreement for your business!
Why Do You Need a Founders' Agreement?
There are so many reasons why you should write a founders' agreement. Check out what they are:
Defining the Type of Business Entity- The founders' agreement will clearly mention the nature and type of entity that'll be established by the co-founders. Thus it clearly sets a path that will be followed in the future.
Outlined Business Plans- This agreement describes the vision and mission of the entity. With that, it also helps you visualize the long-term as well as short-term goals that are to be achieved over a period of time.
Defining the Roles and Responsibilities- The co-founders cannot go on without having a proper framework of the assigned roles. With so many overlapping duties, you definitely need something in written to avoid conflict. Therefore, it is important to designate the roles and responsibilities of the co-founders, and this is only achievable with the founders' agreement.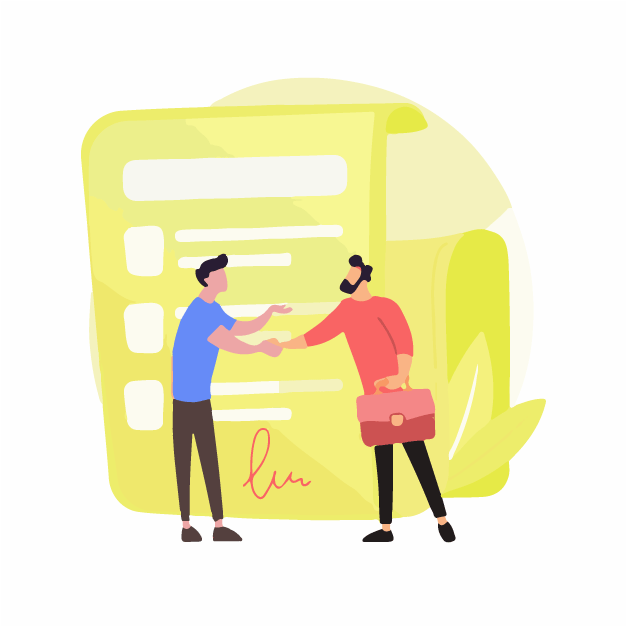 Structure Of Ownership- The founders' agreement will clearly specify the structure of ownership. This will specify the initial contribution made by the co-founder or the percentage of the equity shares held by the cofounder.
Decision Making: Conflict between co-founders is something that happens and this can be avoided through a proper decision-making process. But how? The umpire in this case is the founders' agreement.
Compensation Provisions: This agreement clearly states the penalty if any one of the cofounders violates the provision mandates. Thus it helps you keep everything in check.
Read more: Contingency Plan: What, Why, and How to Create it?
What to Include in a Founders' Agreement?
There is no thumb rule that tells what to include in a Founders' Agreement.
The content of the Founders' Agreement is charted based on the mutual understanding of the founders.
However, there are some key sections that are imperative to be mentioned in all sorts of Founders' Agreement.
Let's take a look at what you must include in a Founders' Agreement below:
Defining the Business
Before mentioning anything else, give a clear and dedicated space to defining what your business is about. Define the vision and mission of the business and what it aims to achieve over a period of time.
Nature and Type of Business Entity
After defining what you are, clearly mention the nature and type of business entity the founders are willing to incorporate. Keep in mind the long-term and short-term goals with respect to the business.
Assigning Roles and Responsibilities
This section is the heart and soul of the founders' agreement. It is understandable that the founders have so many overlapping roles and writing this part can be really chaotic. But trust us, once you will get done with this part, you will surely get a clearer vision regarding the contribution of each founder.
It would be best if you decide the roles of each founder based on their experience and expertise. For example, roles can be divided into operations, marketing, finance, and so on.
Moreover, if each founder knows what is expected out of him, then he/she will work more efficiently because now everything is laid clear.
Ownership Structure
The founders' agreement must document the structure of ownership of the business. This includes the percentage or number of equity shares held by each founder or the percentage of the initial contribution made by each founder.
Transfer of Shares
In a business, it is quite important to put down some rules on the transfer of shares by founders. On mutual agreement, a lock-in period of certain years should be agreed upon by the founders in which they are constrained to not transfer their shares to any third party.
In addition to that, this clause should also tell what happens if a founder transfers his shares before the lock-in period ends. Moreover, it should also address whether a founder can transfer his shares to third parties.
Decision Making
The founders' agreement should outline the decision-making procedure which will help in resolving conflicts. So this section can serve as a go-to manual to seek answers to questions like what happens in case of a deadlock?, Will, any of the founders have a casting vote, etc.?
Removal of a Founder
This section of the founders' agreement states how a founder can be removed from the company and under what circumstances. The grounds of this action can be sexual harassment, misappropriation of funds, and taking up alternate employment.
Read more: Vendor Agreement: What is it and How to Create it?
Bit.ai – The Ultimate Tool for Creating a Founder's Agreement
Have a discussion with your co-founders about each person's role, equity, compensation, vesting schedules, termination clauses, and any other crucial concerns, and nail it off with Bit.ai.
Once intentions and objectives are clear, drafting founders' agreement takes only a few minutes with Bit.

Bit has been designed to work well with companies of all sizes and genres. With it, you can create, share, organize and manage new-age digital documents smoothly among your co-founders to get work done.
You can use Bit's minimal editor and give your founders' agreement a professional feel in no time. You can also create multiple workspaces and give access to different teammates or guest access to lawyers, investors, etc.
With Bit's real-time collaboration feature, you can work on the founders' agreement with your cofounder and other team members using inline comments and @mention. You can also review the document together to ensure it's a visionary document of your company that everyone agrees with.
Bit documents can be shared with a document tracking link allowing you to track engagement insights. You can see how much time someone spent reading the founders' agreement, how far they've scrolled, etc.
Tip: You can use Bit's Guest Access to invite your attorney to review your document and ensure that it meets your state and county standards.
Conclusion
There you go, people!
If you are someone who's running a company without clearly specifying roles, responsibilities, and other important things with the co-founders, we're sure this blog will change your mindset.
As said by Noam Wasserman in his book The Founder's Dilemmas, about 65% of startups fail due to conflicts between co-founders.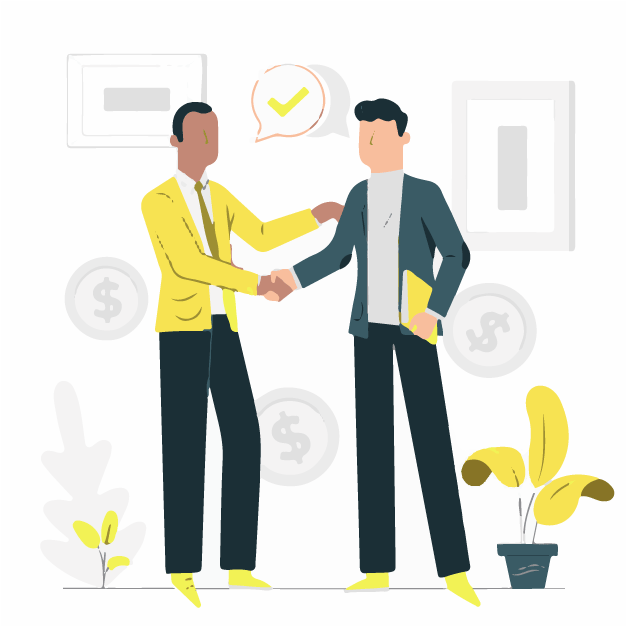 To your rescue, the founders' agreement is designed to protect each member's interest and avoid any chaos.
So what are you waiting for?
Make a free account on Bit.ai and get started with this wise decision of writing a founders' agreement for your company before it's too late.
Got any queries? Tweet to us @bit_docs and let us know!
Further reads:
Company Profile: What is it & How to Write a Perfect one?
Profit-Sharing Agreement: What is it & How to Create it?
Consulting Agreement or Contract: What is it & How to Create it?
Shareholder's Agreement: What is it & How to Create it?
Operating Agreement: What is it & How to Draft One for your LLC?
Business Report: What is it & How to Write it? (Steps & Format)
Business Letters: Definition, Types, Format, and Tips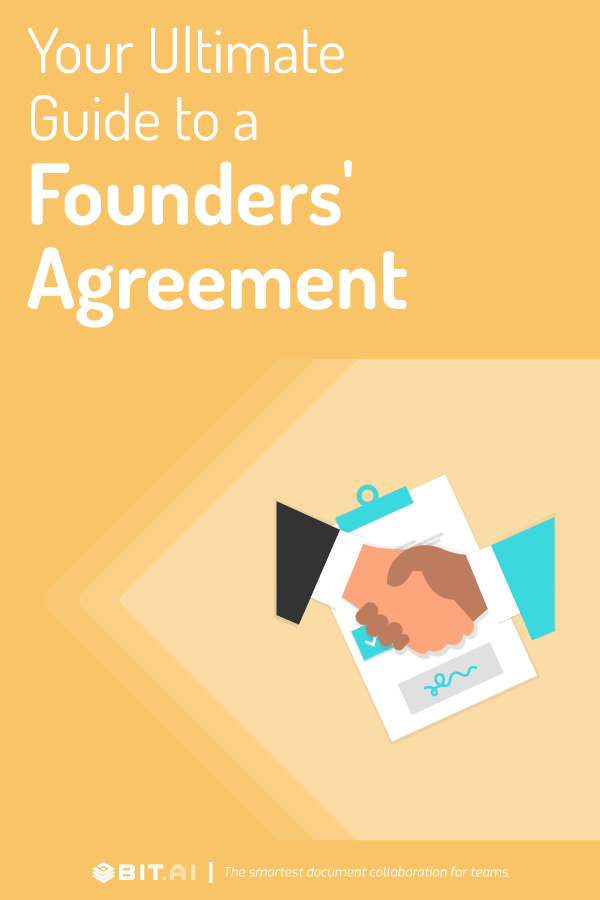 Related posts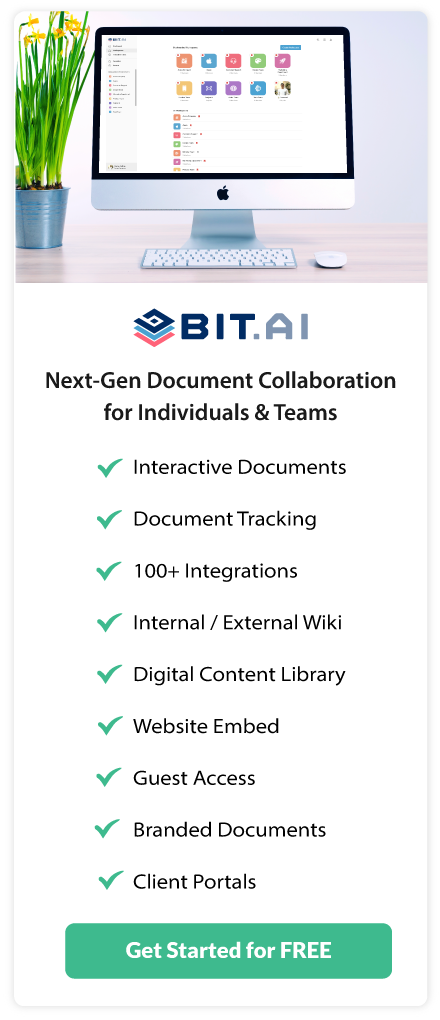 About Bit.ai
Bit.ai is the essential next-gen workplace and document collaboration platform. that helps teams share knowledge by connecting any type of digital content. With this intuitive, cloud-based solution, anyone can work visually and collaborate in real-time while creating internal notes, team projects, knowledge bases, client-facing content, and more.
The smartest online Google Docs and Word alternative, Bit.ai is used in over 100 countries by professionals everywhere, from IT teams creating internal documentation and knowledge bases, to sales and marketing teams sharing client materials and client portals.
👉👉Click Here to Check out Bit.ai.