Looking for a Microsoft Word alternative? Let's see who comes out on top in this Microsoft Word vs Bit.ai epic battle!
Documents are the foundation for any information we create and every team needs a stellar document collaboration system. Today we are going to compare the Veteran Microsoft Word vs Bit.ai the future of documents.
Microsoft Word has been one of the most sought-after tools to create and share documents. Microsoft Word is very likely one of the first things that comes to your mind when you think about editing text documents.
Word has been around for ages – 34 years to be exact. It has become the place we got when we want to write, edit, and share documents.
Word has seen many players come and go in the text editing space and has withstood the test of time.
However, as technology continues to evolve and our professional lives become more digitally inclined, we need tools that support our modern workflow and not just "get the job done".
Nowadays, every company, department, and team has its own unique set of digital tools, files and web resources that they use. With the expansion of our work tools, communicating around projects, ideas and work has become disjointed.
Collaborating across cross-functional teams, remote teams, external partners, and clients have become complicated. Piecing together information from various tools to tell a story, make decisions, evaluate projects, close deals has become erratic and inefficient.
This is why we created Bit.ai – to help make dynamic documents that:
But, you don't have to take our word for it.
In this article, we are going to put Bit and Microsoft Word in the ring together and battle it out to find out which tool emerges on the top!
Read more: What Is Digital Workplace And It's Impact On The Future Of Work
Microsoft Word Vs. Bit – Battle for the Ultimate Document Collaboration Tool
We have put together a bunch of criteria divided into "rounds" to find out how Bit and Microsoft Word stack up against one another. So without further ado, let's watch the fight!

Bit.ai vs. Microsoft Word Round 1: User Interface
Since Microsoft Word is one of the oldest document editor out there, we all are pretty familiar with the user interface.
Everyone has seen and worked on the famous "ribbon top bar layout" of Microsoft Word. Microsoft Word online follows the same design interface.
Bit.ai, on the other hand, follows a much more modern design language. The "less is more" aspect of Bit's user interface works well for teams looking to put their heads down and work without getting distracted.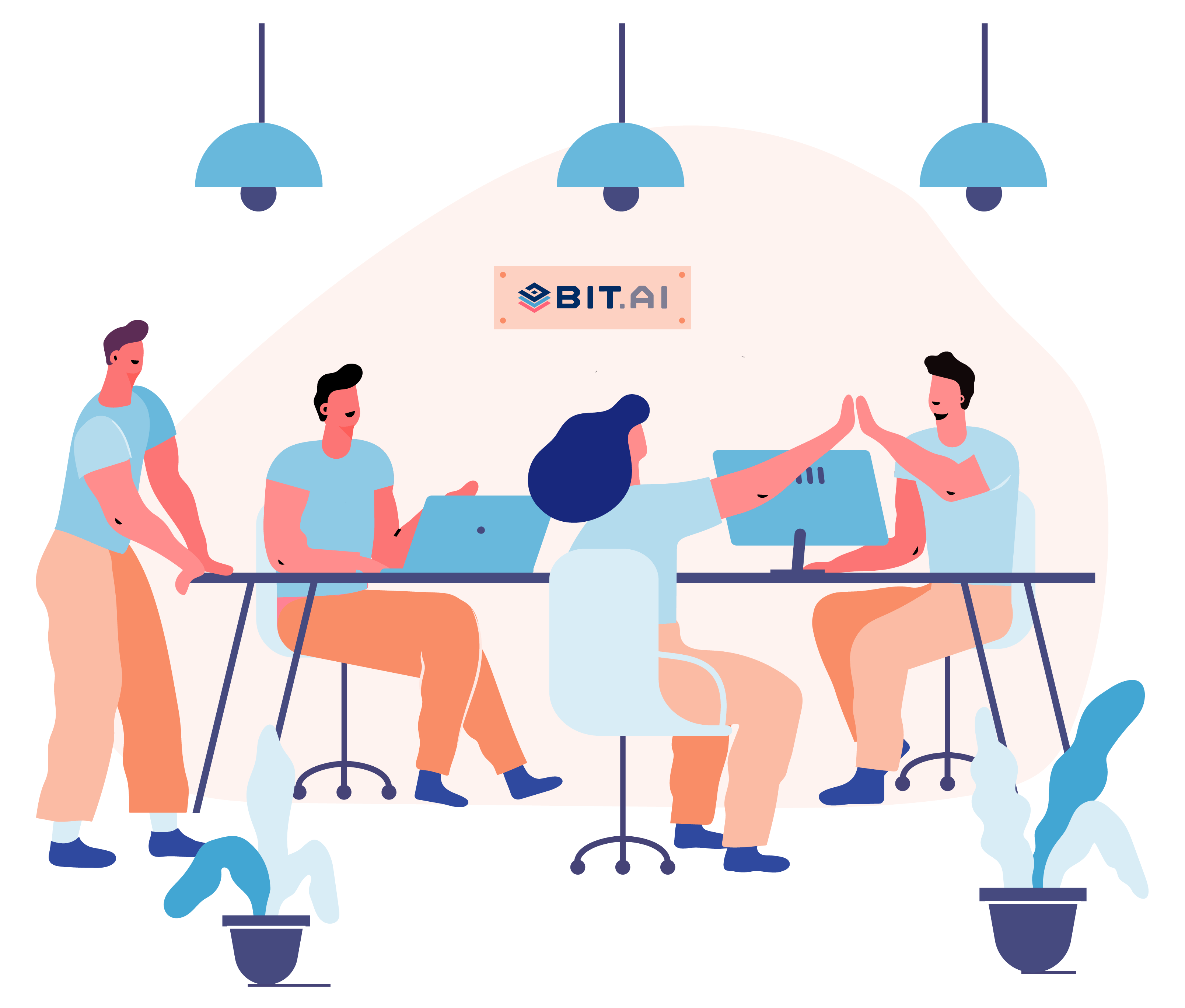 Bit has a single drop-down menu that contains key things you can do with your document and that's it! Easy as pie.
If you are looking for an alternative to Microsoft Word with a clean, minimal interface that helps you and your teamwork without losing focus, Bit is the clear winner.
However, if you are accustomed to Microsoft Word's extensive formatting options and ribbon layout, you might want to stick to the old world – Word Online.
Bit.ai vs. Microsoft Word Round 2: Formatting
Once you open up a Bit document, simply start typing and highlight any portion of text to format it.
Choose whether you want to bold, italicize, or underline your text, add a heading or subheading, create a quote, add bulleted, numbered, or check-marked lists, and much more.
There's really no easy way to format text in Word. The editor at times can feel overwhelming. It takes time to find and perform text formatting and customization of your documents.
The longer the document the harder it is to format and make sure your headings, sub-headers, and body text have the perfect font sizes, colors, and line spacing.
Bit documents were created to make creating documents easy for you and remove design complexity so you can focus on the content.
Bit has design automation built in so that anyone can create a professional-looking document without doing much at all.
Bit.ai vs. Microsoft Word Round 3: Media Integration
In this age of digitization, you need more than just plain-boring text to tell your story in a compelling manner.
Microsoft Word confines you to create documents using only written text and images. It fails to incorporate the digital content around us like:
Files
Websites
Videos
Interactive Content
Charts
Spreadsheets
PDFs etc.
We are increasingly using various forms of expression like images, videos, gifs, PDFs, music files, etc. to communicate with each other and get our message across effectively.
However, the inability to include such rich digital content in your Word documents hinders our ability to communicate well.
At Bit, we know that in this digital age, you need more than just text to communicate effectively in the workplace.
This is why we empower you to add any type of rich media content, like YouTube videos, Google Docs Spreadsheets, PDFs, presentations, Spotify playlists, SlideShares, code blocks, maths equations, etc. to your Bit documents with a couple clicks!
Bit.ai vs. Microsoft Word Round 4: File Uploads
Microsoft Word Online doesn't allow users to upload files into their documents. Now if you are looking to share contracts, PDFs, excel sheets, brochures, etc. with clients, you have to share them separately via email or use one of the cloud storage services like OneDrive.
Sharing multiple files via multiple channels often leads to information getting lost and a heck lot of confusion! In Bit, users can link their cloud accounts like OneDrive, Dropbox, Google Drive, or Box and share their files with a single click, without leaving the platform.
You can also directly attach files inside your documents and the files get uploaded inside of your documents allowing your audience to download them.
This saves users a lot of time and effort sharing files via emails by bringing all of your communication checkpoints in one place.
Bit.ai vs. Microsoft Word Round 5: Tracking
Bit has tracking capabilities built-in. No need to use a third-party document tracking tool like Attach or DocSend. Bit allows its users to share documents with a trackable link and get detailed engagement insights on them.
You are able to see who has accessed your document, how frequently they opened the document, how much time they spent on it, how far through the document they scrolled, along with other great engagement metrics.
All this information is a gold mine. Imagine being able to track how far your sales proposal was scrolled and where your prospect loses interest. You can then make changes accordingly.
Having the ability to track your workplace documents is a game-changer for businesses. Not only does it help you understand how your audience is interacting with your content, but it will also help you to improve the content you're creating and sharing.
Bit.ai vs. Microsoft Word Round 6: Lead Capture
Wouldn't it be helpful if you could include a lead capture form on your documents? Bit.ai allows you to choose an optional lead capture form that your recipient has to fill out before they can access your shared document.
You can require your audience to fill out their name, company, email and/or phone number. It is a smart way to capture leads and also know who specifically has accessed your documents.
For example, marketers can offer a free e-book and attach a lead capture form to it. However, Word templates do not offer lead capture forms.
Traditional e-books in PDF form can be downloaded and passed around bypassing web-based lead capture forms. Bit.ai ensures that each unique visitor has to enter their information in order to view the content. This means MORE leads!
Bit.ai vs. Microsoft Word Round 7: Custom Branding
Bit allows you to choose a custom subdomain with the name of your company. All shared documents are shared with a branded web link.
Your branded logo and company name show up on the top left corner of every document you share. If anyone clicks on your logo it will take them to your website.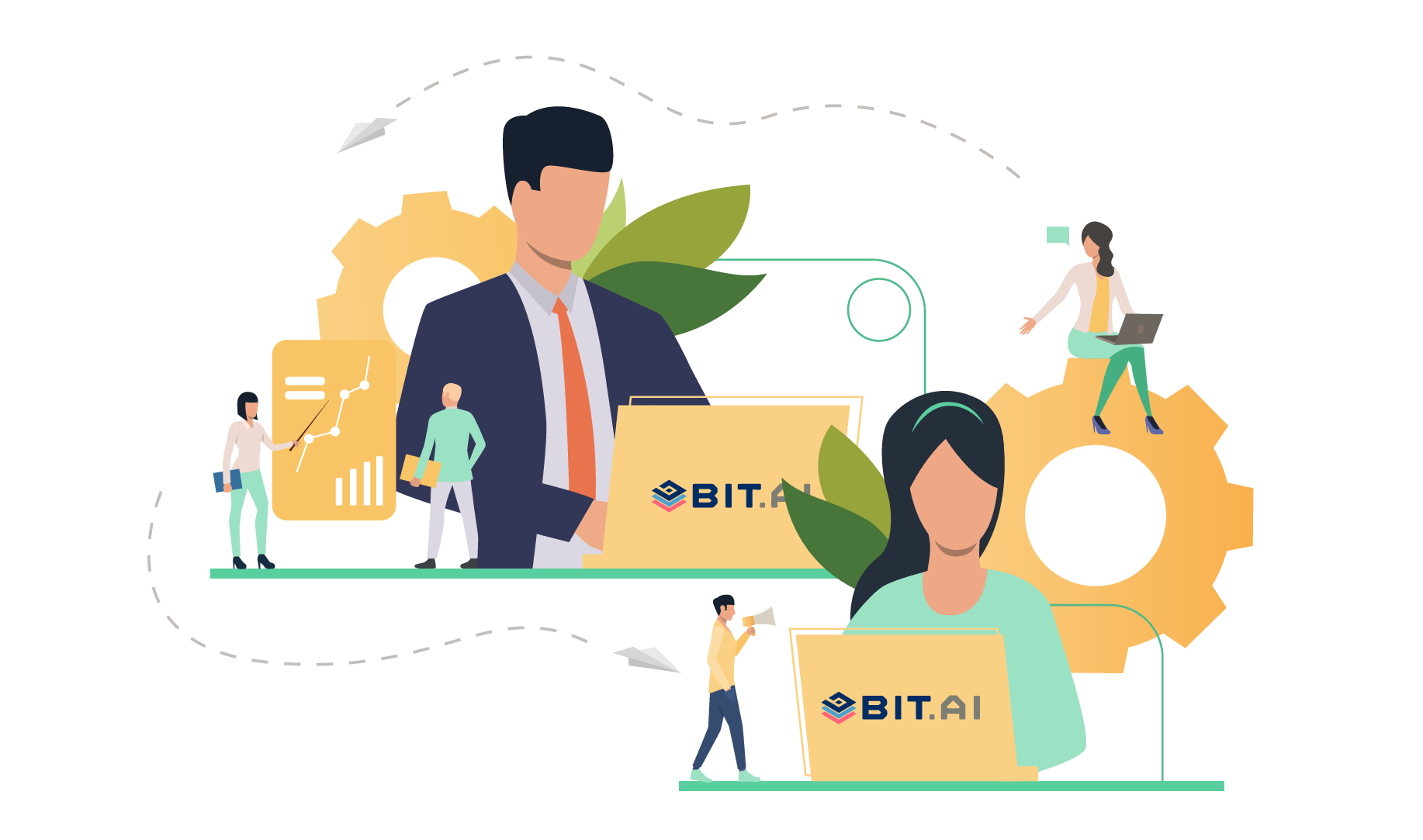 Bit has created a document platform that is meant to be used by organizations. These large and small details make a difference for businesses as you work towards creating a lasting impression on clients, future clients, partners, and suppliers.
On the contrary, you cannot create a company-branded word document in Word online. The "W" logo of Word will always be present in every document you create.
Bit.ai vs. Microsoft Word Round 8: Table of Contents
The table of contents is an important part of any document. It allows users to quickly see whether they got it all they wanted in their document.
Also, If your document turns out to be longer than a few pages, your readers will be grateful if you included a table of contents for easy navigation. However, there's no easy way to add a table of content to a Word document.
They often turn out "not so fun" than expected; often missing out on important heading or subheadings.
On the other hand, Bit has an automated table of contents created based on your header 1, header 2 and header 3 usage on your document. This makes the process of creating the table of contents as simple as it can possibly get.
Bit.ai vs. Microsoft Word Round 9: Markdown
For those of you who have not heard about this, Markdown is a plain text formatting syntax used to write content on the web.
It's commonly used by writers and publishers to write quickly without having to take time using the formatting toolbar of text editors like Microsoft Word.
Writers and publishers know the value of "flow" and how writing without distractions can help put thoughts into words efficiently.
Picking up the mouse, selecting the text, hovering the mouse over to the bold icon and coming back to the keyboard, all end up disrupting the creative flow and create a disjointed experience. When you are "in the zone," small interruptions like these can put off your writing.
Unfortunately, Markdown is not supported by Word, making it difficult for writers to work swiftly. On the other hand, Bit has Markdown support, making it easy for writers to write swiftly.
Bit.ai vs. Microsoft Word Round 10: Code Blocks
Whether you are creating technical specs, training manuals, best practices, client support material, etc. Coders wish they could embed snippets of GitHub Gists and embed Pastebin code directly into a Word document. Word, however, does not support code blocks.
Bit, on the other hand, allows users to add code blocks to their documents easily. Whether you are creating software documentation, technical specs sheet, training manuals, best practices, client support material, etc, users can easily add code blocks and embed snippets of GitHub Gists and Pastebin code directly into a Bit document.
Final Thoughts
And there you have it, folks! An epic Microsoft Word vs Bit.ai showdown to help you decide the best tool for you!
Bit reduces the need to switch between multiple tools and helps streamline your company's workflow. If you're looking for a modern way to communicate, this is it!
The great part of Bit is that if you love Microsoft Word, you can still keep using it and embed those Word documents within Bit so you can communicate more effectively with your internal team and with clients, partners, investors, suppliers, etc.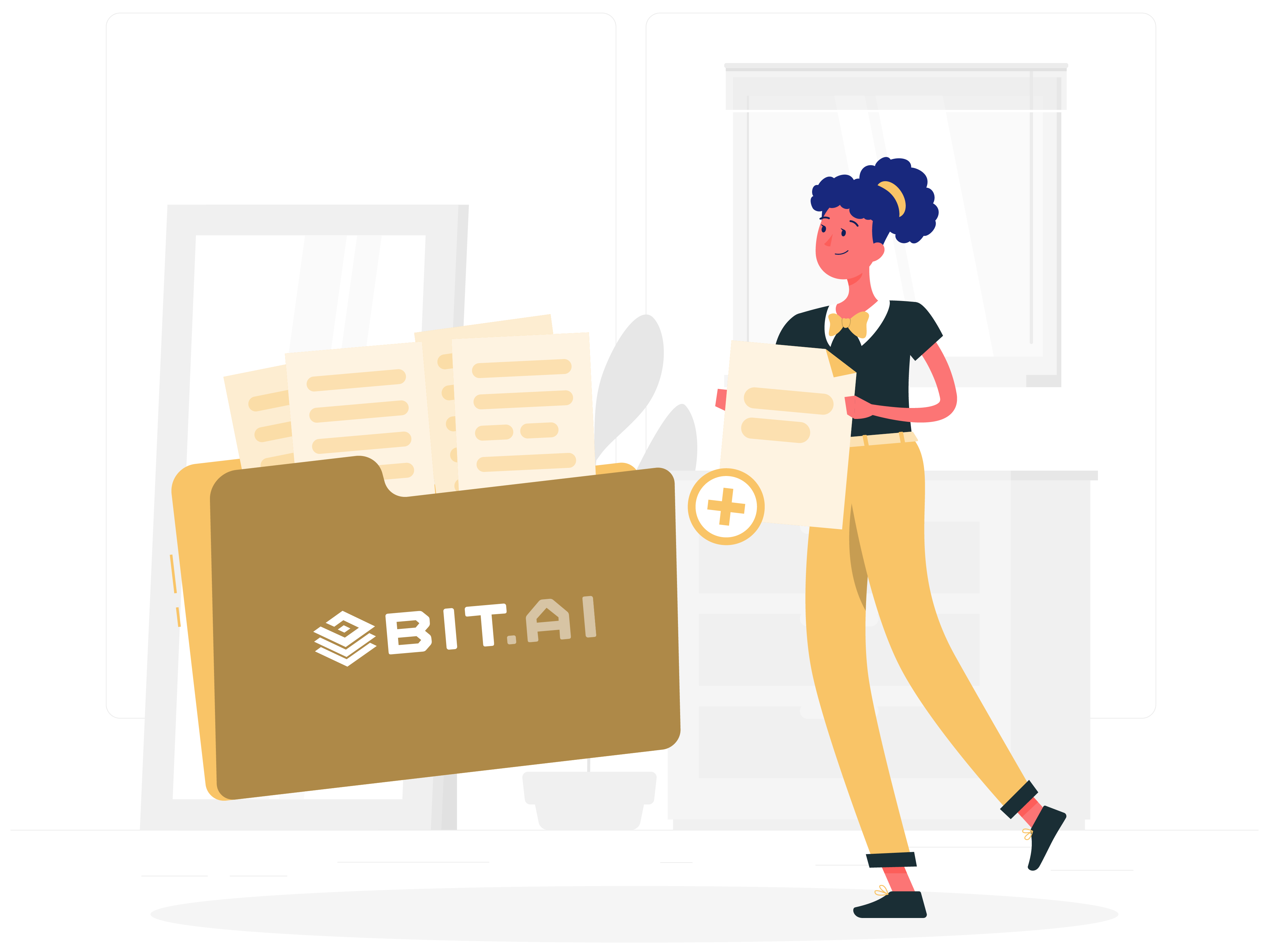 You can also embed OneDrive files, Microsoft Excel sheets, SlideShares, and PPTs directly inside your Bit document.
Microsoft Word has been around for 34 years. That's a pretty long time being at the top of its game. Don't get us wrong, it still offers some amazing features for being the go-to text editor.
However, not being able to grow with this web 2.0 generation of products has really dented its capabilities and made it outdated.
If you are waiting for a superior document editor, you might want to try out Bit.ai.
 Further reads: 
[/vc_column_text]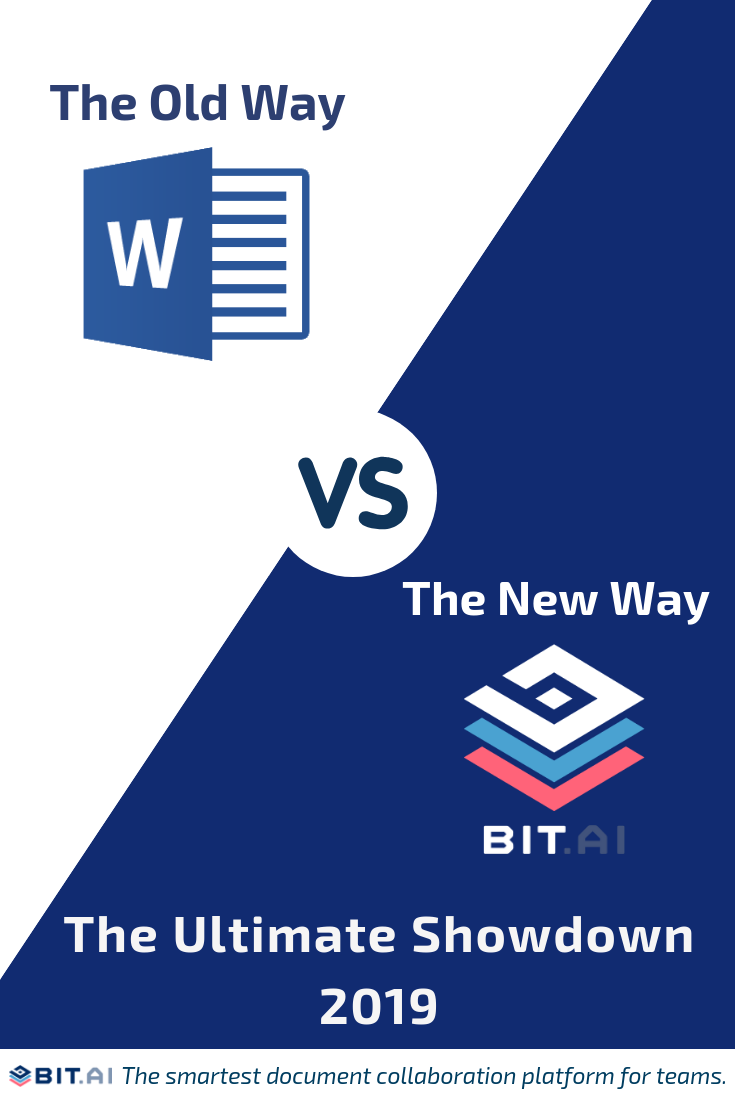 [/vc_column][/vc_row]
Related posts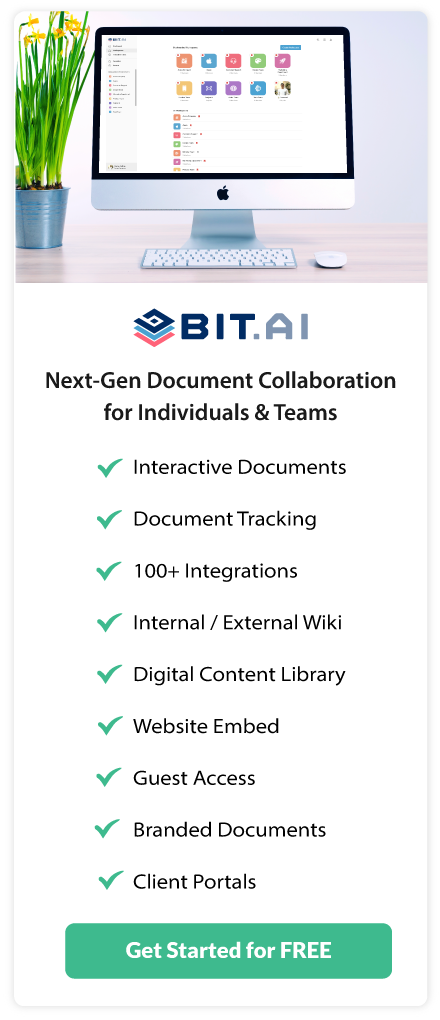 About Bit.ai
Bit.ai is the essential next-gen workplace and document collaboration platform. that helps teams share knowledge by connecting any type of digital content. With this intuitive, cloud-based solution, anyone can work visually and collaborate in real-time while creating internal notes, team projects, knowledge bases, client-facing content, and more.
The smartest online Google Docs and Word alternative, Bit.ai is used in over 100 countries by professionals everywhere, from IT teams creating internal documentation and knowledge bases, to sales and marketing teams sharing client materials and client portals.
👉👉Click Here to Check out Bit.ai.