As the workplace becomes increasingly digital due to the current state of this pandemic, new ways of communication and collaboration are emerging every day. Let's learn about what exactly is a digital workplace and why it really matters. Read on…
What is the workplace? We often associate workplaces with an office, because, well, we do most of our work there.
It is our "place of work" after all. However, technology, like everything else, has disrupted the typical workplace by helping employees work remotely. Now, thanks to technology, your workplace is wherever you sit down.
At the coffee house, at a bar, in the comfort of your home, or at a co-working space. The place where people work has essentially become non-stationary.
Today's technology, tools, and apps have given birth to this always connected, instant access environment. Our tools have significantly blurred the lines between the physical office and the place where work actually happens.
The days of sitting in your office cubicle eight hours a day are slowly disappearing. So are the gaps between personal and professional life through remote working.
As the workplace becomes digital, new ways of workplace communication and collaboration are emerging every day. This digitization of our work is fundamentally changing how we handle work, relationships, and everything in between.
Thus, it becomes imperative that we learn more about this cultural change. We have to try to find ways to make the best to use it before the changes get too big to handle. Let's first start with the basics!
What is a digital workplace?
A digital workplace is a broad term. As the phrase has grown in popularity over the last decade, so are the interpretations of its definition.
A digital workplace can be defined as a virtual space where employees carry out their work in today's day and age.
It's an always-connected work environment that provides instant access to every resource employees need to get work done from anywhere.
According to Deloitte, "The digital workplace encompasses all the technologies people use to get work done in today's workplace–both the ones in operation and the ones yet to be implemented. It ranges from your HR applications and core business applications to e-mail, instant messaging and enterprise social media tools and virtual meeting tools."
Digital workplaces aim to improve communication, collaboration, content management, document management and information flow across the organization and lead to increased productivity and employee efficiency.
Apart from work apps, the cloud is also a part of the digital workplace as it ensures that companies can function beyond geographical boundaries, work timings or via remoting wo

Read more: What is Workplace Collaboration And How To Do It Right
Why is the digital workplace important?
A digital workplace is essentially a fundamental shift in the working mindset of an organization. Organizations are slowly coming to terms with the fact that work is no longer a place we go to.
In fact, it's a virtual modern counterpart to the traditional office space where work comes to us, courtesy of technological advancements!
There are many reasons why a digital workplace is absolutely necessary to carry out business in today's day and age. Some of these include:
1. Improved Internal Communication and Collaboration
A digital workplace opens up an amazing number of opportunities to keep in touch with your peers at all times.
In this fast-paced world, people can't afford to wait for an email reply, or worse, let it get lost in your inbox wasteland.
People prefer newer, faster communication tools specifically instant messaging and real-time collaboration tools to get work done quickly. This, in turn, increases transparency amongst employees and helps develop better interdepartmental relationships.
2. The Culture of Telecommuting
According to a Survey, telecommuting has risen 79 percent between 2005 and 2012 and now makes up 2.6 percent of the American workforce, or 3.2 million workers.
The shift towards remote working is an obvious one:
It helps minimize office finances like rent, stationery, utilities, etc.
It helps saves commute time for employees, which results in higher productivity.
It reduces the need for unnecessary office meetings, water-cooler talks, and office politics.
This rise in telecommuting has been possible due to the increased acceptance of a digital working environment that allows employees to work from anywhere they want.
More than 77% of people working remote report greater productivity and 52% are less likely to take time off
According to a survey of American remote workers, about 91 percent of people who work from home feel that they're more productive than when they're in an office.
A ConnectSolutions study also found that 77 percent of remote workers get more done in fewer hours thanks to fewer distractions like meetings, conversations, and noisy coworkers.
Since remote workers tend to be more productive, businesses end up enjoying better returns.
Read more: 9 Must-have Saas Tools For Remote Teams
3. Reduce the Reliance on Paper
If your company still uses paper documents, switching to a digital workplace can help reduce the reliance on paper and save additional costs for printing, storing, maintenance, filing, etc.
According to hubshare.com, companies with annual revenues between $500k and $1 million can save as much as $40k per year by switching to digital document management.
Laserfiche estimates a 20% time savings based on filing and retrieval efficiencies, eliminating misfiling and workflow efficiencies. Increased efficiency, as well as greater staff productivity, can save up to 6,000 hours annually, or 2.4 full-time staff positions.
Going paper-free also helps you reduce a huge amount of paper waste from the environment, helping you reduce thousands of paper sheets each month.
This not only helps you make sustainable and ethically correct choices, but also provides you with a social mission of which both clients, employees, governments, and your customers, want to be a part of.
4. Improve Overall Office Efficiency
The digital workplace helps improve overall office efficiency. Since you don't have to go to an office every day to do your job, you save on crucial commute time which can be spent on doing productive work.
Moreover, having digital solutions in place allows you to quickly find the file, information and content you are looking for while working remotely, rather than shoulder tap other employees and disturb everyone's workflow.
Thus, a digital workplace helps save you crucial time and allows you to channel it into more productive work.
Read more: The Ultimate Guide To Document Management Workflow
5. Knowledge Sharing
According to data, Fortune 500 companies lose roughly $31.5 billion a year by failing to share knowledge. As baby boomers continue to retire, they are taking away their wealth of knowledge and experience with them.
This knowledge is extremely useful in teaching new hires the do's and don'ts of the organization and quickly lay the foundation of a much more efficient workforce.
Digital workplace tools like knowledge management systems allow organizations to document the know-how and experience of senior managers so that the knowledge of the organization does not leave when the employee leaves.
With a knowledge management system in place, your current or future employees can easily access this information and continue doing their work with ease.
6. Information Access
We bet you have no idea how much productive time your employees are leaving on the table just because they couldn't find the desired information or content they were looking for.
Since all your important work documents are scattered over Google Drive, OneDrive, email attachments, PC folders, and USB sticks, how can you count on yourself to find the exact piece of information you need at the time you need it!
According to a McKinsey report, employees spend 1.8 hours every day—9.3 hours per week, on average—searching and gathering information.
Almost 20 percent of the business time – the equivalent of one day per working week – is wasted by employees searching for information to do their job effectively.
IDC data shows that "the knowledge worker spends about 2.5 hours per day, or roughly 30% of the workday, searching for information.
A major advantage of having a digital workplace structure in place is the ease of access to information.
A digital workplace provides a central location for all files, documents, weblinks, and other rich media. This makes it extremely easy for team members, irrespective of their location to access information from any device quickly.
Employees no longer need to save files to their hard drives or on those forgettable USB sticks. Just log in to your digital workplace and you're good to go!
7. Provides a Competitive Advantage
The companies using a digital workplace clearly possess a competitive edge on those who are yet to embrace this shift into remote working. There are many advantages to a company going digital have over those who aren't:
They are saving supply and storage cost
They are saving money on new hires to manage paper documents
Digital documents tend to be more accurate
Employees can get access to information quickly and easily, saving them time and effort
Employees can provide better service to customers and offer better turnaround times
Since employees are saving a lot of time, they can focus on the things that really matter and contribute to the business's success more effectively.
Read more: What Is Competitor Analysis And How To Do It Right
Digital Workplace of the Future
A digital workplace involves:
Communication/messaging apps
Cloud storage apps
Knowledge management system
Document editors
Content management system
File sharing apps and more!
Even though a digital workplace makes it easy to create quickly communicate, collaborate and get work done effectively, there is still a major reason why work gets bogged down- there are just too many apps!
You create your documents in Google Docs or Microsoft Word, share them via email, Slack or any other messaging service, and store them in Google Drive, Dropbox, OneDrive or some other cloud storing service.
Basically, you create your files in a document editor, share them via email, get notified about the email via a messaging app, and store it in the cloud. When you have your important content scattered around different devices and tools, your productivity always takes the backseat.
The more tool you use to make your work life better, the more complicated your workflow becomes and the less effective your communication will be with your remote team.
In order to carry out your effective collaboration and communication, you need to get rid of all the apps that seem to slow you down rather than makes thing better.
To better organize your work and be efficient and productive, you need to have a tool that replaces all of your work apps– your dated document editor, cloud storage, and messaging platforms.
Something that has the power of a great document editor, can store all your documents in one place and can search any document intelligently in a matter of seconds while notifying everyone without the email chain. Only then a truly digital workplace will be born.
Bit.ai is a new-age document management and collaboration tool that helps teams to collaborate, share, track and manage all company documents, files, and other content in one place.
[/vc_column_text]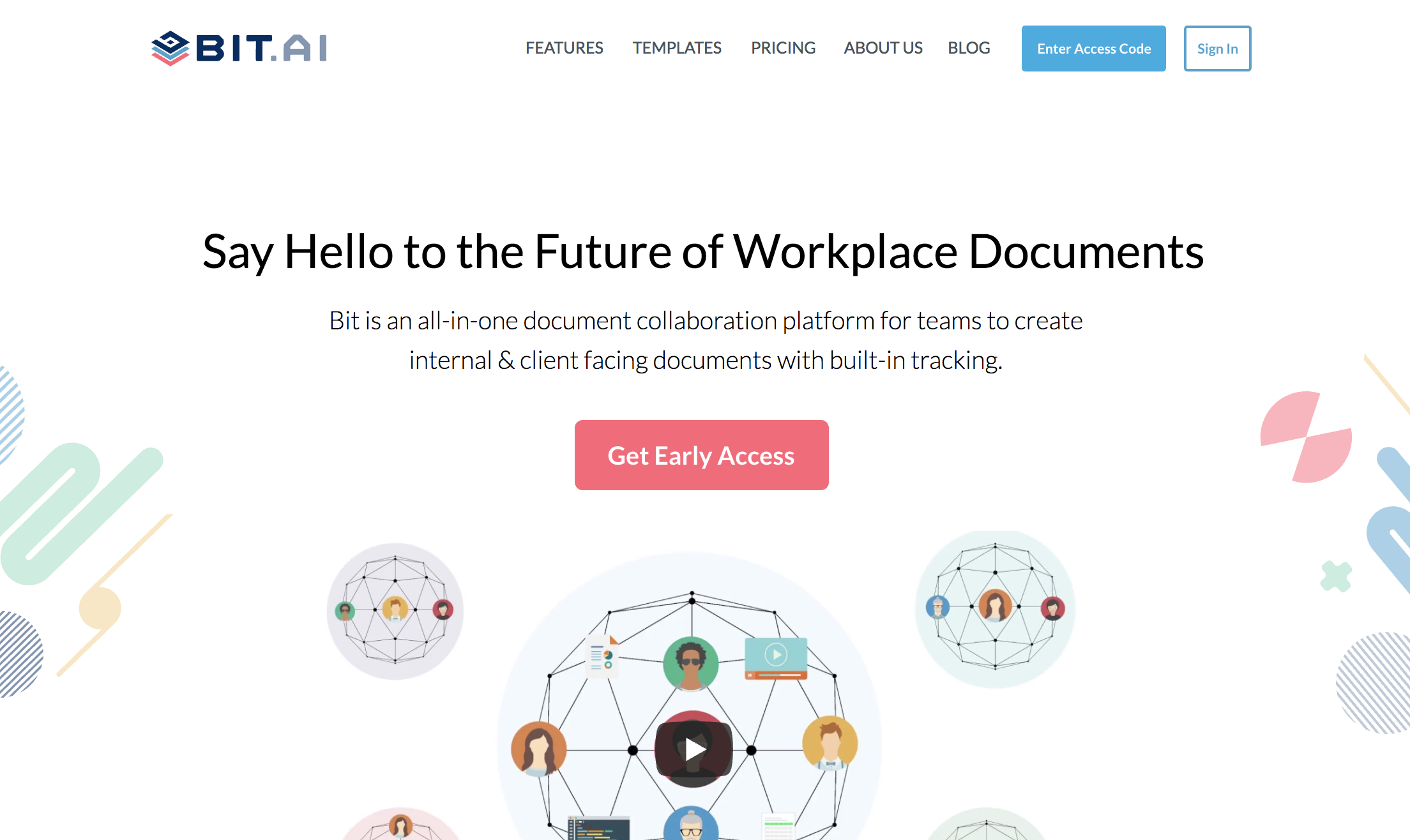 Bit's document management system allows you to create workplace documents like- project proposals, sales decks, training documents, how-to guides, company policies, process documentation, media kits, fact sheets, competitive research, case studies, e-books, etc. and provides a central location to store these documents, making it the perfect digital workplace solution for the remote teams.
Multiple people can simultaneously create a smart document in real-time. It's a wonderful way to manage projects, create client-facing material, share meeting agendas, create proposals, and most importantly, share and manage information and knowledge!
Bit's smart editor makes the process of documentation and content creation quick and easy.

Apart from documents, Bit also provides amazing content management capabilities. Bit has a content library that automatically saves the images, files and digital content you add to your documents (or workspaces) so that you can access and reuse them easily.
Smart workspaces are created around projects, teams, departments, and clients to keep your documents, data and information organized.
Workspaces make it easy to collaborate and ensure that the right team members have access to the right documents at the right time. They are fluid so your information can move through your organization's workflows.
Bit documents also support smart search, which allows anyone to search and find any files, images, documents, and text inside documents quickly and easily across the system.
With the ability to effectively label content, users can search their digital assets using keywords, titles, descriptions, or tags. They can even search for files based on their source. (i.e., YouTube). This is extremely useful for new hires to not feel overwhelmed while looking for information.
Bit allows users to manage permissions and information access that suits your organizational needs. It supports features like document tracking, password protection, file access restrictions, etc. that help keep your important company information safe.
Bit provides a common workplace for knowledge workers and experienced executives to collaborate with employees, share their knowledge, brainstorm ideas, store digital assets, and innovate together.
The best part is that this knowledge is safely secured in your workspaces and can be shared (or kept private) with anyone in your organization!
Conclusion
As people around the world find ways to keep social distancing, digital workplace is completely revolutionizing the way we interact, engage and carry out our business in this pandemic.
Though there are many advantages to this always connected, instant access, fast and efficient work environment, the sheer number of tools we use to get work done ends up nullifying all the upside.
We thus, often end up with the perception of being productive while we struggle to find that important file a co-worker emailed a week ago.
An ideal digital workplace is the one that allows the work to come to you, not the other way around.
A workplace to work remotely where you can gather all your co-workers – no matter where you are in the world- brainstorm ideas, communicate, collaborate, store files and knowledge, and get work done without having to jump between tens of hundreds of apps.
Bit provides a one-stop-solution to this problem and is a step in the right direction. Would you like to join us in our quest for a truly digital workplace?
Further reads :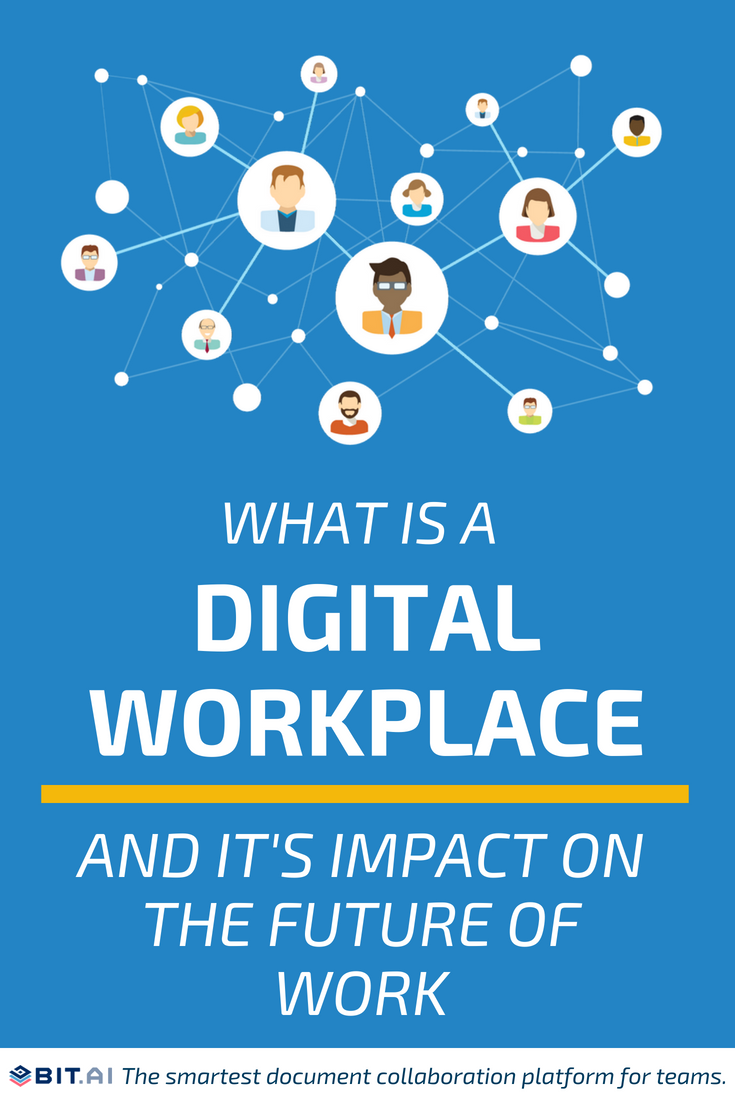 [/vc_column][/vc_row]
Related posts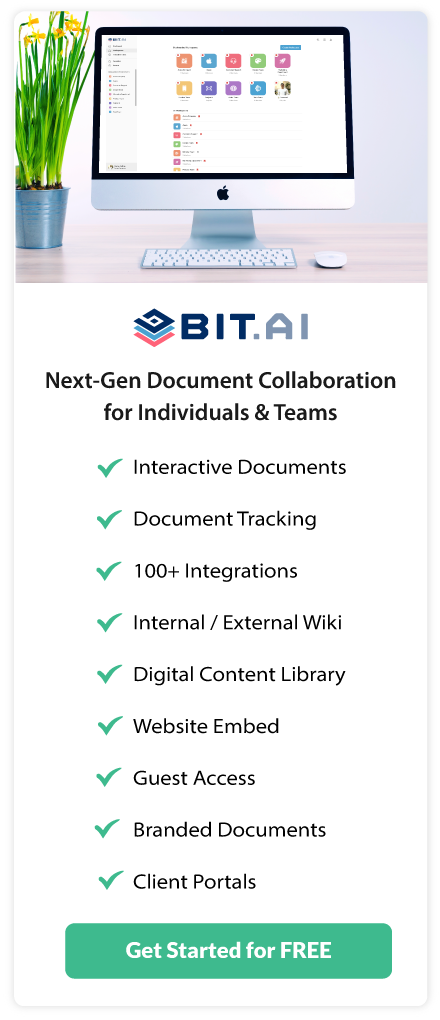 About Bit.ai
Bit.ai is the essential next-gen workplace and document collaboration platform. that helps teams share knowledge by connecting any type of digital content. With this intuitive, cloud-based solution, anyone can work visually and collaborate in real-time while creating internal notes, team projects, knowledge bases, client-facing content, and more.
The smartest online Google Docs and Word alternative, Bit.ai is used in over 100 countries by professionals everywhere, from IT teams creating internal documentation and knowledge bases, to sales and marketing teams sharing client materials and client portals.
👉👉Click Here to Check out Bit.ai.