2020 was a strange year in all aspects. Who would've thought that the world would be struck by a pandemic and forced to retreat into their homes? Not us!
With many countries put into lockdowns and quarantines, the COVID-19 pandemic changed the face of the industry and paved the way for other ways of working. One of them was working from home and the formation of virtual workspaces.
Would you have ever imagined not commuting to work, sitting in the comfort of your home, wearing semi-formal clothes, and working? What a dream come true for employees! But as employers, you need the right tools to ensure that work is done in the same manner as before.
That's where virtual workspaces come in! With so many tools out there replicating the entire office feel, you don't need to worry about work from home affecting your workplace productivity anymore!
Wondering which tool would be the best for you? Don't worry, we've got you covered with the full list of the best virtual workspace software. Before we get into the entire list, let us take a look at the what's and why's of virtual workspaces. Let's dive right in!
What is Virtual Workspace? (Definition)
A virtual workplace is a workplace that is not located in a single physical space; rather many workplaces are technologically connected via the Internet regardless of geographical boundaries.
Employees are also able to communicate and collaborate in a shared environment regardless of where they are in the world. Digital workplaces minimize unnecessary costs by combining technology systems, human processes, and online processes (Wikipedia, 2007).
A world without boundaries = A world full of opportunities. Sounds pretty exciting, right? Without any further ado, let's also take a look into the benefits of having virtual workspaces!
Read more: Why Companies are shifting to Digital Workplaces
Why are Virtual Workspaces Important?
Apart from the fact that virtual workspaces are great for working during these ghastly circumstances, there are plenty of other reasons why you should opt for virtual workspaces, COVID or not. Let's have a look!
1. Reduced Costs
With virtual workspaces, you can significantly reduce costs. This can include the costs of recruiting and supporting workers, like security costs, services, and equipment, transportation, in-office insurance, travel expenses for attending meetings or conferences, outsourcing costs, etc.
Money saved = Money earned $$

2. Increased Scalability
When you work in a physical workspace, increasing the staff also involves moving to a larger office space. However, with a virtual team, you can easily scale your company up without thinking too much about how much more space you'll need to accommodate your team.
What's more? You also end up saving up the costs of electricity, heating, and air conditioning, etc.
3. Increased Market Opportunities
Businesses, nowadays, are more inclined towards identifying and approaching global business opportunities. With virtual workspaces, you can employ workers from many places around the world, with potentially different languages, who are exposed to local markets.
These people, in turn, can help your organization build new business opportunities by tapping into their respective local markets and generate profits!
4. Increased Net Profits
With so many expenditure cuts and expanded business opportunities, the net profit generated by companies that have virtual workspaces has been growing steadily.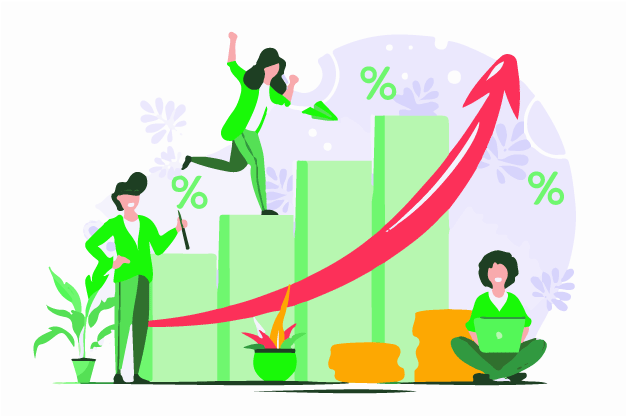 Imagine no longer paying for things like the expense of buildings, leases, electricity, and water! That's so much money being saved!
On the flip side, you can also expand your market globally and generate profits, which is a win-win situation!
5. Environmental Benefits
As an added benefit, you also end up helping the environment as there is an elimination of transportation used by the employees which decrease emissions, and you also end up reducing your carbon footprint! It feels great to do your bit to save the planet, trust us!
Now that we've got that covered, let's move onto the full list of the best virtual workspace tools in 2021! Read on!
Read more: Virtual Data Rooms (VDR) Explained with Use Cases
List of the Best Virtual Workspace Tools
With so many options for virtual workspace tools out there, it's alright to get confused and wonder which one is the best out of the lot. The good news is that we've already done the hard work for you and compiled a list of the best tools.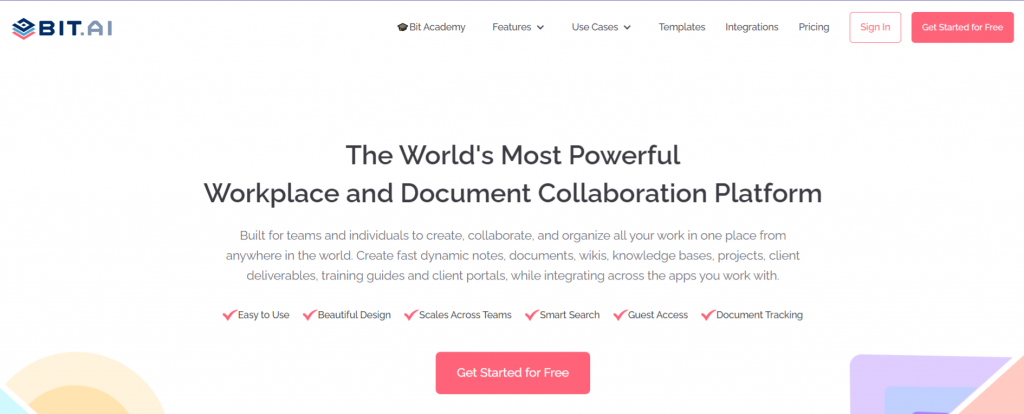 bit.ai is a new-age virtual workspace and document collaboration tool for teams to collaborate, share, track, and manage all company documents, files, and other content in one place.
Bit is a robust platform that was built for teams of all sizes, regardless of physical location and time zones to collaborate and work together on projects, deliverables, proposals, client content, published content, daily work to-dos, and more.
You can create private workspaces, team workspaces, department workspaces, project workspaces, partner workspaces, client workspaces, etc. Inside each workspace, you can create an unlimited amount of Bit documents and access your content library. You can define who gets access to this workspace so that there is easy access to information and less shoulder tapping.
What's more? You can also create trackable links that can help how your clients are viewing your docs, how much time they are spending on it and how often they come back to check it.
Key Features
Allows you to create multiple workspaces
Create interactive docs with over 100 integrations
Manage user roles and permission levels that work for your organizational structure
Allows you to create smart & interactive documents inside workspaces
Guest access for outside clients
Obtain workspace insights
Pricing
Free Plan with limited features
Pro Plan – $8/month
Business Plan – $15/month
Enterprise Plan – Contact Sale


HeySpace is a simple yet sophisticated collaboration software for your team. It acts as a task management tool with chat features. HeySpace uses the Kanban board interface to make it easy for you to track and handle tasks. Each task can be changed – you can modify the progress, add tags, files, summary, set the due date, delegate it to a team member, or comment on it.
You can reach the Kanban board from the main view or the "board" window. Thanks to this, you can see progress in real-time and navigate the workflow quickly. Not only can you have access to all activities or projects, but you can also set up a single contact channel in your company.
HeySpace helps you build a powerful portal where everything important is within reach. This virtual workspace program lets you and your team remain at the top of their work regardless of venue, even during intense collaboration sessions.
Key Features
Chat wherever you want
Visualize your workflow using a Kanban board
Schedule events and tasks
Allows integrations
Pricing
Free Plan with limited features
Premium Plan – $5/month
Read more: How Digital Collaboration in the Workplace Improves Workflows?


Mural is a digital workspace for visual collaboration. It allows teams to think and collaborate visually to solve problems. Mural helps you to work together in one place no matter the location and time zone. It's a cloud-based app that allows you to access it from anywhere on any device.
In Mural, you can create individual workspaces to collaborate on various projects at the same time. You will be notified if workers leave or enter the project during its various phases.
Besides, in Mural, the team can openly exchange ideas and opinions and get feedback in real-time. Mural is an easy digital way to work together. It visualizes any transparency initiative. However the method is ideally suited to creative teams, and if you need more advanced communication and knowledge transfer tools, you will not be pleased.
Key Features
Build diagrams to easily map out complex workflows
Allows you to prevent groupthink by hiding contributions of individual collaborators
Multiple methods to connect and talk to your team
Pricing
Starter Plan – $12/month
Plus Plan – $20/month
Enterprise Plan – Contact Sales
4. Walkabout Workplace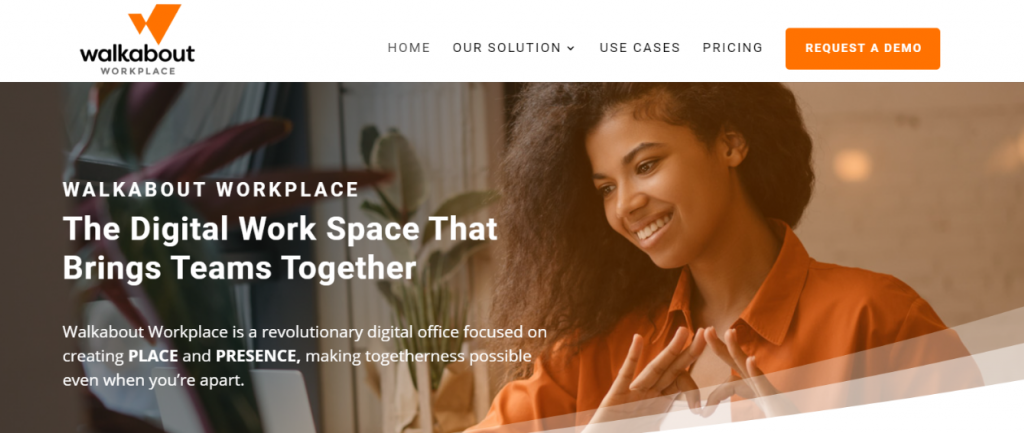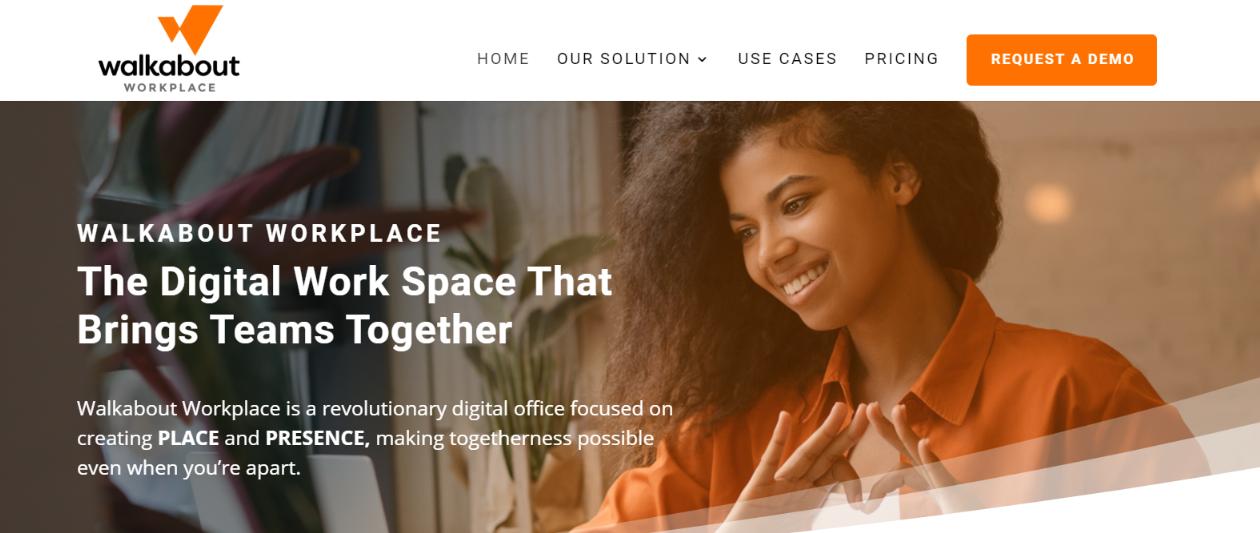 Walkabout Workplace is a digital virtual office space where users go every day to work. Walkabout is equipped with interactive and networking resources such as video calls, chat, screen sharing, and productivity bots to mimic a physical office room.
An interactive real-time floor plan, where user status is still on, lets users feel like they're really together.
Key Features
Consists of activity/news feeds
Discussion Threads available
File Sharing and Mobile Access services
Third-party integrations
Pricing
1 User – $15/month
2-49 Users – $13/month
59-99 Users – $12/month
100+ Users – $10/month


Bluescape is a virtual workspace that enables remote workers to securely present, and review their work from any room, device, or place in the world.
This virtual workspace program allows you to use all of your favorite resources in one place, as they are accessible from the mainboard view. With Bluescape, you can include others in the process of making a product or managing a project and easily share ideas and get input.
Bluescape is a perfect software package for teams who want to enhance teamwork and have everything in one place. You can also collect all the data and files you need to access information, discuss, and manage tasks.
Key Features
Cloud-based workspaces
Advanced video conferencing
Advanced whiteboarding, presentation, and annotation capabilities
Pricing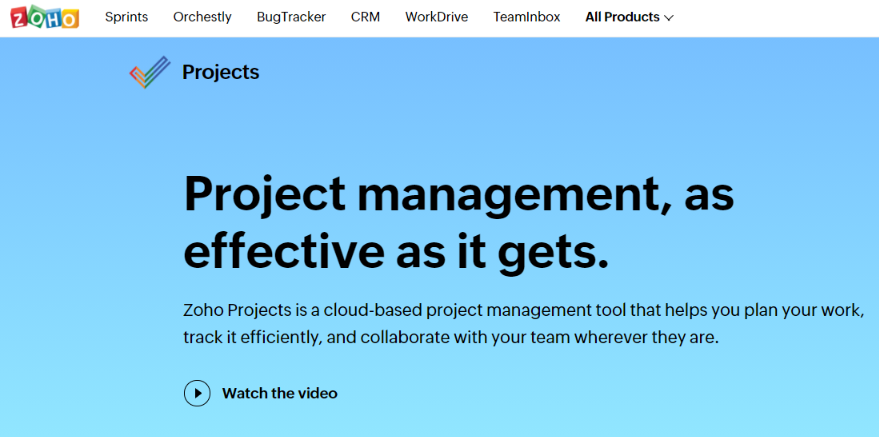 Zoho Projects is a cloud-based project management platform that lets you organize your work, track it effectively, and communicate with your team wherever they are.
You can easily plan your projects, closely control your activities, work effectively with your team, and complete successful projects like you never left your office.
Using Gantt charts to develop your project plan and monitor your schedule of tasks, Zoho Projects keeps you updated on your vital tasks and their dependencies, and instantly reveals any deviations from your expected and actual progress.
Key Features
Task Automation
Log in every minute with timesheets
Create personalized fields, layouts, and workflows
Third-party integrations
Pricing
Free Plan up to 3 users
Standard Plan – $2.5/month
Express Plan – $3/month
Premium Plan – $4/month
Enterprise Plan – $5/month


BlogIn is a wonderfully simple internal blog and information sharing site for teams of all sizes. It allows you to share internal news and knowledge, enhance team communication, and promote company culture.
The internal blog is a central knowledge center that opens a modern direct, two-way communication channel inside a company where anyone can ask questions and get the information they need to make quicker and smarter decisions.
It's intuitive and easy to use, so everyone can get on board easily, which is one of the reasons why it works so well as an internal communication tool.
Key Features
Allows collaboration and content management
Discussions boards
Real-time Chat feature
Employee Database present
Pricing
Monthly Plan – $39
Annual Plan – $390


Sococo is an online workplace where distributed teams come together to work. It was designed for businesses with a remote workforce. It acts as an online platform that helps collaborate and communicate with team members across multiple locations.
Key Features
Discussion Threads
Real-time Chat
Video Conferencing
Pricing
Sococo Plan – $13.49/month
Sococo Unlimited – $24.99/month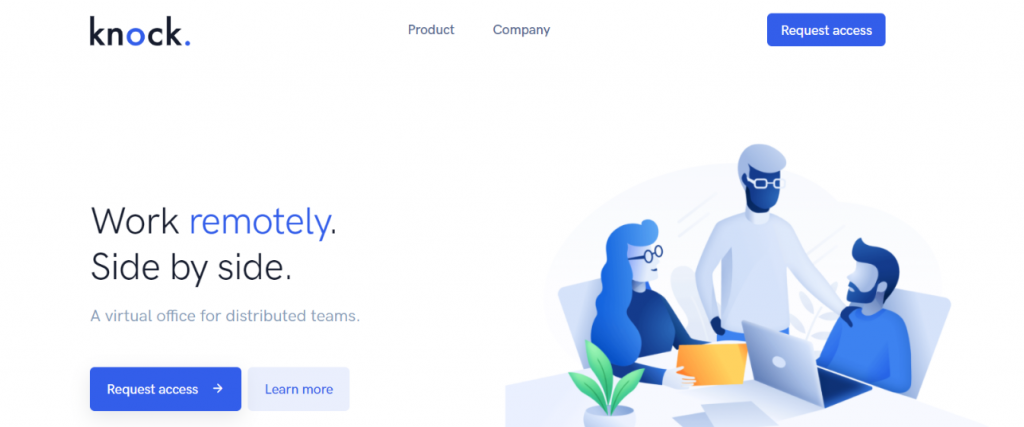 Last but not least on our list, Knock is another virtual office for distributed teams. You can create your office, invite your teammates, and voila, enjoy better collaboration with your team!
Key Features
Meeting Management
Video Chat
Pricing
Startups Plan – $9/month
Big Companies Plan – Contact Sales
Final Words
…and there you have it! The complete list of the best virtual workspace tools out there in 2020! With the help of these tools, you can easily enhance the productivity of your organization and ensure that work is happening just as it would in a physical workspace, with the added benefits! Sounds like a pretty sweet deal.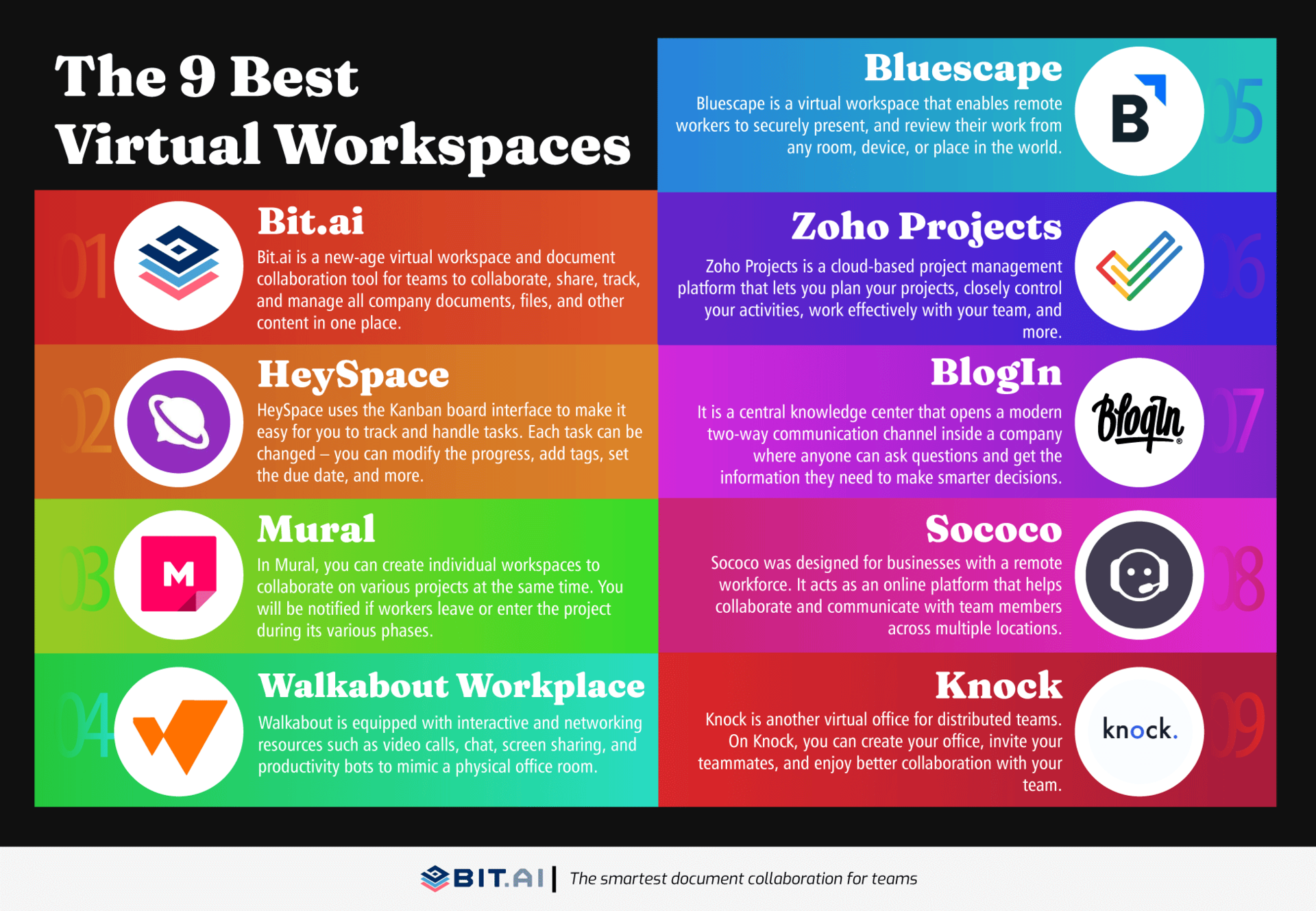 Did we miss out on your favorite virtual workspace tool? Let us know by tweeting to us at @bit_docs. We'd be happy to hear from you!
Further reads:
What is Digital Workplace and Its Impact on the Future of Remote Work
11 Task Manager Apps You Must Know About!
9 Ways to Improve Work Performance in 2022
8 Key Benefits of Virtual Teams for Your Company!
Tips and Tools to Manage Your Distributed Team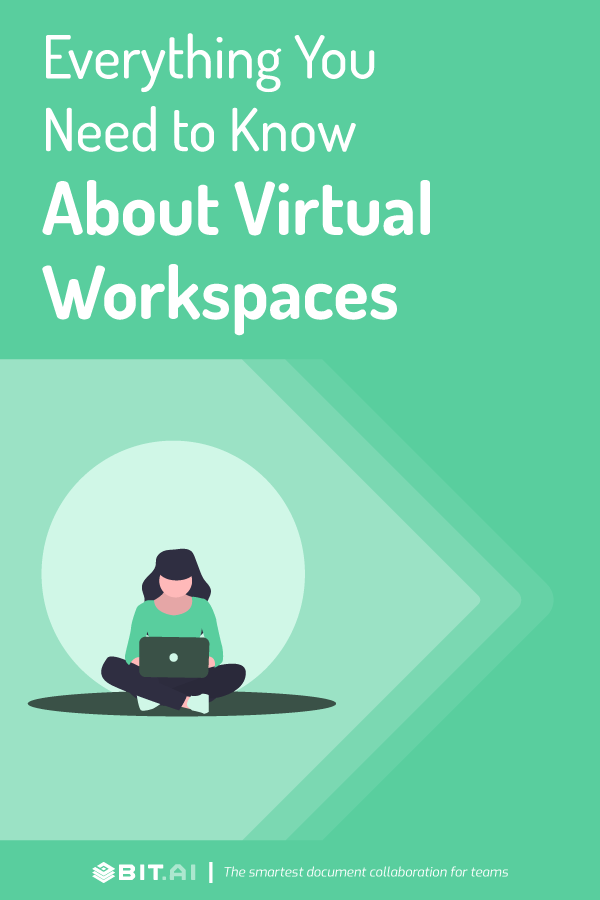 Related posts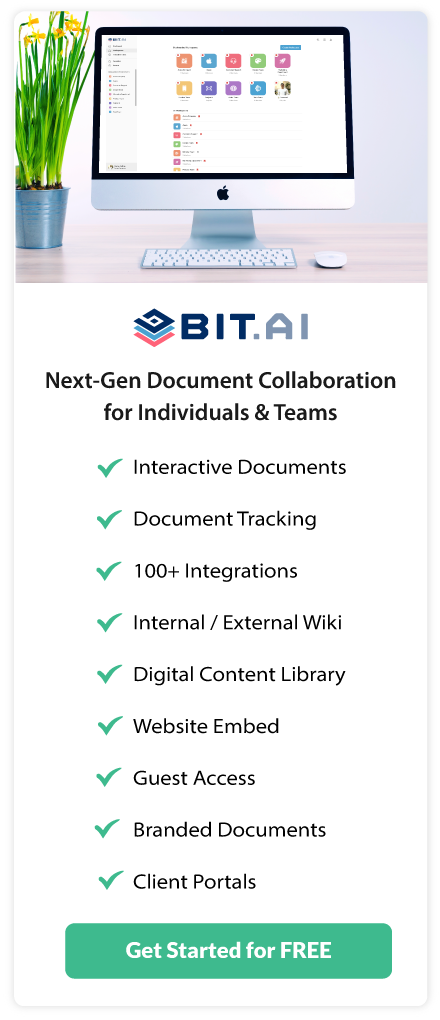 About Bit.ai
Bit.ai is the essential next-gen workplace and document collaboration platform. that helps teams share knowledge by connecting any type of digital content. With this intuitive, cloud-based solution, anyone can work visually and collaborate in real-time while creating internal notes, team projects, knowledge bases, client-facing content, and more.
The smartest online Google Docs and Word alternative, Bit.ai is used in over 100 countries by professionals everywhere, from IT teams creating internal documentation and knowledge bases, to sales and marketing teams sharing client materials and client portals.
👉👉Click Here to Check out Bit.ai.