"One day, offices will be a thing of the past"- Richard Branson
These words were said by Richard Branson in 2013, and who thought they would make more sense in 2020!
In this constantly moving world- literally and technologically, the concept of "in-office" seems to be best left behind in the 20th century. Especially, with the increased need for people to work from home due to the COVID-19 pandemic, organizations around the globe have been thrust into working remotely.
A survey by Gartner revealed that around 50% of companies currently have 81% or more of their employees working remotely during this COVID-19 pandemic. Another 15% of companies said 61-80% of their employees were already virtual.
This is why it's no secret that the concept of having virtual teams in an organization is quickly becoming the new norm.
What are Virtual Teams, you ask?
A virtual team is a group of employees working remotely for a company. These employees are spread across multiple locations around the world, sometimes distributed across different time zones but unified by the same goals! Virtual teams are brought together by technologies that run on the cloud and help them collaborate while working remotely.
No matter if you are running a small start-up or a long-term profitable business, having a virtual team is always an advantage for the company as well as the workforce! How?
Well to answer that, we have listed down 8 major benefits of having a virtual team for your company!
Read on…
Virtual Teams – Adapting to a New Way of Working
With the pandemic and slowing down of businesses across the globe, many teams have been forced to go remote. These teams are revamping their work cultures to adapt virtual employees with different levels of "remoteness" by introducing a virtual team structure!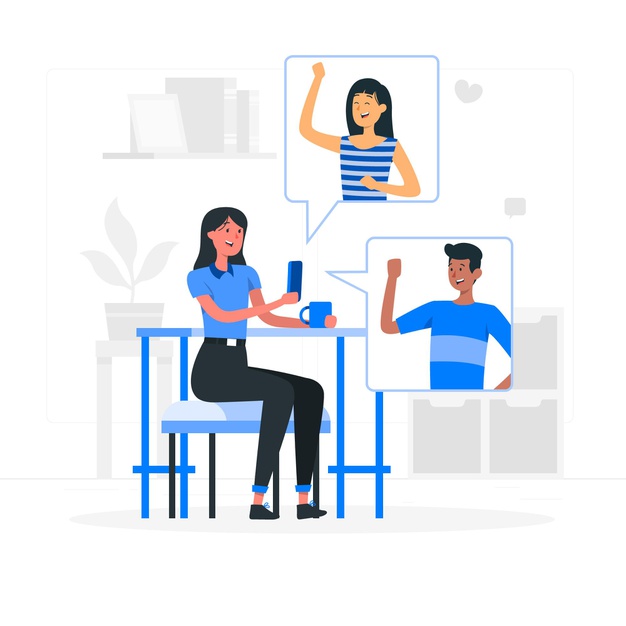 According to a survey by Buffer, 31% of companies chose to have their teams completely virtual! These companies also made it possible to make this a sustainable phenomenon by taking advantage of the available technology that would not only increase their adaptability to changing 21st-century conditions but help them stay ahead of the competition in a globalized market.
However, managing a global virtual team actually comes with many more benefits! Let's check them out!
Read more: Virtual Data Rooms (VDR) Explained with Use Cases

Benefits of Virtual Teams!
Creating a virtual team poses many benefits that can help your business reach new heights of success with increased productivity in the world of remote working. Here are 8 major benefits of virtual teams that will motivate you to engage more virtual employees for your company :
1. Higher loyalty rates are found in virtual teams
Even though employees are working remotely at their home or a preferred location, being part of a virtual team makes them feel important and that their opinion matters. Also, as managers giving your team some flexibility is a great way to help them provide genuine feedback and, skyrocket the retention rate.
In fact, a survey shows that around 79% of employees said they would be more loyal to a company that provides flexibility. Whereas, 32% said that they have left a job because of the lack of flexibility.
2. Your business can be operational 24/7.
Imagine having business processing 24 hours a day, 7 days a week! In earlier days, people worked overnight to complete their office shifts, but today, they can take advantage of the global nature of virtual collaboration, data sharing, and working in different time zones.
That means your virtual team's collaborative efforts never need to stop, keeping them ahead of the schedule!
3. The presence of a virtual team creates a happier employee
Employees who are able to telecommute are generally happier and healthier as they have more control over their employment conditions.
There is more flexibility offered with a virtual workplace to balance hobbies than there is with a traditional one. This is why 83%of the businesses have started a flexible work policy in their workplaces.
Being part of a virtual team is a powerful motivator, 1 in 3 employees would choose to work remotely rather than get a pay rise.
4. Workers on a virtual team take fewer days off
Telecommuting (that is, work from home or remote working) as a virtual employee decreases the use of sick days by 6% per year.
Many workers on virtual teams find themselves working for longer hours and more days.
They are more likely to work in excess of 40 hours a week and if they're working from home they end up taking fewer sick days. In return, they get an opportunity to work in a way that is beneficial to them for a balanced life.
Read more: Combating Social Isolation in Remote Working
5. A dramatic rise in productivity
Some worker's involvement in a virtual team is strengthened such that their productivity increases by more than 40%. An effective virtual team sees productivity rise at least 10% even in the worst-case scenario!
Also, by executing the concept of virtual teams, you deduct around 30-40 minutes of travel time for these workers, giving them 1 hour free that can be used to do some extra work and be more productive.
Hence, most employees complete more work when they aren't required to physically report at the office.
6. Virtual teams are monetarily beneficial
Did you know that Cisco saves over $277 million per year by using virtual teams and remote working? Companies that do not have to pay for office space and supplies can save quite a bit in a year.
Another study shows that if a company let an employee work from home just for the half time, it would save an average of  $2,000 to $7,000 per employee.
7. Companies have access to a larger pool of talent
When a company builds virtual teams, they are no longer bound to the skills and talents available within the internal workforce and their local community. Thanks to the web, an entire pool of talented people are a few clicks away. CEO of Upwork, Stephane Kasriel, once said:
"Companies that refuse to support a remote workforce risk losing their best people and turning away tomorrow's top talent."
8. Virtual teams reduce the environmental impact of your business
When employees are working at home virtually, instead of commuting to the office daily, there are fewer carbon gas emissions being released into the environment.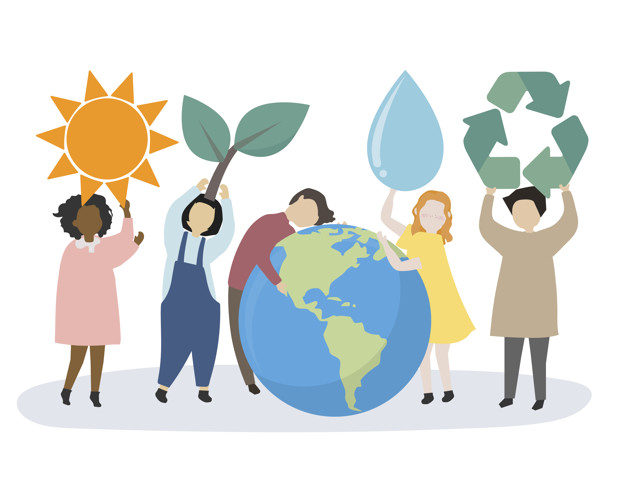 This results in reduced greenhouse gas emissions by 54 million tons every year. Also, working in a virtual team, in turn, reduces the resources needed within the office, which means less paper, heating, electricity, and a reduction in gas consumption by more than $20 million.
The Bottom Line
Managing a team can be worthwhile for your company, as it gives you the ability to access a larger pool of talent, control costs, enhance productivity and so much more.
Also, there are tools that can make these virtual workplaces more creative and change the way businesses communicate in the document form- one such tool is Bit.ai. It is the most advanced end-to-end document solution for virtual teams to communicate externally and internally. It allows you to create, manage, and track all of your team's documents in one place.
Thus, it's time for you to set up a highly driven virtual team of your own that is ready to take your business above and beyond expectations. Using the right tool like Bit to manage your virtual team in the current scenario, success isn't far away!
Further reads: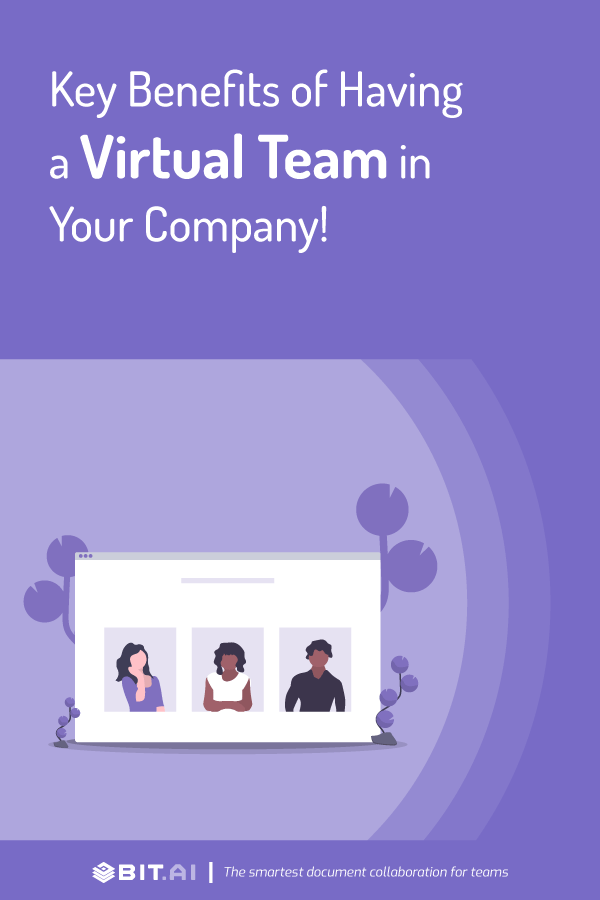 Related posts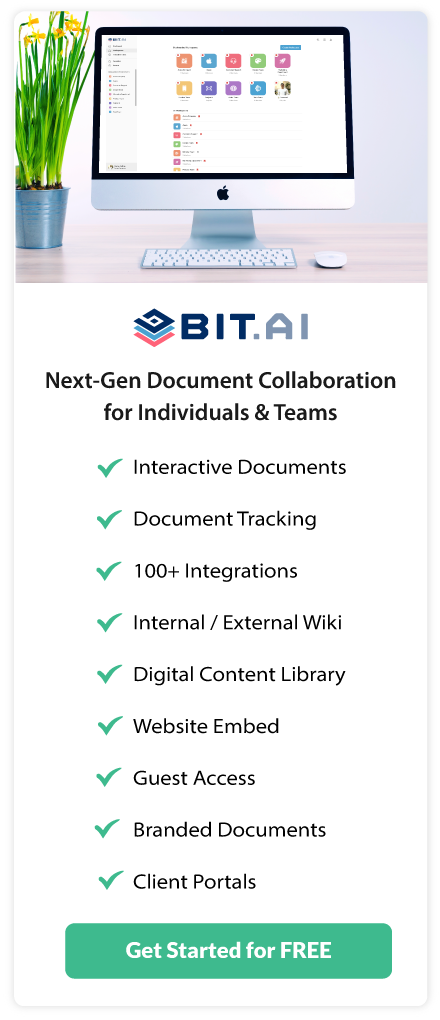 About Bit.ai
Bit.ai is the essential next-gen workplace and document collaboration platform. that helps teams share knowledge by connecting any type of digital content. With this intuitive, cloud-based solution, anyone can work visually and collaborate in real-time while creating internal notes, team projects, knowledge bases, client-facing content, and more.
The smartest online Google Docs and Word alternative, Bit.ai is used in over 100 countries by professionals everywhere, from IT teams creating internal documentation and knowledge bases, to sales and marketing teams sharing client materials and client portals.
👉👉Click Here to Check out Bit.ai.