If you have landed here on this blog, then it means only one thing – you are looking for some assistance with writing your technical proposals!
As is with any kind of proposal, writing a technical proposal follows a process. And this process leads toward the goal of getting your proposal accepted.
A technical proposal is a business document that specifies all the technical needs and requirements of a project. It helps clients get an idea of what approach or strategy you are recommending to ensure the success of their project.
So, if you want to show your clients how you can help them achieve their technical goals, then you need to showcase that through a technical proposal.
Lucky for you, we are here to help you with just that! In this blog, we will cover everything from meaning, importance, and the steps involved in creating a killer technical proposal for your company.
Let's get started!
What is a Technical Proposal? 
A technical proposal is a business document that lists and defines the technical requirements for a project or contract and explains how to approach it.
This document usually contains all the technical information about your product or service such as its technical specifications, past performance, technical approach, management plan, staffing plan, and other general business information.
The main purpose of a technical proposal is to convert the technical content and details into a persuasive pitch that can be sold. It simply gives reasons for your clients to accept the proposal as a good idea.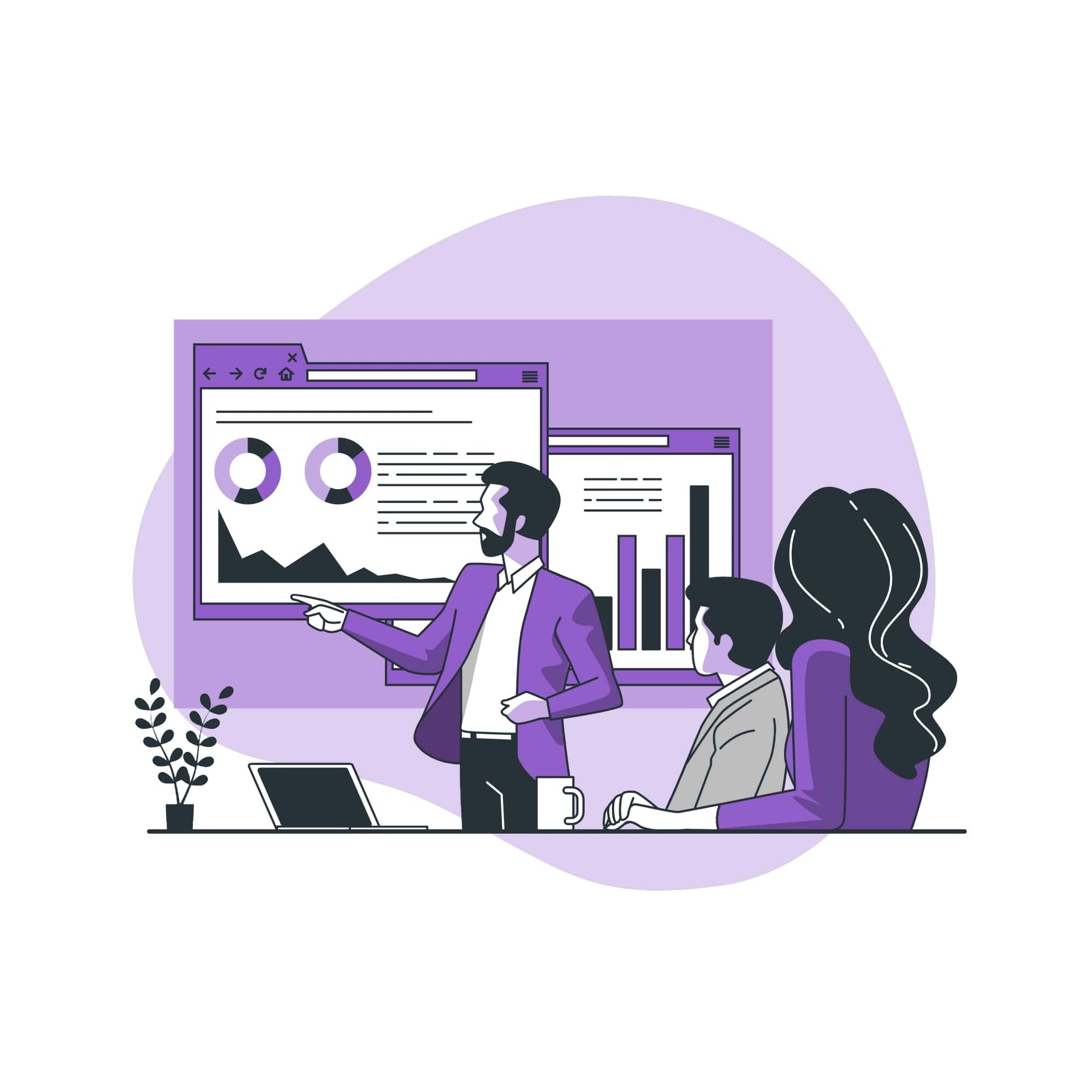 You will find that a technical proposal is primarily used in industries such as education, healthcare, software, construction, technology, manufacturing, and more.
Now that you know what a technical proposal is, let's go over the benefits of writing one!
Why Should You Write a Technical Proposal?
1. Keeps Everyone on the Same Page
Every proposal document is created to keep everyone involved in the project on the same page. A technical proposal serves the same purpose. It ensures that everyone is clear about the project goals and objectives and how they can benefit clients in solving their issues. This prevents miscommunications and creates a shared understanding that builds trust between the parties involved.

2. Highlights Success
Like with every other proposal, the purpose of creating a technical proposal is to pitch your services to secure new clients. This makes it an excellent place to highlight how your business can help clients, why your services or ideas are the best, and why the clients must accept your proposal. It's simply a great opportunity for you to highlight the success of your business.
3. Improves Credibility
Laying down all the details, rules, conditions, and deliverables in written form demonstrates that you take your work very seriously. It adds a touch of professionalism to your work, shows that you are very thorough with all your proposals, and also ensures that everyone involved is held accountable for their actions.
Therefore, a technical proposal improves your credibility and increases the chances of convincing your clients to accept it.
Now that you know the benefits of creating a service proposal, let's dive straight into the steps involved in creating one!
9 Important Steps to Write a Technical Proposal!
Step 1. Know Your Audience
The main purpose of a technical proposal is to convince the buyer to approve and accept your project and work with your company. This essentially means that you need to know your target audience, their problems, and their goals well enough to offer them a technical solution.
By getting to know your audience, you can easily cater your technical proposal according to your buyer's expectations. It allows you to focus on solving their problems and achieving their goals.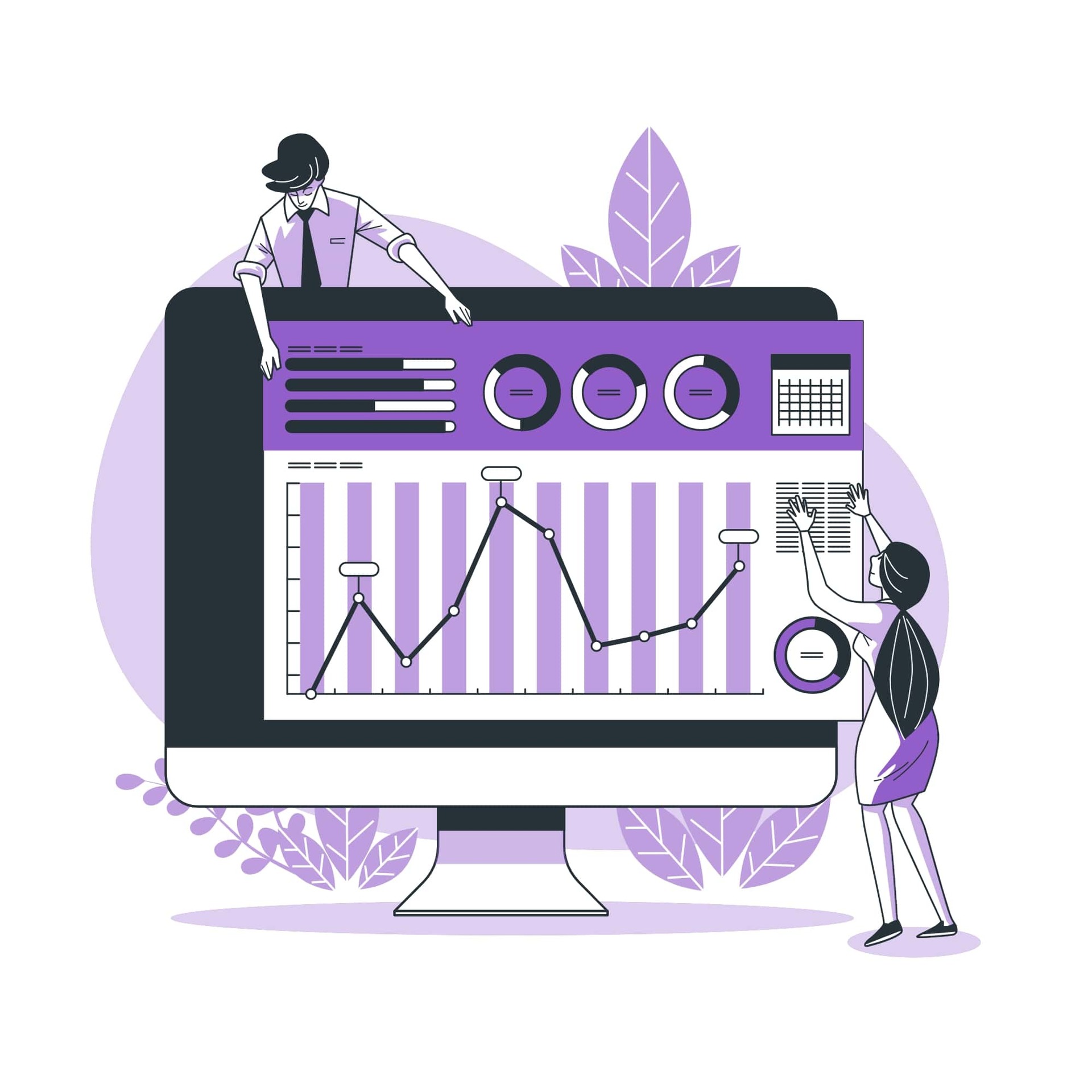 Step 2. Include a Table of Contents
You can add a well-organized table of contents to show your readers what your technical proposal covers. Here, you can list the topics, sub-topics, sections, sub-sections, and page numbers. This will help your readers find all the information they need in a single glance.
Ensure that all the levels of headings and page numbers are aligned with each other and there is proper spacing for increased readability.
Step 3. Write an Executive Summary or Introduction
An executive summary is a section that deals with what a topic is all about in a brief manner. It provides a summary of the proposal by presenting an overview of the project in one page or less.
Here, you emphasize the gist of your overall project and provide a concise explanation of all the important sections in a few sentences. You give an overview of the process or the approach you will be taking.
Here, you can introduce the ideas, how you will approach them, and why you feel this type of approach is beneficial. This is to ensure that your readers have a rough idea of what the content is and encourage them to read on.
Read More: Executive Summary: What is it & How to Write One?
Step 4. Explain Why You Are a Good Fit
When clients are going through your technical proposal, you need to show them why your company and services are worth it. For this, you must first address your client's needs and problems and then explain to them why you're a good fit to solve their particular problem.
While it may seem evident that the services your offer can easily and efficiently solve the client's problems, the reader of the proposal may still need to review it themselves. So it's better if you blend the content and connect the dots for them so that they can easily understand why your company is the best solution to their specific challenge.
Step 5. Create an Implementation Plan
If the approach you are taking to solve your client's issue is in phases, then you must create an implementation plan. In this plan, you describe what exactly will happen within each phase. You must also give an estimated schedule and indicate the time frame or duration it will take to complete the work or services that you offer.
Step 6. Discuss Resources and Cost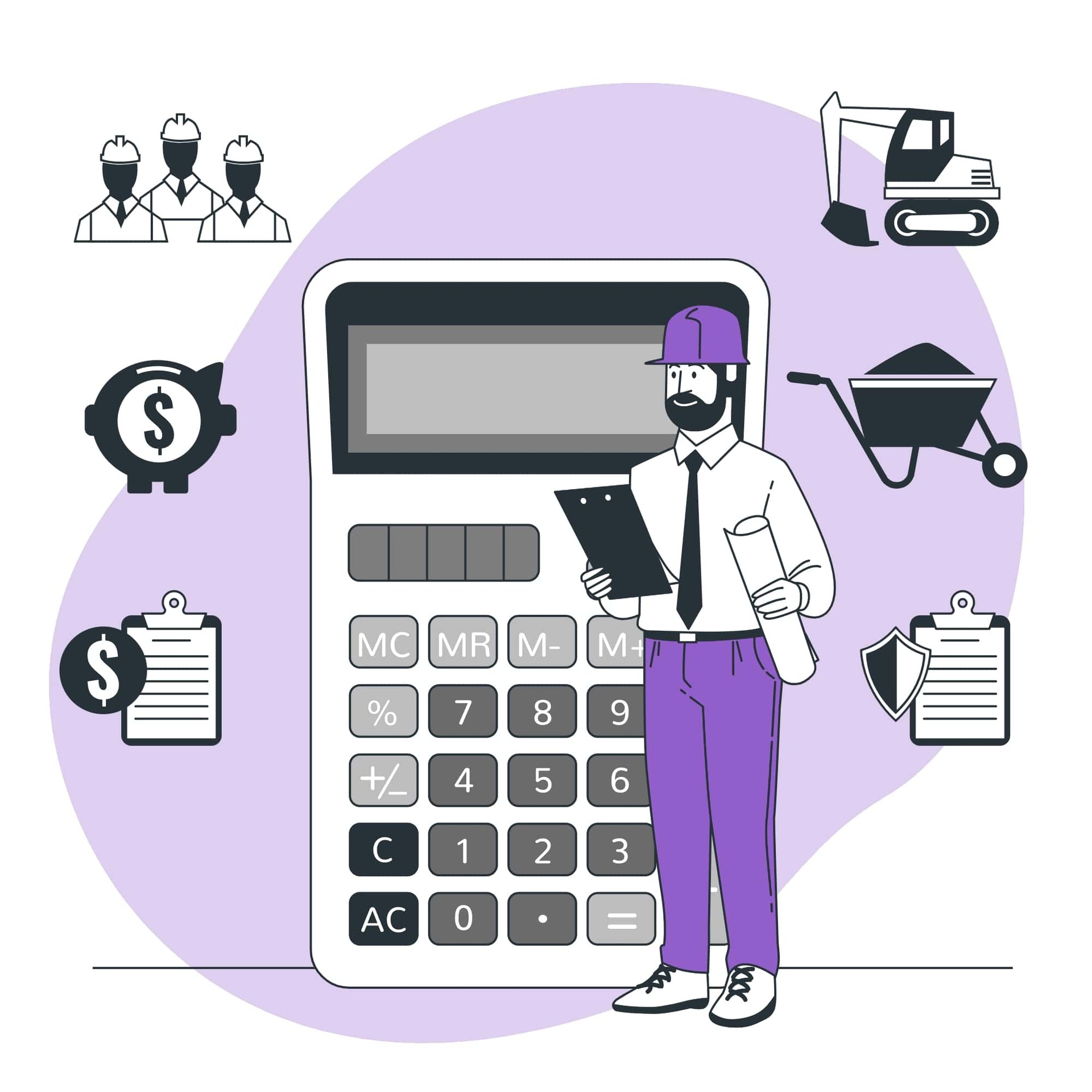 All proposals usually include a section that deals with the costs of the project. It will require you to detail the hourly rates, expected hours, required resources, equipment, tools, and more before actually calculating the final cost of the project.
Here, it will be ideal if you break down all the major elements of your project and its total costs in a clear way. This will help your clients understand how the different aspects of your project will come together to form the total cost.
You can also structure your payment terms and mention whether to pay at an hourly rate or as a deposit or upfront fees.
Step 7. Detail Client Inputs
In this section of your technical proposal, clear out what exactly you will need from the client so that they get an idea of how much effort they must put in to achieve the result they want from the project.
So, whether there is a need for approvals or weekly check-ins, you need to clearly define the type of input you require from your client.
Step 8. Mention How to Communicate
It's always best to include a section that directly addresses how the communication should be carried out. Depending on your specific business, clearly outline how a client can contact you, when they will hear from you, and through what channel of communication they will hear from you. This will help avoid any confusion that may arise during the project.
Step 9. Incorporate Visuals
An important point to remember while writing a technical proposal is it can become quite content-heavy and your clients might accidentally miss a point crucial to the project.
To solve this, you can include visuals such as flowcharts, diagrams, demos, or any other graphic representation of your points. This will make your content clearer and more interesting.
Now you might think adding visuals to your technical proposal might be complicated and time-consuming, but we're here to tell you that we have a solution for you – Bit.ai. It is the perfect tool to help you create documents and allow collaborative work so that the entire writing process is effortless!
Want to know more about Bit? Then scroll down right now!
Bit.ai: The Ultimate Tool to Write a Technical Proposal!

Bit.ai is a new-age document collaboration and knowledge management tool designed exclusively to satisfy all your documentation needs. It helps you create, edit, organize, manage, and share documents, like technical proposals – all under one roof!
Through its robust, intuitive, and integrated tools, Bit has made the complicated and lengthy process of writing a technical as easy as a breeze!
So why do we say that Bit is the best tool to help you write your technical proposal? Check out these really cool features of Bit and decide for yourself:
Ready-made templates
Bit has an extensive template gallery that offers over 70+ professionally designed templates to help you create your technical proposal. Simply choose your favorite one, customize the content, and get your draft ready in just a few minutes!
Auto-formatting
With Bit, you never have to waste your time trying to fix the format of your technical proposal because it automatically formats your entire document to give a very uniform and consistent look. Focus on your content and let Bit do the rest of the work!
Media Integration
Do you think some images or files or graphs can spice up your technical proposal? Then use Bit's 100+ rich media integrations to add images, links PDFs, tables, charts, presentations, excel sheets, graphs, videos, GIFs, and any type of rich media to your document.
Smart Workspaces and Folders
You might have a lot of information and content to manage while writing a technical proposal and the best way to organize them is through Bit. With Bit, you can create infinite workspaces and folders to store and manage all information related to your products, departments, teams, clients, and more in an efficient and organized manner.
Real-time Collaboration
Writing a technical proposal might require you to get some input from your team. With Bit, this process can be extremely easy. This is because Bit allows you to seamlessly collaborate and work together with your team on your technical proposal document in real time. It allows you to chat privately, make inline comments, co-edit, and do much more.
Real-Time Insights
Bit offers a document tracking feature that helps you get real-time insights on your shared documents. This means you can see how much time your prospect has spent reading your technical proposal, how often they come back to read it, how far they've scrolled, and a lot more.
Simple UI
Despite being jam-packed with features, Bit has a simple and easy-to-understand user interface, which makes it extremely easy for new users to get on board with the platform.
… and lots more! We could go on and on, but you get the point, right? Bit is indeed the one-stop solution for all your documentation needs!
So if you're looking for a hassle-free and fun way to create your documents and collaborate, then Bit is the way to go! So quit waiting around and just get Bit already!
Conclusion
There you have it – everything you need to know about writing a technical proposal is now in this blog. To make your writing and documentation process smoother and easier, we have introduced you to Bit!
Now all you have to do is, get on Bit and start creating an amazing technical proposal for your clients! Good luck, folks!
Further Reads: 
Technical Report: What is it & How to Write it?
Technical Description: What is it & How to Write it?
Contract Proposal: What is it & How to Create it?
Proposal Writing: How to Write them Effectively!
Business Proposal: What is it & How to Write it?
Budget Proposal: What is it & How to Create an Efficient One?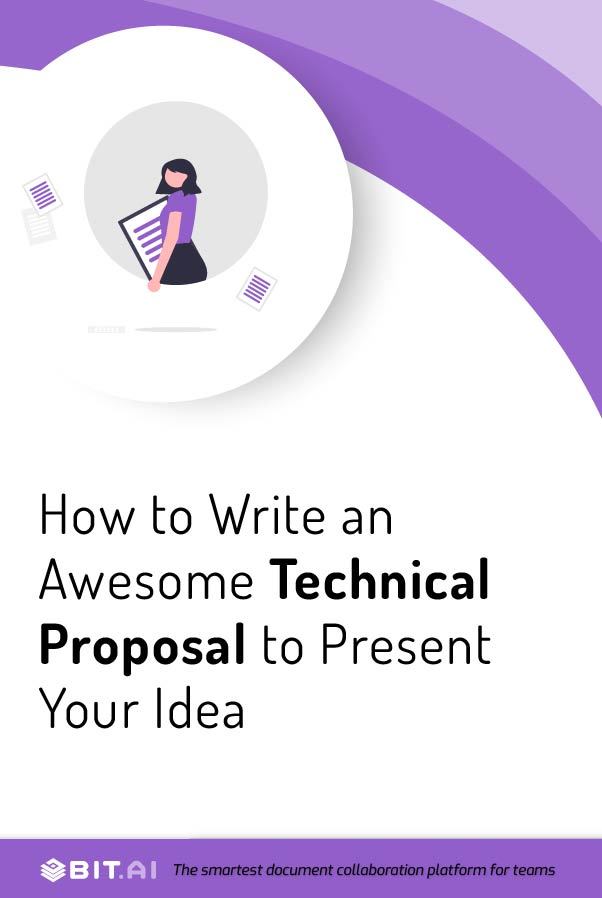 Related posts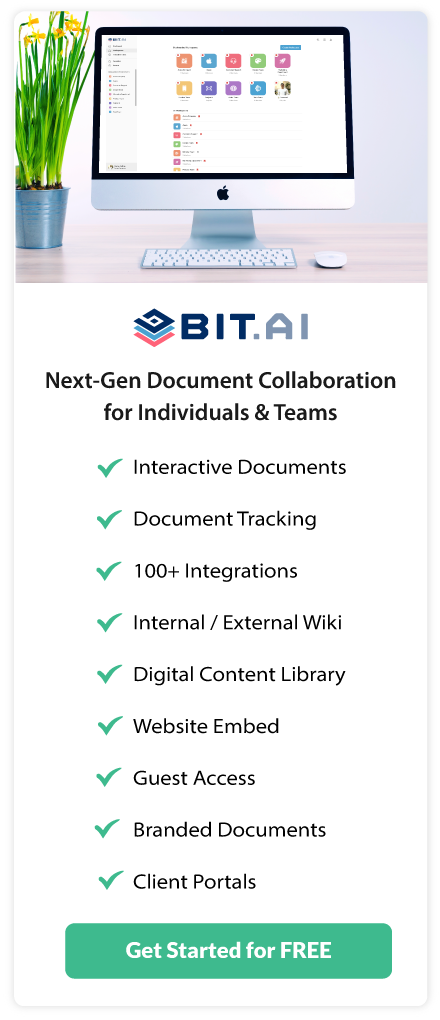 About Bit.ai
Bit.ai is the essential next-gen workplace and document collaboration platform. that helps teams share knowledge by connecting any type of digital content. With this intuitive, cloud-based solution, anyone can work visually and collaborate in real-time while creating internal notes, team projects, knowledge bases, client-facing content, and more.
The smartest online Google Docs and Word alternative, Bit.ai is used in over 100 countries by professionals everywhere, from IT teams creating internal documentation and knowledge bases, to sales and marketing teams sharing client materials and client portals.
👉👉Click Here to Check out Bit.ai.