You probably have heard someone say something like – "Let's make a deal!" OR "I'll make you a deal." Maybe you yourself have said it at some point.
It usually means that you make an agreement with someone for something in return. For example, "I'll pay for your gas if you drive me around the city for a whole day."
In business, something similar to this would be called entering into a contract. It's much more serious and professional, unlike your friendly and casual deals.
And because it usually involves the law, you need to be able to entice and convince other businesses that you are worthy of being in a contractual relationship with them.
For that, you need a contract proposal.
Are you scratching your head trying to figure out what that is? Don't worry, in this blog, we will cover everything from the meaning, importance, and steps involved in creating a killer contract proposal for your business!
So, are you ready? Then, let's go!
What is a Contract Proposal?
We know that a proposal is putting forward or pitching your ideas to someone for them to consider whether they want to make an investment or not.
We also know that a contract is a legally binding document or agreement between two people or parties.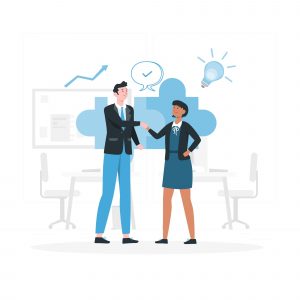 So simply speaking, a contract proposal is a proposal made by one business with the aim of entering into a contractual relationship with another business or customer for a specific period of time.
This is usually done by making a proposal before actually showing the contract.
The contents of a contract proposal usually include:

An introduction of the proposal.
The parties or entities involved with the contract proposal, which includes the writer, the investors, or customers.
The main paragraph stating important facts and details such as the timeframe, costs, rules, company qualifications, benefits, etc.
Charts and graphs (if any)
Now, you're probably wondering whether a contract proposal is actually important.
Well, it is! Read on to find out why!
Importance of Writing a Contract Proposal
A well-made contract proposal will always attract a prospective client. There are no two ways about it.
They are extremely effective in pitching your ideas and plans in a way that any potential customer or business entity will find appealing and beneficial.
When you are writing a contract proposal, it is essential to know the needs of your client or customer. This can significantly help you in putting forward an offer that will be favorable to you and your client.
How is a contract proposal more effective than the contract itself? Believe it or not, it helps you save a heck of a lot of time and effort during the negotiation phase of your contract.
In your contract proposal, you would have already mentioned details about rights, responsibilities, rules, etc. But this is not a rigid set of statements or plans. They are only a rough skeletal frame for an actual contract.
You have to realize that a contract proposal is not actually the final document. So, anything related to its contents is always open to changes and adjustments until an agreement can be established.
Now that you know that a contract proposal plays an important role in wooing potential clients and customers to enter into a contractual relationship with your business, let's go over the steps involved in creating one!
Are you ready? Let's go!
Read more: Proposal Letter: What is it & How to Write it?
How to Write a Contract Proposal? Follow these steps:
There is no standard format in the creation of a contract proposal as long as the necessary information is present in the contract proposal. When it comes to writing a contract proposal, here are the following tips you can follow:
Step 1. Do Your Research
The first step before writing any important document is to do your research. Your contract proposal seeks to entice clients and customers, so it's important that you find out their needs and preferences.
Do a background study of your target audience, understand their mission, vision, and core principles so that you have a better idea about how to incorporate it into the proposal while aligning it with your mission, goals, and principles.
Research on your competition as well to comprehend how they are playing, so you can make different and better offers to entice clients.
Step 2. Develop a Strategy
Once you have done your research, it's important that you think up an idea or a strategy on how you are going to pitch your idea to your investor or client.
You will need to come up with the exact methods to be used, study its advantages and disadvantages, the actions you will take, and consider the expected outcomes that you will get out of the contract proposal. Make sure that this aligns with the needs of your client and the goals you want to achieve.
Step 3. Give a Company Overview
Here is where you provide a quick overview of your company and its operations. You can mention what your company does or is known for, how it started, the type of clients you work with, etc.
This section would also be a great place to state your company's good qualities by showing the good performance and services of your company. This can help convince potential clients to trust your company and your proposal enough to enter into a contractual relationship.
Step 4. Write an Executive Summary
Your executive summary is where you add an overview of what your contract proposal is all about. You can present it as the solution to your client's problems and highlight the benefits they will receive upon entering into a contract with you.
Step 5. Include Terms, Scope, and Pricing
This section is where you write all the important things relating to your contracts, such as terms of pricing, the scope of your services, and the time frame of your contract. These are the factors that decide whether a client approves or declines your proposal.
Terms of Pricing: Write a pricing schedule that seems reasonable to your client and beneficial for your business.
Scope of Services: Specify the details of your services. This can include information related to orders, return policy, processing procedures, delivery services, etc. 
Time Frame of Contract: Indicate the duration of your contract so that your client.
Step 6. Proofread
The last and final step is to proofread your document and ensure that all the major points are intact and the message is properly conveyed.
Check for spelling errors, grammatical mistakes, typos, or poorly constructed sentences. Make a colleague or another person go through your proposal to double-check everything.
With these steps, you will have a well-written contract proposal ready in your hands to be sent out to your clients or customers.
Now, we know that writing an important document like a contract proposal from scratch is not really the easiest task out there.
But, what if we told you that we have something that could help you whip up a contract proposal in just a few minutes? No trouble, just a couple of clicks. That's all!
Don't believe us? Then scroll down to the next section right now!
Read more: Grant Proposal: What is it & How to Write it?
Bit.ai: The Ultimate Tool to Create a Contract Proposal

Creating a contract proposal has its fair share of work. From doing your research to forming a strategy, and then convincing your client to enter into a contract through your proposal is easier said than done.
Also, in most cases, a contract proposal is the product of team effort. Each person in your team plays a crucial role in creating a well-defined contract proposal. This only makes the whole process more difficult.
What you need is the right tool that can help you create documents and allow collaborative work so that the entire writing process is effortless. This is where Bit comes in!
Bit.ai is a new-age document collaboration and knowledge management tool designed exclusively to satisfy all your documentation needs. It helps you create, edit, organize, manage, and share documents, like contract proposals, all under one roof!
Check out these features of bit:
Ready-made Templates: Bit has an extensive template gallery that offers over 70+ professionally designed templates from which you can choose your favorite one! All you have to do is fill in your customized content and you'll get the whole draft ready in a few minutes!
Auto-formatting: You don't have to waste your time trying to fix the format of your proposal because Bit will automatically format your entire document to give a very uniform and consistent look.
Media Integration: Bit supports rich media integrations like charts, graphs, tables, excel sheets, etc. which can help you enhance your contract proposal.
Smart Workspaces: Bit lets you to create infinite workspaces and folders to help you manage and organize information related to your research and contract proposal.
Real-time Collaboration: With Bit, you can seamlessly collaborate with your team and work together on the same document in real-time, chat privately, make inline comments, co-edit, and do so much more to ensure that you do not miss out on any important details to be included in your contract proposal.
Simple UI: Even though Bit is jam-packed with features, it has a simple and easy-to-understand user interface, which makes it extremely easy for new users to get on board with the platform.
… and lots more! We could go, but you get the point, right?
Bit is indeed the one-stop solution for all your documentation needs!
So what are you waiting for? Get Bit today!
Conclusion
Voila! You are now officially equipped to create a well-researched and well-articulated contract proposal that will help convince your clients of the benefits of partnering with your business.
And with Bit by your side, you will have a quick and effortless writing process.
Now there's only one thing for you to do – go out there and make the best contract proposal ever!
Good luck!
Further reads: 
How to Create Quotations That Your Clients Can't Reject?
Partnership Proposal: Definition, Importance & Steps!
Contract Termination Letter: What is it & How to Write it?
Sales Contract (Agreement of Sales): What is it & How to Create One?
Service Contract: What is it and How to Draft a Perfect One?
Consulting Proposal: What is it & How to Create it? (Steps Included)
Sponsorship Proposal: What is it & How to Create it?
What is a Website Proposal & How to Write a Good One?
Related posts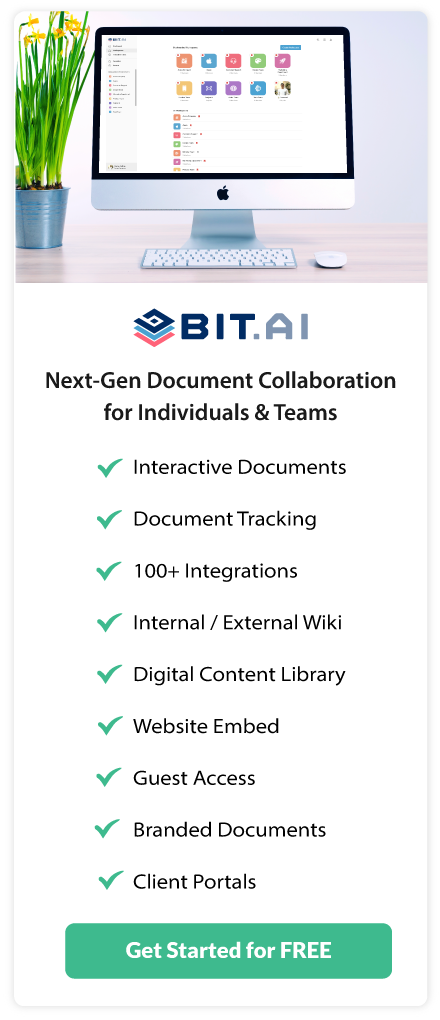 About Bit.ai
Bit.ai is the essential next-gen workplace and document collaboration platform. that helps teams share knowledge by connecting any type of digital content. With this intuitive, cloud-based solution, anyone can work visually and collaborate in real-time while creating internal notes, team projects, knowledge bases, client-facing content, and more.
The smartest online Google Docs and Word alternative, Bit.ai is used in over 100 countries by professionals everywhere, from IT teams creating internal documentation and knowledge bases, to sales and marketing teams sharing client materials and client portals.
👉👉Click Here to Check out Bit.ai.