When you start a new company or business, the first plan of action is to create its bylaws.
While most people refer to lawyers for writing the bylaws for their company, it is crucial that you understand them yourself.
This way, you have a choice to save the hefty fees of the advocates.
Even if you decide to get it written professionally, this article will help you gain an insight into corporate bylaws and what all must be included in them.
Because to get a job done by someone else, you should first know it yourself. After all, it's your company and its future at stake!
After reading this article you would be able to:
Identify if your work needs bylaws
Understand what exactly are corporate bylaws
What must be included while writing them
How bylaws are different from the article of incorporation
Legal considerations to remember
How to amend bylaws
The format of writing your own
Let's get started!
What are Corporate Bylaws? (Definition)
Think of corporate bylaws as the 'constitution' for businesses.
It is a guiding document that states how the business will work.
Bylaws are created in accordance with a specific company and dictate the procedure for everything in a business – from daily operations to extreme situations.
They are referred to, whenever a conflict of interest arises or an extreme situation takes place. They are also termed as the company or corporation bylaws and must be amended almost every 5 years.
Bylaws keep the rules and regulations of a company intact and bound so even if the staff or managerial workforce changes, the company can smoothly operate.
For instance, the CEO of your company wants to leave and join a competitor.

However, it was clearly stated in the bylaws that if personnel leave the firm, they can not join a competitive firm, to avoid fraudulent activities of data leakage, client transfer, etc.
Thus, the CEO would be legally bound not to take any action of that sort!
So, How are Corporate Bylaws Different than the Article of Incorporation?
Let's understand this very easily and quickly.
The Article of Incorporation is submitted to the state before the company is registered and consists of basic details such as the date of incorporation, whether it's a public or private company, the purpose of the mission of the company, etc.
Corporate bylaws on the other hand are created when a company takes its course and the board of directors has been appointed. The BOD then writes the corporate bylaws stating several details regarding the operations of the company.
We hope that's clear!
Before moving forward, let us establish whether you actually need Bylaws or not.
Who needs Corporate Bylaws?
Are you running a business or an organization?
Do you want to pre-define the duties and responsibilities of the workforce to avoid any future conflicts?
Do you want to define how the operations of your business will take place?
In case of an extreme situation like bankruptcy or fraud, do you want to secure your firm and have a decided course of action?
If you answered YES for all of these questions, then you definitely need to write your corporate bylaws!
Now that you've recognized the need, it's time to look at the components to be included in writing corporate bylaws.
Read more: Founders' Agreement: What is it & How to Create it?
Components of Corporate Bylaws
Here is what all needs to be included in corporate bylaws:
1. Basic Details of the Company
This includes the name of the company, its mission or purpose for existing, and its geographical location. Mention the branches, if any.
While coming up with a mission, answer –
How does my company solve the pain point of the customers?
Why have I found this company?
What is the long-term mission of this organization?
2. Members
This section consists of all the details regarding members of the organization such as their capital contribution, level of participation, selection and removal process of the members, their voting rights, etc.
It will also state the consequences of anti-disciplinary moves taken by any of the members.
If there are no members, mention that in this section.
3. Board of Directors
The BOD is the governing body of a company.
While writing this section, all the details regarding the Board of directors should be included such as qualifications to become a director, the process of electing directors, the number of directors, the maximum or minimum number of directors that the company can incorporate.
This section also specifies whether or not the kin of an existing director will get charge and if so, what will be the procedure for that.
4. Committees
Mention details about all the special committees formed in this section.
Some common special committees formed are Executive committee(makes recommendations to the board), Audit Committee(in charge of accounts and audits), Membership Committee, and Nominating committee.
It defines the roles and responsibilities of the committee members.
5. Officers
Specific people of the BOD are called Officers, such as the president, vice president, company treasurer, and secretary).
This section of bylaws clearly defines how officers are appointed, what are their roles and responsibilities towards the company, as well as procedures for removal or replacing of officers.
Usually, a nominating committee is outlined in this section as well as the length of the term of all officers.
6. Meetings
The frequency of conduct of meetings, place, number of members required to be present, etc are stated in this section of the bylaws.
It also includes any special meetings, the procedure to call for meetings, and attendance stipulations.
Read more: Company Profile: How to Write a Perfect one?
7. Conflict of Interests
Every corporate bylaw should consist of a conflict of interest provision. This specifies the conflict that may occur in the future and ways to deal with them.
This section is often revisited in case of any confusion and what is written is binding for every situation.
For instance, in case a situation is directly benefiting one of the members, their vote would not be taken.
8. Amending Bylaws
Every piece of Bylaws contains the provisions to amend them.
It details things like who can amend the bylaws, the criteria to do so, and its time frame.
Usually, the corporate bylaws are amended and revised every 5 years to stay up to date with operations.
The BOD should regularly visit the bylaws to ensure the company is operating according to the written rules and make employees understand the policies.
Now that you know all the details of creating corporate bylaws, the next step is to start.
But where? What is the ideal place to create your company bylaws? Regular text editors like Google Docs or MS Word would not cut it. It requires brainstorming, collaboration, and smart editing.
Thankfully, we have a tool that will fulfill each of these needs and help you prepare professional bylaws!
Bit.ai – The Ultimate Tool to Create Corporate Bylaws
Bit.ai is a smart documentation tool that revolutionizes the way we create and share documents. It gives you space for brainstorming, sharing media, effectively collaborating, and smart sharing.
Be it an academic report or company policy, with Bit.ai, you get access to a plethora of templates to get started quickly.
Bit makes your words come alive by enabling you to weave in rich media inside of your documents. There are over 100+ integrations from popular platforms such as Google Drive, Airtable, Tableau, MS-word, Spotify, and much more. Thus, adding content from these sources into your document has never been easier!
One of the many beautiful features of Bit is its automated design functionality. You simply add your text into the document, add your headers, numbered list, and bulleted lists, etc. and watch how Bit starts to make your content look beautiful. No more fiddling with your header sizes, fonts, etc. Bit is really the fastest way to create professional-looking documents!
No documents created on Bit are ever lost, thanks to its smart search feature. Just type in any keyword from the title to the text inside of the document and Bit will help find just what you're looking for!
Another powerful feature that differentiates Bit from other document creators is its smart link tracking features that give you insights on your documents after it has been shared with your audience.
It shows who opened the document, how long did they spend on it, and how frequently they've returned to the document. You also have the option to add a lead capture form, password protection, and document expiration dates to the documents you share.
How cool is that?
Bit.ai is also a highly collaborative tool that makes working with your remote team seamless. Multiple people can work on the same document, chat alongside, and send ping notifications to draw attention to a document.
Conclusion
The corporate bylaws for your company need to be framed after thorough brainstorming. The opinion of all the board members should be considered so that no future conflicts arise.
Creating your corporate bylaws on Bit will not only keep your entire team in the loop but also give it a professional look!
What more do you need? Try one of Bit's templates right away!
Further reads:
Implementation Plan: What is it & How to Create it?
Operations Manual: What is it & How to Write it?
Business Report: What is it & How to Write it? (Steps & Format)
Writing Vision Statement: Definition, Examples, and Best Practices!
Sales Proposal: What is it & How to Create a Perfect One?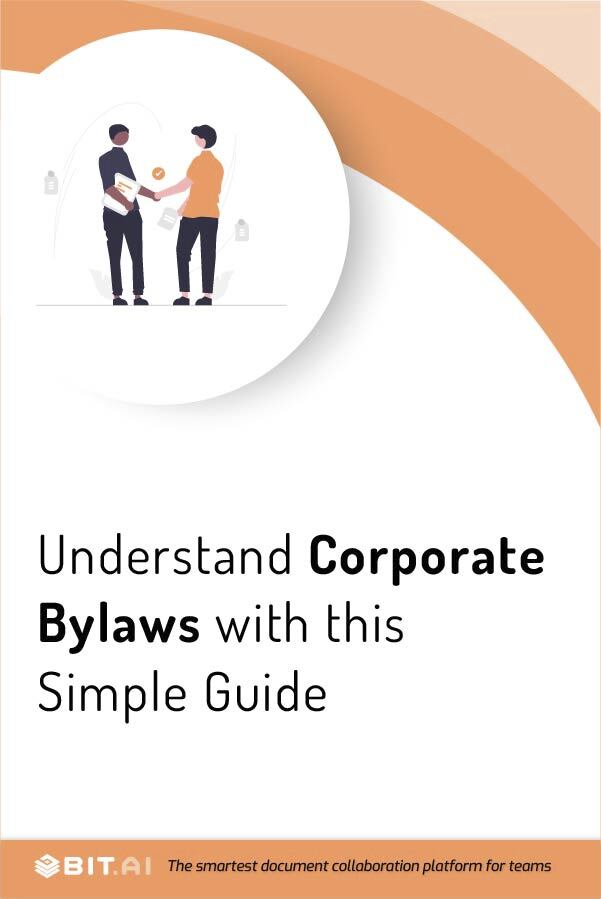 Related posts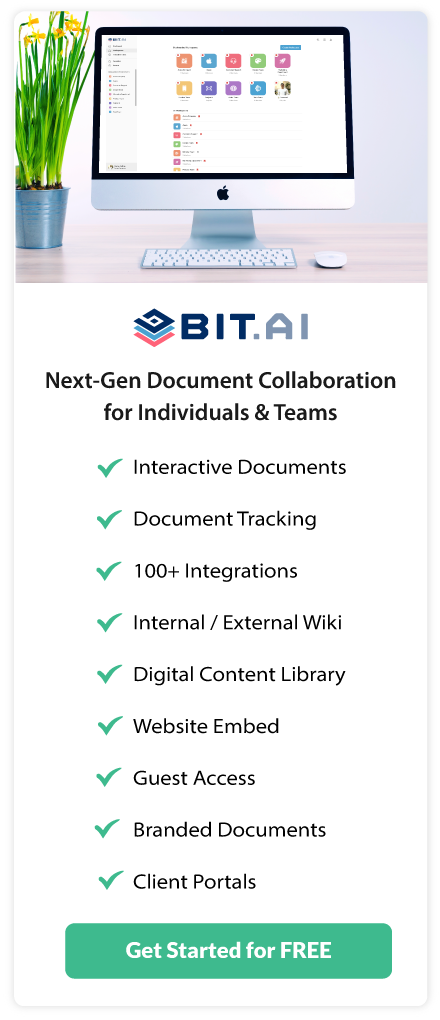 About Bit.ai
Bit.ai is the essential next-gen workplace and document collaboration platform. that helps teams share knowledge by connecting any type of digital content. With this intuitive, cloud-based solution, anyone can work visually and collaborate in real-time while creating internal notes, team projects, knowledge bases, client-facing content, and more.
The smartest online Google Docs and Word alternative, Bit.ai is used in over 100 countries by professionals everywhere, from IT teams creating internal documentation and knowledge bases, to sales and marketing teams sharing client materials and client portals.
👉👉Click Here to Check out Bit.ai.