Collaborative research is the 'in' thing right now. This form of research is becoming more prevalent with each passing day – and with good reasons.
Firstly, we now have more advanced and complex technologies that are used in experiments. This has led to an increase in the costs of maintaining the research facilities.
As a result, the funding agencies can't really provide research facilities to every research group in a particular field. They need to pool all the resources together, making different researchers work closely.
Secondly, because of technological advancements, scientists can now easily communicate their findings to others. They can now access online databases and review past publications, making collaboration easier.
Lastly, as scientific knowledge is advancing, there's more need for specialization in scientific disciplines. All the complex experiments demand the collaboration of multiple researchers, each with different expertise.
All in all, collaborative research has grown tremendously over the years, and it's something everyone should be familiar with. So, in this blog, we will walk you through what collaborative research is, its benefits, and more.
What is Collaborative Research?
Earlier, the term 'collaboration' in research meant an equal partnership between two researchers who are pursuing mutually interesting and beneficial research.
However, collaborative research now involves researchers of different statures, funding statuses, and types of organizations. That's why it is not possible to narrow down a definition for this term.
On one extreme, anyone who offers advice about a particular research project could be a 'collaborator'. On the other, only researchers that are involved in the main research tasks could be considered 'collaborators'.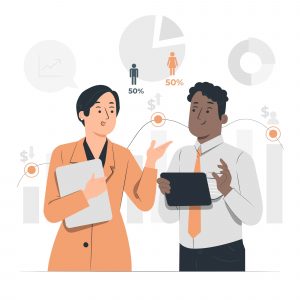 Therefore, the definition of collaborative research lies somewhere between these two extremes. It is mainly a project where researchers work together throughout OR make a substantial contribution.
Collaborative research can be classified into two types: homogeneous and heterogeneous.
Homogeneous collaboration involves researchers from a single discipline working together, whereas, heterogeneous collaboration involves researchers from multiple disciplines working together.

Now that you know what collaborative research is, let's explore its benefits.
The Three Benefits of Collaborative Research
1. Best Outputs
When you combine expertise and resources, you can answer all the bigger and more complex scientific queries, and expand the breadth of your research. Honestly, what could be better than that?
Additionally, by collaborating on research projects, you can find new angles for approaching your studies. Working with others provides you with novel skills, theories, and methods that enrich your research.
Read more: Research Paper: What is it & How to Write it? (Template Included)
2. Huge Impact
According to research, papers with more authors received more citations. Collaborative research is discussed more widely on news and social media!
Moreover, collaborative research projects are also eligible to apply for bespoke funding opportunities. Some funding bodies give priority to international and industry-academia collaborations.
3. Expand your Network
Collaborative research can help you meet potential future employers, mentors, and collaborators. It gives you an opportunity to meet experts in your field or complementary fields.
Besides, it provides you the opportunity to learn about other disciplines, facilitates ongoing research efforts as well as future collaboration.
Three Tips For a Succesful Collaborative Research
1. Try to Avoid Conflicts
In collaborative research, there is a large number of people, institutions, and resources involved. That means, the researchers involved might be at different stages of their careers. They might have different expectations of what they want to accomplish through the research – leading to conflicts.

For example, there might be a disagreement between the researchers about the laboratory resources. But, if you clearly communicate when each researcher can access the laboratory equipment, you can fix the situation!
To avoid such conflicts, you need to give every researcher an opportunity to voice their concern. The project director should try to handle all the conflicts in a reasonable and consistent manner.
2. Create a Collaboration Agreement
Whether you're the one starting a collaborative research project or participating in someone else's project, it's always a wise idea to build a written collaboration agreement. The agreement should outline the project's key goals, the timeline, roles and responsibilities, authorship for any written outputs, and intellectual property.
Discussing and recording these things at the beginning itself can ensure that there are no disagreements or conflicts during the project. Transparency always helps in building trust.
3. Communicate Clearly
Collaborative research brings together researchers of different backgrounds and perspectives. Yes, it can be a little challenging to adapt to all the different ways of thinking and working, but you should always be open and receptive to new ideas.
The secret sauce to any successful research project is clear and regular communication. It is essential to the success of any collaborative research. Remember, everyone involved in the research should not shy away from communicating delays or problems! It should not be seen as admitting failure at all!
4. Specify Authorship
In collaborative research, every person has a certain role. However, assuming that every person knows what they're responsible for might lead to chaos, especially when it comes to the first authorship. So, to avoid confusion and disagreements in the future, agree on authorship right at the beginning of the project.
When your research takes a new direction, the authorship might change too. In that scenario, you should re-negotiate the authorship with all the parties that are involved, and get a consensus in writing. This way, when it's time to publish the research paper, there won't be any disagreements over authorship!
5. Clarify Who Gets Access to What Information
It goes without saying – not all the parties involved in your research would have access to all the data. Before you start the research project, have a clear discussion with everyone involved regarding who will get access to what data. In case there's a change in the direction of your research, or your research is growing, you should always revisit the question of who gets access to what information.
6. Be a Good Team Player
Collaborative research brings together people from different backgrounds, perspectives, and experiences. So, sometimes, it might get hard to adapt to all the different ways of thinking and working. However, if you want your research to be successful and get results, you should be flexible and receptive to new ideas.
Even though you're an expert on a particular topic, you need to remember that you might not know every single thing about it. There are others who can bring in new insights and information. They might not be an expert, but they could still contribute greatly to your research!
7. Measure & Communicate Your Success Effectively
As you already know, collaborative research involves different parties – from researchers to investors. To make sure that the research goes smoothly and there are no misunderstandings, you should frequently communicate the status of your research to all the parties involved.
In order to communicate efficiently, clearly lay down the ways you will measure your objectives. This way, you would be able to demonstrate whether your research is on the right track, or it needs some improvements!
Every collaboration brings with it countless documents that you've to keep sharing back and forth with the other members. The same goes for collaborative research.
You've to collaborate on the findings, the proposals, the research questions, and much more with your co-researcher. You need to continuously share these documents with them so that everyone stays in the loop.
Research is already a difficult job, and these little things make it even more difficult. But, don't worry, we have something that will make your lives a little easier – Bit.ai.
Bit.ai – The Best Tool For Collaborative Research
Bit.ai

 is a robust, new-age document management and collaboration platform where you can create, collaborate, share, track and manage all your research material in one place. It's the perfect platform for researchers to get work done without having to rely on complicated apps and software.
What makes Bit.ai awesome is that it allows you and your co-researchers to collaborate on a Bit document in real-time. Yes, you read that right! You and your team can work on a wide variety of documents together by co-editing, making inline comments, accessing version history, chatting via document chat, and much more.
Bit really makes the process of documentation super quick and easy. You can create different 'workspaces' for different aspects of your research projects. Not to forget, Bit integrates with 100+ apps so you can go beyond text or images and create solid research documents.
Moreover, you can give 'guest access' to your investors, funders, or other interested stakeholders. The 'guests' can get two types of access to the documents: comment-only and read-only. With the comment-only access, they can @mention team members and give their suggestions or feedback while read-only access only allows them to read the content you have shared with them.
Wrapping Up
Like we said above, the benefits of collaborative research are endless. It gives your research a higher chance of getting published in high-profile journals.
Moreover, research collaborations give you the chance to learn about other disciplines, which can help you develop more innovative solutions.
Collaborating with others, even within your own field, is an opportunity to learn alternative ways of doing things, – and you should not miss out on this amazing opportunity.
We know that there's a lot of new information to digest here. So, if you've got any questions, we're here for you. Let us know by tweeting us @bit_docs.
Further reads: 
Team Collaboration: Why You Need To Invest In It?
Happy & Collaborative Work Culture: 10 Effective Ways to Create it!
Technical Report: What is it & How to Write it? (Steps & Structure Included)
Workplace Collaboration Tools for Productive Teams!
Research Proposal: How to Write a Perfect One? (Steps & Format)
Marketing Research: Definition, Process & Tools!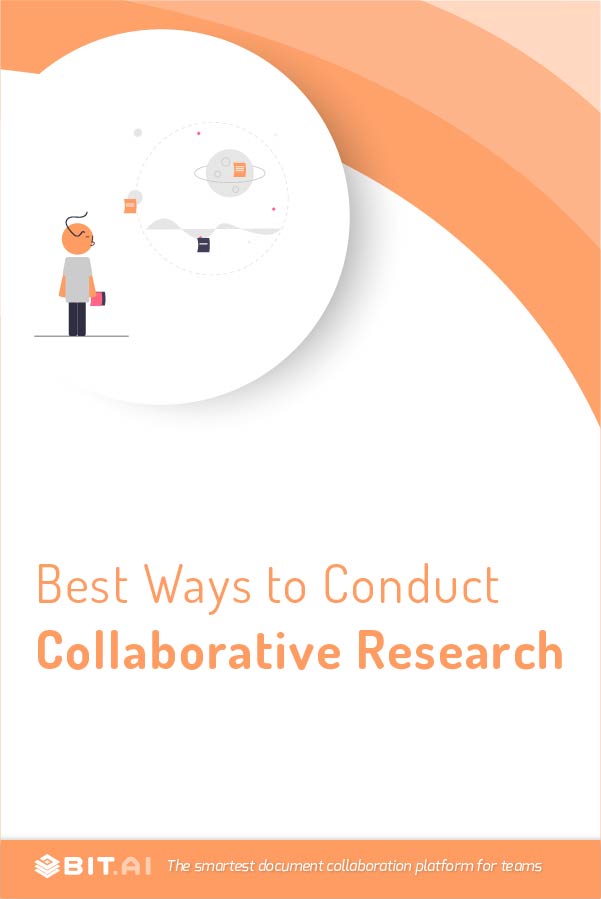 Related posts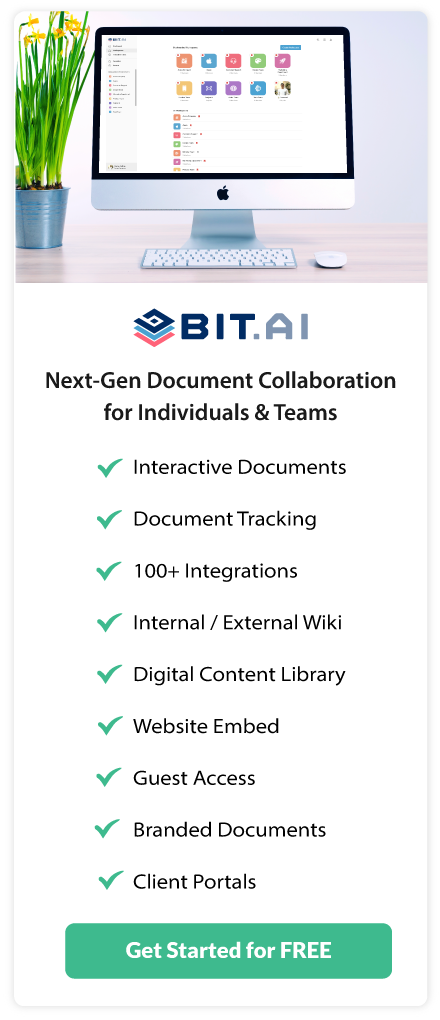 About Bit.ai
Bit.ai is the essential next-gen workplace and document collaboration platform. that helps teams share knowledge by connecting any type of digital content. With this intuitive, cloud-based solution, anyone can work visually and collaborate in real-time while creating internal notes, team projects, knowledge bases, client-facing content, and more.
The smartest online Google Docs and Word alternative, Bit.ai is used in over 100 countries by professionals everywhere, from IT teams creating internal documentation and knowledge bases, to sales and marketing teams sharing client materials and client portals.
👉👉Click Here to Check out Bit.ai.