The very idea of fishing for sponsors can induce a headache. But the fact remains that sponsors are what bring in the much-needed glam to any event. The costs of organizing can be offset by sponsorships.
According to a study conducted by Convene, 23% of the revenue flows from exhibitors and about 19% depends on the sponsors and donors.
Getting the sponsors onboard is a challenging aspect and convincing them that investing their money into the event is worth the trouble.
But this can feel taxing even if you are unfamiliar with the concept. So how do you attract potential sponsors?
A sponsorship proposal, of course!
If you are scratching your heads wondering what a sponsorship proposal is, then this blog will help you understand everything you need to know about!
Are you ready to get to know about sponsorship proposals? Then jump right in!
What is a Sponsorship Proposal?
A sponsorship proposal is a formal request that is sent to potential sponsors for financial assistance prior to projects and events.
It's basically a document where your business tries to convince a sponsor or an investor about the worthiness of your project.
The incentive for the sponsor to provide financial assistance relies on how the event or project can help their cause – be it promoting their brand or boosting their image.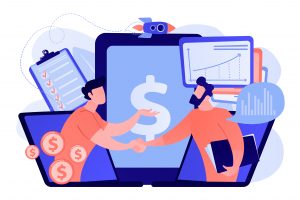 And a sponsorship proposal helps with that. It will encapsulate the very essence of what you want to say in order to convince the sponsor and gets them to listen to your cause as well.
Now let's take a close look at why creating a sponsorship proposal is important.

Read more: Consulting Proposal: What is it & How to Create it? (Steps Included)
Why Creating a Sponsorship Proposal is Important?
This question of why creating a sponsorship proposal is crucial can be shot down with another question as to how sponsorships are important.
If you don't understand how sponsorship is beneficial you would not take the effort that goes into pitching a proposal that is relatable to the sponsor.
Unlike traditional modes of advertising, sponsorship is an interactive experience that zeros in on the targeted audience.
Consumers are used to brands disrupting their activity with an ad that is later forgotten.
But they leave a sponsored program with a takeaway about the brand that was tailored for that event they chose to attend. It allows people to be emotionally invested. This in turn leads them to promote the brand through word-of-mouth recommendations.
The success of the program fosters thus a new business bond. Therefore, pitching a business partnership through a sponsorship proposal is a win-win situation for the sponsor and the party receiving the sponsorship.
Now that you know the impact a sponsorship proposal can have on your business, let's take a look at how to create one!
How to Create a Sponsorship Proposal? Follow these Steps!
So, how do you create a sponsorship proposal that can look into the soul of a sponsor?
There is no secret recipe but some smart tactics that will come in handy every time you have to go sponsor hunting.
Step 1. Know Your Strengths
Before you go knock door-to-door, understand your own strengths and weaknesses. Ask yourself what can your team of organizers bring to the table.
Wooing a consumer who willingly buys a product requires countless press releases, social media campaigns, ad breaks among other things on a regular day.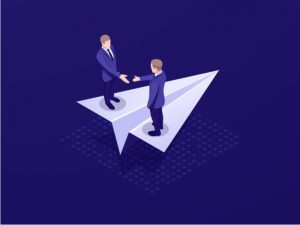 Find out if your audience falls in the sponsor's targeted demographic and if so, how will your service or product appeal to them?
Your contribution would be how this specific deal can create a positive difference for the sponsor's functioning and why is it that only you can pull this off should be the USP of your proposal.
Step 2. Research Your Sponsors
Knowing your sponsors goes hand in hand with knowing your audience.
Ask yourself – will your brand be useful for their lives? Know the products that your target is most likely to want and recommend.
Strike down each sponsor in your list after thorough profiling of their websites, LinkedIn, and social media.
Get to know if your potential sponsor has experience in sponsoring events. How similar are they to yours? Do they have competitor brands that advertise in your location?
If you have researched what you want to know, start communicating with the sponsor in a lingo that they are familiar with.
Step 3. Eliminate Intermediaries
You have to find who is useful for your time and who is stalling you.
So find people within the hierarchy that can help you with the deal.
Strike conversations, get to the point, and dazzle your sponsors. Secure a meeting with them at the earliest. A lot of it comes down to how good you are at networking.
Workshops, conferences, inaugurations, alumni meet are some of the spots where potential sponsors are commonly sighted. So always make sure to send the popular guy who knows everyone or just somebody good at communication.
It does not always have to be face-to-face. Linkedin is just as good to get noticed.
Step 4. Build Trust With the Sponsor
The journey to setting a meeting with the sponsor will vary for each team.
When you finally find yourself face-to-face with the sponsor, consider it a showdown. Be a professional and lay the data you have been researching.
Name drop your brand to reinforce conviction.
Provide all the graphs, excel sheets, and pie charts to back up what you have to say. It should show the validation for the sponsor's decision, what the sponsor is lacking and what your event can give them specifically.
Illustrate to them that you are a professional who does not go back on your word. This is how you seal it tight.
Step 5. What are their Intentions?
A commonly overlooked aspect is establishing the sponsor's motives.
The stress of finding a sponsor can drive these negotiations to be one-sided. Communication can fall through once it is revealed that both parties refuse to budge.
You need to work directly with the sponsor to know what they want. Instead of assuming, just ask them.
Step 6. Establish Visible Parameters To Measure Success
You need to have a set parameter to measure how successful the program was.
This could be quantitative or tangible, like the number of people and profit acquired, increase in sales, website visitors, etc. Or it can be measured like social media tags and website activity.
If you promised to show a 12% increase in sales during the event, then that can be calculated.
But there would be cases where you cannot calculate the value. Here you can This is a broader analysis requiring surveys and reports. It could be in the way the brand is viewed, or the reviews they get or it could even be in the numbers of their rival company.
Has there been a decrease in complaints? Has stores reported an increased number of visitors? How does the website compare to now from before? These are some ways to show figures.
Step 7. Estimate Value
The most important part of your sponsorship proposal is estimating the value to the sponsors and naming your price.
It should not be too much or too little, but the right number should represent investment and return for the sponsor while also covering your expenses.
Measure the estimated number of audience members that will attend your event and if they are compatible with the sponsor's marketing needs. There should be an active conversion rate of members to paying customers, subscribers, followers post the time since the event.
Step 8. Get to Work
Once all the groundwork has been done, it is now time for you to assemble your sponsorship proposal. Sponsors tend to be busybodies so get to the point instead of beating around the bush.
Your proposal should highlight important aspects like:
Who you are, what do you do and what is the opportunity you have in store for the sponsor?
How will you help with the marketing and a predicted result
Metrics to analyze the profit, loss, and brand perception
What is your selling point that is attractive to the sponsor?
The budget
Audience analysis
Terms and conditions
Contact information
There you have it – a sponsorship proposal to convince your sponsors and investors about the worthiness of your project or event!
Now, we know that creating a sponsorship proposal is no walk in the park.
What you need is the right tool that can help you create documents and allow collaborative work so that the entire writing process is effortless.
And we have just the right tool for you!
Scroll down to find out!
Read more: Marketing Proposal: What is it & How to Create an Effective One?
Bit.ai: The Ultimate Tool to Create All Types of Proposals
Bit.ai

is a new-age document collaboration and knowledge management tool designed exclusively to satisfy all your documentation needs. It helps you create, edit, organize, manage, and share documents, like contract proposals, all under one roof!
Check out these features of bit:
Ready-made Templates: Bit has an extensive template gallery that offers over 70+ professionally designed templates from which you can choose your favorite one! All you have to do is fill in your customized content and you'll get the whole draft ready in a few minutes!
Auto-formatting: You don't have to waste your time trying to fix the format of your proposal because Bit will automatically format your entire document to give a very uniform and consistent look.
Media Integration: Bit supports rich media integrations like charts, graphs, tables, excel sheets, etc. which can help you enhance your sponsorship proposal.
Smart Workspaces: Bit lets you to create infinite workspaces and folders to help you manage and organize information related to your research and sponsorship proposal.
Real-time Collaboration: With Bit, you can seamlessly collaborate with your team and work together on the same document in real-time, chat privately, make inline comments, co-edit, and do so much more to ensure that you do not miss out on any important details to be included in your sponsorship proposal.
Simple UI: Even though Bit is jam-packed with features, it has a simple and easy-to-understand user interface, which makes it extremely easy for new users to get on board with the platform.
… and lots more! We could go, but you get the point, right?
Bit is indeed the one-stop solution for all your documentation needs!
So what are you waiting for? Get Bit today!
Conclusion
You are now officially equipped to create a sponsorship proposal that will help convince your sponsors of the benefits of partnering with your business.
And with Bit by your side, your writing process just got a whole lot easier and quicker!
Good luck finding your dream sponsor!
Further reads: 
Request for Proposal (RFP): What is it & How to Write it? (Free Template)
Contract Proposal: What is it and How to Create it?
Partnership Proposal: Definition, Importance & Steps!
Sales Proposal: What is it & How to Create a Perfect One?
Reputation Management: What is it & How to Do it?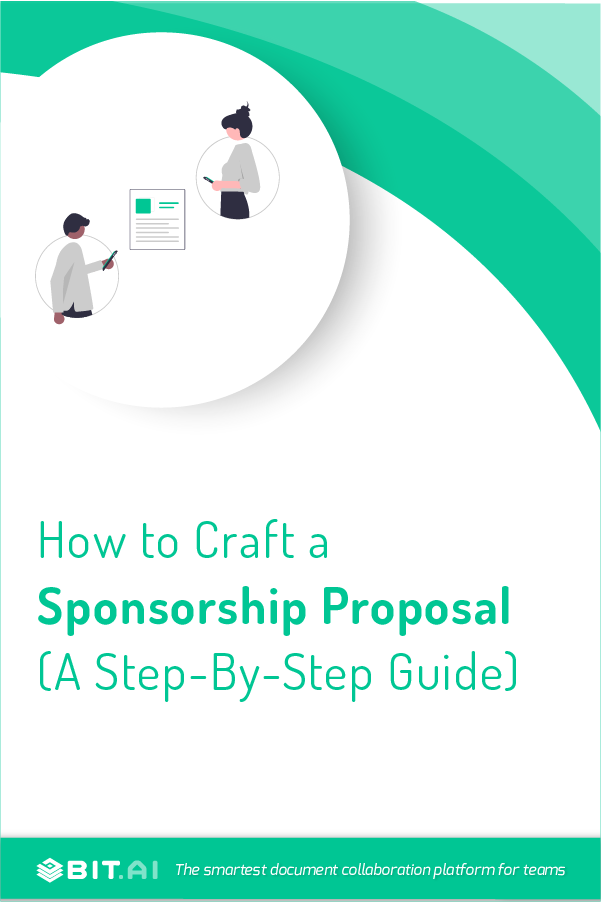 Related posts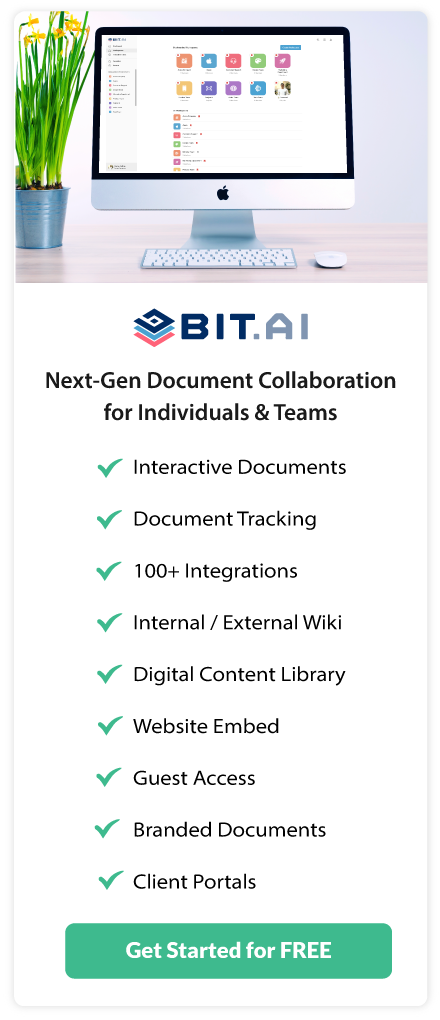 About Bit.ai
Bit.ai is the essential next-gen workplace and document collaboration platform. that helps teams share knowledge by connecting any type of digital content. With this intuitive, cloud-based solution, anyone can work visually and collaborate in real-time while creating internal notes, team projects, knowledge bases, client-facing content, and more.
The smartest online Google Docs and Word alternative, Bit.ai is used in over 100 countries by professionals everywhere, from IT teams creating internal documentation and knowledge bases, to sales and marketing teams sharing client materials and client portals.
👉👉Click Here to Check out Bit.ai.