You might think you are a lone wolf until you end up in a situation where you actually need some assistance or advice. That's why the age-old saying "two heads are better than one" remains relevant even today.
Regardless of what business you run, a strategic partnership with another business can open new doors and amp your game.
A combined effort like a partnership simply never fails and is bound to strengthen your business while expanding it. It's the perfect recipe for a win-win situation.
But for that, you need to get the right partner, because the wrong one can only ruin your business and set you back.
So to get the perfect partner, you need to create the perfect partnership proposal as a means of undertaking a new and bold business venture.
In this blog, we will discuss the steps to writing a killer partnership proposal so that you can get a partner that is right up your alley!
Before that, let's learn a bit about what exactly a partnership proposal is and why it is important! Ready? Then jump right in!
What is a Partnership Proposal? (Definition)
A partnership proposal is a document written by one business when they want to get into a partnership or joint venture with another business. It tries to convey the goals, objectives, and benefits of the collaboration to convince the other firm to enter into a partnership.
The purpose of a partnership proposal is to show your interest in doing business with the other firm and explain the reasons why the joint venture would work and benefit them. It's basically marketing your business to another one.
A partnership proposal usually involves:
Highlighting shared values
Demonstrating a commitment to a long-term relationship.
Setting clear goals
Outlining the benefits of the potential partners
Clarifying current and future obligations
Detailing risks and issues
Now that you know what exactly a partnership proposal is, let's take a look at why you should consider it important enough to create one!
Importance of Writing a Partnership Proposal
Here are a few reasons why you must create a partnership proposal:

1. Defines the Business Transaction
Writing a partnership proposal ensures that both the business parties know everything there is to know about their partnership deal.
It defines how the entire business transaction will take place and lays down all the details, conditions, and rules relating to the partnership, thereby helping you and your business partner avoid any misunderstandings and conflicts.
Read more: Service Proposal: What is it & How to Create it?
2. Ensures there is Accountability
When you enter into a partnership with another business, you become more responsible and it holds you accountable for all your actions.
This will motivate you to work harder towards accomplishing your goals. A partnership proposal stating all the rules and defining your roles within the partnership ensures that there is accountability from both or all partners.
3. Highlights the Success of Your Business
The main purpose of creating a partnership proposal is to convince your potential partners to enter into a joint venture.
For this reason, a partnership proposal is a great place to showcase the success of your business. It is also a great opportunity for you to highlight your short-term and long-term business goals, how you have been performing, and how successful you were in achieving them.
4. Maintains Business Relationships
Since a partnership proposal lays down the rules, regulations, and conditions for the business partnership, it ensures that there is smooth functioning between both parties and helps maintain a healthy relationship between them.
It is a highly professional way to deal with such a joint venture.
5. Attracts Big Investments
With a well-written, enticing partnership proposal, you can easily get business partners with good connections and a strong network of people.
This will help you attract big investors who will be willing to fund your business based on the recommendations or involvement of your partners.
With big investors, you will get better investments and financial support to assist the overall growth of your business.
If these aren't enough reasons to write a partnership proposal, then we don't know what is!
Like any other business document, a partnership proposal must be written professionally and strategically enough to create an impact on your potential partners.
Want to know how to write a killer partnership proposal? Then dive right into the next section!
How to Create a Partnership Proposal in Simple Steps?
Before you start working on the content of your doc, let's see how you can make a good business partnership proposal great.
Step 1. Do Your Research
First things first, you need to do your research before writing a partnership proposal. Researching about your potential partners will help you write personalized messages for them.
Spend time finding information about your potential partner company, their history, their industry performance, and their employees. You can also look them up on social media and check out their website to get a better understanding of their business.
Ask yourself questions like:
Who is an ideal partner?
What is their mission?
What will be their contribution?
The more you learn about your potential business partner, the more insights you gain about their capability and performance. Furthermore, it will show them how serious and invested you are in the partnership deal.
Step 2. Create an Amazing First Impression
They say that the first impression is the best impression and there is definitely truth to that, which is why you must make an excellent first impression on your potential partners.
Now is a great time to use the research you have done to explain why your business and their business will make an incredible partnership. Explain to your potential partners how the partnership will benefit them and help them achieve their goals.
Describe your company's goals and objectives, give a background of your company and its history, and introduce your employees to them.
This is also a great time to show off your business' performance, mention professional collaborations you have done in the past, and share literally anything that highlights the success of your company.
Step 3. Show How Your Values Align
No matter how successful the individual companies are, their compatibility as partners cannot be merely determined based on that. Therefore, it becomes vital that you explain how your company values align with the partner company's values.
Your partnership proposal provides you the opportunity to describe how you can take advantage of technology and complementary skills to create a successful collaborative venture.
Here you can highlight your shared values, goals, and cultures to show how well-suited you are for each other. This can also help keep you and your partners on the same page and in a smooth-sailing partnership.
Step 4. Concentrate on the Value Proposition
Once you have proven to them that you have similar values and goals, it becomes paramount that you do everything to highlight your company's value proposition.
It means that you showcase your capabilities and achievements to demonstrate how much you can contribute to the partnership.
Focus on showing the benefits that you and your partner will gain from the partnership arrangement to drive your prospects to act favorably to your call-to-action. Simply put, give them a solid good reason to partner up with your business.
Step 5. Make a Desirable Offer
Now comes the main part – to make an offer that they can't refuse!
You have done all the research about your potential partner, showed how your values align, and underlined your value proposition to the potential partner. What you must do next to convince them is to give them a detailed plan of action.
A well-defined action plan with a properly laid out schedule, a clear timeline and deliverables, and specific instructions and responsibilities will instantly make your offer reliable and credible. You can back your plan and promises with data to strengthen your offer.
Showing them how their company can smoothly function with yours and how it will prove useful for their business is all you need to completely seal the deal.
Step 6. Discuss Partnership Conclusion
Never forget to discuss how you plan on working out the partnership in the long term and how you intend on ending the partnership.
There could be many reasons why a partnership can dissolve and it is important that you outline the factors and circumstances under which that is possible. Make sure to discuss ownership rights, revenue or profit splits, confidentiality clauses, indemnity, and legal implications that come with the partnership deal.
This is to ensure that the rights and resources of both parties are protected throughout the partnership.
… and there you have it – all the steps you need to follow to write a well-structured partnership proposal!
Before you go, we just want to say that we know how difficult it is to create a partnership proposal. From doing your research to forming a strategy, and then convincing your partner to enter into a deal with you through your proposal are all easier said than done.
Also, in most cases, a partnership proposal is the product of team effort. Each person in your team plays a crucial role in creating a well-defined partnership proposal. This only makes the whole process more tedious.
What you need is the right tool that can help you create documents and allow collaborative work so that the entire writing process is effortless. This is where we want to introduce you to Bit!
Want to know what we are talking about? Then scroll down now!
Bit.ai: The Perfect Tool to Create Partnership Proposals

Bit.ai is a new-age document collaboration and knowledge management tool designed exclusively to satisfy all your documentation needs. It helps you create, edit, organize, manage, and share documents, like partnership proposals, all under one roof!
Why should you use Bit to create your partnership proposal? Check out these features and decide for yourself:
Ready-made Templates: Bit has an extensive template gallery that offers over 70+ professionally designed templates from which you can choose your favorite one! All you have to do is fill in your customized content and you'll get the whole draft ready in a few minutes!
Auto-formatting: You don't have to waste your time trying to fix the format of your proposal because Bit will automatically format your entire document to give a very uniform and consistent look.
Media Integration: Bit supports rich media integrations. This means that you can add all kinds of media, such as charts, graphs, tables, excel sheets, etc. which can help you enhance your partnership proposal.
Smart Workspaces: Bit lets you create infinite workspaces and folders to help you manage and organize information related to your research on various potential partners.
Real-time Collaboration: With Bit, you can seamlessly collaborate with your team and work together on the same document in real-time, chat privately, make inline comments, co-edit, and do so much more to ensure that you do not miss out on any important details to be included in your partnership proposal.
Simple UI: Even though Bit is jam-packed with features, it has a simple and easy-to-understand user interface, which makes it extremely easy even for newbies to get on board with the platform.
… and the list just goes on and on, but you get the point, right? Bit is indeed the one-stop solution for all your documentation and collaboration needs! So what are you waiting for? Get Bit right away!
Conclusion
Getting into a partnership helps businesses expand and grow to new territories.
Not to mention, it also reduces the cost of production and helps them explore new markets to develop their customer base. And for getting good partnership deals, a good partnership proposal becomes imperative.
That's why we have written a blog that includes everything you need to know about partnership proposals and how to write one to woo the right partners! We have also introduced you to Bit so that things are a lot simpler!
Now all you have to do is get Bit and start writing a killer partnership proposal! Good luck!
Further reads: 
Marketing Proposal: What is it & How to Create an Effective One?
Sponsorship Proposal: What is it & How to Create it?
11 Proposal Software You Must Try Out!
Contract Proposal: What is it & How to Create it?
 Budget Proposal: What is it & How to Create an Efficient One?
How Bit.ai Makes a Freelancer's Life Easy?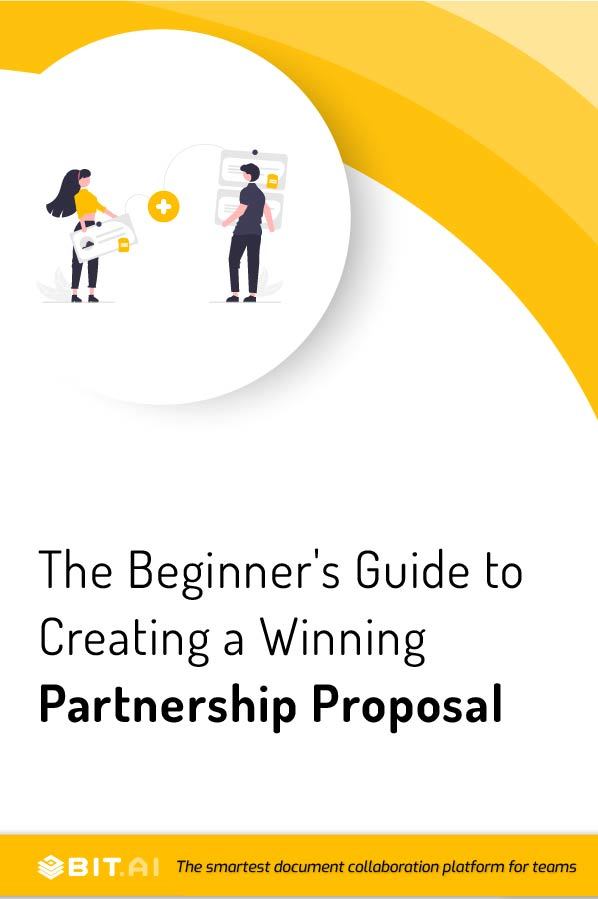 Related posts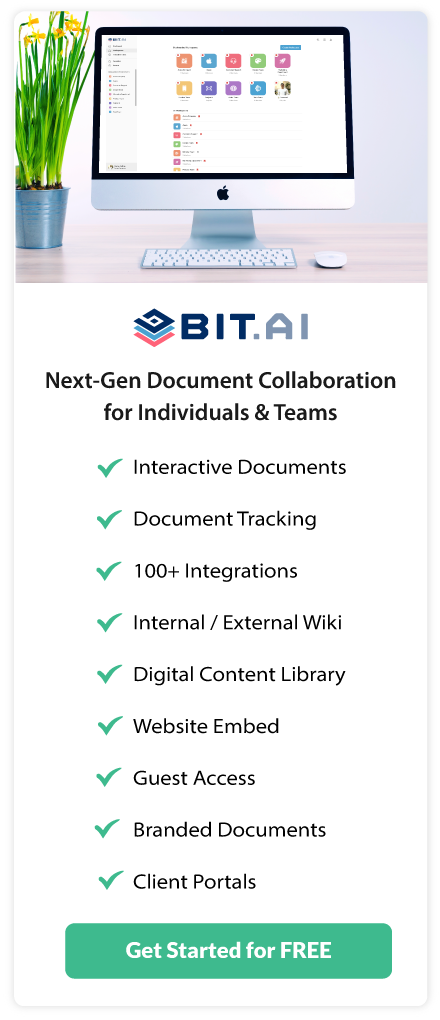 About Bit.ai
Bit.ai is the essential next-gen workplace and document collaboration platform. that helps teams share knowledge by connecting any type of digital content. With this intuitive, cloud-based solution, anyone can work visually and collaborate in real-time while creating internal notes, team projects, knowledge bases, client-facing content, and more.
The smartest online Google Docs and Word alternative, Bit.ai is used in over 100 countries by professionals everywhere, from IT teams creating internal documentation and knowledge bases, to sales and marketing teams sharing client materials and client portals.
👉👉Click Here to Check out Bit.ai.