Let's face it – nothing makes us groan and roll our eyes more than a boring team meeting. This is mainly because some meetings tend to stray far off-topic, lack a proper structure and they simply go on for too long!
However, it's understandable that you can't always keep a meeting engaging and exciting. In fact, you may even be running out of ideas and topics to discuss.
But since team meetings are an essential part of any successful organization, it becomes increasingly important that you are able to create a positive impact on your team members.
So what can you do to make things different? Believe it or not, your team meetings don't have to be boring or monotonous because there is always room for creativity.
By introducing new and interesting topics and formats, you can have more meaningful discussions with your team, and improve their morale, creativity, and productivity.
In this blog, we will provide you with a list of team meeting ideas and topics that will spice up your team meeting sessions and make them more interesting!
Are you ready? Then dive right in!
List of Team Meeting Ideas & Topics
1. Kickstart With an Icebreaker
One of the best ways to start any meeting would be with an icebreaker session. An icebreaker can take up anywhere between 5-15 minutes and usually involves getting people to take turns in sharing their stories and experiences.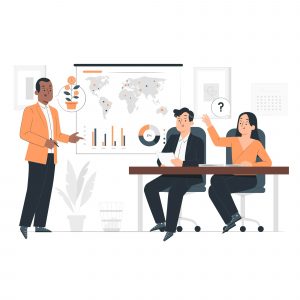 You can ask the members to share their weekend plans or have a discussion about a popular movie or TV show or simply casually chat about their day. You can even include games and activities to jazz things up a little!
Just make sure that you choose your icebreaker topics and activities carefully based on the size of the group and the kind of people you are dealing with.
With icebreakers, you can help people loosen up, feel comfortable and relaxed, and pave way for casual interactions and conversations. And nothing makes a meeting more effective and dynamic than that!

2. Include Work Wins
Appreciation and recognition are two highly underrated aspects of job satisfaction and weaving that into your team meeting will probably be one of the best decisions you will be making.
Positive news, winning stories, and achievements can always help boost the morale of a team. So you must make it a point to dedicate some time to acknowledge the work wins no matter how big or small they are.
Announce the accomplishments, celebrate the small victories, or take it up a notch and host an informal award ceremony (take some inspiration from Michael Scott's Dundie Awards, if you must).
Little things like these set the tone for your meeting and encourage and motivate people to participate more in team meetings and discussions.
Read more: 50 Best Team Building Activities For Collaboration
3. Competitions
Here's another team meeting idea that you can use next time – competitions. Sure, your company already has competition from other companies in your industry, but we're talking about a little gamified version for your teams.
Break your team into pairs or groups and carry out quizzes or trivia questions or mini-games like charades, Pictionary, murder mystery games, or anything else that will keep everyone engaged. Points can be awarded to each team and a prize can be given as a reward at the end of it all.
These friendly matches and rivalries can make your team meetings exciting, fun, and highly entertaining. They not only involve everyone through participation but they will also keep the energy high throughout.
4. Change Locations
Going into the same meeting room over and over again can be quite monotonous, even for managers. In fact, it might even hinder your creativity. This is why you must consider a change of location every once in a while.
A good old-fashioned outdoor meeting can quite literally be the breath of fresh air that your team needs. You can simply conduct a little walk-in-the-park kind of meeting or go on a picnic or even change your setting to a cozy local cafe.
Now, if your team meetings are virtual, then you can use the quirkiness of Zoom to change your background. Decide with your team to pick a place to set as your backdrop, for example – the Himalayas or Eiffel Tower, or the Niagara Falls. You can even put on filters to make your meeting humorous.
The whole point of all this is that you and your team have fun.
5. Bring in a Guest Speaker
If you frequently have team meetings in your office, then the chances are your team members are bored listening to you talk all the time. What you can do to change this is to invite a guest speaker every once in a while.
The speaker could be an industry specialist, a business celebrity, a motivational speaker, or someone who can impart knowledge and skills to your team.
This not only makes your team meetings interesting and something to look forward to but it also helps your team learn a thing or two from them.
6. Create a Unique Meeting Tradition
If your organization wishes to create a captivating work culture, then one of the most effective ways to do this is by establishing unique workplace traditions.
means including events, rituals, celebrations, and routines that are specific to your company, such as bring-your-kids-to-work day, Friday night outs, casual dress code day, annual company celebrations, and many more.
This is a great team meeting idea. You can create unique traditions for your team meeting that will encourage positive communication and develop rapport between your members.
For example, you can have an end-of-the-month luncheon, pizza meetings, Friday presentations, closing chants, or anything else that will actively engage your team and make them feel part of a community.
7. Make Predictions
Another interesting team meeting idea and topic is to make predictions and forecasts about the industry and company. This can be quite a fun activity as well as an informative one.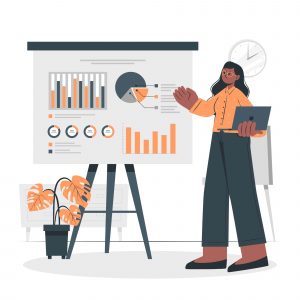 Getting your teams together and making predictions about events and developments that may occur in the coming week, month, quarter, etc. will help exercise and improve your team's critical thinking abilities. This can also lead to other fun activities such as trivial betting or rewarding accurate predictions.
This sort of team meeting brings the employees together and creates an open environment for discussions and debates, which can also prove to be useful for the future of the company.
8. Discuss Failures
It is often advised that you celebrate the victories or wins that a company makes, but from time to time, it is also important that you discuss and own up to the failures. Every company has its fair share of mistakes and mess-ups and it is crucial that you talk about them openly.
Your team meeting topics need to include a session that discusses failures and mistakes. You can put a creative or humorous touch to it by providing a platform to confess the silly blunders made by the employees.
By normalizing mistakes and imperfections, you help your team own their failures instead of vilifying themselves for it. The team can then offer advice and suggestions to correct their mistakes, refine their skills, and get back on their feet. This fosters a positive environment for learning, unlearning, and re-learning so that they can improve themselves the next time around.
9. Reunion
Here's a team meeting idea that can take you down the nostalgia trip – reunions. Invite back your former teammates and managers to simply catch and boost the morale of the team.
Having reunions will help your current employees learn a lot from their predecessors' experiences, successes, failures, and more. It will also help them create and establish new networks.
Additionally, reunion meetings send out the message that your company values its employees as human beings. This can instantly create a positive impression on your teammates and ultimately strengthen the relationship between them.
Read more: Importance of Teamwork & Collaboration in a Digital World!
10. Personal Updates
If you want to get to know your team members well and build better relationships with them, then a team meeting idea or topic would be to have personal updates meeting.
You can offer a platform for your team members to just get together and share their personal updates about house-buyings, engagements or weddings, family stories, graduations, hobbies, vacations, or anything about their personal lives that they wish to share with the rest of the team.
This activity promotes deeper conversations, breaks down walls, and helps team members connect and bond over their personal lives. It simply adds the much-need human touch to the mundane corporate life.
11. Offer Virtual Meeting Options
Sometimes people just don't want to get up from their desks for a meeting that could have been an email, so a simple team meeting idea would be to offer the option of a virtual meeting. This will also accommodate your work-from-home teams as well.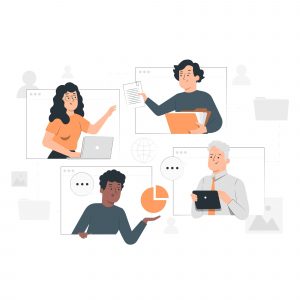 On a lazy Wednesday afternoon, it would be much better to simply attend a quick virtual meeting than gather around in a room for it.
Not to mention, the real-time collaboration during a virtual meeting makes work easier and also saves time. It also makes it easier to share digital media and online presentations without interrupting the day's work.
12. Work Skills Workshop
Another team meeting idea would be to conduct a workshop for work skills. After all, professional development is a crucial part of team meetings and there's no better way to do it than by providing the team an opportunity for skills training and knowledge acquirement.
Some workshop topics that can be covered include time management, negotiation skills, personal branding, leadership skills, financial literacy, storytelling, and lots more.
Talk to your team members about their subjects of interest and conduct workshops that can help them develop their work competencies. It's always better to have sessions that involve hands-on activities that allow for practice and encourage participation.
13. Ask for Feedback
Feedback is a team meeting topic that every company needs to incorporate into their team meetings. It is also one of the best ways to improve your team meetings as well.
Simply, ask your team members how your meetings can be improved and what methods need to be incorporated to improve efficiency and productivity. You can also carry out Q&A sessions, surveys, polls, voting sessions, and other forms of feedback
Just make sure that you encourage regular and continuous feedback throughout the year.
14. Allow Flexibility
It's important to remember that not all meetings require the presence of your entire team, as some of them are specific topics that only affect a portion of your team. The sooner you realize that the better it is for everyone on your team.
So the next time you are setting up a meeting, you need to specify if it is a general meeting or a specific one and offer the flexibility to not attend the meeting to members who may not have relevant experience or feedback.
15. Keep Short Meetings
Lastly, let's address the elephant in the room and face the facts – nobody really likes meetings. And to be brutally honest with you, your team would prefer it if there were no meetings at all. But since that's not possible, the next best thing you can do is to make your meetings as short and brief as possible.
Try not to drag your meetings unnecessarily and make sure that they don't go beyond 20-30 minutes. Keep a time limit and try to stick to it as much as you can. This means that you always start and end your meetings on time.
This way, you make your team understand that their time and presence are valued, which will ultimately help you have more productive and focused discussions with them.
Conclusion
Whether you are a startup or a multinational company, team meetings are an indispensable part of your day-to-day life. And the fact of the matter is that the average employee spends a considerable amount of time attending these meetings.
To be honest, these routine meetings can often grow stale, so it's extremely crucial that sometimes there is a need for a change of scenery.
We hope that the list of team meeting ideas and topics that we provided will inspire you to reinvent your team meeting sessions and make them more dynamic and productive. Best of luck!
Further reads:
Team Plan: What is it & How to Create it?
15 Team Building Skills You Must Develop for Better Collaboration!
13 Online Meeting Apps, Platforms & Software for Remote Teams!
9 Virtual Team Building Games for Remote Employees!
10 Team Management Software Every Business Should be Using!
Top 10 Benefits of Teamwork You Must Know!
Team Collaboration: Why You Need To Invest In It?
11 Benefits of Team Building You Need to Know!
How To Write an Effective Meeting Recap with a Summary? (Steps)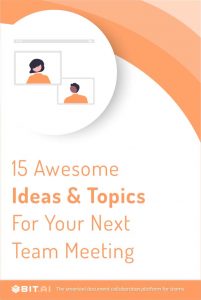 Related posts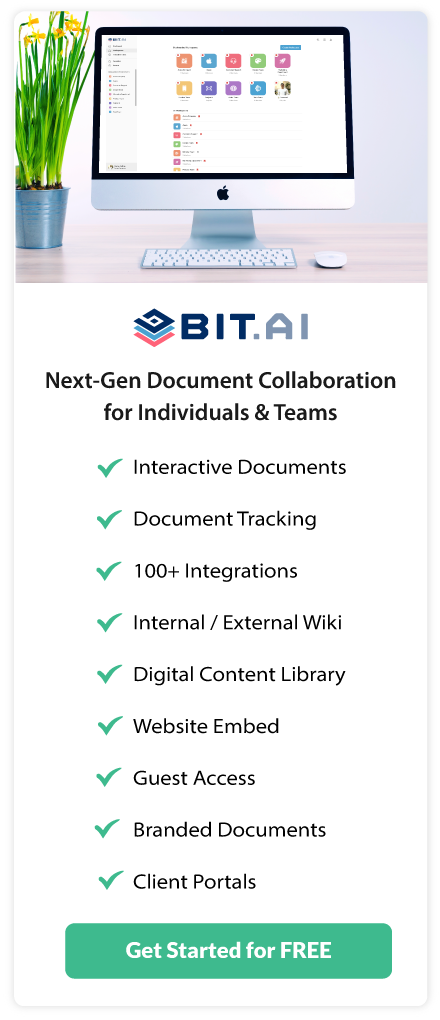 About Bit.ai
Bit.ai is the essential next-gen workplace and document collaboration platform. that helps teams share knowledge by connecting any type of digital content. With this intuitive, cloud-based solution, anyone can work visually and collaborate in real-time while creating internal notes, team projects, knowledge bases, client-facing content, and more.
The smartest online Google Docs and Word alternative, Bit.ai is used in over 100 countries by professionals everywhere, from IT teams creating internal documentation and knowledge bases, to sales and marketing teams sharing client materials and client portals.
👉👉Click Here to Check out Bit.ai.