We know how the face of digital transformation changed rapidly after 2020. The IDC (International Data Center) forecasts show that digital transformation technology investments will accelerate in 2022.
Companies continue to prioritize their investments in long-term strategic digital projects. We can look at some of the priorities of the last year.
Source: IDC
You may have started visualizing the outcome of such investments in your business. We aim to expand your knowledge base about digital transformation and its business benefits through this blog.
Let us get started now!
What is Digital Transformation? (Definition)
Digital transformation has a slightly different meaning for every company. For some people, it means upgrading to the latest ERP software, whereas for others, it is about automating their marketing funnel.
In general terms, we can define digital transformation as integrating digital technology into various aspects of a business. It also considers the fundamental changes to how an organization operates and delivers value to customers.
Digital transformation is also a cultural change requiring organizations to continually experiment with different digital initiatives and adapt to the latest trends.
Digital transformation is a Need and Not an Option Anymore!
Companies across the globe have always dealt with changes in customer demands. But the COVID-19 pandemic changed the way modern society functions. And these changes will last far beyond the COVID-19 wave.
The need of the hour is to transform the digital landscape of organizations. They will have to reinvent their operations, including but not limited to customer acquisition, post-sales service, and employee engagement.
Adapting to digital transformation in a matter of time is usually a challenge for many organizations. So a systematic framework can simplify the entire process and shorten the learning curve.

What is an Ideal Digital Transformation Framework for your Business?
The digital transformation strategy will always vary depending on the specific challenges and demands of the organization.
But there are a few constants among successful case studies that all business and technology leaders should know before they embark on digital transformation.
Here are some of the vital touchpoints of a successful digital transformation framework:
Operational agility
Culture and leadership
Workforce enablement
Digital technology integration
Data privacy and security
Also, every company should understand the underlying phases of digital transformation before proceeding further.
6 Phases of Digital Transformation
Understanding the different phases of digital transformation can guide businesses toward result-oriented initiatives that may be successful in the long term. Let us take a brief look at them:
1. Status quo 
It is the primary stage and involves evaluating the current state of your organization and operations.
2. Present and Active
It is the phase where you can experiment and encourage your employees to bring out their creativity. You can also try improving their digital literacy.
3. Formal Initiative 
Your previous experimentation now transforms into clear goals and objectives. Be very specific with them.
4. Strategic 
Once you have set the goals and objectives, it is time to outline a digital transformation strategy. Your employees work together to achieve the set goals.
5. Converged 
It is an advanced phase where you should deploy a dedicated digital transformation team. The team will help implement the strategic plan and guide and modify the strategy as needed.
Also, it will set up the systems and processes needed to streamline your digital journey.
6. Innovation and Adaptability 
We will be glad when you make it to this phase of digital transformation! It is the phase when your organization is well aligned with the process and marching towards success.
Establish a monitoring team to understand and implement the upcoming trends in the technological landscape. You should also improvise the current process so that your company continues to progress and evolve.
Your digital goals and the technology you leverage to achieve them will define your digital transformation journey to a great extent. Remember, proper planning and improvisation at every step of the process are crucial.
Once you have followed a robust digital transformation framework and got most of the things right, it is time to reap the benefits of your efforts. We will explore some of the business benefits of digital transformation in the next section.
6 Ways Digital Transformation Rewards Your Business with Long-Term Growth
1. Enhance the Customer Experience
The customer experience (CX) is the key to long-term growth for any organization. A better CX distinguishes successful organizations from the crowd.
Source: Voxco
Companies like Uber, Starbucks, and Netflix have put their customers at the center of their business. These companies obsess about delivering the best experience to their customers.
Technological advancements have raised the standards for the digital customer experience. Innovation and optimization of CX have a highly positive impact on business revenue.
Let us understand how Netflix won the digital game against Blockbuster using technology.
Netflix: Customer is the King!
Blockbuster is the name of a once-famous U.S. video retailer brand. The company learned a hard lesson about compromising the customer experience. It invested in analytics to improve the profitability of its in-store video mix.
Netflix, however, focused on the customer experience. It deployed an online recommendation engine that helped consumers find content that best suited their interests. Netflix also helped customers avoid visiting video rental stores and watching those videos in their homes.
Netflix tasted success, and Blockbuster failed miserably and filed for bankruptcy in 2010. Thus, digital transformation helps you enhance CX and attract and retain a loyal customer base for your business.
2. Take your Marketing Skills to the Next Level
Marketing is one of many areas where digital transformation can give you a competitive edge. Marketing, in this context, means digital marketing. But digital transformation can impact your marketing strategies in a much broader sense.
A digital transformation in marketing refers to the active pursuit of digital excellence through digital channels optimization. It also means refining your digital channels to get deeper insights that improve the customer journey.
Here are some digital transformation tips for your marketing team:
Refine the digital channels
Assess the value of your current marketing tools and channels. Analyze your website, marketing automation tools, social media, analytics platforms, and customer database.
Then ask yourself if you are making the best use of all the resources available at your disposal. Your answer will decide how you refine the digital channels.
Break the silos
After optimizing your digital channels, ensure all systems are working together. When your digital tools operate in a siloed fashion, you will miss out on the bigger picture.
For example, logging in and out of five different accounts to track a customer's journey is not an efficient way to do marketing. A CRM system can provide you with a holistic view of your entire customer base.
Optimize the customer journey
We saw in the last section how Netflix and other brands win in their market through a better customer experience.
Use the advanced insights from CRM and ERP software to optimize the customer journey. You can also use the tools to identify weak spots and opportunities for improvement.
3. Leverage Automation Anytime, Anywhere.
A recent Gartner report shows that the top three DX (Digital Experience) goals for technology companies around the world are:
Migrate applications to the cloud.
Modernize legacy systems using new-age technologies.
Automation was always in the limelight since the dawn of the digital age. But the pandemic forced businesses to rethink the purpose of automation in their operations.
Earlier the reasons were reduction in cost and performance improvements. But now, it is more about better business resilience, reduced risk, and faster development and deployment cycles.
Modern digital ecosystems are increasingly complex compared to the earlier ones. Digital transformation can help you solve many complexities using end-to-end automation solutions.
They can take care of data silos, integration challenges, and deployment challenges.
You may also be aware of the fact that digital automation is limitless! Modern tech teams are adopting cloud-based automation platforms with API adapters.
They support low-code automation, allowing AI and ML technologies to get infused with the existing processes. It enables better and faster data analysis.
4. Uplift the Employee Experience
The IBM Smarter Workforce Institute and Workhuman define Employee Experience (EX) as a set of perceptions employees have about their experiences at the workplace.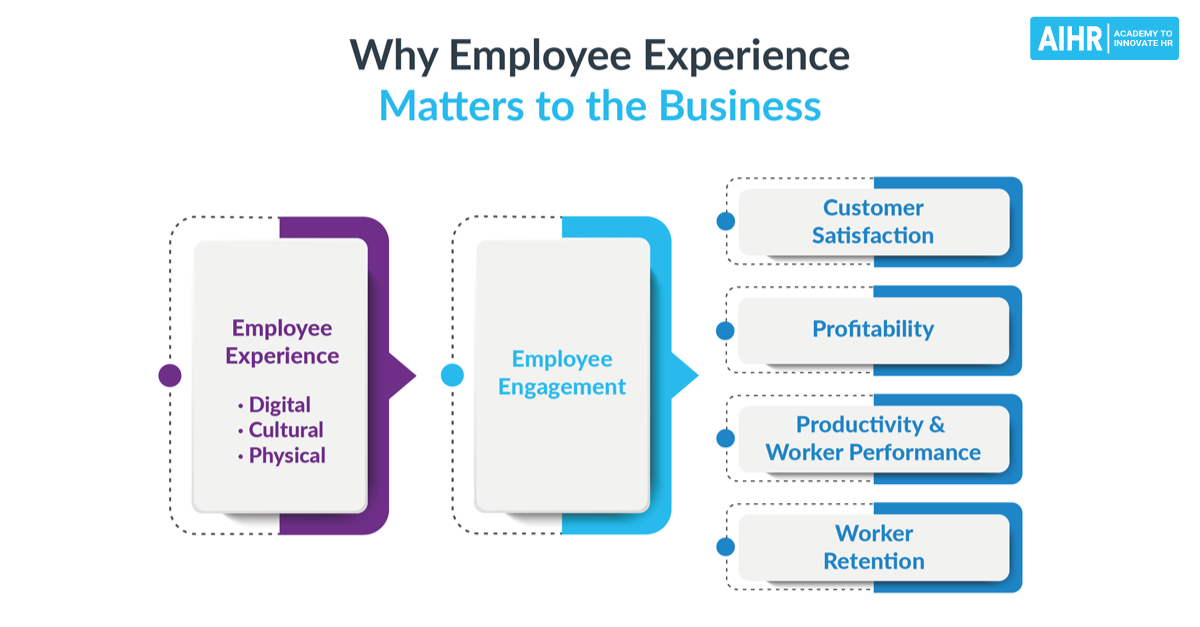 Source: AIHR
EX is integral to every stage of the employee lifecycle at the organization. They include the recruitment process, onboarding, orientation training, skills development, and rewards and recognition. You have to analyze each of them and experiment with new initiatives.
Furthermore, learning from employee interactions is an ongoing challenge for HR personnel. They have to seek answers to the following questions:
Where do employees prefer to work?
What makes an employee choose one communication platform over another?
How are people getting the information they need to do their job?
You can leverage digital transformation as an employer to simplify the above tasks for your HR department. Also, you can create productivity improvements and help employees become more effective in their job roles.
Digital transformation also provides a valuable opportunity to improve core business functions, such as finance and HR. You can move away from manual processes and automate key areas like payroll while focusing on better business opportunities.
5. Digitize your Business Partnerships
Modern organizations believe in the power of collaboration to coexist in the market. They work with various suppliers, distributors, contractors, and specialized consultants to produce diverse products and services for customers.
Managing the business partners requires a secure communication channel. Digital transformation can step in and provide you with an eSignature system. It enables a streamlined workflow that is more transparent and accurate.
You can build a scalable digital process at an early stage to handle various partnerships and alliances. In this way, your organization can stay ahead of the curve and become available to future partners and opportunities.
Digital transformation also provides you with the tools and resources to make internal processes more efficient and flexible. Thus, you get the ability to scale as the business grows and strengthen business partnerships.
6. Make Better Decisions in Real-Time
Data and analytics will always remain at the center of any digital transformation strategy. It allows businesses to take advantage of Big Data.
Enterprises today handle massive volumes of data due to the Internet of Things (IoT). Access to the right analytical tools can help them convert the raw data into valuable business insights. Businesses can rely on them to make informed and faster decisions.
AI (Artificial Intelligence) is a brainchild of digital transformation. You can leverage it to tap into the potential of Big Data. Advanced AI capabilities can sift through data at a faster and more reliable rate so that you can make real-time decisions.
We recommend you keep a close eye on the latest trends in AI to support your future digital initiatives.
Digital Transformation Beyond Technology: The Human Factor
Digital transformation is about responding to the changes caused by digital technologies. These changes could be in our daily lives, individual businesses and organizations, industries, or various segments of society.
We can end this article with a final word of advice. Always put people and processes above technology. Technology is only a change agent, or catalyst, in the digital transformation process.
In the end, our digital mindset should prioritize continuous optimization, holistic improvement, and a focus on what humanity expects from digital disruptors.
Further reads:
9 Most Successful Business Models You Should Know About! (With Examples)
Improve Customer Satisfaction in these 11 Smart Ways!
What is the Digital Workplace & Its Impact on the Future of Remote Work?
Why Companies are shifting to Digital Workplaces?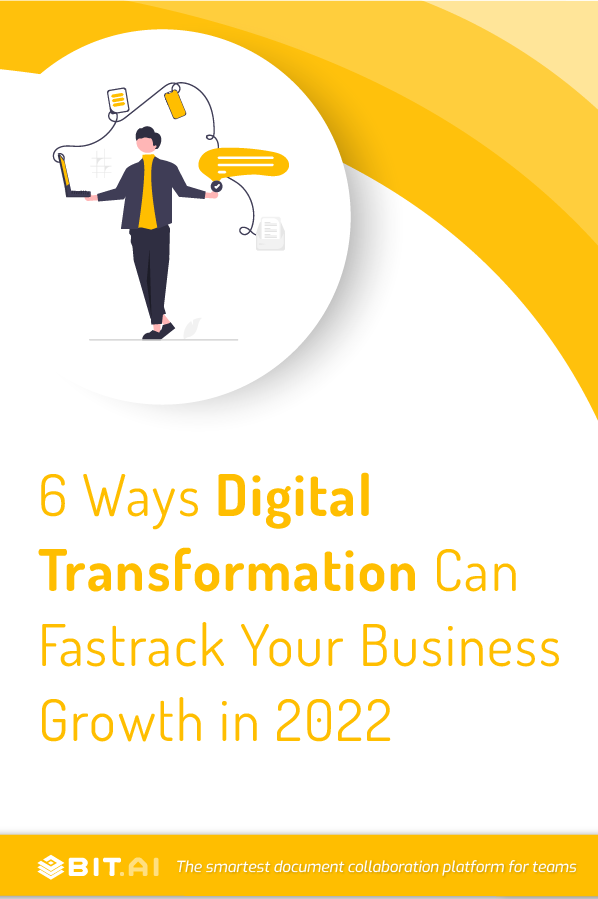 Related posts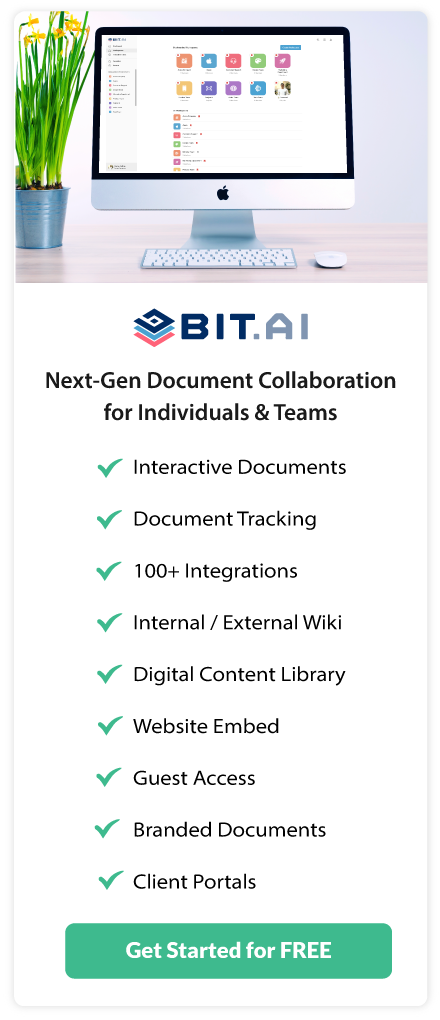 About Bit.ai
Bit.ai is the essential next-gen workplace and document collaboration platform. that helps teams share knowledge by connecting any type of digital content. With this intuitive, cloud-based solution, anyone can work visually and collaborate in real-time while creating internal notes, team projects, knowledge bases, client-facing content, and more.
The smartest online Google Docs and Word alternative, Bit.ai is used in over 100 countries by professionals everywhere, from IT teams creating internal documentation and knowledge bases, to sales and marketing teams sharing client materials and client portals.
👉👉Click Here to Check out Bit.ai.