An opportunity can come knocking on your door anytime.
You might meet the CEO of a major company at a local event, share a bus ride with an industry professional or even bump into your role model in an elevator.
The natural response would be to internally freak out and panic, but the last thing you want to be at that moment is 'unprepared'.
After all, they're busy individuals and they don't have much time to listen to you. What you need in situations like these is a short, crisp, and easy-to-understand description of yourself or your company.
…and this is exactly what an elevator pitch is! It helps you introduce yourself or your company to others. Having an elevator pitch basically means that you are always prepared to seize any opportunity that comes your way!
If you're looking to write an awesome elevator pitch, then you've come to the right place!
In this blog, we'll explain to you what an elevator pitch is, why you must have one, and the steps involved in creating a memorable one!
Are you ready? Then, dive right in!
What is an Elevator Pitch? (Definition)
An elevator pitch or an elevator speech is a short, memorable, and persuasive speech that provides a quick synopsis about yourself, your background, and your experience to someone. It can help you expand your network, find a job, or connect with new colleagues on your first day at work.
Usually, an elevator pitch does not take longer than 30 seconds to get the message across, which is also roughly the same amount of time you'd spend on a brief elevator ride. Hence the name elevator pitch.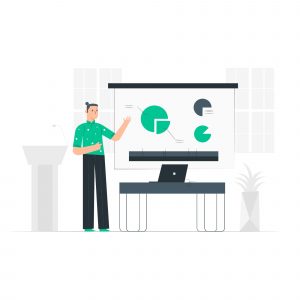 In a nutshell, an elevator pitch describes you or your business in a nutshell!
The purpose of an elevator pitch is to help you get a second meeting with the person you're trying to pitch your ideas or solutions. These speeches are extremely handy every time you're at an event or occasion where you are likely to come across prospective jobs or networking connections.

Done right, an elevator pitch can open doors to careers and business connections that have the potential to change your life.
Now that you have understood what elevator pitches are, here's the question you might be asking yourself – do I really need to have an elevator pitch?
The answer is yes, and let's find out why!
Why You Must Have an Elevator Pitch?
You may think that elevator pitches are pointless, but hear us out on this one – they come with some highly underrated benefits. What are they? Take a look!
1. Engages the Listener
An elevator pitch is short, sweet, and simple. It is unique and personal and conveys a lot in very little time. This makes it appealing and engaging to the listener.
And since it does not take up a lot of time, you will often find that the person you are pitching your ideas to will be actively listening to what you're saying. In the end, it is the best way to leave a lasting and positive impression.
Read more: Sales Pitch: What is it & How to Create a Killer One?
2. Organizes Your Thoughts
More often than not, our train of thoughts are disorganized and this can make it really difficult to describe something to someone in a comprehensible manner. This is where creating an elevator pitch proves to be useful.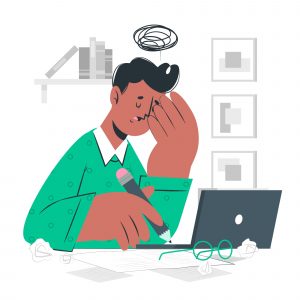 An elevator pitch organizes your thoughts and helps you put them down in writing in a way that it covers all the key points and captures the essence of your message in under 30 seconds.
So whenever an opportunity arises, you will always have a script ready to pitch yourself or your ideas in the most creative and understandable way.
3. Defines Your Unique Value Proposition
You have a unique blend of skills, knowledge, and experiences that make you different from others and create a value proposition. Creating an elevator pitch helps you identify, define, categorize, and understand those skills and experiences. In essence, it will help you discover your capability and potential.
Not only is an elevator pitch great for your professional growth, but it also plays a crucial role in your personal development.
So without much ado, let's take a look at the steps involved in writing a killer elevator pitch, shall we?
How to Write an Elevator Pitch in Simple Steps!?
Step 1. Know Your Target Audience
Knowing your audience is a fundamental step in setting the foundation for your elevator pitch. After all, what's the point of creating a pitch if you don't know whom you intend to target.
Are you creating a pitch for a job recruiter? Or are you trying to grab the attention of sponsors or investors? Or are you proposing solutions to your boss?
Whatever the case, knowing your target audience will give you an idea about what they want or expect from you. This makes it easier for you to present your ideas and skills in a way that caters to their interests and expectations.
Step 2. Introduce Yourself
Now that you know the audience you are targeting, you can start writing an elevator pitch. But before diving straight to your main message or solution, you need to introduce yourself to the person you're talking to.
Start with a sentence about who you are and what you do at the company. Something as simple as, "Hi, my name is Kate, I'm a graphic designer at XYZ Company" or "My name is Jack, and I run a family-owned business" should do the trick.
Make sure that you don't delve deep into your history or go on rambling about minor details about yourself. Keep it brief and simple. This will help you start off on the right foot.
Step 3. State Company Mission
If you're someone trying to sell your product, then one of the most crucial aspects of writing an elevator pitch is to state your company's mission.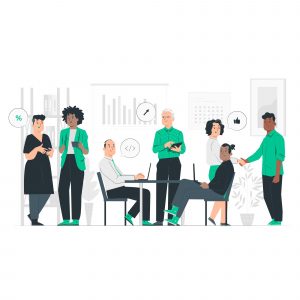 Include a section where you introduce your company and detail your company's missions for its products or services. For this, you need to have a clear understanding of what your company does and how its products and services can benefit the person you are persuading.
Remember to keep it crisp and concise, and ensure that you customize your pitch according to your listener's needs.
Step 4. State Your Intentions
Depending on what exactly you're using your elevator pitch for, explain what you want. Whether is it for a job opportunity or internship, proposing a solution, selling a product, or simply getting contact information, make your intentions clear.
In this section of your pitch, all you have to do is focus on what you have to offer. This provides a great chance for you to present or demonstrate the value that you will bring or describe why your product is a good option or simply explain what your audience will gain from your interaction.
For example, you can write something like "I find the work your design team does to be creative and refreshing, and I'd love the opportunity to use my skills and expertise to work for your company".
Step 5. Explain Value Proposition
What makes you or your company or the product you are selling unique? This segment of your elevator pitch is where you elucidate your value proposition by showcasing your capabilities and achievements.
Briefly describe the value your product or service offers or explain why you are an exceptional candidate for a job. This will get them interested in you or your company and help them understand how you can bring value to them.
An example of a value proposition would be including something like "We offer a home delivery platform for home bakers to sell their goodies online".
Read more: Value Proposition: What is it & How to Write it?
Step 6. Grab Attention with a Hook
Want to really pique the interest of your listener through an elevator pitch? Then what you need is a strong hook. This should be a concise and engaging factor that will pull your audience and get them excited about you and your company.
You can do this by briefly narrating an interesting or exciting story or bringing up an intriguing fact or even sprinkling in some statistics to make your hook authentic and compelling.
For example, you can include something like "I was a member of the core organizing committee for London Fashion Week" or "Our company has been consistently winning the 'People's Choice Award' since 2010", and briefly expand on it.
The idea is to grab their attention, keep them engaged, and create a memorable and lasting impact.
Step 7. Read. Edit. Practice.
Lastly, review your elevator pitch, look for any grammatical mistakes and complicated sentence structures, and make the necessary edits and changes.
Read your pitch out loud to hear how exactly it sounds. This will help you understand whether your elevator pitch is too formal or casual or something worse, braggy and uptight. By doing this, you will also get an idea of whether your pitch is too long or short.
Practice yourself in front of the mirror, watch your body language, and listen to your tone. Focusing on these will also help you get an idea of how you should be presenting your elevator pitch.
Now you're fully prepared to write an elevator pitch for yourself and your company!
Even though an elevator pitch wraps everything up in under a minute, the actual writing part of it can be quite time-consuming.
But what if we told you there is a tool out there that can make your writing process effortless? Intrigued? Keep reading to find out what we're talking about!
Bit.ai – The Ultimate Tool for Creating a Killer Elevator Pitch!

Bit.ai is a new-age document collaboration and knowledge management tool designed exclusively to satisfy all your documentation needs. It helps you create, edit, organize, manage, and share documents, like elevator pitches, all under one roof!
Why should you use Bit to create your elevator pitch? Check out these features and decide for yourself:
Smart Workspaces: If you want to create multiple elevator pitches, then Bit is the perfect tool for you! It lets you create infinite workspaces and folders to help you store, manage and organize all your information super efficiently.
Auto-formatting: The last thing you want to focus on while writing an elevator pitch is the format. Bit's auto-formatting feature automatically formats your entire document to give it a very consistent and uniform look. Focus on your content and Bit will take care of the rest!
Real-time Collaboration: Sometimes it's best to get a second opinion of your elevator pitch before actually presenting it. With Bit's real-time collaboration feature, you can seamlessly collaborate with anyone and work together on the same document in real-time, chat privately, make inline comments, co-edit, and more.
Document Sharing – Another awesome feature of bit is that it lets you share documents in different ways. So, you can export your document or convert it to Docx, PDF, and other formats or use Bit's live link-sharing option to share your document with the other members, or invite members by giving them guest access to your workspace.
Simple UI: Even though Bit is jam-packed with features, it has a simple and easy-to-understand user interface, which makes it extremely easy even for newbies to get on board with the platform.
… and the list just goes on and on, but you get the point, right? Bit is indeed the one-stop solution for all your documentation and collaboration needs! So what are you waiting for? Get Bit right away!
Conclusion
Whether you're introducing yourself at a networking event, selling your products to a customer, or pitching an idea to your boss, a solid elevator pitch is an essential tool that will help you in achieving your goals.
We hope that our blog has helped you understand the essence of an elevator pitch and how to write one that captures attention quickly. And with Bit in your hands, you can never be more prepared than that!
An opportunity could be waiting right around the corner for you! So roll up your sleeves and start writing an elevator pitch right away! Good luck!
Further reads:
Pitch Deck: What is it & How to Create an Impressive One?
Competitive Strategy: Definition, Types, Importance & More!
Operational Efficiency: Definition, Importance & Ways to Improve it!
Business Pitch: What is it & How To Create it? (Steps Included)
7 Successful Elevator Pitch Examples You Must Read!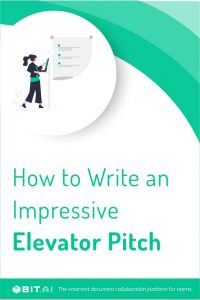 Related posts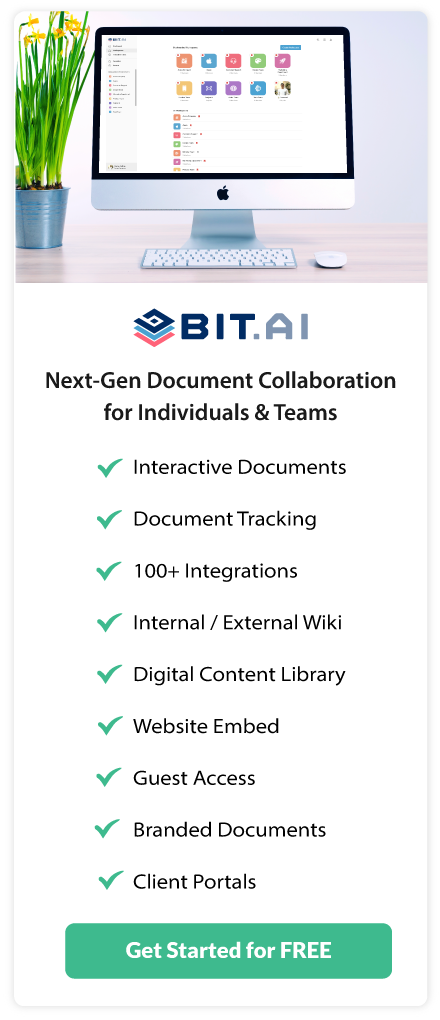 About Bit.ai
Bit.ai is the essential next-gen workplace and document collaboration platform. that helps teams share knowledge by connecting any type of digital content. With this intuitive, cloud-based solution, anyone can work visually and collaborate in real-time while creating internal notes, team projects, knowledge bases, client-facing content, and more.
The smartest online Google Docs and Word alternative, Bit.ai is used in over 100 countries by professionals everywhere, from IT teams creating internal documentation and knowledge bases, to sales and marketing teams sharing client materials and client portals.
👉👉Click Here to Check out Bit.ai.