Hiring a new employee and getting them up to speed with the organization is what employee onboarding is all about. While it sounds easy, employee onboarding is probably the most challenging task HRs have to do.
Successful employee onboarding has shown to improve employee engagement, retention, morale, and efficiency. Take a look at the following stats:
69% of employees are more likely to stay with a company for three years if they experienced great onboarding (source).
Nearly 33% of new hires look for a new job within their first six months on the job (source).
51% of HR employees believe that onboarding is very important for engagement. (G2, 2018)
77% of employees who had a formal onboarding process hit their first performance goals.
88% of employees think their employer did a poor job with the onboarding process. (Gallup, 2017)
32% of global executives rate the onboarding they experienced as poor. (Harvard Business Review, 2008)
Great employee onboarding can improve employee retention by 82%.
22% of companies have no formal onboarding program. (Harvard Business Review, 2015)
As you can probably guess by now, onboarding is crucial. However, many companies still rely on old-school documents for onboarding, making this whole process inefficient and tiresome, to say the least.
In fact, data suggests that over 58% of organizations say their onboarding program is focused on processes and paperwork. Moreover, one-third of employees said their onboarding program was informal, inconsistent, or reactive.
The problem with inefficient onboarding is recognized by management as HR managers say the top three biggest challenges they face with onboarding are inconsistencies in application across the organization (44%), competing priorities (39%), and measuring onboarding effectiveness (36%).
Since both the employee and the employer are unhappy with the current onboarding system, we decided to look for technological help…
List of Best Employee Onboarding Tools Out There:
Since technology has completely revolutionized the way we work, it's only logical to look for help from software and make our employee onboarding process more robust and efficient.
In fact, over 38% of companies use an online onboarding platform and larger companies are more likely to utilize technology solutions. (HCI, 2016). While there are many employee onboarding tools out there, we decided to only review the best of the best.
So without further ado, let's get started…
Bit.ai
Zenefits
Bamboo HR
Scoro
Lessonly
Slack
Kissflow
TalentLyft
WorkBright
Trello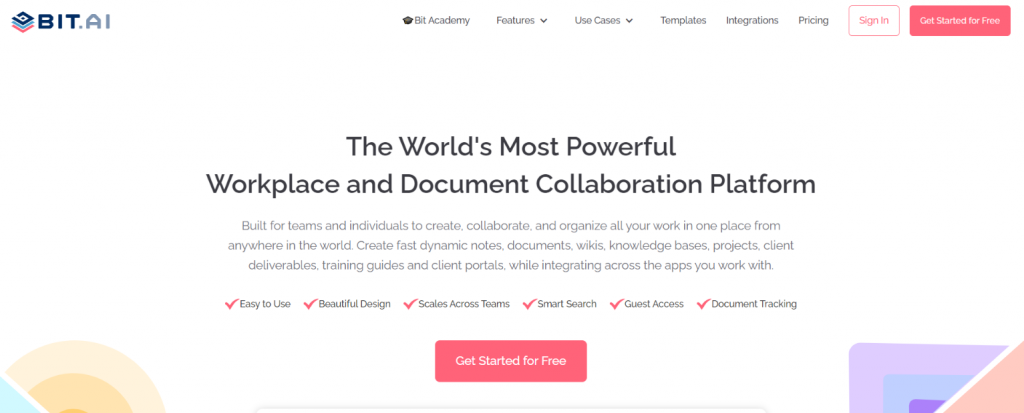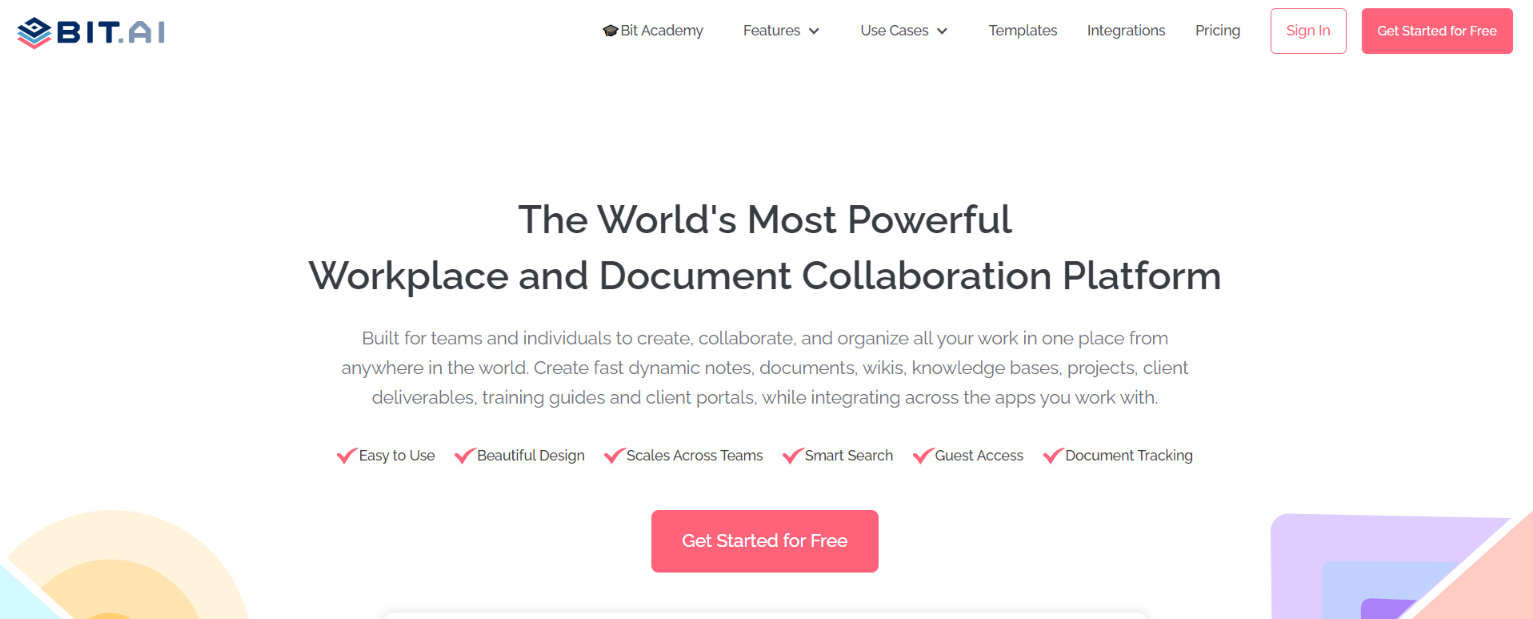 Kicking off our list is Bit, a new age workplace collaboration and document management platform. Since employee onboarding requires a ton of documentation, we are starting off our list with a robust interactive documentation tool.
Bit allows employees to create workplace documents like employee onboarding, HR guidelines, sales collateral, proposals, training manuals, policies, client-facing material, and so on and manage all these documents in a centralized location. Bit.ai stands out because you can attach and display file attachment right within your docs.
Simply create a workspace, add your team members, and start creating your workplace documents quickly! You can further share these documents with new employees and add them to a Workspace that has all the documents required for a smooth onboarding.
HR managers can also get detailed insights on whether new employees opened the document given to them and how they interacted with the documents via document tracking!

For both internal as well as external documentation, Bit is the go-to choice of software for managers in 100+ countries over the world.
Here are some of the main benefits of using Bit:
Workspaces and folders: Bit brings all your project documents and details in one place by allowing you to organize information in workspaces and folders.
Robust search: Bit has very robust search functionality that allows anyone to find information quickly. You can search for folders, files, documents, and content inside your documents across all of your workspaces.
Collaboration: Collaborate with your team and management and feedback in real-time using @mentions and highlight features as every document comes with its separate comment stream.
Content library: Bit has a content library where you can store and share media assets. You can save images, files, videos, PDFs, and content easily and can access it at any point.
Rich embed options: Bit.ai integrates with over 100+ web applications (Ex: YouTube, PDFs, LucidChart, Google Drive, etc.) to help you create media-rich and interactive implementation plans or other workplace documents.
Interlink documents: Bit allows employees to create unlimited documents and interlink them to create robust internal wikis.
Templates: Bit has a plethora of amazing templates that cut your work in half and help you kickstart your work quickly.
Some standout features of Bit
Track documents and see great insights
Content management to store media assets
Organize documents in workspaces and folders.
Automated design so all docs look beautiful
Pricing: 
Free with limited functionality
Paid plans start from: Standard ($12/month), Plus ($20/month), Enterprise (contact sales).
Read more: Top 9 HR Software and Tools for Human Resource Departments!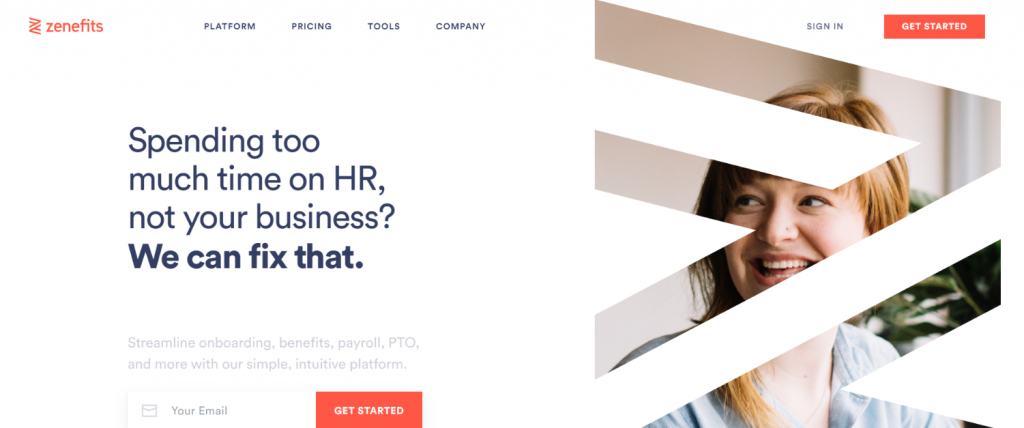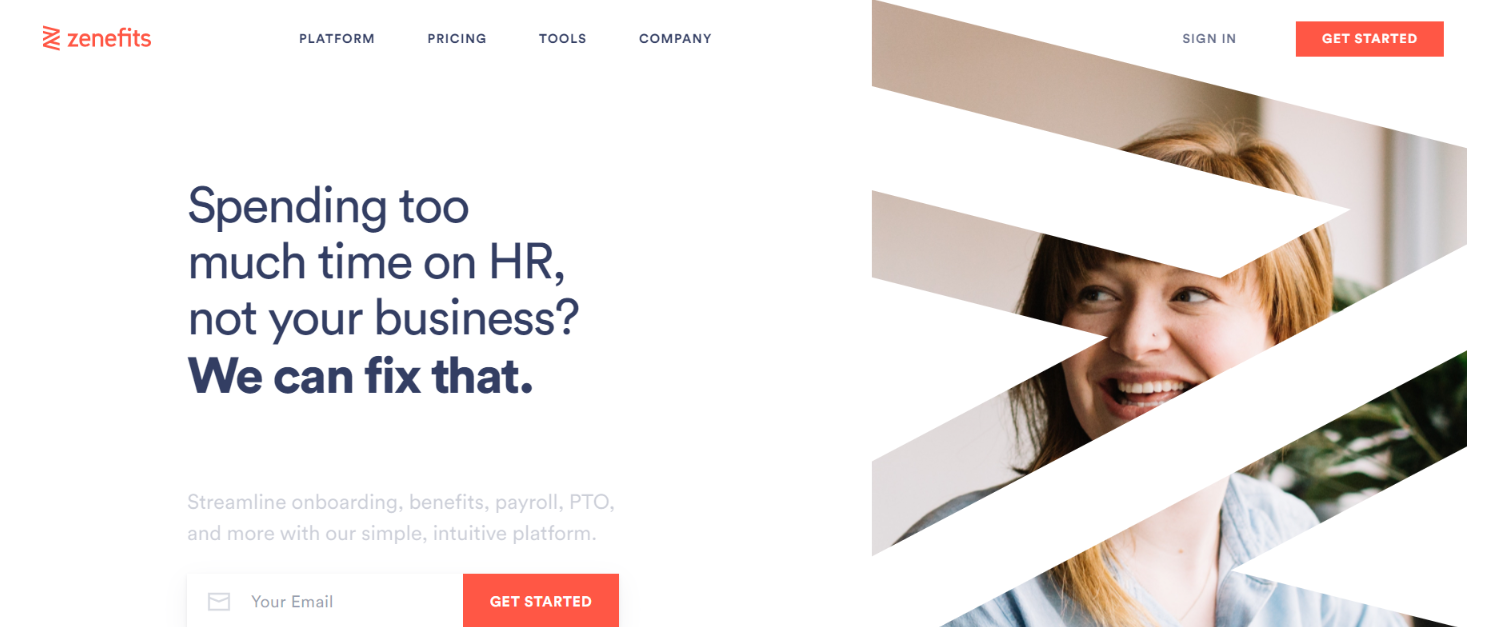 Next up is Zenefits, an amazing employee onboarding, and HR management platform. From hiring and payroll to managing and tracking, Zenefits is an HR's best friend. Start off by creating a compensation package and auto-send offer letters to new employees.
Managers don't need to take care of the nitty-gritty of onboarding as Zenefits auto-syncs info regarding benefits and payroll, helping employees onboard themselves. With features like organizational charts and company directories, managing workforces was never this easy.
An employee can request PTO (paid time offs) directly from the Zenefits platform as all data regarding perks is already synced. Intelligence reports give crucial data on employee compensation, workforce diversity, turnover, and more.
Some standout features of Zenefits
Easy mobile apps for both HR managers and employees
Dozens of integrations to bring all your employee data in one place
Fast and thorough background checks before hiring new employees.
Pricing: 
Free with limited functionality
Paid plans start from Zen ($21/month per employee), Growth ($14/month per employee), Essentials ($8/month per employee).
Read more: How to Create an Employee Handbook?


An HR software with "heart", Bamboo HR helps managers hire, onboard, prepare, compensate, and release employees all from one amazing dashboard. Since recording and maintaining employee data is a big part of HR, Bamboo HR helps you store all employee records in a single place and provides exceptional reporting and analysis.
BambooHR has an applicant tracking system that makes it easy to hire new employees. Automatically send offer letters that auto-populates with candidate's name, job description, job type, and more. Collaborate with fellow HR by sending them alerts on new hires and more. Candidates can make use of electronic signatures to accept an offer.
With easy onboarding, automatically send onboarding tasks, forms, do team introductions, and more. With the "get to know you" email, highlight common interests amongst team members and new hires and build long-lasting relations.
Some standout features of Bamboo HR
E-signatures for quick onboarding
Applicant tracking and report generation
Manage all employee data in one place.
Pricing: 
Free trial available
Paid plans start from Contact sales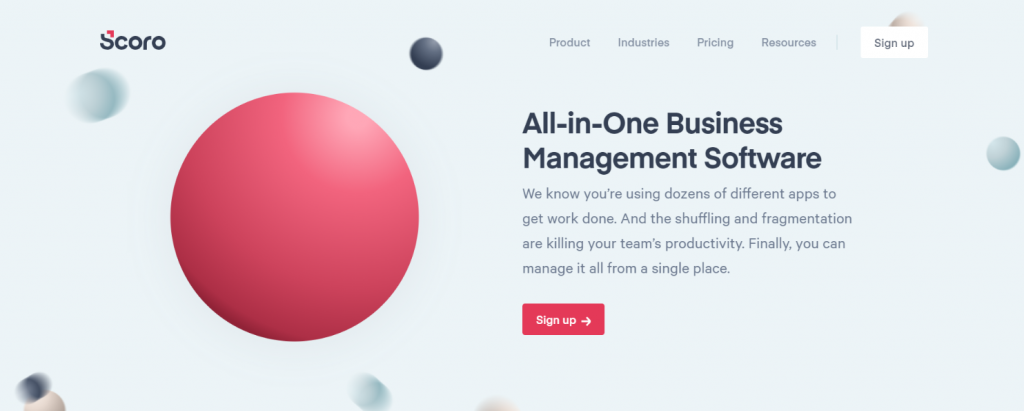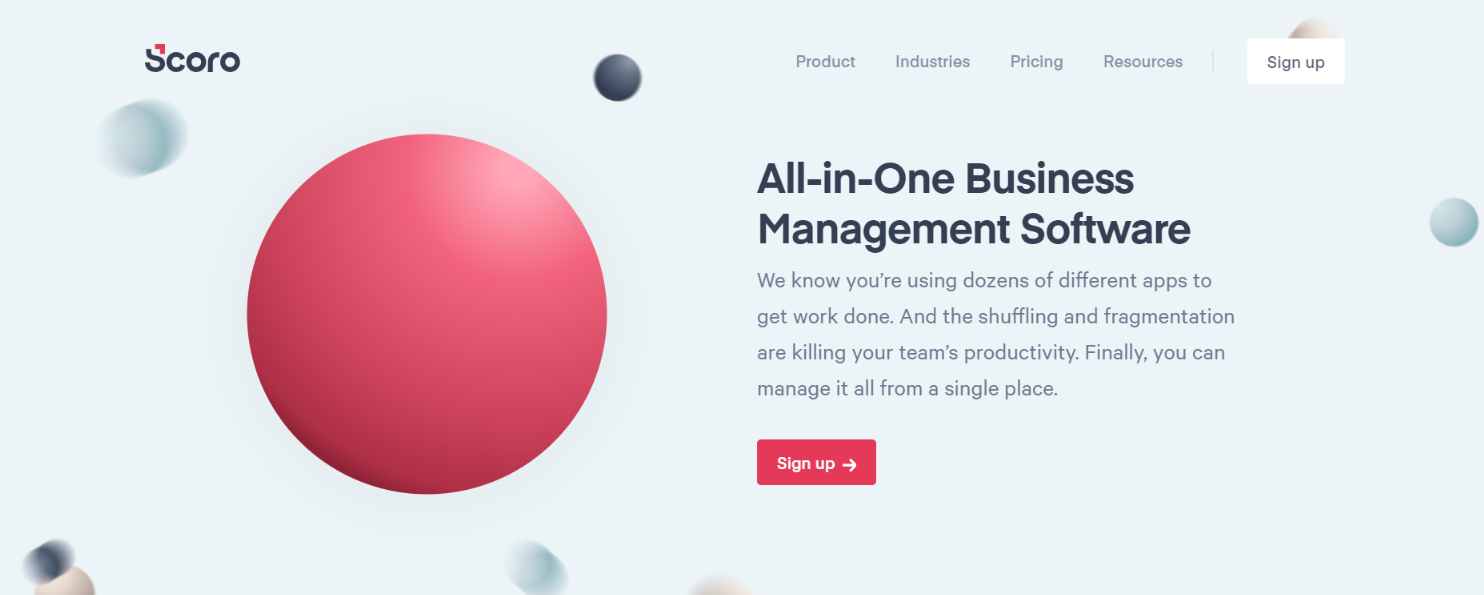 Scoro is an all in one business management solution for teams looking for faster onboarding and greater productivity. From project and work management to CRM and finances, Scoro does it all.
New employees can quickly use Scoro to read documentation, manage their tasks, visualize assignments, and see deadlines- all in one neat looking dashboard. With project templates and task bundles, users can automate routine tasks and be productive from the get-go.
With the calendar, task lists, time tracking, and timesheet built-in, managers can keep an eye on progress and manage projects easily. With the Task matrix feature, managers can check team-wide priorities and tasks and avoid under and overbooking.
Some standout features of Scoro
Convert quotes to tasks and projects and assign to team members
Neat interface for new employees to keep tabs on what's going on in the organization.
Track goals, performance, billable hours, etc.
Pricing: 
Free with limited functionality
Paid plans start from: Essential ($26 per user/month, minimum 5 users), Work Hub ($37 per user/month, minimum 5 users), SalesHub ($37 per user/month, minimum 5 users), Ultimate(contact sales).
Read more: Employee Development Plan: What is it & How to Create it? (Steps Included)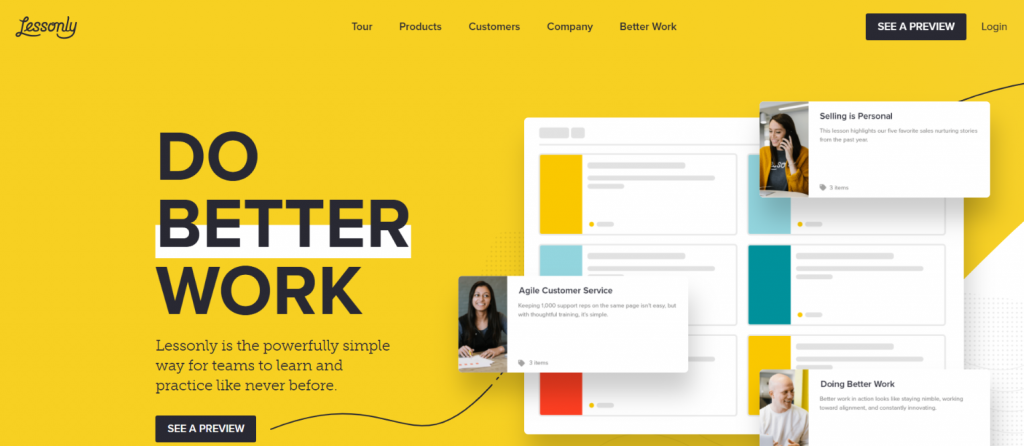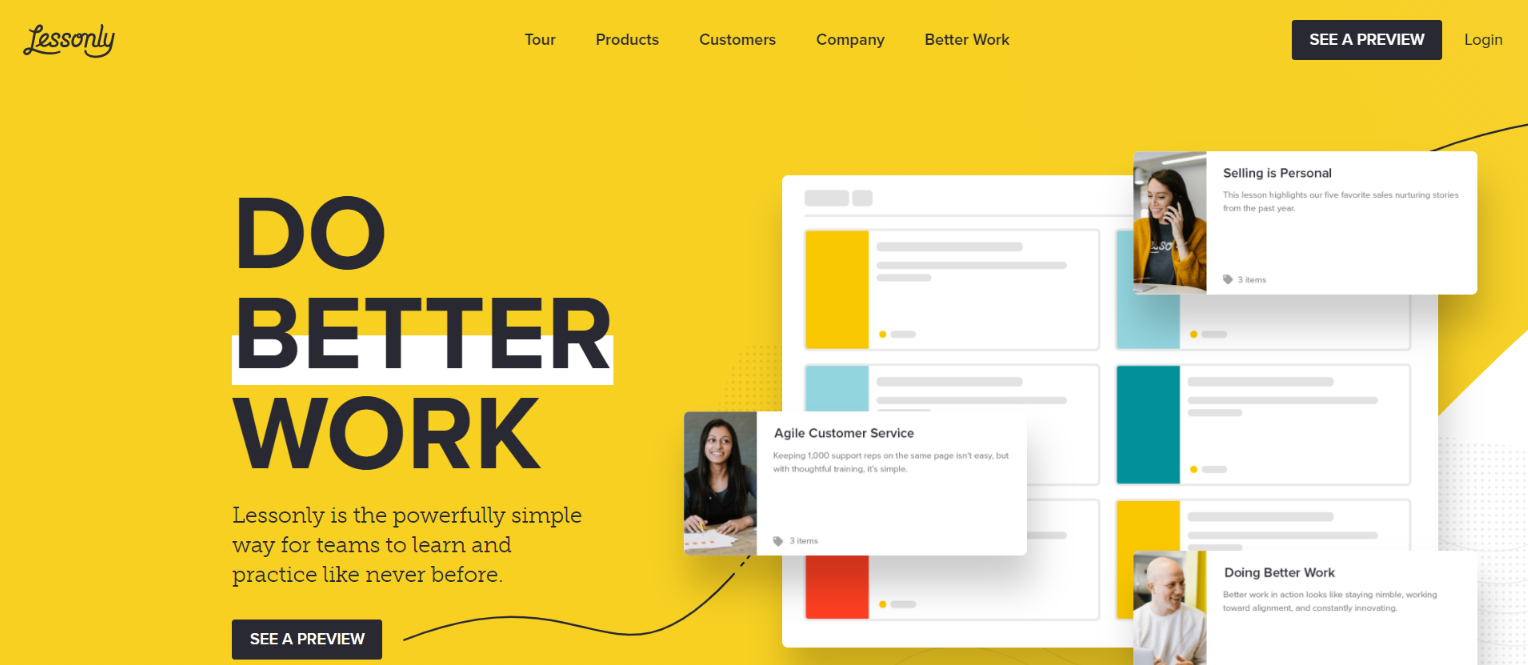 A team learning software, Lessonly is next up on our list of awesome employee onboarding software. Lessonly allows managers to quickly build lesson plans, programs, and documentation for new employees and measure and track their progress.
With automatic workflows, HR doesn't have to repeatedly schedule new training sessions or hand over new training material as Lessonly will do that for them automatically. With tracking results, you can quickly see which employees are learning quickly while which ones need a little help.
HR can use Lessonly's drag and drop editor to quickly create lessons and training material, add images, videos, docs, quizzes, SCORM, etc. Lessonly integrates with Google, Salesforce, Zendesk, and more to bring all employee and customer data in one place.
Some standout features of Lessonly
Create groups and set permission levels
Open API to hook Lessonly with your favorite tool
Create and track training sessions
Pricing: 
Free trial available
Paid plans start from Basic ($300 per month and covers up to 20 learners.), Plus ($750 a month for up to 75 learners), Growth ($1,250 per month and covers up to 200 learners), Enterprise (contact sales).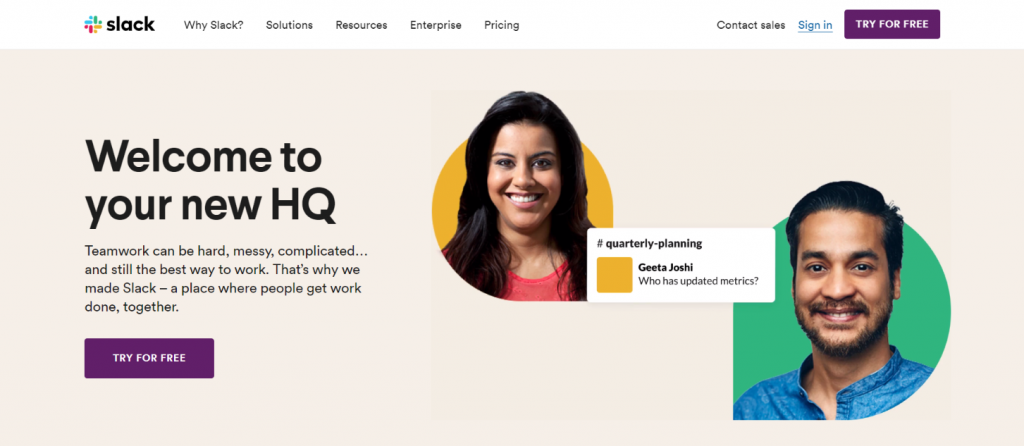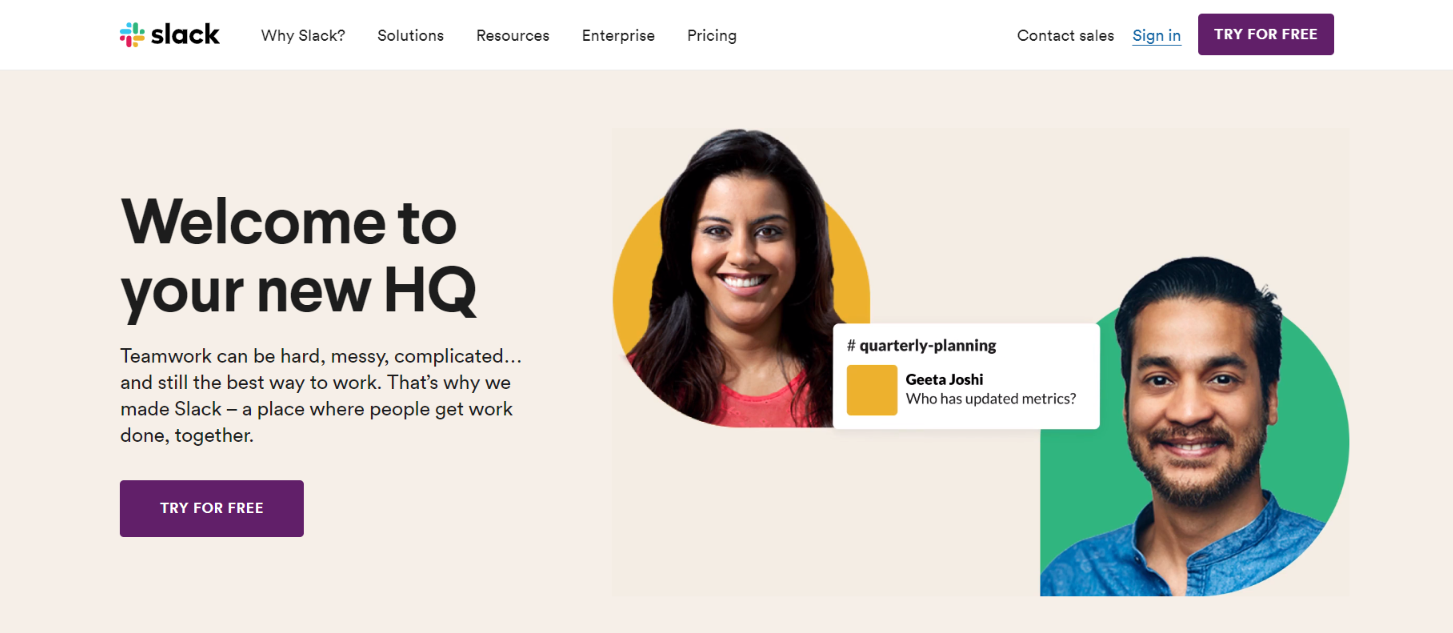 If your team works remotely, Slack can be a great onboarding platform for conducting video calls and messaging. A messaging app, Slack is quite popular amongst small and medium businesses and has over 35,000+ companies and over 8 million users using the platform.
Slack works around "channels" which are nothing but groups created around teams, departments, projects, topics, and more. While hiring new employees, managers can create a "new hire" channel on Slack and add all new employees in the group. Managers can add various important documents, answers to FAQs, conduct video conferencing, and more.
Slack integrates with apps like Okta, UltiPro, Dropbox, Salesforce, G Suite, and more, helping employees find everything they are looking for from one single dashboard. No more hopping around various apps. Managers can also schedule automated messages at certain times, prompting new hires to complete the next task on their onboarding checklist.
Some standout features of Slack
Conduct video conferencing with new hires
Create channels for sharing documents, files, contracts, and more
Send automated messages and reminders.
Pricing:
Free plan with limited features
Pro plan starts from Standard ($2.6/month), Plus ($5/month), Enterprise Grid (contact sales)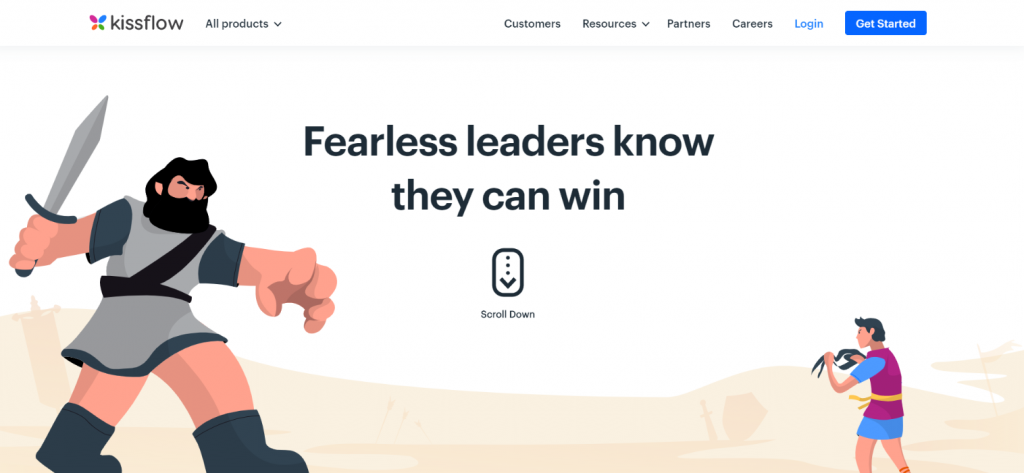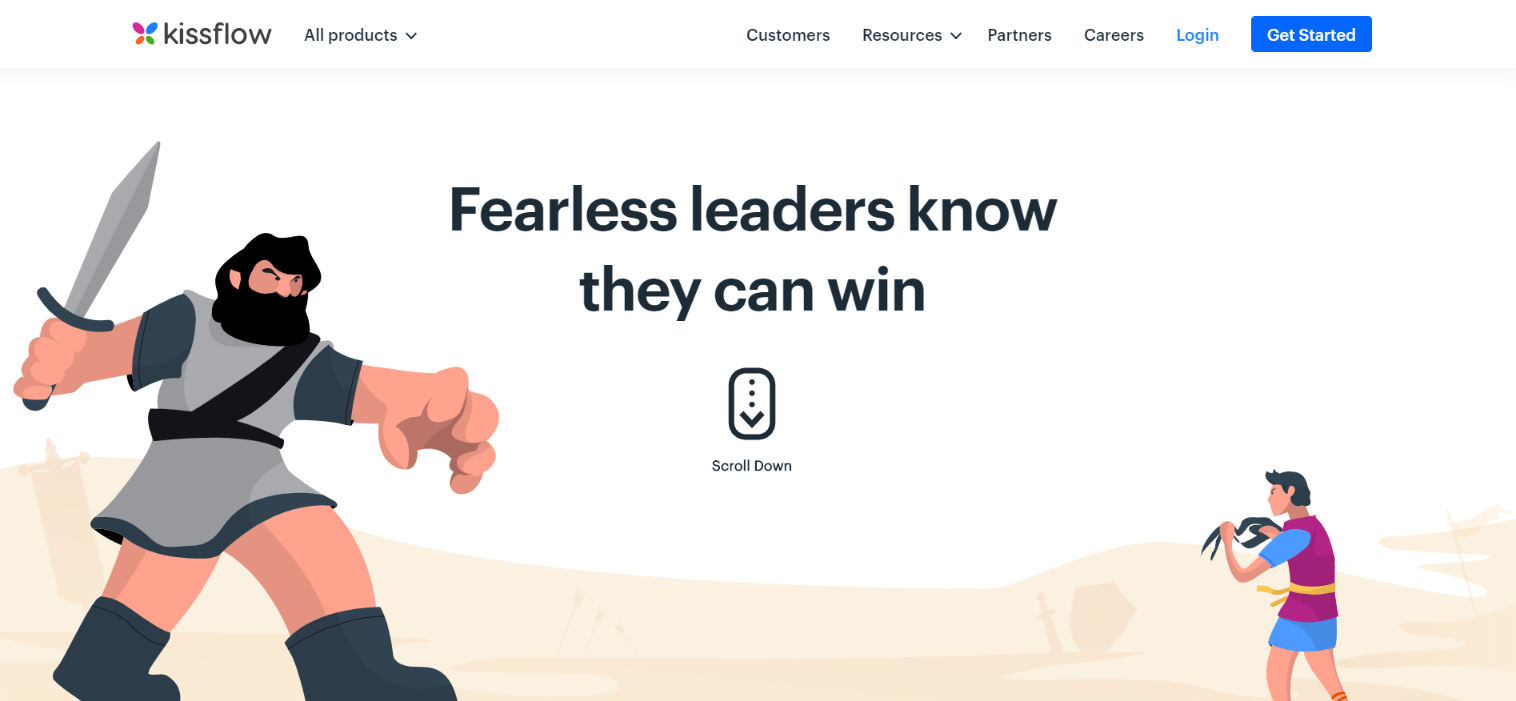 Business process management tools, Kissflow. Kissflow is another great employee onboarding platform. Kissflow provides a single place for employers and employees to collaborate, train, and assign tasks. Create automated checklists for onboarding and execute all steps accordingly. The platform easily integrates with third-party payroll, ERP, and other management software.
Managers can use the DocuSign connector to enable employees to digitally sign documents and ensure compliance. They can also store all employee documentation in one easy-to-access location. Apart from onboarding, employees use Kissflow to create business processes for travel reimbursement, purchase or vacation request, and more.
With smart reporting and notifications, users can track the progress of any process quickly, identify bottlenecks, and ask for edits. Kissflow smoothly integrates with thousands of office applications including Office 365 and G Suite.
Some standout features of Kissflow
Smart job publishing and tracking
Talent pool to build a high-quality talent database.
Employee referrals turning employees into advocates.
Pricing: 
Free plan with limited features
Paid plans start at Standard ($690/month, up to 100 users), Enterprise ($1290/month, unlimited users)
Read more: How to Ace the New Hire Onboarding Process?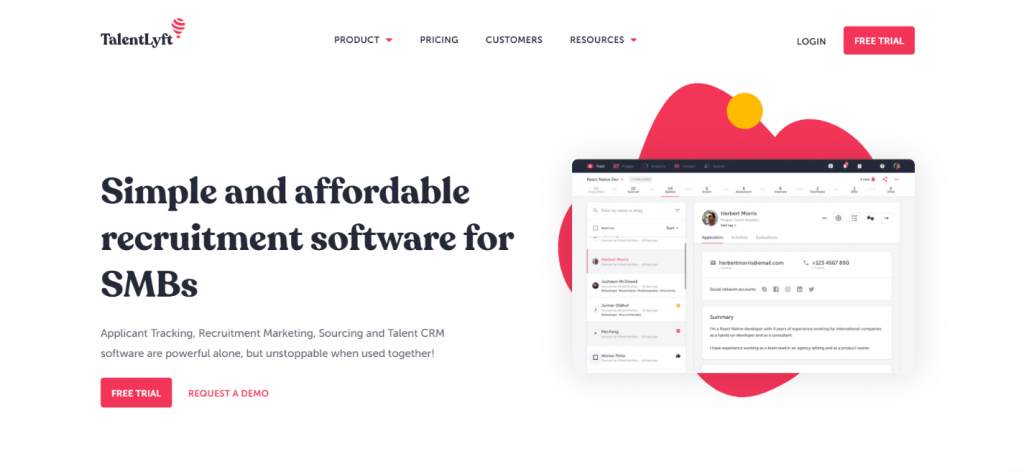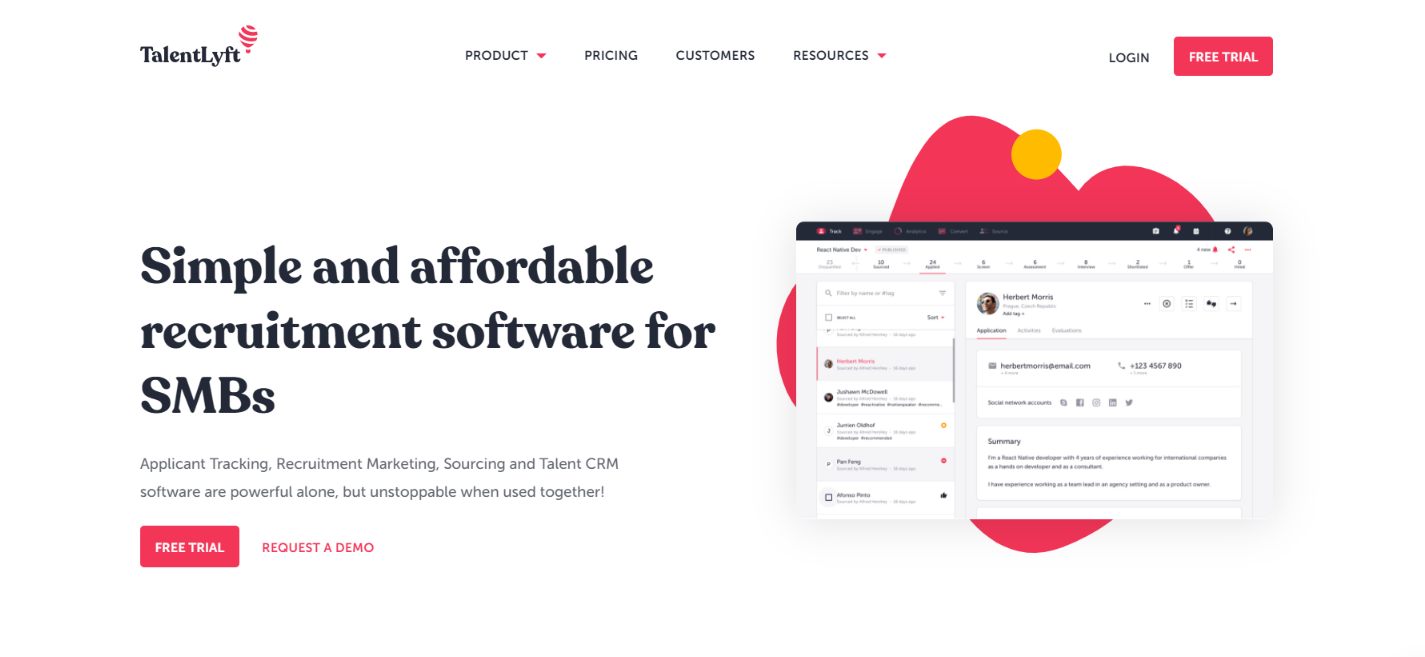 Recruitment software for SMBs, TalentLyft has a plethora of features up its sleeves. Recruitment marketing, applicant tracking, talent CRM, sourcing, are some of Talentyft's notable features. With an omnichannel approach, TalentLyft scours social media, job boards, referral programs, professional networks, and more to find you the best talent.
With an applicant tracking system, managers can optimize the hiring process by customizing the hiring experience based on the current recruitment strategy. You can send personal invitations to candidates and allow them to self-schedule their time of interview. No more emailing back and forth!
With scorecards and evaluation plans, comparing employees, and finding the best talent was never this easy. Need help? Add collaborators to your dashboard and work together easily. Moreover, auto-disqualification allows managers to auto-disqualify candidates who don't meet your set criteria.
Some standout features of Talentlyft
Mass import candidates and prospects into your ATS database
Analytics to remove bottlenecks and optimize the hiring process
Measure job clicks, visits, conversions, and more.
Pricing: 
Try free for 14 days
Paid plans start from Starter ($990/year for 5 active job slots), Pro (contact sales)


Workbright is a digital onboarding platform for remote hires. With built-in Optical Character Recognition (OCR), managers can scan and transcribes identity important documents directly from their phones and move the whole hiring process online.
Trying to eliminate all sorts of paperwork, Workbright allows employees to upload a picture of their photo id from their smartphone and sign documents using a finger signature. Automatic notifications and reminders are sent to new hires for unfinished forms and incorrect information.
With Smart I-9, Workbright makes it easy for employees to fill out the complicated forms and ensure proper completion. Easily import and export candidates' data into Workbright via CSV or Excel files.
Some standout features of WorkBright
Free job posting and tracking to over 500 job boards
Reporting to find inconsistencies in submitted data
Automated email reminders for form completion
Pricing: 
Free trial available
Paid plans start from $158/month for up to 100 new hires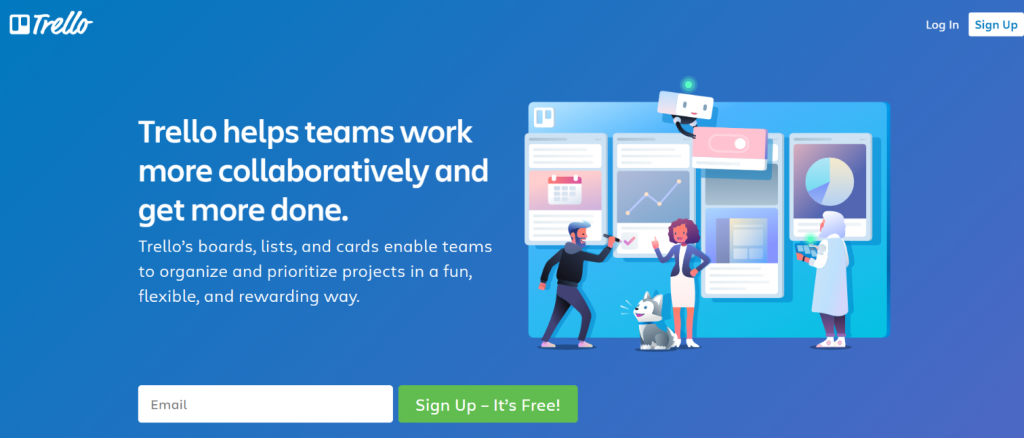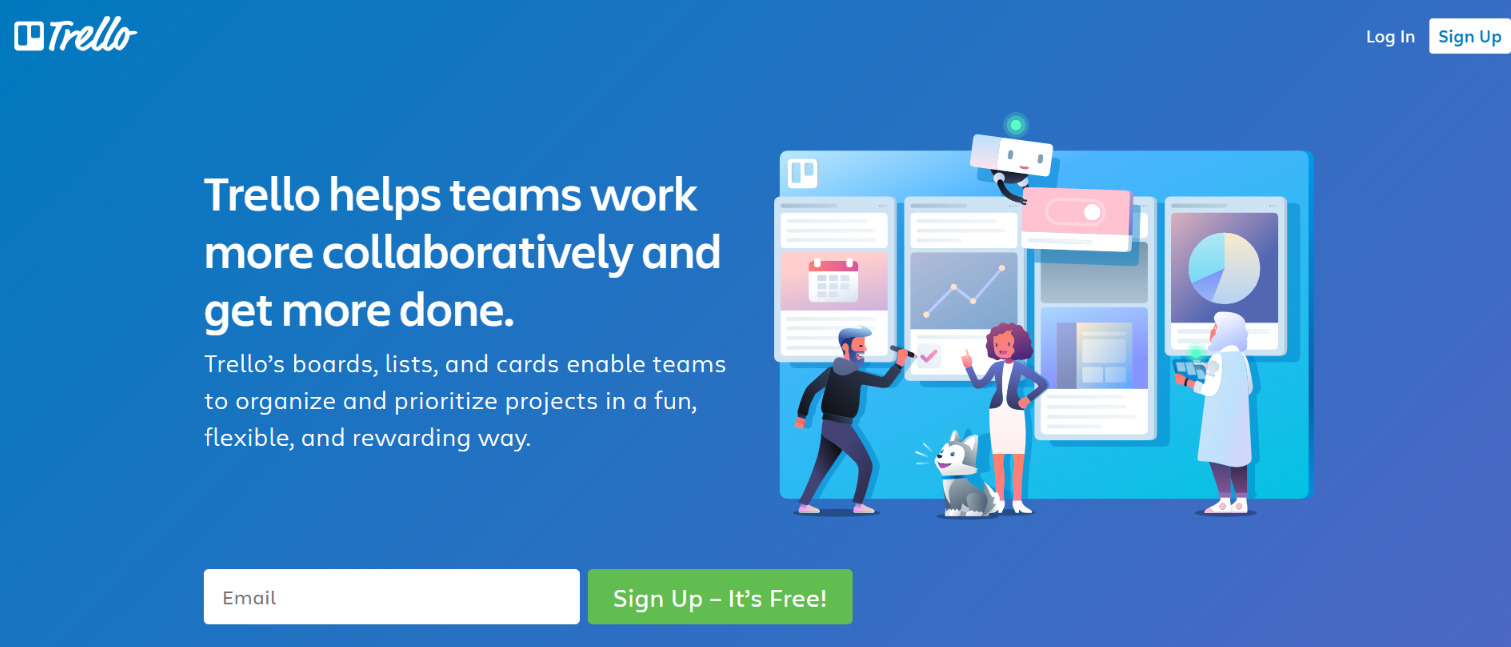 Trello is an interactive project management software that can be very helpful to organize all your onboarding tasks. Trello neatly organizes all your to-dos into visual boards and provides an eagle-eye view of progress.
Once you create a board, you can add different checklist items, tasks, add a due date, add files and descriptions, make labels, and more and then assign them to new hires.
With kanban style boards, users can drag and drop tasks once completed. Since the tool is very user-friendly, it's perfect for new hires. The platform has iOS and Android apps so you can keep track of progress even when you are on the go.
Some standout features of Trello
Create visually appealing boards
Easy to use
Built-in automation and triggers.
Pricing: 
Free with limited functionality
Paid plans start from Business class ($9.99 per user/month), Plus Enterprise ($17.50 per user/month for 100 users).
Conclusion:
Did you know that the average annual spend on onboarding is $99,191? Moreover, the average employer spends over $4,000 and 24 days on a new hire! With so much money and resources at stake, employee onboarding cannot be taken lightly. The above-mentioned employee onboarding software is surely going to help you out in the hiring as well as onboarding process, making the whole process easier and a lot faster.
Did we miss out on your favorite employee onboarding software? Do let us know by tweeting us @bit_docs.
Further reads: 
Employee Documentation: What is it and Types?
Onboarding Checklist: What is it & How to Create it?
Leave of Absence Letter: How to Write it?
10 Best Online Subscription Billing Software Platforms!
Employee Training Software for More Efficient Employees!
Best Time Tracking Software and Tools in 2022
Top 5 Business Process Management (BPM) Tools
Top 9 Customer Onboarding Software Platforms For Businesses
6 Best Talent Management Systems & Software in 2022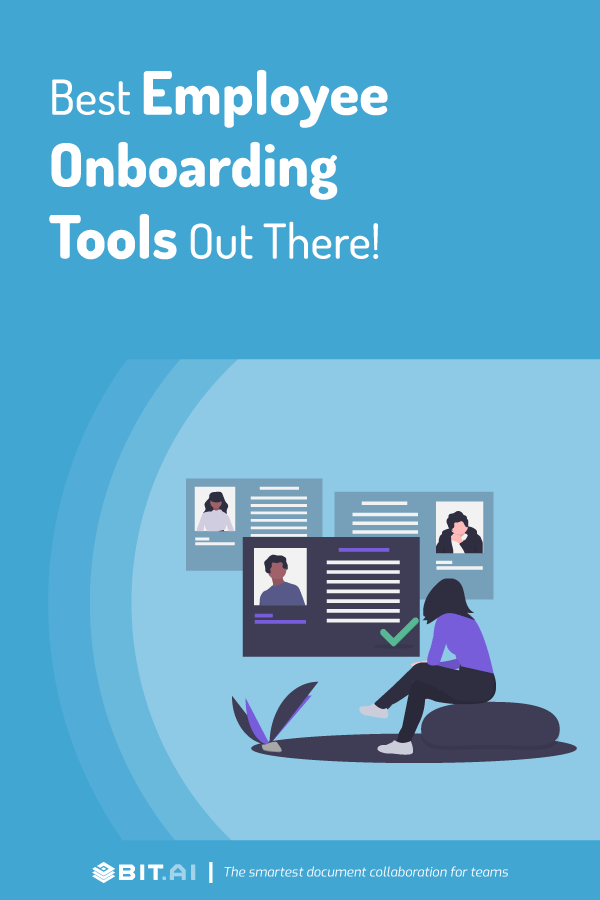 Related posts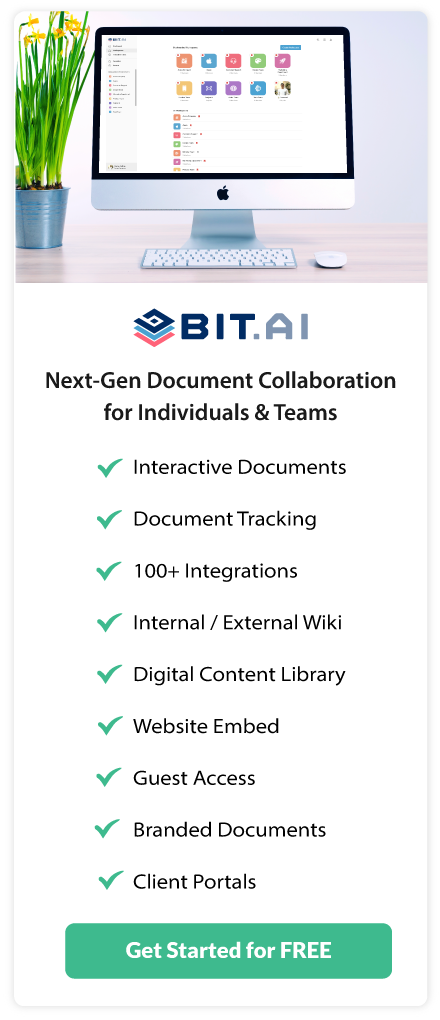 About Bit.ai
Bit.ai is the essential next-gen workplace and document collaboration platform. that helps teams share knowledge by connecting any type of digital content. With this intuitive, cloud-based solution, anyone can work visually and collaborate in real-time while creating internal notes, team projects, knowledge bases, client-facing content, and more.
The smartest online Google Docs and Word alternative, Bit.ai is used in over 100 countries by professionals everywhere, from IT teams creating internal documentation and knowledge bases, to sales and marketing teams sharing client materials and client portals.
👉👉Click Here to Check out Bit.ai.