Today, we are living in a digital, borderless, and virtually linked world. We can talk to friends across the globe, and track news in seconds as it breaks. However, this hyper-connectivity has come at a high expense. Our engagement with the digital world makes it difficult for us to concentrate and be focused on our lives.
Slacks, text, and email alerts constantly break our focus. Many of us suffer from 'inbox anxiety', where we can't help but keep checking inboxes every 30 minutes. We drop whatever we are doing now, to check a social alert, or respond to an urgent email.
This digital dissonance makes it difficult to do productive work that requires a prolonged and unbroken concentration. Thankfully, among all the futile websites and apps that distract us, a few apps are built solely to overcome the disruption.
Let's begin with seeing what focus apps are and how using one can help you refocus on things that matter.
What are Focus Apps?
Focus apps are easy-to-use time and task management applications that help you manage tasks anywhere and anytime. Such apps help you to perform tasks efficiently and help you build better habits.
A distraction blocking app or a focus app should do the following:
Block a list of websites and/or apps as chosen by you
Enable you to set a schedule and/or a timer
Offer encouragement
While you can choose to ignore the distractions, why do such applications exist? Well, let's look at some factors why a focus app can make your life so much easier.
Why Should You Use a Focus App?
The first step in leading a new kind of life is to hold distractions at bay. A focus app helps you with that.
Here are some major reasons why you should use one…
Focus apps help you to accomplish your mission to become the most efficient version of yourself.
They actually help you to try to change and push you to be ahead of other people.
Help in developing good habits that ultimately lead to a productive work life
The habits that are formed will stick with you for a long time.
Isolate phone and computer-based distractions
You can create a block list of websites/applications tailored to your needs.
Keep track of your time spent on each task of the day.
Helps you focus and stay away from distractions
If technology is a villain, it can also play the hero by helping you concentrate. From focus apps that keep track of the time to block apps and to-do lists, there are many tools to keep your attention where it needs to be.
List of the Best Focus Apps Out There
Compatibility: Windows, macOS, iOS, Android, Chrome
Freedom has a unique feature of suppressing distractions on all of your devices simultaneously. No more blocking Instagram on your computer only to open it on your phone later. Your distractions are blocked everywhere once you initiate a session.
Features:
Configure as many blocklists as you want, then initiate a session or schedule it.
There is a lockout mode that makes it difficult to change your blocklists when a session is running.
Optional concentrate sounds, which are actually ambient background noises from coffee shops or nature
Pricing: The premium plan starts at $6.99/month.

Read more: Focus at Work with the Help of These 11 Effective Ways!
Compatibility: Chrome, Firefox, Edge, Opera
LeechBlock offers you a bunch of options to block distractions.
Features:
You can make lists of what to block and limit them in all sorts of ways.
You can choose times for banning applications outright.
You can limit your time usage of disruptive apps.
If you like, you can be more precise, like mix time constraints with a timetable.
You can lockdown on the settings during block sessions if you want.
Pricing: Free
Compatibility: Windows, macOS
The Cold Turkey Blocker is a customizable application. Download this site-blocking software, and you can create lists of websites and desktop applications to block, and then set a blocking plan.
During any workday, you can block social media applications. When the workday ends, you can even block work applications like Slack.
Features:
Manually turn the block on and off.
A feature called Frozen Turkey, which prohibits you from fully accessing your computer
You can block the Time & Language settings by adjusting your screen time, keeping you from working around a scheduled block.
You can prohibit yourself from accessing the Chromium Task Manager that you might potentially use to block the extension.
Impossible to uninstall before your scheduled blocking is complete.
Specially designed for self-sabotaging people.
Pricing: $39 Pro plan with unlimited features.
Compatibility: macOS, coming soon on windows
Serene is not only a distraction blocker: it's a system designed around intense concentration cycles. Users can pick a list of websites and software that they find annoying, then block them when it's time to buckle down and do some work.
Features:
The software is designed around your day's preparation.
You can list the number of tasks you plan to focus on and how long they will take.
You can play optional concentration music in the background.
You will be reminded every time you want to access an application that you blocked that it's time to concentrate.
You can not only block distractions, but you can also remind yourself of your to-do-list for the day.
Pricing: Serene's plans start from $4/month. It also offers a free trial, which is limited to 10 free deep work hours.
Read more: 11 Powerful Time Management Strategies to Save Time!
Compatibility: Windows, macOS, Android
RescueTime is a robust time monitoring application. It also has a distraction blocking feature called FocusTime, which enables you to use your time monitoring history to prevent distractions.
This works by leveraging details that RescueTime already has, which helps you classify applications and websites as productive, disruptive, or very disruptive.
Features:
You may opt to block disruptive programs in FocusTime or even something that you have not explicitly tagged as productive.
It's a perfect way to block distractions, particularly if you're still searching for a time tracking app, without having to construct a separate block list.
Using RescueTime's Zapier integrations, you can automatically block distractions that allow you to do stuff like scheduling a regular FocusTime session.
Pricing: Distraction blocking pricing starts from $12/month. The free version of RescueTime does not come with the distraction blocking feature.
Read more: 9 Daily Planners You Can Use to Improve Your Productivity!
Compatibility: Android, iOS, Chrome
Your phone is a time machine, but not in a helpful way. It's way too easy to pick it up and then realize that a few hours are gone. Forest is an endearing app built to assist you with that.
The principle is straightforward: you open the app and say you want a tree to be planted.
You set down the phone then. Your tree will die if you pick up your phone and switch to another application. You will grow a whole forest of trees over time, a reminder of all the time you purposely spend doing productive things instead of scrolling through Twitter.
Features:
For the app's premium version, with a collaboration with Trees For the Future, your focus time might help support real trees.
Forest also provides an extension of Chrome, so you can also grow trees on your screen.
Offers the option to load distracting sites if you want to
Pricing: It is free on Chrome and Android. Forest's plans start from $1.99 for iPhone.
The Android Pro version comes for $1.99, one-time, and offers syncing across devices and more tree varieties.
Compatibility: Mac
SelfControl offers a blocklist, a dial to set how long your block time should be, and a start button. It's that easy. Except for one thing: it isn't easy to reverse.
Features:
It is a strict app. Shutting the app will do nothing as all your distractions are still blocked. Deleting the app also doesn't do anything, and restarting your device won't help either.
If you set the timer, the only way to disable blocking is to reinstall macOS completely (uninstall all your software, settings, and documents).
It is a nuclear choice to block distractions. None of the other applications on this list come close to this permanence stage.
Pricing: Free
Compatibility: iOS, Android, and windows
Noisli is worth a try, whether you're normally a background-noise person or not. Building the perfect working atmosphere for you helps you mix and match various sounds (like thunderstorms, wind, fire, or fan noise).
Features:
It also offers ready-made audio mixes you can enjoy without hassle, like one for productivity if you're not feeling creative.
It can be used on your laptop or your smartphone.
You get three selected playlists, 16 sounds to blend with, and the option to store up to five favorite mixes for free.
You get one and a half-hour of streaming a day.
For more sounds, playlists, an advanced countdown, and unrestricted downloading, you can even switch to Premium.
Pricing: Free and the premium version costs $10 a month.
Read more: 10 Effective Ways to Create a Happy & Collaborative Work Culture!
Compatibility: iOS
You must have definitely come across the Pomodoro strategy if you have slipped into the rabbit hole with productivity tips and hacks. The Pomodoro strategy is about blocking your time into 25 minutes of work with quick breaks in between. If you haven't given it a shot yet, I recommend you do so now.
Focus Keeper is a timer that utilizes the technique of Pomodoro. Its interface is quick and customizable; it also monitors productivity to monitor long-term goals and priorities.
Pricing: Free, and the pro version starts from $2.
Compatibility: iOS, Android, Chrome, Firefox, Opera, Safari
If you're searching for a longer-term solution, regularly meditating will make you feel at ease and be more in the moment. It will make distractions easy to avoid.
Headspace is a popular meditation app that teaches you how to relax and meditate through guided meditation lessons. Using it before bed or first thing in the morning will help you set your problems aside and concentrate on what you need to get done.
Ten basic sessions are included in the app's free edition, but you'll need to pay a membership for the full experience.
Pricing: First 2 weeks free, then the subscription plan starts from $69.99/year.
Compatibility: iOS, Chrome, Windows
Flora is a quick-to-use concentration timer app that is easy on the eyes and also easy-to-use. When you build a Pomodoro, it lets you grow virtual trees. If you begin a session, a plant begins to develop. Your plant dies if you leave Flora to visit another app like Instagram.
Features:
The shame for potentially killing a virtual tree inspires you to remain on track.
Flora also encourages a group of individuals to grow trees together. If anyone leaves the app, everyone's tree will be destroyed.
The app is Facebook-integrated, so you can conveniently invite friends to join your virtual focus room.
Flora motivates you not to pick up the phone.
The opportunity to put a "bet" that one would not use any other app on the phone during a focus session is one aspect that really helps. If you lose, Flora will use your financial stake in Africa or East Asia to plant a real tree.
A Teal color scheme and basic garden-themed graphics make the interface appealing.
Pricing: Free
Conclusion
If you're looking for some external help to be strict on yourself about your time management, then focus apps can help you concentrate better and achieve productive results. Some apps will time you for those stretches of time while you work, recognizing that you have a break coming up. Others will block applications and websites that are distracting. And some of them gamify the experience and allow you to remain productive.
However, the ultimate cure is to lay the phone down more often. You can develop this habit with some of the latest focus apps that we saw in this guide and battle your distractions. Choose whichever app works the best for you and let us know about your experience in the comments/by tweeting to us!
Happy focusing!
Further reads:
11 Productivity Tools That Will Help You Achieve More in Less Time
Best Diary and Journal Apps for 2022
The Best Productivity Hacks You Can Find
Best Note-Taking Apps for Better Productivity
Productivity Plan: What is it & How to Create a Perfect One?
What Is Change Management And How To Cope With It?
Action Plan: What is it & How to Write it? (Steps and Format)
Best Free Online To-Do List Apps to Help Improve Your Productivity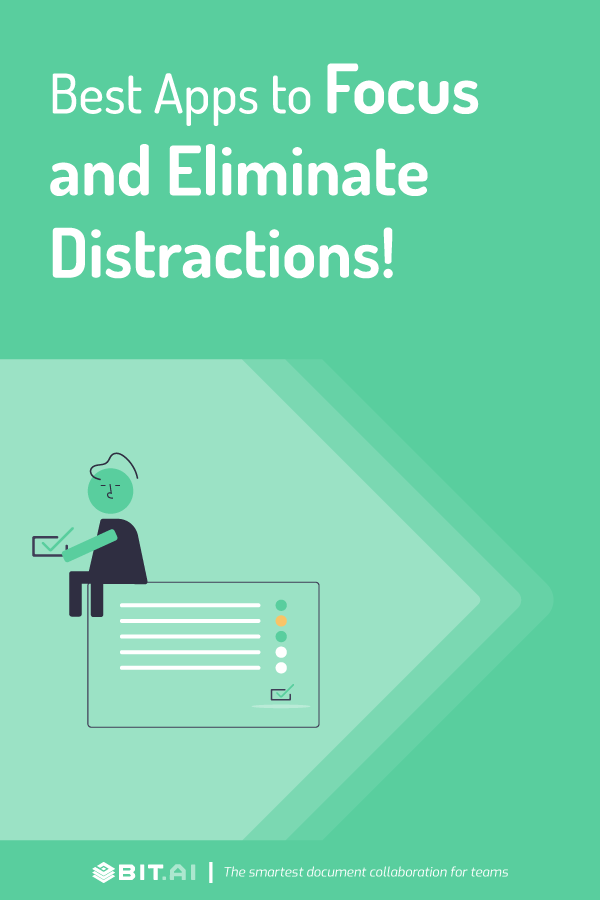 Related posts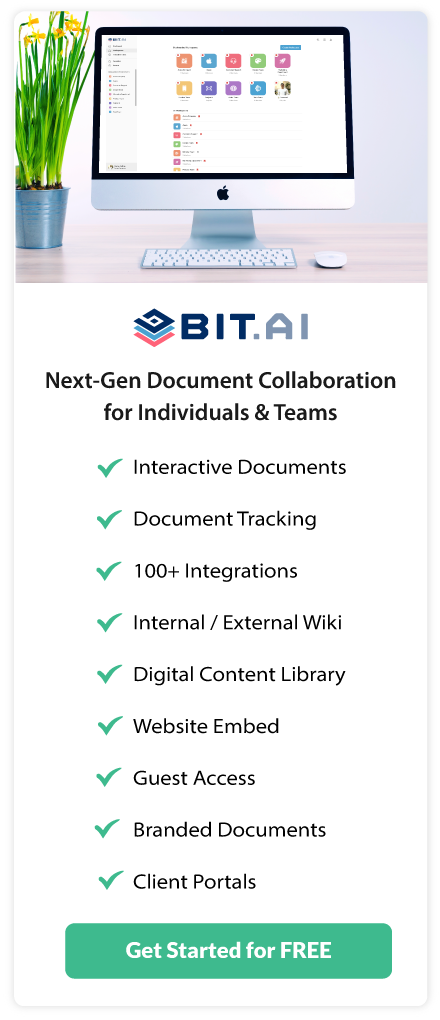 About Bit.ai
Bit.ai is the essential next-gen workplace and document collaboration platform. that helps teams share knowledge by connecting any type of digital content. With this intuitive, cloud-based solution, anyone can work visually and collaborate in real-time while creating internal notes, team projects, knowledge bases, client-facing content, and more.
The smartest online Google Docs and Word alternative, Bit.ai is used in over 100 countries by professionals everywhere, from IT teams creating internal documentation and knowledge bases, to sales and marketing teams sharing client materials and client portals.
👉👉Click Here to Check out Bit.ai.