Balancing your personal life and work-life can be a little difficult.
On one hand, you have to be productive at work, reply to emails, attend work meetings, and make presentations, and on the other, you have to juggle your personal commitments, like taking your dog out for a walk, grocery shopping, and meeting a friend.
Chances are, with so much on your plate, you are bound to forget something, like a work deadline or dentist's appointment. That's where a daily planner comes into play.
Daily planners help you to prioritize work according to your needs and goals, track your progress and execute the plan properly. They simply make your lives easier.
Daily planning can involve writing down the daily schedule, a to-do list, budget, issues of concern, habit trackers, affirmations, and so on. The outcome, however, is always soothing and productive.
If you're not using a daily planner, then it's high time that you did.
And if don't know about any daily planners, then we've got you covered! In this blog, we have compiled for you a list of some of the best daily planners available in the market. Use them to plan out your day and be the organized person that you always wanted to be!
What is a Daily Planner?
Traditionally, a daily planner is a book or a chart where you wrote down all your tasks and appointments. But in the digital era, it is an application that comes with various features, like automation, cloud capabilities, collaboration, and more.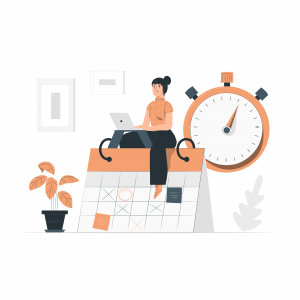 A daily planner app is a tool that helps you organize and prioritize your daily, weekly, and monthly tasks, create to-do lists, set reminders and due dates to help you stay focused and manage your life.
It keeps you organized, helps you complete your tasks on time, and tracks your progress, ultimately making you more productive. It's highly effective when it comes to time and stress management!
With a daily planner, you don't need to worry about forgetting anything important ever.
Now that we are a little aware of what daily planners are, let us try and understand why we should use a daily planner.

Why You Should Use a Daily Planner?
If you're someone with a hectic life and you want to be more efficient and organized, then a daily planner is absolutely necessary. Why? Take a look:
1. Excellent for Time Management
Planning is the key to effectively tackling every task that comes across our busy lives. And there's nothing that screams planning more than a daily planner.
Using a daily planner will help you to schedule important events, tasks, appointments, errands, and even some much-needed self-care time as well. This will help you organize and prioritize your daily life and ensure that you are efficiently managing your time.
2. Maintains Records
With a daily planner in hand, you never have to worry about skipping or missing appointments and tasks simply because you forgot. It keeps track of all your activities and maintains a record of all your previous, present, and upcoming tasks and events.
This takes away the pressure on you to remember appointment dates and upcoming deadlines as the daily planner notes it down for you. It's also a great way to plan and prepare for your future tasks and appointments.
3. Improves Productivity
Maintaining a balance between your personal and professional life can be a tough job and daily planners can help in making your life a little easier.
They help you put all your tasks and activities into an organized system that keeps track of what to accomplish and when to accomplish it. This will help you plan and divide your work efficiently, thereby effectively accomplishing your goals and boosting your productivity.
4. Provides Stress Relief
Everyone likes to have some control over their lives and their daily schedule. Planning your entire day in advance can give you this sense of control. This is why having a daily planner is one of the best things you could do for your anxious mind.
Moreover, daily planners also help you to stay motivated when they're used regularly. You can build a habit by marking and continuously tracking it in your planner or writing daily gratitude and affirmations, motivational quotes, expressing your emotions, and so on.
All of it together can work as an amazing stress buster and keep you inspired.
Hopefully, we have given you enough reasons to start using your own daily planner. Check out some of these cool daily planner apps!
Read more: 11 Best Focus Apps to Eliminate Distractions!
List of Daily Planner Apps You Must Have!
Let's start off this list with Google Calendar, a daily planner powered by Google. It is a great app to help you get a daily, weekly, and monthly overview of your meetings, tasks, work, and more.
Google Calendar is specially designed for teams to collaborate efficiently. Its 'share' feature allows multiple people to have simultaneous access to your calendar. The best part is that shared links are automatically synced with your teams' Google Calendars, which allows you to send them notifications when events are taking place.
With Google Calendar, you can create multiple calendars and to-do lists with deadlines, add events, and set reminders for pending tasks and upcoming meetings. It even sends you an agenda email first thing in the morning to kick start your day.
Pricing:
Free version available
Business version costs $5 /month
Enterprise for your customized business needs
Todoist is a leading daily planner app with a clean and simple interface that can be managed across multiple devices and platforms. It provides a clear overview of all your different tasks and helps you manage and prioritize them according to dates.
Todoist allows you to add emails, calendars, and other files in one place. It also lets you micromanage your daily work by color-coding your tasks and creating groups and sub-groups.
A cool feature of Todoist is that has a Quick Add option that allows you to set reminders and create tasks with just your voice! It is also smart enough to suggest recurring and repeating tasks. What's more? It provides you with real-time alerts and updates.
Pricing:
Free for starters
Pro for power users at $3/month
Business for teams at $5 paid annually and $6 paid monthly
3. ZenDay
ZenDay is a daily planner that is designed to help you stay organized, maintain your work balance, and keep procrastination at bay.
You can create a new event or add tasks and ZenDay will sync it with all your calendars so that you can easily manage it from your mobile device. It prioritizes tasks with color-coding and even helps you reorganize your to-do lists each time you complete a task.
A unique feature of Zen Day is that it displays its reminder with your calendar events on a fluid 3D timeline and provides an overview of your pending tasks and future tasks.
ZenDay also has a debriefing feature that lets you evaluate and review your past activities, and help you track how you've improved over time.
Pricing:
ZenDay is a free day planner app.
There are in-app product purchases ranging from $2.90 – $19.00 per upgrade.
This daily planner app helps you organize your schedule effectively and save some time for self-care. It allows you to organize your tasks, lists, and reminders in a single place.
With Any.do, you can add smart reminders and it will automatically sort your tasks in chronological order. It even connects with your calendar to give you a complete overview of your schedule.
A unique feature of Any.do is its geolocation tagging that sends you reminders when you are in close proximity to a specific location.
Another great feature of this Any.do is that it is available on smartwatches as well. It offers a playful and interactive way to plan each day ahead.
Pricing:
Free version available
Premium account costs at $2.99/user
Business account costs $2.99/user/month
If you are a fan of Microsoft, then you are going to love Microsoft Planner. It's a lightweight app that fully integrates with Office 365. It is perfect for both personal and professional planning and can be used on both mobile devices and desktop computers.
This daily planner app allows you to create plans, add tasks, assign team members, and track individual and team progress for every plan. It also lets you filter your tasks by the deadline, view all your tasks on a calendar, and set mailbox rules that automatically sort your emails.
With Planner, you can share your inbox, calendar, document library, OneNote notebook with your team members and organize group tasks into special buckets and even color-code them. It also allows you to compare your personal calendar with another user's calendar side by side.
Pricing:
Microsoft 365 Business Basic costs $5/person/month
Microsoft 365 Business Standard costs $12.50/person/month
Microsoft 365 Business Premium costs $20/person/month
Microsoft 365 Apps costs $8.25/person /month.
Notion allows you to organize your tasks, schedule meetings, create notes, project plans, presentations, etc. It can also be used to collaborate with different team members on one app.
This daily planner app is known for its flexibility. It can be used as a writing repository, task management software, workout calendar, database, and more. The data in all the tabs are customizable according to your needs.
It also gives the option to update a special detailed database of current and new team members of an organization. What's more? This planner offers an unlimited pages and blocks feature containing an infinite number of pages option.
Pricing:
Free for personal use
Personal pro plan costs $4/month
Team plan costs $8 /month
Read more: 12 Best Journal and Diary Apps for Making Notes!
Up next is Trello, a great cloud-based daily planner app that uses a simple and basic Kanban board to visualize and organize your workflow.
Trello allows you to assign, organize and prioritize your tasks, set deadlines and due dates, create checklists, and track your processes. Its built-in automation makes it easy to automate repetitive, daily tasks.
With Trello, you can communicate with your teams, add description boxes, deadlines, attachments, comments, and talk to members via instant messaging.
Trello lets you view your task deadline through its calendar view and receive alerts and notifications for your task activities. What's more? The Trello board has streaks power-up, which can help you build good habits by tracking the streak.
Pricing:
Free version available
Standard plan costs $5/month
Premium plan costs $10/month
Enterprise plan costs $17.50/month
If you're looking for a fun daily planner for your personal life, then Habitica is an excellent option. It is a habit and productivity app that comes with interesting gaming features.
Habitica's creative and super fun interface encourages you to complete your tasks on time. It also helps you to customize tasks that are performed weekly, monthly, or yearly, like bills, birthdays, etc.
A distinct feature of Habitica is that it gamifies your tasks and to-do lists. It lets you create fun avatars and give you in-game rewards for task completion. When you earn these rewards, it lets you buy cool avatar upgrades as well.
Habitica lets you can build your own community, and just as its name suggests, it can be very useful in terms of building a long-term habit.
Pricing:
$4.99 per month
$14.99 for every three months
$29.99 for every six months
$47.99 for every year

Habitica has a free version as well.
TickTick is a task manager and daily planner app that will help you stay organized and perform all of your personal and professional tasks.
TickTick lets you create notes, schedule your to-do lists, and manage all your emails, files, projects, and deadlines from a single location. It has built-in reminders that let you set multiple reminders and timers (even something called an 'annoying reminder') so that you never miss your deadlines.
With TickTick, you can also collaborate with your team, share your lists, turn your emails into tasks, and assign them to your team members. It is available on multiple platforms, such as Windows, iOS, Android, etc.
Pricing
Free plan available.
Premium plan costs $2.79/month.
Conclusion
If you want to keep your work life or personal life organized, a daily planner is a must-have! They have a way of keeping your mind focused, managing your time, putting your tasks in order, and improving your productivity.
And that's basically everything you need to achieve your personal and professional goals.
That's why we have given you a plethora of daily planner apps to choose from! Now all you have to do is to download the one that fits your needs and budget.
Go out there and be the organized person that everyone wishes to be! All the best!
Further reads:
11 Task Manager Apps You Must Know About!
11 Amazing Goal Tracking Apps and Tools! (Free & Paid)
11 Powerful Time Management Strategies to Save Time!
Focus at Work with the Help of These 11 Effective Ways!
11 Best Desk Organization Ideas of 2022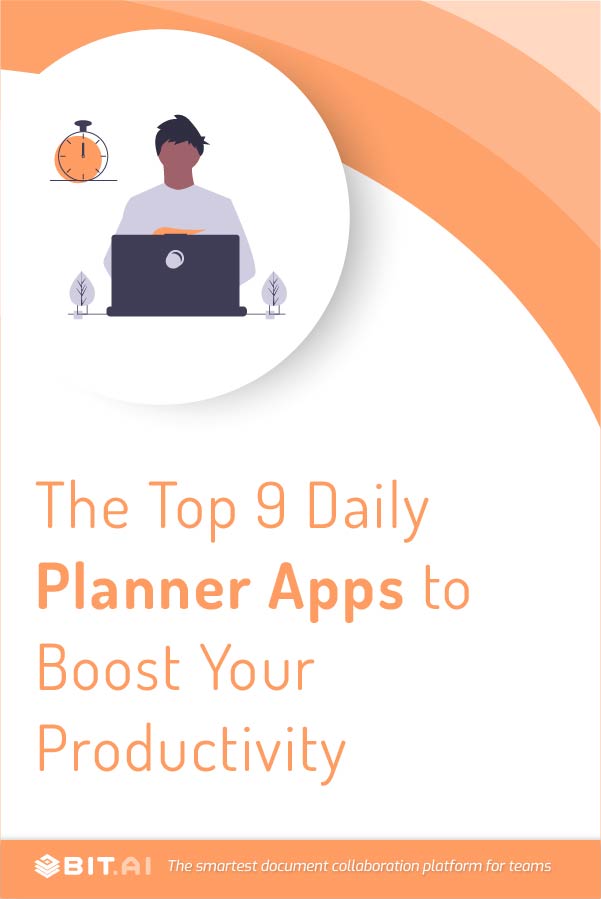 Related posts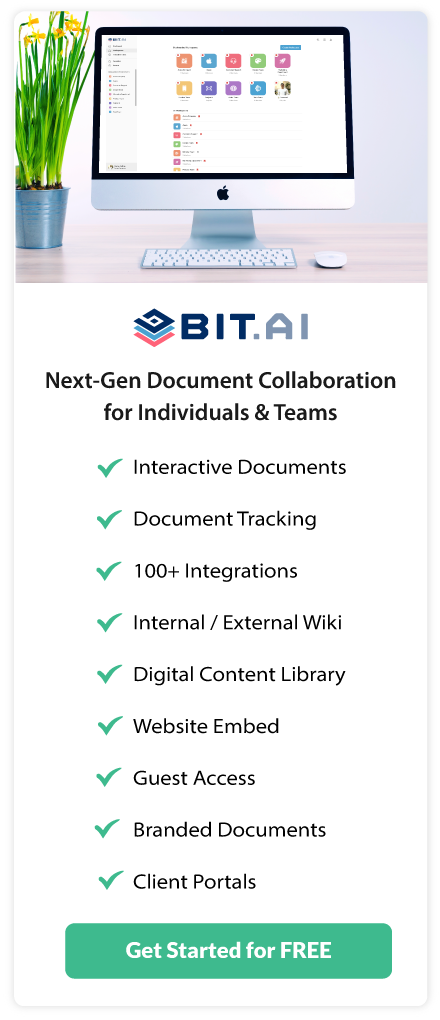 About Bit.ai
Bit.ai is the essential next-gen workplace and document collaboration platform. that helps teams share knowledge by connecting any type of digital content. With this intuitive, cloud-based solution, anyone can work visually and collaborate in real-time while creating internal notes, team projects, knowledge bases, client-facing content, and more.
The smartest online Google Docs and Word alternative, Bit.ai is used in over 100 countries by professionals everywhere, from IT teams creating internal documentation and knowledge bases, to sales and marketing teams sharing client materials and client portals.
👉👉Click Here to Check out Bit.ai.