Little did we know that when Henry Gantt created diagrams called Gantt charts in 1910, they would become a major part of almost every industry and department.
It's true that these Gantt charts were initially hand-drawn and mostly used for infrastructural projects like the construction of dams and highways, but now they have gone digital and are even used in project management.
Gantt charts are now so popular that it is difficult to even imagine a project without them. So if you're looking for some amazing Gantt chart software for simplifying your complex projects, then you have come to the right place!
In this blog, we will discuss what Gantt charts are, why they are important, and then provide you with a list of Gantt chart software that you can use to plan, schedule, and manage all your projects.
So what are you waiting for? Dive right in!
What is a Gantt Chart Software? (Definition)
Simply put, a Gantt chart is a graphical or visual representation of the progress of your business projects.
It looks like a horizontally stacked bar chart that provides a pictorial view of your project on a timeline to track and monitor the progress and status updates of your project tasks.
Gantt charts are also known to provide a clear picture of your entire project schedule, time duration and estimates, task priorities, and assigned team members.
Now that we know what exactly a Gantt chart software is, let's try to understand why it is necessary to have them in your business.
Why do You Need a Gantt Chart Software?
We already discussed that Gantt chart software provides a visualized representation of the progress of your projects. But, there is more to it than that.
Here are some of the benefits that Gantt Chart Software provides:
They list tasks, organize all your activities, and then assign members for each of them.
Breaks down tasks and activities into detail so that there is efficient resource and time management.
Provides real-time updates and ensures that there is proper team communication.
Helps makes timeline and workload estimations
Help anticipate, identify and report problems
Highlights clear project requirements
… and lots more!

In short, a Gantt chart is everything your business needs to visualize, organize, communicate, and track all tasks and activities related to your business projects. It can only make your life business easy.
That's why you need a Gantt chart for your projects. And for that, we have made a list of Gantt charts for you to choose from!
Read on…
List of Gantt Chart Software You Must Explore!

To kick off our list, we have Instagantt, an online Gantt chart software that focuses on helping teams create, collaborate on and manage projects effectively and efficiently.
This is an easy-to-use software that comes with drag-and-drop functionality, milestone tracking, workload management, and even detailed progress tracking.
It also allows you to assign tasks, send notifications, leave comments and attach any file or information that needs to be shared.
Furthermore, you can export your charts as Google Sheets, Excel Spreadsheets, and even as images.
Key Features:
Provides collaborative features
Offers detailed tracking of progress
Comes with a drag-and-drop interface
Pricing:
Free version available
Paid plan starts at $5 per user/month
Single subscription at $7 per user/month
Read more: 11 Kanban Tools and Software to Explore!

TeamGantt is a cloud-based Gantt chart software that offers project planning, task-managing, time-tracking, and collaborative features.
It is highly intuitive and allows you to create and assign tasks using its drag-and-drop feature. This software also lets you filter your tasks based on due dates and track each team member's work and activity.
With TeamGantt, you can attach documents on any task you create and convert your Gantt charts into PDFs. What's more? It also offers calendars, to-do lists, and even tutorial content to make onboarding easy.
TeamGantt Features:
Highly intuitive software
Filters tasks based on due dates
Helps attach documents to tasks
Pricing:
Free trial and free version are available
Paid plan starts at $7.90/user/month
Premium plan at $29.95/user/month

If you're not very familiar with using charts and just want few Gantt chart samples, then we highly recommend this open-source, cloud-based Gantt chart software called GanttProject.
It provides basic management features and simple tools for laying down dependencies and timelines. It helps you create Gantt diagrams, after which you can set duration, priorities, weblinks, etc.
In addition to offering Gantt charts, calendars, and other necessary features, GanttProject also allows you to import and export your charts into CSV, PDF, or PNG formats.
Key Features
Open-source software
Imports and exports to different file formats
It runs on Windows, Linux, and OS X.
Pricing:
Free version and free trial available
Starts at $5 as a one-time payment.

Next on the list, we have Tom's Planner, another Gantt Chart software that provides Gantt diagrams, Kanban boards, resource management features, and project planning features.
Tom's Planner offers around 500,000+ free templates along with a create-your-own Gantt chart template. It allows custom color coding and easy filtering to arrange your timelines and even comes with a drag and drops functionality.
It has an easy-to-use interface with a client portal and collaboration functionalities that lets you work with your teams and clients.
Key Features
Offers around 500,000+ templates
Provides collaboration features
Imports Gantt charts from MS Project, Excel, Trello, and Basecamp
Pricing:
Free version and free trial available
Starts at $9.95 per user/monthly
Unlimited plan – $19.95 per user/monthly

Microsoft Project is a Gantt chart software that comes with a whole set of extra features and is great for quick projects as well as complex ones.
It provides a Gantt chart that is shown in split screens right next to your task lists and due dates so that you have all your timeline details in a single view.
With Microsoft Project, you can plan, define, and assign each task to your employees and get customizable templates and roadmaps for your project planning.
It also provides project budgeting features for estimating costs and resource allocation and supports an interactive dashboard and reporting functionality.
Key Features
Provides Gantt charts with split screens
Offer advanced project scheduling features
Supports interactive dashboards
Pricing:
No free version
Free trial available
Starts at $10 per user/monthly

Up next we have Toggl Plan, a web-based project application that also offers Gantt chart software and Kanban boards. It's pretty straightforward and simple to use this software.
What makes it stand out is that they have a public link for their online Gantt charts which you can share with anyone, even the ones who don't have a Toggl account.
In addition to that, Toggl Plan offers stunning visual project planning tools, project management features, and project timeline features.
Key Features
Comes with Kanban boards
Allows sharing to people without Toggl account
Offers visually stunning project planning tools
Pricing
The Team plan starts at $9 per user per month
The Business plan starts at $15 per user per month
If you have a small business, then we recommend that you check out GanttPRO, an inexpensive and easy-to-use project management tool that comes with a well-designed Gantt chart software.
Gantt allows you to create workspaces and projects so that you can collaborate with your teammates. You can use its drag and drop feature to add tasks and due dates to your projects and share your Gantt charts with clients and coworkers during presentations and business plans.
This Gantt chart software also offers dozens of ready-made templates, resource management and resource workload features, an auto-scheduling feature, and even allows importing and exporting projects from MS Project or Excel.
Key Features
Offers drag and drop functionality
Provides an auto-scheduling feature
Very inexpensive software
Pricing:
Free trial available
Team – $6.50 per user/monthly
Individual – $15 per user/ monthly
Read more: 9 Powerful Mind Mapping Software & Tools You Need to Check Out!

Office Timeline is an online Gantt chart software that comes as a PowerPoint add-in. Its 'Wizard' provides you with a step-by-step guide to create and visualize your project timeline and Gantt charts for your presentation slides.
This software comes with real-time collaboration features that let you and your coworkers view and edit your chart within PowerPoint itself. It also offers you intuitive design tools, customizable pre-built templates, and a robust automation feature.
Since Office Timeline is a web-based software, you can create your charts in Google Docs. You can also easily import project data from MS Excel, MS Project, Wrike, and Smartsheet.
Key Features
Has a smart layout engine
Provides real-time collaboration features
Offers intuitive design tools and templates
Pricing
Office Timeline is free to download
The Premium Plus version is priced at $59 for a 1-year license

Next on the list, we have Agantty a simple and free project management software that is based around Gantt charts.
With this software, you can create an unlimited number of tasks and projects, which are later automatically added to your Gantt chart. It also provides you with to-do lists on its dashboard which helps you organize your tasks and projects.
With Agantty, you can set task reminders via email for you and your team members and export your charts as PDFs. It also gives you step-by-step instructions for its various functions and also adheres to privacy and security standards by using SSL encryption on your information.
Key Features
Provides to-do lists for tracking tasks
Allows you to set task reminders
Has SSL encryption
Pricing

Wrike is a popular Gantt chart software known for its organizational design. It helps simplify project planning, streamlines workflows, and gives full control over communication.
Thanks to Wrike's Workload View features, you will always have a 360° visibility to view the tasks ahead of you and you can keep track of your progress and performance. It even has a collaborative team editing feature.
Wrike has built-in proofing and approval system which makes it easy to review and approve work within the system. Furthermore, Wrike has enterprise-grade security!
Key Features:
Known for organizational design
Provides 360° visibility.
Has enterprise-grade security.
Pricing
Free with limited functionality.
Professional – $9.80 per user/month.
Business plan – $24.80 per user/month.

Let's up this list with ClickUp, one of the highest-rated project management tools that comes with an online Gantt chart software used by small and large companies alike.
This software allows you to plan, schedule, and manage tasks with time estimates and prioritize them into a project timeline. It also comes with collaboration features, project scheduling features, personalized project dashboards, resource management, portfolio management, customizable templates, forecasting features, and lots more!
Furthermore, ClickUp offers 24/7 support with a live representative and even provides multiple training options to help you and your team ease into the system.
Key Features
Supports team collaboration features
Provides time and expense tracking
Offers 24/7 live support
Pricing
Free plan available
Paid plan at $5 per month
Business plan at $9 per month
Conclusion
With Gantt charts, you will always have a comprehensive and clear view of the status of each and every single one of your projects. Not just that, your work becomes simpler, efficient, and effective.
That's why, in this blog, we compiled for you a list of some of the best Gantt Chart software that you can incorporate into your business.

We hope it has given enough information for you to consider your options and make a decision based on the needs of your business.
Pick your tool and visualize your work! Cheers!
Further reads: 
11 Proposal Software You Must Try Out!
Top 13 Video Hosting Sites You Need to Check Out!
13 Online Meeting Apps and Software for Remote Teams!
11 Budgeting Tools & Software to Keep Track of Business's Budgets!
13 Timesheet Software & Tools to Manage Time Perfectly!
Burn-Up Charts: What are they and How to Create One?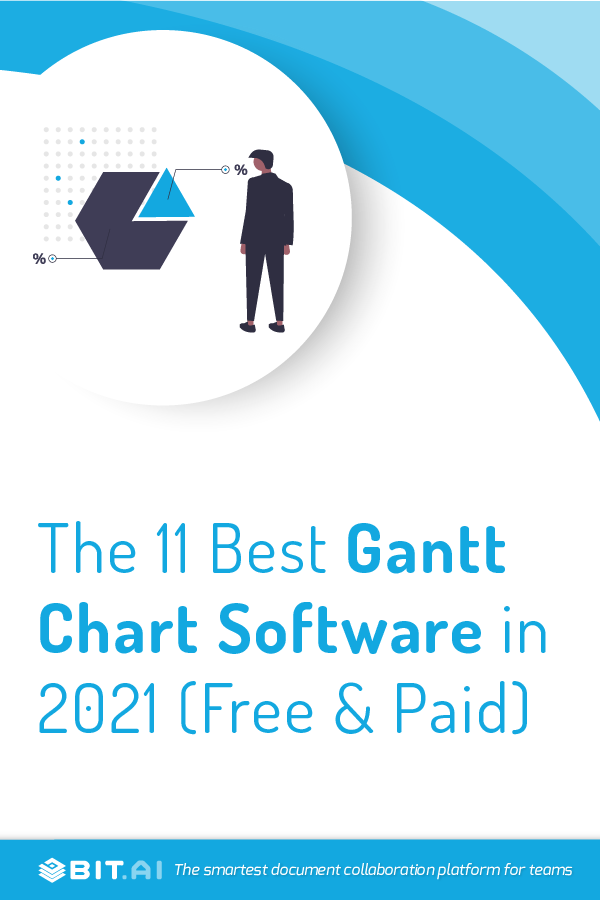 Related posts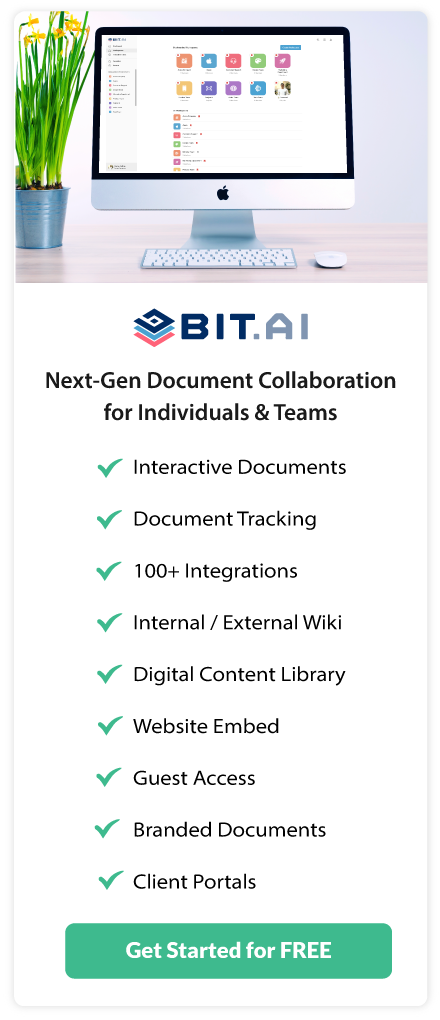 About Bit.ai
Bit.ai is the essential next-gen workplace and document collaboration platform. that helps teams share knowledge by connecting any type of digital content. With this intuitive, cloud-based solution, anyone can work visually and collaborate in real-time while creating internal notes, team projects, knowledge bases, client-facing content, and more.
The smartest online Google Docs and Word alternative, Bit.ai is used in over 100 countries by professionals everywhere, from IT teams creating internal documentation and knowledge bases, to sales and marketing teams sharing client materials and client portals.
👉👉Click Here to Check out Bit.ai.