If you're here then chances are you have spent hours and hours drafting, describing, and editing proposals. And you're probably exhausted because of it too.
After all, it's not easy presenting and convincing your prospects about your business and what it has to offer. But a proposal is often the only thing standing between you and your potential customers.
So it makes you wonder if there is a better and easier way to create, manage and share proposals. And we're here to tell you that there is!
Thanks to technology, we now have tools and software that help you build, send and share proposals in the quickest and easiest manner! They are called proposal software.
If you are clueless about proposal software, then worry not, we have got you covered!
In this blog, we will help you understand what proposal software is, why they are important, and also provide you with a list of proposal software that can help you out!
Ready to learn about proposal software? Then jump right in!
What is a Proposal Software?
A proposal software is a cloud-based application that allows you to write, edit, manage and send business proposals for your customers.
This cloud-based service streamlines and automates the process of proposal creation and communicates it to your clients.
It helps sales, marketing, and legal teams to document business proposals, contracts, quotes, welcome letters, and marketing collateral.
A proposal software also provides other features like generating documents in multiple formats, tracking proposal analytics, integrations with various apps, sharing documents through multiple channels, and many more.
Why is this software important? Let's find out!

Why Do You Need a Proposal Software?
Every customer you get is different and has different requirements. Hence, every proposal that you create for them needs to be different if you want to close your deal.
But even if each proposal needs to be unique and specific to each customer, there are some elements that remain the same. Because of this, you'll have to rewrite them each time you write a new proposal.
Not only is this a waste of time and effort, it can also lead to errors and inconsistencies that might not reach up to the customer's expectations.
With a proposal software, you can efficiently create and manage all your proposal under a single roof.
Not only does a proposal software offer pre-designed templates and saved elements to help you create proposals quickly and without effort, it also comes with collaboration features that allow you and the rest of your team to edit, comment, and share your proposal in real-time.
Proposal software streamlines your work and ensures that there are no delayed enclosures. Not to mention it also helps you keep track of your workflow and updates your entire team about the journey of the proposal they create.
In short, a good proposal software:
Helps you become more efficient and productive
Ensures that everyone involved is actively updated
Allows you to track metrics and analytics
Now that you know useful a proposal software can be for your business, let's go over some of the best ones available in the market!
List of 11 Proposal Software you must check out!

Let's kickstart our proposal software list with Bit.ai, a smart document collaboration platform. Bit offers a minimal and distraction-free editor that comes with over 70 professionally designed templates to help you create your proposals in just a few minutes.
The platform integrates with over 100+ web applications such as Google sheets, Microsoft OneDrive, Lucid Chart, etc. to help you create media-rich and interactive proposals. Moreover, Bit lets you create infinite workspaces and folders where you can neatly organize all your proposal documents.
The best part? Bit lets you collaborate and work together with your team in real-time. This means that you can co-edit and bring your team to the same place to make decisions related to your proposals.
Bit also has a 'guest access' feature so you can invite someone to read your proposal, without giving them access to any other document. Furthermore, it has a tracking feature that provides you with useful insights like who opened the proposal, how much time did they spend on it, etc.
Key Features
Over 70 professionally designed templates.
Supports real-time collaboration
Integrates with 100+ web applications
Pricing: 
Free with limited functionality.
Paid plans: Standard – $12/month and Plus – $20/month
Read more: 3 Project Proposal Examples You Must Check Out!

PandaDoc is a proposal software that helps you streamline the creation of your proposal and quotes in just a few minutes. It is suitable for individuals and enterprise-level sales teams.
You can create visually appealing proposals with PandaDoc's drag-and-drop editor and use this software to enable payments and workflows. It has an audit trail to monitor the progress of your proposal.
With PandaDoc, you can create multiple workspaces and collaborate with your clients in real-time. It also comes with features like automation, analytics, tracking, team management, live chat, and many more.
Furthermore, it integrates with various apps like Salesforce, Hubspot, Dropbox, Google Drive, Zapier, and so on.
Key Features
Offer drag-and-drop editor
Audit trail to monitor progress
Real-time collaboration features
Pricing
E-sign functionality is free
Paid plan starts at $9/user/month
Business plan at $49/month/user
Read more: 11 Task Manager Apps You Must Know About!

Better Proposals is a proposal software that comes with a simple proposal editor, 160+ professionally-looking templates, and a plug-and-play content library that lets you create and send visually appealing proposals in over 22 different languages.
Better Proposals lets you digitally sign documents online and allows you to pay via portals like PayPal, GoCardless, etc. It also lets you embed videos into your proposals using Vimeo, YouTube, or Wistia.
Some other features that Better Proposals offer includes online brochures, client sign off sheets, bolt-on features, live chat feature and many more. In addition, it also integrates with multiple CRM software such as Pipedrive, Hubspot, Salesforce, Zoho and more.
Key Features
Offers over 160+ templates
Allows e-signatures and payments
Supports over 22 different languages
Pricing
Starts at $19/user/month
Premium plan at $29.00/month/user
Enterprise plan at $49.00/month/user

Here we have Proposify, a proposal software that helps you quickly and easily create modern proposals, contracts, quotes, and agreements with e-signatures.
With Proposify, you can build a content library of pre-approved descriptions and sections and also add interactive fee tables for each of your proposal.
Proposify lets you automate workflows and track all changes, comments, and shares of your proposal. It also keeps you updated with its in-depth notification about proposal metrics.
You can control and manage who sees and edits your proposal and even provide permission for view-only through Proposify's dashboard itself. In addition to this, it lets you organize your teams for real-time collaboration.
Key Features
Offers a content library of pre-approved descriptions and sections
Sends in-depth proposal metric notifications
Manages functions through dashboard feature
Pricing
Free version available
Team plan at $49/user/month
Business plan at $590/month
If you're a freelancer looking for a cost-effective proposal software, then Prospero is a great option. It claims to be faster than most platforms and lets you create beautiful proposals quickly.
Prospero comes with a set of well-designed and customizable templates and a built-in content generation tool that provides you with ready-made content. It also has a simple and analytic tracking feature.
What makes Prospero unique is that it supports multiple languages and currencies and lets you turn your proposal into an invoice with just a click of a button. Furthermore, it integrates with other services like Zapier, Intercom, Stripe, and more.
Key Features
3x faster than other proposal software
Supports multiple languages and currencies
Offers customizable templates
Pricing
Prospero pricing starts at $5.00/user/month.

Next on the list, we have Nusii, a flexible and easy-to-use proposal software built for creative teams to customize and make proposals, save content and send them out quickly.
Nusii has many proposal templates and lets you reuse them to send out multiple bids on a daily or weekly basis. These templates have story-like content, which is a great way to tell your story to your clients.
With Nusii, you can track your analytics and get notifications about who opens your proposals, when they are opened, who accepts them, and more. Furthermore, Nusii also lets you create reports and documents and collaborate with your team members.
Key Features
Create unlimited templates
Templates contain story-like content
Comes with tracking and notification features
Pricing
Starts at $29 per month
Professional plan at $49/month
Business plan at $129/month

Qwilr is another proposal software that lets you create professional-looking web-based proposals from easy-to-use blocks. It shows its end product in the form of an interactive web page rather than PDF documents.
You can use Qwilr to create an immersive experience for your clients and embed any type of interactive content on the page, such as videos, dashboards, maps, and more. It lets you track and measure engagement as well.
Qwilr comes with real-time collaboration feature which lets you control who can see and make edits. You can also update your documents on Qwilr at any time even after you have shared them.
This software has interactive pricing which allows clients to change amount and quotes, select an option, e-sign, and make payments. Furthermore, it sends you notifications via email or Slack each time a client opens your proposal!
Key Features
Shows documents on an interactive web page
Creates an immersive experience
Provides interactive pricing
Pricing
Starts at $66 per month
Business plan at $75/month for up to 3 users
Enterprise plan at $490/month for up to 10 users
Here we have Bidsketch, a proposal software specifically designed and marketed towards web designers and freelancers. It comes with an interactive interface and pre-designed proposal templates.
With Bidsketch, you can reuse content and design or combine previously used content to create proposals. It also allows you to embed images and videos, and even add links in your proposal.
What makes Bidsketch unique is that it has a landing pags feature. It also provides an instant message to guide clients about their next step after signing. What's more? Bidsketch sends notifications whenever your proposal has been viewed or exported as a PDF.
Key Features
Offers a landing page feature
Allows you to embed images, videos, and links
Provides instant messages to guide
Pricing
Solo plan at $29/month
Team plan at $79/month
Business plan at $149/month

Up next on the list we have GetAccept, an all-in-one proposal software that allows you to create, upload, and send out sales personalized proposals with a single click!
GetAccept's built-in content template library makes creating, editing, and managing proposals as easy as a breeze. It allows you to personalize your communication, initiate live chat sessions, and distribute introduction and presentation videos to your prospects.
With GetAccept, you can receive automatic alerts whenever your proposal is opened, viewed, commented on, or signed by your clients. It also generates deadline reminders and helps collect e-signatures.
Key Features
Offers a built-in template library
Provides video and live chat features
Sends automatic alerts and reminders
Pricing
Free version available
Starter plan at $35/month/user
Pro plan at $40/month/per user

If simplicity is what you are looking for, then we recommend that you check out Proposable. It is a proposal automation software that lets you create and send proposals and collect e-signatures and payments.
Proposable has a super clean and easy-to-use interface that allows you to edit templates easily and save them for later use.
This software has a real-time monitoring feature that lets you keep track of the analytics of your prospects and clients through the dashboard feature. Its 'Require approval' feature allows managers to review and approve proposals before they are sent out to clients.
In addition to this, Proposable comes with collaboration features and integrates with most CRM software.
Key Features
Highly intuitive interface
Provides real-time monitoring features
Offers editable templates
Pricing
Team plan at $39/user/month
Enterprise plan at $500 for 10 users/month

Lastly, we have Qvidian, an all-in-one proposal management and automation platform owned by Upland Software. It offers content management, task management, templates, and collaboration features in a single place.
Qvidian supports a content library and supports a dashboard features that lets you see the progress of your request for proposal (RFP). It has an auto-fill feature that automatically fills in answers to all the RFP-related questions.
This software comes with collaboration features and offers mentors and tech experts that assist users with technical and management services. Furthermore, it is accessible on desktop PC, laptops, and smart devices.
Key Features
Offers dashboard feature
Supports and auto-fill feature
Compatible on PC, laptop, and other smart devices
Pricing
Offers a quote-based plan
Conclusion
You can use your proposals to win new clients or partner with other businesses. At the end of the day, proposals help you grow and expand your business.
With the right proposal software in your hands, you will be able to create, manage and send out perfect proposals quickly and easily.
That's why in this blog, we have given you a list of proposal software that can help you achieve your goals. Now the choice is up to you to pick the ones that meet the specific needs of your company.
All the best!
Further reads: 
Proposal Writing: Everything You Need to Know!
Contract Proposal: What is it and How to Create it?
11 Gantt Chart Software You Should Check Out!
11 Dashboard Software You Should Explore in 2021
Social Media Proposal: What is it & How to Create it?
Marketing Proposal: What is it & How to Create an Effective One?
Consulting Proposal: What is it & How to Create it? (Steps Included)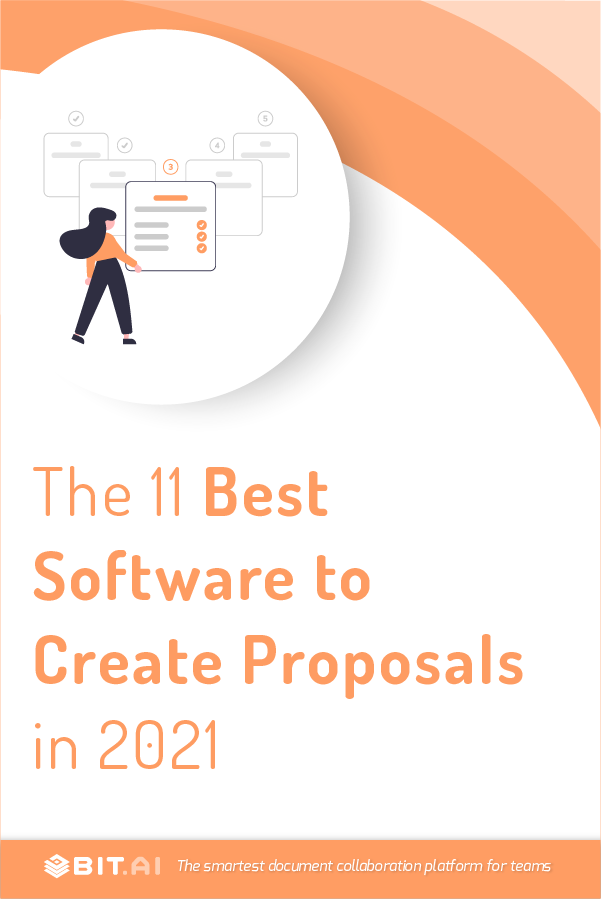 Related posts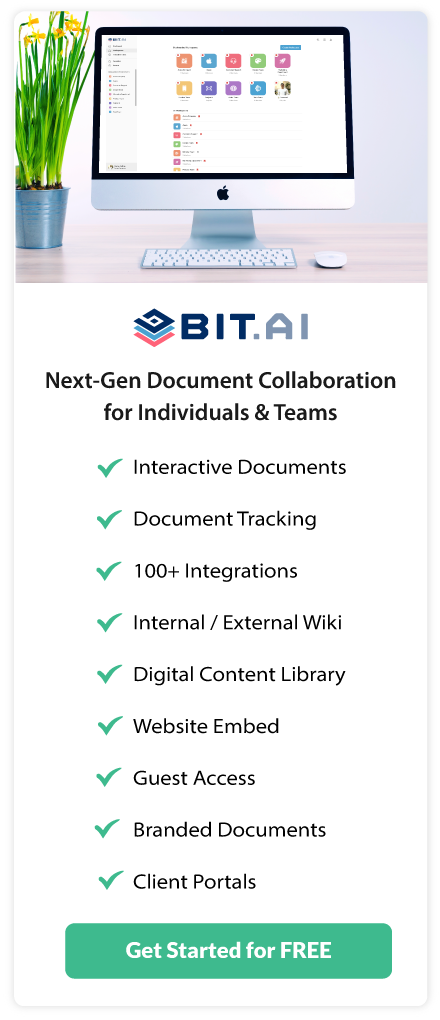 About Bit.ai
Bit.ai is the essential next-gen workplace and document collaboration platform. that helps teams share knowledge by connecting any type of digital content. With this intuitive, cloud-based solution, anyone can work visually and collaborate in real-time while creating internal notes, team projects, knowledge bases, client-facing content, and more.
The smartest online Google Docs and Word alternative, Bit.ai is used in over 100 countries by professionals everywhere, from IT teams creating internal documentation and knowledge bases, to sales and marketing teams sharing client materials and client portals.
👉👉Click Here to Check out Bit.ai.