"How does one tailor a business description for social media?"
"What elements should this business description include?"
"Where is the ideal place to insert it?"
 Conveying your business's uniqueness within a limited character count poses a puzzle.
The demand for business descriptions arises across platforms, be it your website, online directories, or an "about the company" segment at an event. Your mission statement and brand story provide a foundation, but what truly matters is a compelling business description. This description encapsulates your business essence, setting it apart from competitors concisely.
This blog post sheds light on what a business description entails, outlining the steps and insights required to craft one effectively.
What is a Business Description?
A business description in your business plan highlights key aspects of your company, like its purpose and uniqueness. Depending on the complexity, it offers an overview of your business idea's scope, from a few sentences to several pages.
Usually following the executive summary, the business description, often called the company description, explains your business's nature and distinctiveness. It covers details like company location, ownership, and employee count. It also presents a clear vision, goals, and mission statement. Future plans, products, and target markets are outlined.
For a straightforward plan, briefly touch on your industry and product, followed by a concise explanation of your business's success factors. Keep it updated as your business grows, as investors and lenders must understand your concept, customer benefits, and market positioning.
Why Do We Need a Business Description?
Having a solid business description is like having a key that unlocks essential information about your company. Let's look at why you need a business description:
Introduction Hook: Just like a captivating start to a story, a business description serves as an introduction that grabs the reader's attention and makes them want to know more.
Engaging Investors and Lenders: Investors and lenders are interested in making smart choices with their money. A strong business description convinces them that your business is worth investing in by highlighting its potential for success and profitability.
First Impression Matters: Your business description acts as a first impression. It's like meeting someone for the first time – you want to leave a positive and memorable impression that sticks.
Explaining What Your Company Does: A business description explains the core activities of your company in simple terms. It helps readers understand your products or services and how they benefit customers.
Showcasing Values and Goals: The description isn't just about the "what," but also the "why." It outlines your company's values, goals, and aspirations. This gives readers insight into the bigger purpose behind your business.
Employee Understanding: Your employees are like the gears that keep your business running smoothly. A clear business description helps them understand the company's mission, values, and overall direction, creating a more motivated and aligned team.
Comprehensive Overview: Think of the business description as a mini-summary of your entire business plan. It provides a quick yet comprehensive understanding of your business's key aspects, saving time for readers.
Starting Point for Business Plan: The business description sets the tone for your entire business plan. The beginning prepares readers for the more detailed information that follows.
Questions To Ask Before Writing a Business Description
A well-crafted business description should address the following questions to provide a comprehensive overview of your company:

"What is the name of your business?"
Clearly state the name of your business to establish its identity.
"What does your business do?"
Describe the products or services your business offers. Be concise but informative.
"What value does your business provide?"
Explain how your products or services solve a problem or fulfil your target audience's needs.
"Where is your business located?"
Provide the physical location of your business, which is especially important for local businesses.
"Who is your target audience?"
Define your ideal customers by describing their demographics, preferences, and needs.
"Why is your business unique?"
Highlight what sets your business apart from competitors. This could be your unique selling points, features, or benefits.
"How will your business operate?"
Detail your business's operations, including manufacturing processes, distribution channels, and other logistical aspects.
"What are your business goals?"
Share your short-term and long-term goals, indicating where you want to take your business.
"How does your business plan to make a profit?"
Explain your revenue model and how you intend to generate income.
"What is your business structure?"
Describe the legal structure of your business, whether it's a sole proprietorship, partnership, LLC, or corporation.
"Who are the key personnel?"
Introduce the key individuals involved in your business, including management and founders.
"How does your business envision its future?"
Provide a vision statement that outlines your aspirations for the company in the long run.
"What is your business's mission?"
Share your mission statement, which encapsulates the purpose and values of your business.
"Why should customers choose your business?"
Convey the benefits of choosing your products or services over your competitors.
"What is your marketing strategy?"
Outline how you plan to reach and engage your target audience through marketing and advertising.
"What is your brand's identity and voice?"
Describe your brand's personality and tone, which should be reflected in your business description.
Answering these questions thoroughly and concisely in your business description will give you a well-rounded picture of your company's identity, purpose, and potential.
How to Write a Business Description?
Writing a business description might sound daunting, but it's a crucial step in presenting your business in the best possible light. Your business description is like a window into your company, showing potential investors and customers what you're all about. In this guide, we'll break down the process into simple steps anyone can follow.
Step 1: Research the Industry and Competition
Before you start writing, gather information about the industry you're entering and your competitors. You can find valuable insights from news sources, trade magazines, studies, and experienced individuals in the field. Understanding the industry's current and future trends will help you create a relevant and compelling description.
Step 2: Describe the Basics
Introduce your business by providing essential information such as your business name, location, structure, management, and number of employees. This gives readers a clear starting point to understand what your business is all about.
Step 3: Craft a Problem Statement
Identify a common problem your target audience faces and explain how your products or services will solve it. Highlight the benefits and unique features that set your brand apart from competitors.
Step 4: Identify Your Target Market
Describe your ideal customers' age, location, values, income, and preferences. Understand their needs and tailor your description to resonate with them.
Read More: Market Targeting: Definition, Importance & Strategy!
Step 5: Explain Your Plans for Manufacturing and Distribution
Detail how your products or services will be made and delivered to customers. If you have a team in mind, list employees, suppliers, and vendors involved.
Step 6: Detail Your Business's Profitability
Explain how your business will generate revenue and the key indicators you'll use to measure success. This shows potential investors that your business is not just a concept but a viable opportunity.
How to Write a Business Description For Social Media?
When creating a business description for social media, remember that you can adapt it for different platforms. Each platform has its character limit, so you should adjust your description slightly for each.
Facebook: Tell people about your business on Facebook. Share what you do, what you offer, and what makes you awesome. Make it interesting so folks want to know more.
Instagram: In your Instagram bio, explain your business in a snappy way. Show off your products, your style, and why people should care. Keep it catchy!
Twitter: Write a short and snazzy Twitter bio. Mention what your business does, throw in some keywords, and make it cool enough for the quick Twitter crowd.
LinkedIn: On LinkedIn, be a pro. Tell about your business pro-style – what you're great at and achieved. It's B2B, so show your expertise.
YouTube: YouTube's the deal. Describe your channel – what you make, why folks should watch. Excite them with your words. Make them hit that play button!
These descriptions give people a quick peek into your business. Make them engaging, concise, and tailored to each platform's requirements.
Best Practices For Writing a Business Description
1. Have an Elevator Pitch
Start your description with a concise elevator pitch that summarizes your business's key aspects. This should immediately grab readers' attention and communicate your unique value proposition.
2. Keep It High Level
While you want to provide essential information, avoid overwhelming readers with excessive details. You can save the finer points for other sections of your business plan.
3. Show Your Excitement
Let your passion shine through in your description. Explain why you started your business and the goals you're eager to achieve. This personal touch can resonate with readers.
4. Keep It Short and Error-Free
Avoid lengthy descriptions that might lose your reader's attention. Also, proofread your description to eliminate grammatical errors and typos.
5. Choose Active Voice
Write in active voice to make your description energetic and engaging. Use strong verbs that convey action and movement.
6. Stay On-Brand
Write in a tone that matches your brand identity. Whether your brand is casual or formal, your description should reflect your unique style.
7. Include Keywords
Use keywords related to your industry to optimize your description for online platforms. This helps your business get noticed in online searches.
Final Thoughts
Even if writing the business description part of your plan feels like a chore, make it a fun chore. It's your shot to talk excitedly about your business idea and get those money folks (lenders and investors) excited too.
It doesn't matter if you're kicking off or already in the game; learning to jot down a business description gives folks a quick peek into what your company's all about.
Happy Writing!
Further Reads: 
Business Contracts: What are the Types & the Benefits?
How To Plan a Business Trip Like an Expert? (Tips & Essentials)
Technical Description: What is it & How to Write it? (Steps Included)
Small Business Trends That'll Continue To Stay in 2023!
Related posts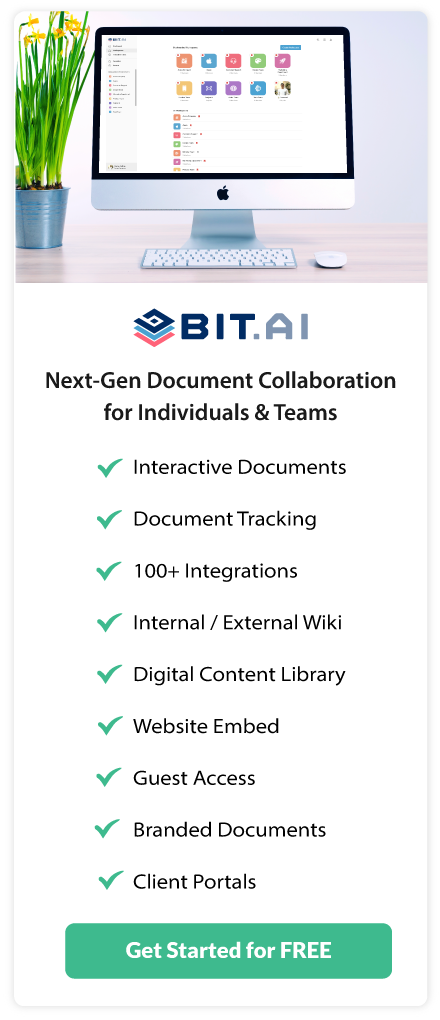 About Bit.ai
Bit.ai is the essential next-gen workplace and document collaboration platform. that helps teams share knowledge by connecting any type of digital content. With this intuitive, cloud-based solution, anyone can work visually and collaborate in real-time while creating internal notes, team projects, knowledge bases, client-facing content, and more.
The smartest online Google Docs and Word alternative, Bit.ai is used in over 100 countries by professionals everywhere, from IT teams creating internal documentation and knowledge bases, to sales and marketing teams sharing client materials and client portals.
👉👉Click Here to Check out Bit.ai.