Working remotely? These collaboration document editing software are surely going to help you out.
As the Coronavirus pandemic continues to be a threat, almost all tech companies are working remotely to keep the spread of the virus to a minimum. Although the move to shift the workplace as online-only was made to counter the spread of COVID-19, remote work has been picking up steam from the past few years due to its numerous benefits
Save on office finances like rent, utilities, stationery, etc.
Save commute time for employees
Reduce unnecessary office meetings, politics, watercooler discussions, and other known time-wasters.
Hire a diverse workforce without geographical limitations
The shift towards remote working has led to the acceleration of many collaborative document editing software that helps distributed teams work like they in the same room.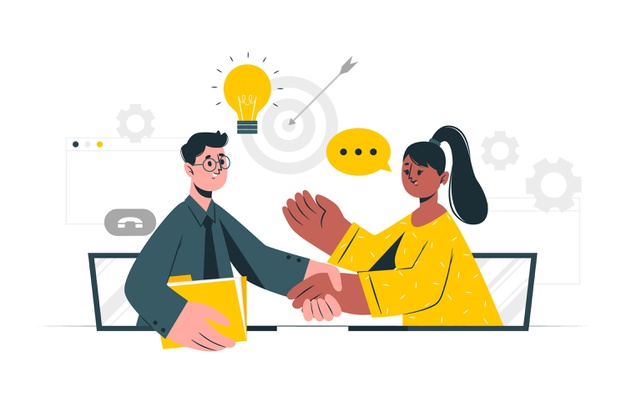 McKinsey reports that knowledge workers spend an average of 14% of their workweek communicating and collaborating internally. The report also pointed out that improving internal collaboration through social tools could help raise the productivity of interactions by as much as 20 to 25 percent!
Since a lot of time in the office is spent on communicating and collaborating on documents, collaborative document editing software makes it easy for remote teams to work efficiently. There are many advantages of using collaborative document editing software:
Faster problem solving
Hub for brainstorming ideas
Improved efficiency and productivity
Builds community and fosters teamwork
Quick execution of ideas
Less time spent in an email inbox
For those who don't know, collaborative document editing software allows employees to view, edit, and work simultaneously on a document without the need of sending back-and-forth emails.
In this blog post, we are going to uncover some of the best collaborative document editing software out there and see which one stands out of the crowd. So without further ado, let's begin…
List of Best Collaborative Document Editing Software:
Research suggests that teams can create documents 33% faster with a document management tool that cuts out the need for attachments. These collaborative document editing software are essential for working in a remote environment as they streamline workflows, reduce inefficiencies, and bring the team together under one roof. Here are our top picks: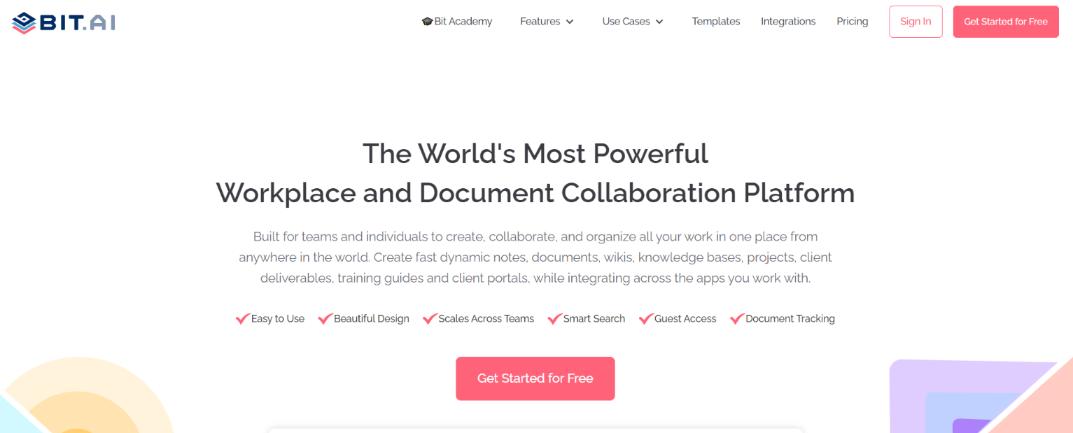 The number 1 tool on our list is Bit, a modern collaborative document editing software for teams of all shapes and sizes. Bit allows teams to create, manage, share, and track documents from one easy to use dashboard.
Bit has a number of outstanding abilities that makes it one of the best collaborative document editing software out there:
Organized workspaces and folders: Bit brings all your documents and files in one place by allowing you to organize information in workspaces and folders.
Real-time collaboration: Collaborate with your team and management and feedback in real-time using @mentions and highlight features as every document comes with its separate comment stream. You can also ping collaborators to notify them of any changes or call them to a doc in case you need their help.
Content library: Bit has a content library where you can store and share media assets. You can save images, files, videos, PDFs, and content easily and can access it at any point.
Rich embed options: Bit.ai integrates with over 100+ web applications (Ex: YouTube, PDFs, LucidChart, Google Drive, etc.) to help you create media-rich and interactive implementation plans or other workplace documents.
Smart search: Bit has very robust search functionality that allows anyone to find information quickly. You can search for folders, files, documents, and content inside your documents across all of your workspaces.
Interlink documents: Bit allows employees to create unlimited documents and interlink them to create robust internal wikis.
Templates: Bit has a plethora of amazing templates that cut your work in half and help you kickstart your work quickly.
Other features: Document tracking, version history, smart permissions, lead capture, and more.
Some standout features of Bit
Track documents shared internally or externally.
Content library to store media files
In-built chat functionality, password protection, etc.
Embed documents on any website
Pricing: 
Free with limited functionality
Paid plans start from: Standard ($12/month), Plus ($20/month), Enterprise (contact sales).


Next up is Google Docs, a free cloud collaboration platform by Google. The platform works similarly as Word online as Google has a clean editor you can use to simultaneously edit documents with your teammates. The only pre-requisite is a Google ID or Gmail account to get started.
As Google Docs works in the cloud, there's no need to download separate software. Simply log in to your Google account and start creating docs easily. If you have been using Word, Google Docs will definitely feel familiar to you. The top bar is filled with formatting and editing options, just like Microsoft Word has. Built with collaboration in mind, Google docs allow you to create a doc and share it with your teammates via email or a shareable link.
With 15GB of cloud storage on their free plan, Google Docs is a decent tool for individuals or solopreneurs looking to host their documents on the cloud. If you have a large team, we would suggest you look elsewhere. You can always upgrade to a paid account if you need more storage.
Some standout features of Google Docs
Highlight and add comments for feedback
Store documents in Google Drive with one click
Integrates with Google Slides, Spreadsheets, Keep, and more.
Pricing: 
Free with limited functionality
Paid plans start from $6 per user/month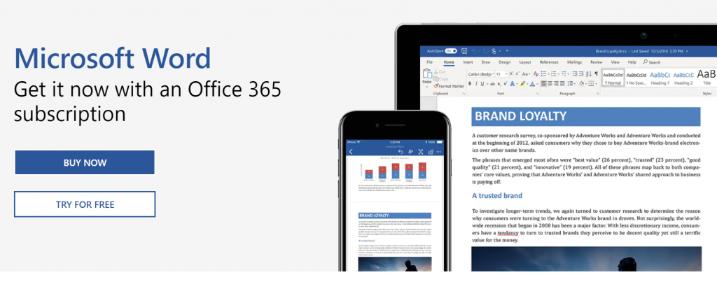 One of the most popular document editors out there, Microsoft Word also has a cloud-based counterpart. Microsoft Word online offers the functionality of Word over the cloud, allowing users to access it via the internet and edit documents in real-time.
Competing with the likes of Google Docs, Microsoft Word online offers free access to all Microsoft tools such as Word, Onenote, Excel, Powerpoint, One Drive, etc- all you need is a Microsoft account to access its productivity apps. The online Word has a similar interface to the traditional Word, with some added features to appeal to modern users and their needs. However, Word is still very traditional in their approach and lacks key features of modern-day document editors.
Teams can co-author and co-edit word documents simultaneously and get their work done quickly. They can upload documents from their PC through Word-OneDrive integration or can directly open documents through Dropbox. Done creating your docs? Download them as Office files or as a PDF or in ODF format.
Some standout features of Word Online
Familiar interface
Safe and secure
Integrates with Powerpoint, Excel, OneDrive, Teams, and other Microsoft products
Pricing: 
Free with limited functionality
Paid plans start from Business Essentials ($6/month), Business ($8.25/month), Business Premium ($12.50/month)

A product by Salesforce, Quip is another competent collaborative document editing platform. Create and edit live documents and spreadsheets, chat with teammates, and discuss ideas effectively via threads for each document. Teams can even add a document or a spreadsheet to a chat and work on it together. Users use Quip to create, organize, and discuss work with efficiency and transparency.
A robust Salesforce integration means that Quip can bring your Salesforce data inside, allowing you to live edit docs and spreadsheets with co-workers. A great feature of Quip is the ability to add calendars, kanban boards, polls, countdowns, etc to your documents, and keep all your work in one place.
Dedicated Android and iOS apps mean that you can take your work with you wherever you go. Quip also supports offline mode as you can work without an internet connection and your work will get synced whenever you next connect to the internet.
Some standout features of Quip
Brings docs, slides, spreadsheets under one roof
Version history and offline mode
Team chat rooms
Pricing: 
Free with limited functionality
Paid plans start from: Starter ($10 per/month), Enterprise ($25 per user /month), Quip for Customer 360 (contact for a quote)

While many think of Box as this amazing file-storage platform and Dropbox competitor, Box also has a note-taking app for real-time collaborative editing. Box Notes allows employees to create and edit work notes together, along with the ability to add comments and basic formatting options.
The USP (unique selling proposition) of Box notes is its clean editor that is perfect for jotting down notes, organize reviews, or even start a newsletter. Built with corporations in mind, Box Notes is a serious note-taking app and allows employees to store meeting notes, plan projects, brainstorm ideas, create to-dos and deadlines, and more.
The version control feature allows users to easily reference all changes and revert back to past versions at any point. If you already use Box for file storage, Box Notes might be a great addition to your workflow. The platform also has a desktop app (for both Windows and Mac).
Some standout features of Box Notes
Enterprise-grade security
Desktop and mobile apps
Annotations can be made anywhere
Pricing: 
Free with limited functionality
Paid plans start from Personal pro ($11.50/month), Business starter ($5.80/month), Business ($17.30/month), Enterprise (contact for a quote)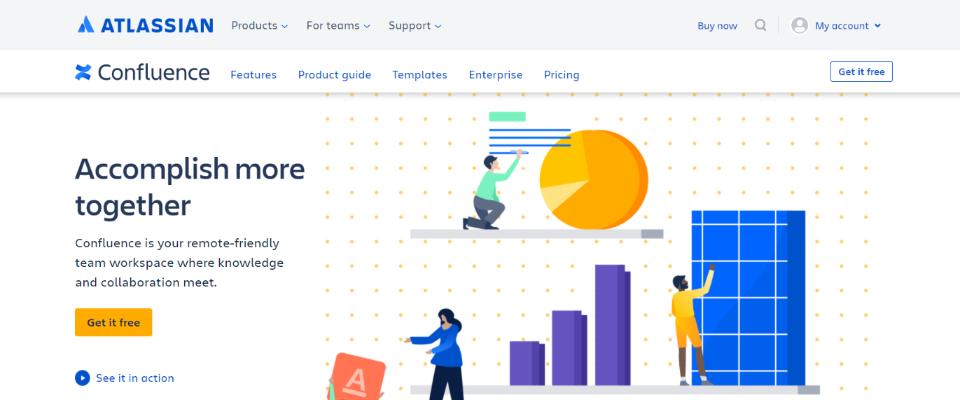 Over 60,000 users worldwide use Confluence to edit their docue=ments collaboratively and get work done. A product by software giant Atlassian, Confluence allows teams to create, share, and collaborate on docs, presentations, spreadsheets, and even images. COnfluence breaks down organizational silos, thanks to its robust chat functionality and sharing options.
Employees can easily pin comments on the shared file, edit files together, and give their suggestions or feedback, right from Confluence's dashboard. Departments and teams can create Spaces, allowing them to compartmentalize and organize their work based on the project they are working on.
Choose from over 75 customizable templates to kickstart your work and alert your teammates when you tag them or assign them a task. Confluence integrates with JIRA, Trello, Hubspot, and Google apps and brings everything together.
Some standout features of Confluence
Home and personalized feed
Blogs to make announcements
Permission settings to keep things private
Pricing: 
Free with limited functionality
Paid plans start from Standard ($10/month for up to 10 users), Premium ($100/month)

Another veteran like Confluence, Sharepoint is a Microsoft owned collaboration and intranet software. It is a part of the Microsoft Office 365 package and integrates seamlessly with other Microsoft products like Teams, Word, OneDrive, and more. With over 2 decades of experience, Sharepoint knows what it's doing. Providing a safe space to share and collaborate on knowledge, Sharepoint streamlines your team's work.
A go-to collaboration platform for enterprises, Sharepoint as over 190 million customers worldwide. teams can share data, media, and other resources across departments and divisions. With Sharepoint sites, teams can create communication hubs and customize them according to their needs. Sharepoint has a very powerful search feature, allowing anyone in the organization to quickly find any piece of information, making them more productive. While great at what it does, Sharepoint can be hard to implement and the learning curve can be very steep.
Some standout features of Sharepoint
Available for Mac, PC, and mobile apps
Integrates with other Microsoft products
Create customizable team sites
Pricing: 
Free with limited functionality
Paid plans start from: SharePoint Online Plan 1 ($5 per user /month), SharePoint Online Plan 2($10 per user /month), Office 365 E3 ($20 per user/month)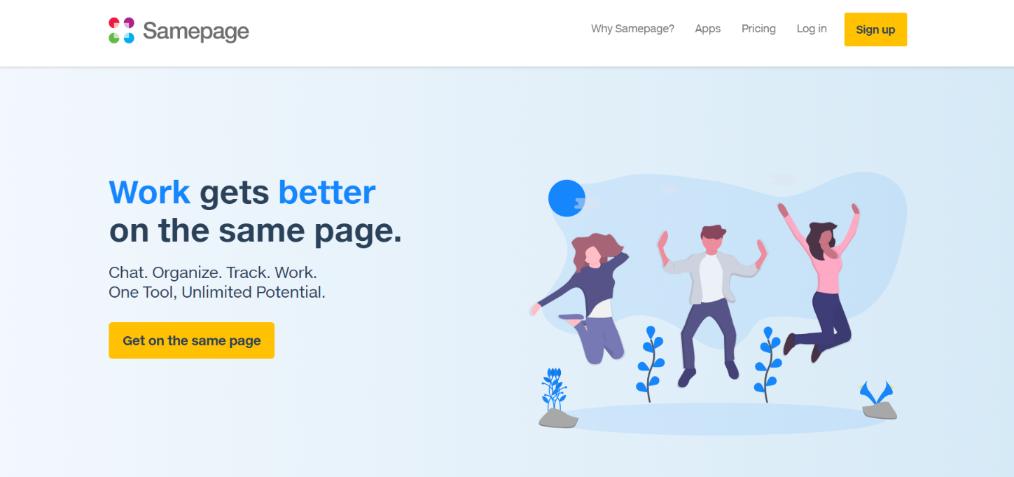 As the name suggests, SamePage wants your team to be on the same page by allowing them to collaboratively edit documents and file in the cloud. With features like- screen sharing, file sharing, team chat, video calls, task management, and real-time document management, Samepage has got all basis covered for being a great collaboration platform.
Teams can organize projects on the kanban board, or use mindmaps, pages or sheets, to schedule upcoming projects. Employees can assign tasks to co-workers, add due dates, set priority levels, create reminders, subtasks, and add description details to give context. The platform is highly flexible but can be cumbersome to use, especially for new users.
Samepage also has native Android, iOS, and Mac apps to help you stay connected and receive all project-related updates no matter where you are.
Some standout features of Samepage
Video conferencing and chat
Link files with Box, Dropbox, Onedrive, or Google Drive
Kanban boards and mind maps
Pricing: 
Free with limited functionality
Paid plans start from Standard ($6.50 per user per month), Pro ($8 per user per month)

Zoho Docs is a document management platform by Zoho. Zoho provides tools to create documents, spreadsheets, and presentations- all form a neat dashboard. Zoho Writer is the name of the collaborative document editor that allows teams to edit documents in real-time. With its similarity to Microsoft Word, Zoho brings a new spin to the age-old document editors and allows the creation, storage, and sharing of documents easily.
Teammates can set permissions, password-protect their docs, or even set an expiration time after which, everyone loses access to the file or document. Zoho Docs also provides the ability to chat with collaborators in real-time to make document editing easier. With writing modes, Zoho accommodates itself to the phase of document creation you are in- compose, review, or distribution.
Zoho Writer has over 350+ fonts and provides a plethora of editing options. An advanced document review system onboard, Zoho allows teams to search and filter through comments, track change history, get email updates, turn off live cursors, and reply to the comments happening on the doc directly from the email.
Some standout features of Zoho Writer
Integrates with DocuSign and Adobe EchoSign
Post content directly to WordPress
Lock portions of a document for editing
Pricing: 
Conclusion
And that's all folks!
That's our picks for the best collaborative document editing software on the market right now. These software tools can make your teams more productive, allowing them to communicate and collaborate under one roof, reducing the need for long email threads.
You cannot go wrong with any of the above-mentioned tools. Just make sure you select a tool that fits your needs- your budget, your business size, or the simplicity of use.
Are there any collaborative document editing software we missed? Which tool do you use to edit documents online? Do let us know by tweeting us @bit_docs
Further reads:
Client Portals: Communicate with Clients the Right Way
How to Use Document Templates in Bit.ai?
Best File Management Software and Systems in 2022
How to Choose your Document Creation Tool?
How to Manage Your Documents Effectively?
4 Reasons Why Your Document Creation is Broken & How to Fix it!
12 Dos and Don'ts for Successful Document Creation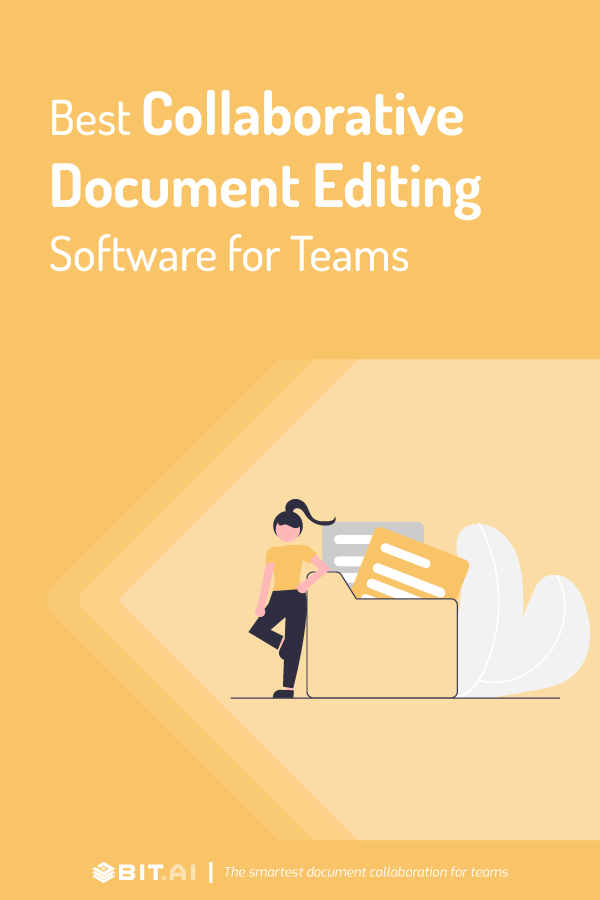 Related posts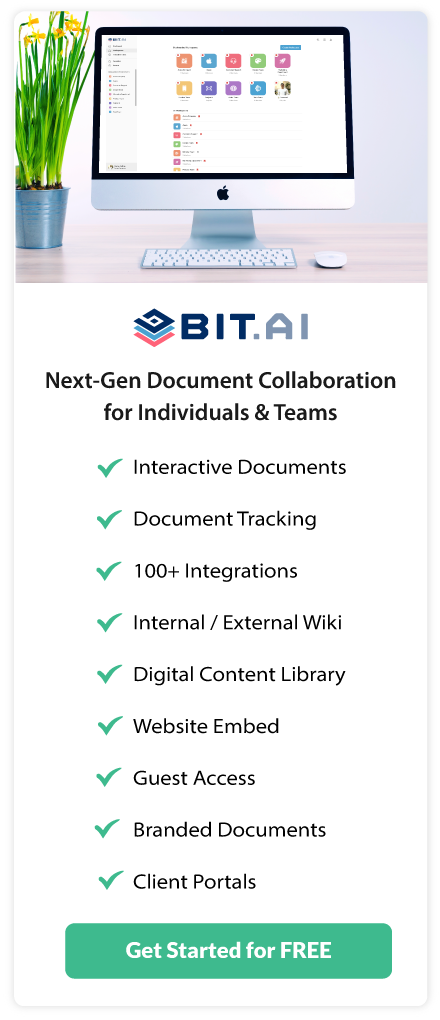 About Bit.ai
Bit.ai is the essential next-gen workplace and document collaboration platform. that helps teams share knowledge by connecting any type of digital content. With this intuitive, cloud-based solution, anyone can work visually and collaborate in real-time while creating internal notes, team projects, knowledge bases, client-facing content, and more.
The smartest online Google Docs and Word alternative, Bit.ai is used in over 100 countries by professionals everywhere, from IT teams creating internal documentation and knowledge bases, to sales and marketing teams sharing client materials and client portals.
👉👉Click Here to Check out Bit.ai.