If you are working remotely nowadays, you are probably using a task or project management tool to get work done and collaborate with your teammates. One of the most popular tools of choice is Basecamp, project management, and collaboration platform.
Basecamp was founded way back in 1999- that's 21 years ago! While it has done a great job staying relevant, it still lacks the modern appeal of many of its competitors. With a hefty price tag of $99/month, it sure does charge a premium for features available at less than half the rate, or even free of cost in modern-day software.
With technology evolving at a fast speed, there has been a plethora of collaboration software doing what Basecamp does. If you are looking to make the switch from Basecamp to a better alternative, you have come to the right place.
List of

 

the Best

Basecamp Alternatives  & its Competitors

If you are looking for something easy to install and use, works in the cloud, and doesn't break the bank, we have got some amazing tools for you. While there might have not been many options in 1999, in 2020, there are some exciting options to choose from.

So without further ado, let's begin with our list of the top 12 Basecamp alternatives…
Bit
Teamwork
Asana
Indy
Toggl Plan
Trello
Flow
Google Suite
Smartsheet
Fleep
Wrike
Bitrix 24
Let's take a look at these tools in detail!


Kicking off our list is Bit, a modern-day document collaboration designed with keeping modern-day remote norms in mind. Since most of our work revolves around creating, sharing, and managing documents, Bit provides a commonplace for employees to collaborate in real-time, brainstorm ideas, assign tasks, store project assets, and get work done remotely.
Simply create a workspace, add your team members, and start creating your documents quickly! You can further share these documents with, partners, sub-contractors, external clients, etc., and get detailed insights on how they interacted with your documents via built-in document tracking!
Bit.ai stands out because you can attach and display file attachment right within your docs. No more emailing back-and-forth and wasting time in Slack! This is why Bit is the go-to choice for managers in over 100+ countries for both internal as well as external documentation.
Here are some of the main benefits of using Bit:
Real-time chat: Collaborate with your team and upper management and get their feedback in real-time using @mentions and highlight features as every document comes with its separate comment stream.
Smart Organization: Bit brings all your documents and files in one place by allowing you to organize information in multiple workspaces and hierarchical folders.
Content management: Bit's content library is where you can store and share media assets. You can save files, images videos, PDFs, and content easily and can access it at any point.
Rich embeds: Bit.ai integrates with over 100+ web apps (Ex: LucidChart, Google Drive, YouTube, PDFs, etc.) to help you create media-rich and interactive workplace documents.
Smart search: Bit has a very robust search that allows anyone to find information quickly. You can search for folders, files, documents, and content inside your documents across all of your workspaces.
Interlink documents: Bit allows employees to create documents and interlink them to create amazing internal wikis.
Templates: Bit has a variety of amazing templates that cut your work in half.
Some standout features of Bit
Document tracking & embedding
Create media-rich and smart documents
Store media assets and files in workspaces and folders.
Pricing: 
Free with limited functionality
Paid plans start from: Standard ($12/month), Plus ($20/month), Enterprise (contact sales).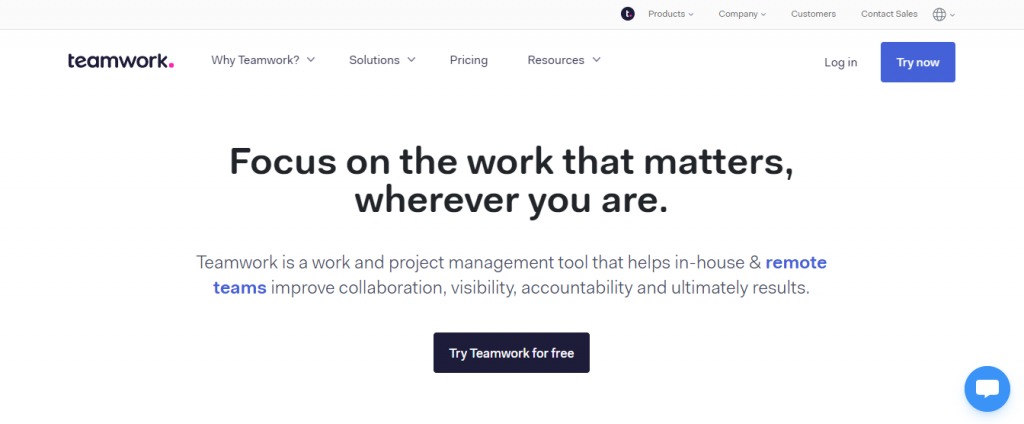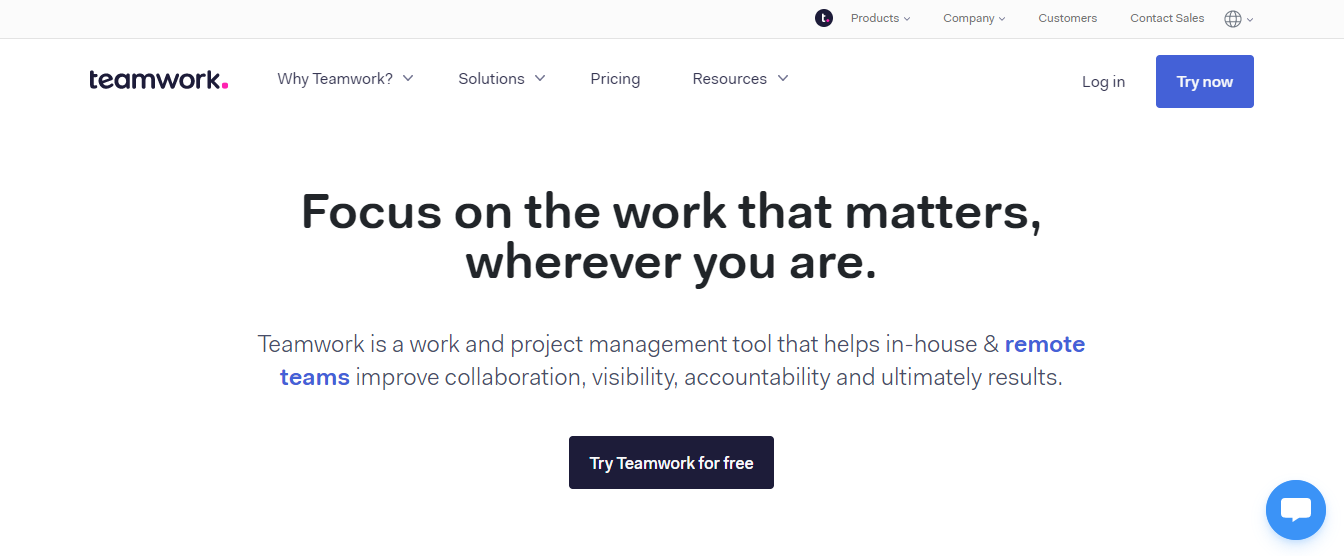 A project management tool, Teamwork was founded in 2007, The platform provides a bird's eye view on everything happening in the company- who's doing what and with whom! With companies like Paypal, Disney, Spotify, and HP using the product, you can rest assured knowing you are in good hands.
Teamwork helps your team manage project work in one place while you can collaborate and chat with co-workers with Teamwork Chat. With Teamwork Desk, Teamwork provides built-in customer service software to help you answer customer queries. Teamwork, thus, acts as a one-stop-shop for all your company needs.
Another great feature is Teamwork Spaces that acts as your company's knowledge base, keeping important files, help-center articles, docs, and more in one central location for easy access.
Some standout features of Teamwork
Integrates with major productivity apps like Dropbox, Box, G Suite, Salesforce, and more.
Time tracking and automatic expense reports
Manage workload with Kanban view
Pricing: 
Free with limited functionality
Paid plans start from: "Forever Free" plan includes 100

MB

storage space for up to 5 users. The pro plan starts at $9/month with 100GB storage and supports up to 100 users.
Read more: 11 Asana Alternatives & Competitors You Must Know About!

One of the most popular team management software, Asana makes communication and collaboration a breeze. Use Asana to assign and review tasks, share goals and files, chat with teammates, organize tasks and view timeline, and automate routine tasks.
Asana has an intuitive interface that is easy to use by any newbie. Managers can get a bird's eye view of what tasks are due and how much progress is made. They can also share notes, assign due dates, follow tasks, and receive email notifications on changes and progress.
Employees can view their tasks in Kanban view and can change it to a list view, calendar view, or file view. With 50+ project templates, starting tasks was never this easy. Asana also integrates with popular Saas tools like Slack, Jira, Zendesk, Microsoft Teams, and more.
Some standout features of Asana
View your tasks in timeline, calendar, or kanban view
Get data on tasks, projects, resources, and more
Move stuff around to simplify workflow
Pricing: 
Free with limited functionality
Paid plans start from: Premium ($10.99/month), Business ($24.99/month), Enterprise (contact sales).

Indy is a project management tool designed for freelancers and independent contractors. Freelancers need a simple way to manage their proposals, contracts, and invoices as well as maintain control over their tasks, deadlines, and contacts. They also want to use a system that doesn't require a long training course to be useful.
Indy delivers all these features. It has a clean interface and project flow. Indy's tools include editors for creating and sending proposals, contracts, and invoices with templates to make the process go faster. It also includes tools for managing customer relationships and creating information forms that can be embedded in websites, emails, and as HTML code snippets.
The core of Indy's software is the Projects tool. Here, you can coordinate your tasks, time tracking, deadlines, and files for every project you're working on. Your tasks can be displayed in a simple list or on a Kanban-style board for a quick overview.
Some standout features of Indy:
Single platform for your entire workflow
Editors and templates for proposals, contracts, and invoices
Files tool for recording final client sign-off of work
Pricing:
Free plan with limited functionality
Full access for just $5.99 per month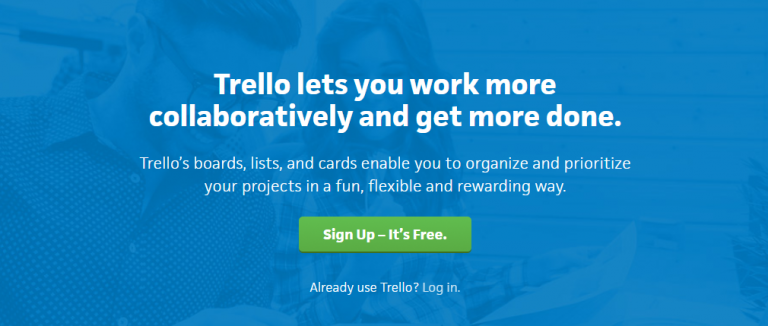 A pioneer of the Kanban-style team collaboration, Trello is a great team management software that works around fun and interactive boards and cards. Users can create a board, add tasks and checklist to them, assign them to coworkers, share files and media, add labels, and more with Trello.
You can drag and drop your task around and build your workflow however you like. With a new AI feature called "Butler", Trello aims to you can automate redundant tasks and add rule-based triggers, create calendar commands, and due-date commands. and much more.
Unique power-ups transform your Trello boards into a productivity powerhouse by adding more functionality and flexibility to it. Trello integrates with hundreds of Saas apps like Google Drive, Dropbox, Box, Slack, and more.
Some standout features of Trello 
Mobile apps to take your work with you.
Power-ups to improve productivity and functionality
Get all the important information at a glance.
Pricing: 
Free with limited functionality
Paid plans start from: Business class ($9.99 per user per month), Enterprise ($17.50 per user per month for 100 users).


If you are looking for something basic and free, Google has a ton of collaboration apps that can do the job for you. From spreadsheets and document management to forms and slideshow creators- Google has it all- for free!
While Google products lack many advanced features require by most businesses, they are often simple and easy to use as they are built with common people in mind. If you have a small team, you can definitely try out Google Suite can be a good place to start your virtual collaboration journey.
Google Suite apps also seamlessly integrate with other Google apps like Google Meet (Google's video conferencing app) and Google Keep (Google's note-taking app). Since everything works in the cloud, you are not required to download any software or perform complex installations. Just sign up with your Gmail account and you're good to go!
Some standout features of Google Suite
Simple and intuitive products
A plethora of apps and integrations
AI to make your workflow better
Pricing: 
Free with limited functionality
Paid plans start from: Basic ($6/user/month and comes with 30GB of Google Drive storage), Business ($12/user/month and provides unlimited storage), and Enterprise ($25/user/month and unlimited storage)


Wrike is a project management software that brings all your work under one simple workspace. With customizable dashboards, you can set up your Wrike workspace according to your workflow and organize info across folders, spaces, projects, and more.
Employees use Wrike to create and assign tasks, chat, collaborate, and do their work quickly using @mentions and live-editing. Managers can get a 360-degree summary of every employee's tasks and can reschedule their dependencies in one click.
Reviewing and approving work is easy as Wrike's built-in proofing and approval system enables your team to give feedback quickly. Moreover, you can quickly turn offhand comments and chat messages into tasks and projects using Wrike's request forms.
Some standout features of Wrike
Deep insights into tasks and generate quick reports
Proofing and approval system for less back-and-forth
Resource allocator, time tracking, task scheduler, and more.
Pricing: 
Free with limited functionality
Paid plans start from: Professional ($9.80 per user/month), Business ($24.80 per user/month), Enterprise (contact sales).


Used by over 7,000,000+ companies worldwide, Bitrix is a popular Basecamp alternative. Used as a social intranet, Bitrix promotes a social networking style of collaboration and communication in the workplace.
Employees are asked to create social profiles where they can add their profile pics, description, message and share files with each other, like and comment on each other's posts, and more.
Bitrix has a CRM, task management, email automation, project and document management, time tracking, workflow management- all built-in-one easy-to-use software. While some like its all-in-one approach, others might find the tool too intimidating.
Users can also create stunning landing pages and websites to help you capture leads and sell products. It also has chat and video conferencing built-in, allowing remote teams to collaborate effectively.
Some standout features of Bitrix 24
A self-hosted version of the software is available.
HR, email, and CRM tools
Gantt charts, kanban view, time tracking, and more
Pricing: 
Free with limited functionality
Paid plans start from: Start + ($19/month for 2 users), CRM+ ($55/month for 6 users), Project+ ($55/month for 24 users), Standard ($79/month for 50 users), Professional ($159/month for unlimited users


Used by over 300,000 teams in more than 140 countries, Flow is another great project management tool. The platform is very user-friendly and works smoothly. Employees can use Flow to create and assign tasks, create projects and checklists, check the calendar, and view their workflow in either kanban or list view.
Managers can add tags to projects and see their status at a glance. With its activity stream, flowing your team's conversations and track who's doing what is quick and easy. With Gantt charts, map our tasks and deadlines and manage bandwidth and resources.
Users can also attach files to projects or tasks or share links in a separate channel or direct message. With mobile apps, get notified of any recent alerts or changes.
Some standout features of Flow
A modern user interface that is easy to use
Manage the team's resources to avoid overbooking
Share files, links, and chat in separate channels
Pricing: 
Free for 30 days
Paid plans start from: Basic ($6 per user/month), Plus ($8 per user/month), Pro ($10 per user/month).


Toggl has project management, time tracking, and HR tools built-in to help your business move forward. The interface of the app is very modern and welcoming. Bringing all your data in one place, Toggl allows stakeholders, managers, partners, and employees to communicate and collaborate in real-time.
Employees can create projects, monitor progress, create and assign tasks, create todos & checklists, set milestones, and more. Add comments directly inside a task to give context and reduce ambiguity. The drag and drop editor makes it easy to assign or move a task. You can also set different colors to different tasks for better visibility.
Managers can take a look inside the dashboard and see who's overbooked, who's underbooked, who's on leave, etc and assign responsibilities accordingly.
Some standout features of Toggl Plan
Trusted by 4000+ companies worldwide
Drag and drop editor for resource allocation and planning.
Add comments on tasks and share files.
Pricing: 
Free plan available
Paid plans start from: Premium ($8 per user per month)


With 14 years of experience under its belt, Smartsheet has been around for a while and knows what it's doing. A cloud-based team management software, Smartsheet is a play on traditional/boring spreadsheets, but with added functionality
With Smartsheet, employees can collaborate on tasks, work on projects, and toggle between card, list, calendar, or project view. Smartsheet was named in the Forbes "Cloud 100" list of the best private companies in cloud computing and for a good reason. The platform offers nearly everything you need to run your business smoothly.
With built-in resource management, Smartsheet can be used to allocate resources, keep an eye on budgets, and use charts for reporting. The platform integrates with AWS, Microsoft, Google, Jira, and more to bring all your files under one roof.
Some cool features of Smartsheet:
Pricing: 
Free for 30 days
Paid plans start from: Individual ($14 per user/month), Business ($25 per user/month).


The last tool on our list is Fleep, a messaging app for teams. Fleep collaboration revolves around communication as it acts as THE place to share ideas, assign tasks, create projects, or talk about any topic.
Fleep's file drawer helps store all your team's media assets for easy storage and retrieval. The file drawer appears next to each conversation flow. With task management, teams use Fleep to create, share, and track tasks and projects easily.
Fleep pinboard acts as the notice board for the organization as managers can highlight any plan or decision regarding tasks and pin them to the side of each conversation flow, making it perfect for meeting notes. The presence mode helps identify whether a person is online or offline.
Some standout features of Fleep
Audio and video conferencing along with screen sharing
Pinboard for pinning important messages
Integrates with Dropbox, G Drive, JIRA, etc
Pricing:
Free plan with limited features
Pro plan starts from: Business (€5 per user/month), Custom (contact sales)
Over to you!
This concludes our list of amazing Basecamp alternatives. Every Basecamp alternative on this list does a great job of fulfilling the gaps left by Basecamp and works as intended. You cannot really go wrong with any of our picks for the best Basecamp alternatives out there.
If you feel we missed out on your favorite alternative, do let us know by tweeting us @bit_docs. Cheers!
Further reads:
7 Best JIRA Alternatives and Competitors For Project Management
Top Airtable Alternatives & Competitors You Must Explore!
The Best Productivity Hacks You Can Find
Workplace Collaboration Tools for Productive Teams!
The Best Authoring Tools You Must Explore!
Content Creation Tools Every Marketer Needs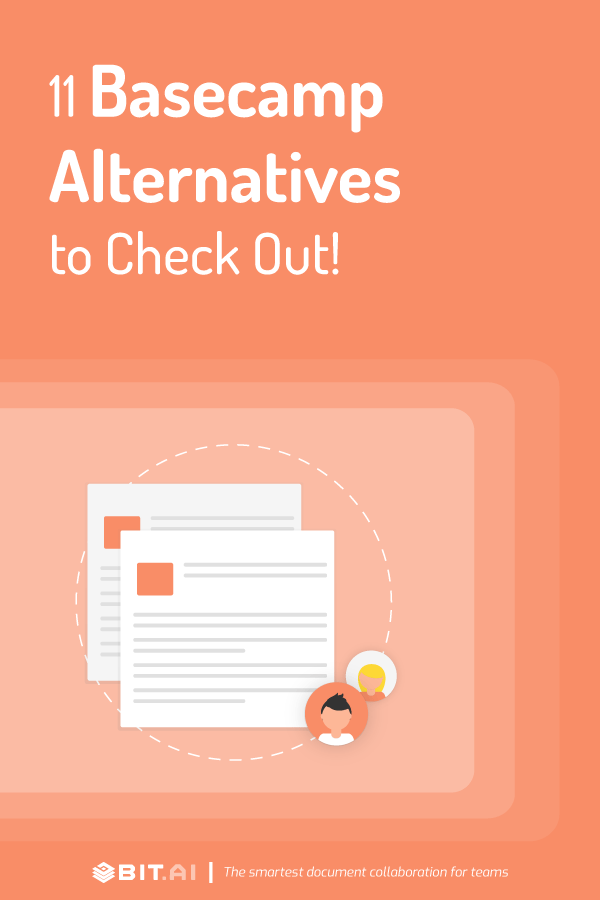 Related posts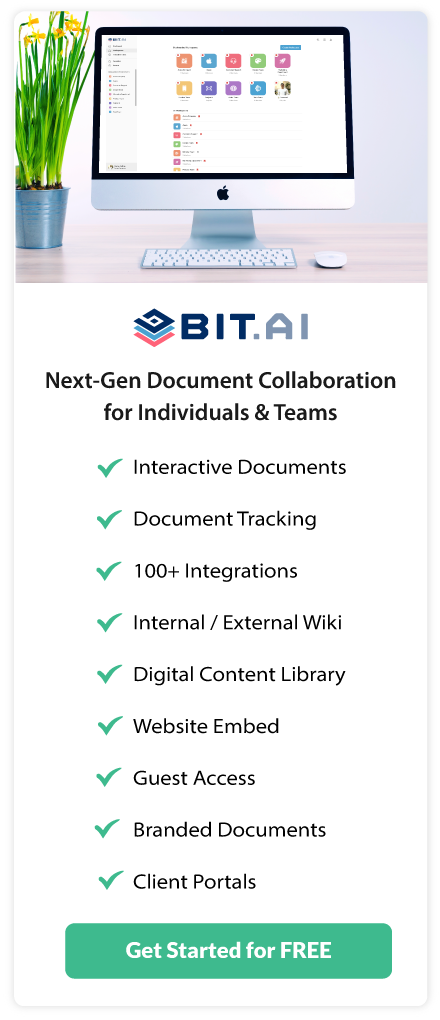 About Bit.ai
Bit.ai is the essential next-gen workplace and document collaboration platform. that helps teams share knowledge by connecting any type of digital content. With this intuitive, cloud-based solution, anyone can work visually and collaborate in real-time while creating internal notes, team projects, knowledge bases, client-facing content, and more.
The smartest online Google Docs and Word alternative, Bit.ai is used in over 100 countries by professionals everywhere, from IT teams creating internal documentation and knowledge bases, to sales and marketing teams sharing client materials and client portals.
👉👉Click Here to Check out Bit.ai.