Did you know that employees spend an average of 50% of their time creating and preparing documents? In fact, workers share an average of six documents daily to get their work done. Documents have become such an important part of our day-to-day lives that we often take them for granted.
We don't realize how often we're creating business documents, how often we are sharing them, and how much time we are spending daily looking for them! In fact, studies show that document challenges account for a 21.3% loss in productivity.
This doesn't come as a shock as more often than not, our entire workflow depends upon creating and sharing documents. Every department in any organization depends on documents to get their work done in one way or the other.
While new employees require training via how-to documents and training guides, the marketing and sales team work hard on pitch decks and marketing proposals to get increase sales and get work done.
Similarly, the finance department creates quarterly financial reports or business proposals while the HR department churns out company policies and job descriptions. Documents, thus, hold a company together like glue, making sure nothing falls from the cracks.
This is why it's crucial to have a document creation tool that can handle any work you throw at it. Document creation tools are nothing but editors that allow you to create and share documents effectively.
While this space was dominated by the likes of Microsoft Word for the past few decades, there has been an influx of new document creation and collaboration tools that are better suited to our modern-day, digitally-infused, workflow.
In this blog post, we are going to discuss what are the things you need to pay attention to while choosing a document creation tool and at the end, introduce you to a new-age document creation tool that does it all! So, without further ado, let's get started…
How to Choose Your Document Creation Tool?
There are many things to look for in a prolific document creation tool. Some of the key factors to look for while picking a document creation software includes:
1. Ease of use
First and foremost, a document creation tool should be quick and easy to use. It should not have complicated menus or buttons that distract you from your actual work (i.e. documentation) and provides a clutter-free interface.
Any newbie should be able to get the hang of the software pretty easily with little or no external support. Play around with the software to get a sense of its user interface and make sure you enjoy using it!
Read more: How to Manage Your Documents Effectively?

2. Gets rid of paper
A staggering 95% of business information documentation is still paper-based. Paper documents travel from desk to desk and often get lost in the process.
They are not only easy to misplace but cost a fortune to the company in terms of storing and supply costs. Take a look at these stats:
Most documents are photocopied about 20 times.
Companies spend an average of $20 to file and store paper documents.
Finding and replacing lost paper documents cost businesses an average of $120.
As much as 7.5% of all paper documents get lost.
83% of today's workforce waste time due to document versioning issues daily.
The average office spends about $25,000 to fill a four-drawer file cabinet and $2,000 annually to maintain it.
Seeing the cost associated with creating, storing, sharing, and maintaining paper documents and the inefficiencies it brings along, switching to a document creation tool that works in the cloud is a bargain. Your document creation tool must replace all your paper documents and help you save time, money, effort, as well as the environment!
3. Stores documents efficiently
An efficient document creation tool will not only have a simple user interface for document creation but will also provide a safe space to store these documents. Choose a document creator that has document management built-in so you can create and organize all your documents in one place.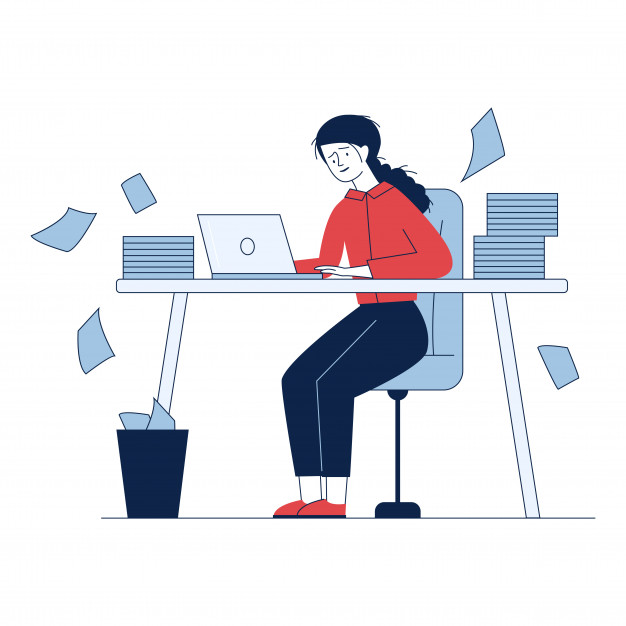 While the likes of Google Docs provide a cloud space to store your documents, they are highly inefficient as there's no way to organize them in different workspaces or even folders. Having all your marketing, HR, training, and financial documents scattered all over the place will only lead to chaos and confusion. We face these issues on a daily basis and it is a big hindrance to our productivity.
4. Robust search
On average, a professional spends 18 minutes searching for a document, which adds up to nearly 50% of their total time on the job. The pain of looking for documents is real! This is one of the main reasons why a whopping 88% of office workers cited the need for a dependable, unified search platform that would help them do their jobs better.
Remember how we talked about the need for organization in our last point? Organization of documents in workspaces and folders is important, but having a tool that can quickly lookup a file is equally critical for a document creation tool. Make sure your document creator is proficient in looking up for not only titles but can search inside documents and can search any sort of file format (PDFs) or other media assets like images, videos, and more that are part of your document.
Read more: Best Cloud Document Management Systems in 2022
5. Robust editor
There's really no easy way to format text in old-school editors like Word. The editor often feels overwhelming as it can take some time for newbies to find and carry out text formatting and customization. Making sure your headings, subheadings, font, images, body, text, etc. have the perfect spacing and font size can be a bit painful.
If you create long-form documents on a regular basis, you might want to look for a document creator that has easier styling options or better yet, automates styling to help you out with your work. See if the document creator supports Markdown (a plain text formatting syntax used to write content on the web) to aid fast typing and has keyboard shortcuts to carry out mundane tasks quickly.
Moreover, the editor should also be capable of handling any kind of data (or embed content from any third-party tool) you throw at it like files, images, videos, code, math equations, and other forms of rich media and build a more interactive document.
6. Collaboration
Having the ability to collaborate with peers and co-author documents together is the latest trend in document editors. This is a great feature as it allows teams to work together fluently without the to-and-fro email for suggestions, feedback, and editing.
However, according to data, email is still the collaboration method of choice for 92 percent of employees! A new study from Adobe Systems reports that the average worker spends around 30 hours a week checking email. People often forget that email was created as a communications tool and is, in no way, a collaboration medium.
Email provides limited context around the file being shared,
Isn't ideal for group conversations,
Buries information, and,
It's difficult to keep track of the correct file version.
Even with so many inefficiencies and knowledge silos being created every time you share a file with someone, workers send and receive about 15 emails that include attachments per day!
You can't really blame them as their document creation tool often lacks robust collaboration features which allow them to share and work on files more efficiently. Make sure to pick a document creator tool that revolves around collaboration so you don't have to spend time in your inbox!
7. High-quality templates
Templates play a huge role in allowing users to create documents quickly. They significantly reduce the document creation time, especially if you have to create the same document again and again (for example, a monthly revenue report). Templates also make sure that all your company documents look like they are made by the same organization in case you want to share such documents with external partners, clients, investors, or customers.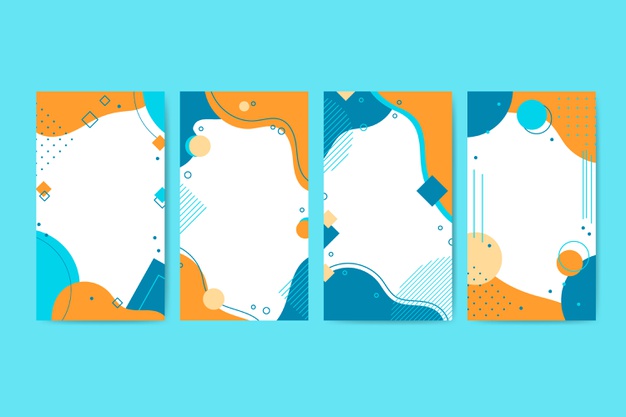 This makes sure all your content is with your branding and projects a unified image of your brand in the eyes of the audience. Make sure your document creator tool offers a ton of templates for different use cases (case studies, project proposals, sales decks, customer surveys, etc.) so that every department is able to do their work with speed.
8. Content management
Documents nowadays are media-rich and often contain PDFs, charts, images, videos, GIFs, and all sorts of media content. Having all these media (images, videos, charts, etc.) you want to include in your documents in one place simplifies your workflow. Look for a document creator that has a centralized content management system where you can store, retrieve, and share such assets across departments swiftly.
9. Cloud integrations
Continuing our theme of content management, a lot of our company content is often scattered around in cloud storage services like Box, Google Drive, OneDrive, and more. When looking for a document creator tool, make sure the tool has the ability to integrate with all major cloud services to bring all your media files and documents in one place.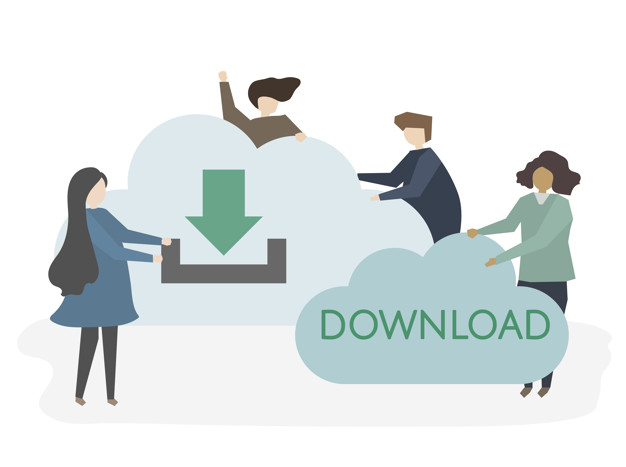 Look for something that allows you a one-click data transfer from your cloud storage to your document editor. This will not only allow you to quickly access all information you need but will also facilitate smooth workflow across departments and teams.
10. Export 
Many times while sharing a document, you need to export it to a different file format. Make sure your document creator supports document export inherently so you don't have to Google "how to convert text to PDF"! Some of the major file formats include PDF, Word, ePub, Markdown, and Rich Text Format, and basic text. Make sure your document editor supports all these formats for faster export and sharing.
11. Document Tracking
Lastly, any modern document creator must support document tracking capabilities. Document tracking is one of the most crucial and yet, the most underappreciated features of modern-day document editors. Having the ability to track your documents is a game-changer for companies. Not only does it help you understand how your viewers are interacting with your documents, but it will also help you to improve the content you're creating and sharing.
There you have it, folks! These were some of the key points you need to keep in mind while looking for document creator software. These pointers will surely help you pick an awesome document creator and improve your workflow manifold!
If you are on the market for a new-age document creator that handsomely ticks all the right boxes, read on…
Read more: The Ultimate Guide To Document Management Workflow
Bit.ai: The Modern Day Document Creator for Everyone!
As documents are so crucial for your business, selecting the right tool for your documentation needs becomes critical to business success.
After looking for such a tool ourselves and being frustrated to find mediocre options out there, we decided to take matters into our own hands and built Bit.ai, a modern-day document creator tool for everyone!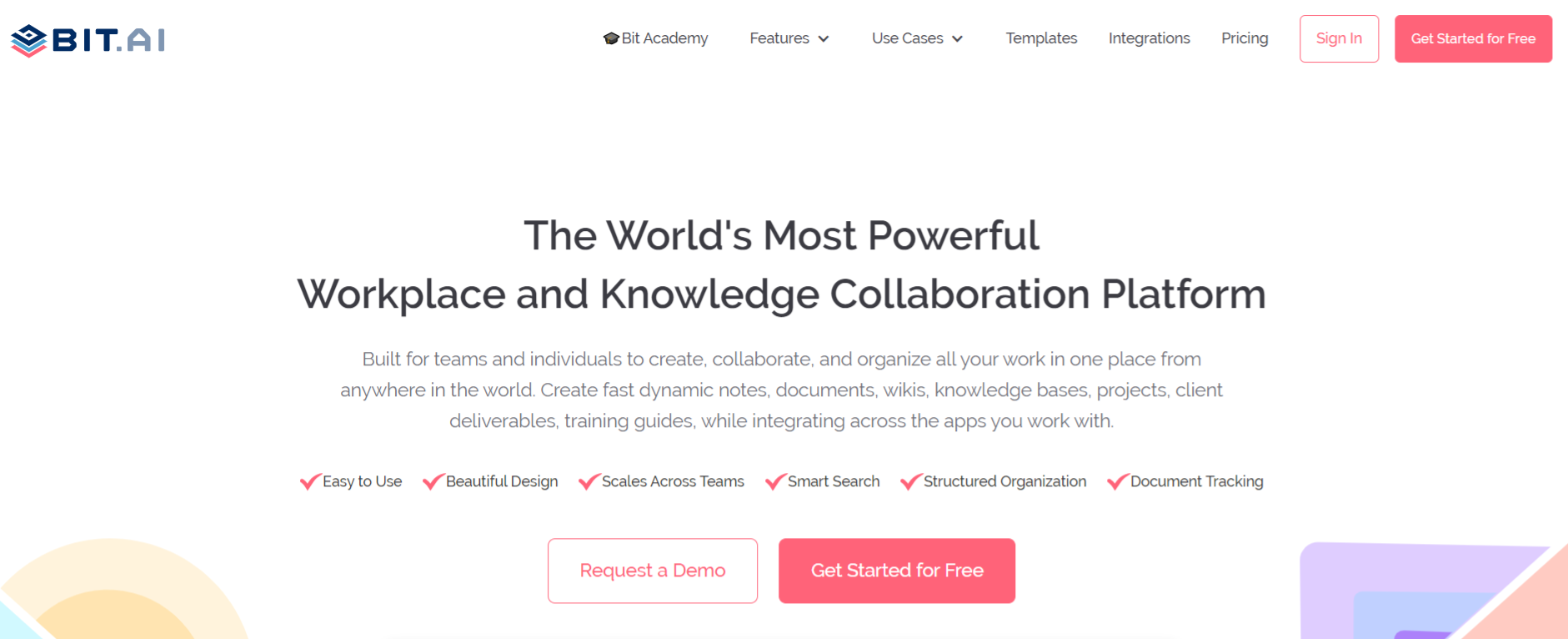 Bit is simple to use, allows you to create, manage, and share documents, has great search, and is scalable with your business. Imagine sharing, collaborating, and working together in one central location. Bit documents have been created to allow projects to be completed, reports to be analyzed, and decisions to be made by pulling information together wherever it lives on the internet.
Multiple people can simultaneously collaborate and create a smart document in real-time. It's a wonderful way to manage projects, create client-facing material, brainstorm, share meeting agendas, create proposals, and most importantly, share and manage information and knowledge! Bit's smart editor makes the process of documentation and content creation quick and easy.
Simple, Clean UI: Bit has a very minimal design aesthetic to it, allowing a newbie to quickly get on board with the platform. Even though the platform is feature-rich, it does a great job as to not overwhelm a new user and provides a systematic approach to work.
Smart Workspaces:  Information is often scattered in cloud storage apps, emails, Slack channels, and more. Bit brings all your information in one place by allowing you to organize information in workspaces and folders.
Bring all your documents, media files, and other important company data in one place. Workspaces can be created around projects, teams, departments, and clients to keep your documents, data, and information organized. Apart from creating multiple workspaces to keep your documents organized, you can further optimize the structure by creating an unlimited number of folders and subfolders.
Content Library: Bit's content library helps teams save and categorizes digital content (images, videos, music, etc.) and assets you use frequently inside documents, making it easy to reuse any digital asset to create other documents. You can also integrate with your cloud platforms and quickly add content to your content library. Add content from Google Drive, OneDrive, Sharepoint, Box, etc.
Smart search:  Bit has very robust search functionality that allows anyone to search and find their documents swiftly. You can search workspaces, folders, document titles, and the content inside of documents with Bit's rich-text search.
With the ability to effectively label content, users can search their digital assets using keywords, titles, descriptions, or tags. They can even search for files based on their source. (i.e., YouTube).
Brand consistency: Focus on the content and let Bit help you with the design and formatting. Bit documents are completely responsive and look great on all devices. With amazing templates and themes, Bit docs provide you with the type of brand and design consistency that is unheard of in the documentation industry
Integrations to keep everything together: Companies use an average of 34 SaaS apps! No wonder why most of our time is spent hopping from one app to the next, looking for files and documents. This is why Bit.ai integrates with over 100+ popular applications (YouTube, Typeform, LucidChart, Spotify, etc.) to help teams weave information in their documents beyond just text and images.
Sharing: Bit documents can be shared in three different states:
Live state: A live state meaning that all changes that you make to the document will update in real-time. If you are sharing your documents with clients, partners, or customers they will always get your most up-to-date changes.
Embeds: You can embed Bit documents on any website or blog. Bit docs are fully responsive and render perfectly on your website.
Tracking: You can track your documents and gather real-time insights to understand how users interact with your documents. See how much time users spend viewing documents, scroll ratio, user information, and more.
Tons of other features: Bit has a plethora of amazing features like version history, document tracking, cloud-upload, document locking, document expiration, and much more, making it a well-rounded document management tool.
Bit checks all the boxes by allowing you to create and edit documents collaboratively, keep them organized in workspaces and folders, search and access information quickly, and track your documents to get detailed analytics. It helps preserve key knowledge for everyone to access, facilitating better decision-making, reducing the chances of error, stimulating innovation, and encouraging a culture of constant learning.
Over to You!
Over five years, investment in document management results in a 404% ROI. Moreover, using document management solutions allow companies to reduce errors by up to 30%! There are literally countless upsides and seemingly no downside to investing in a document creator tool that will ease your workflow. Substituting your old document editor with Bit can help solve all your documentation distress. Just sign up for a free account and start creating modern documents with Bit!
Further reads: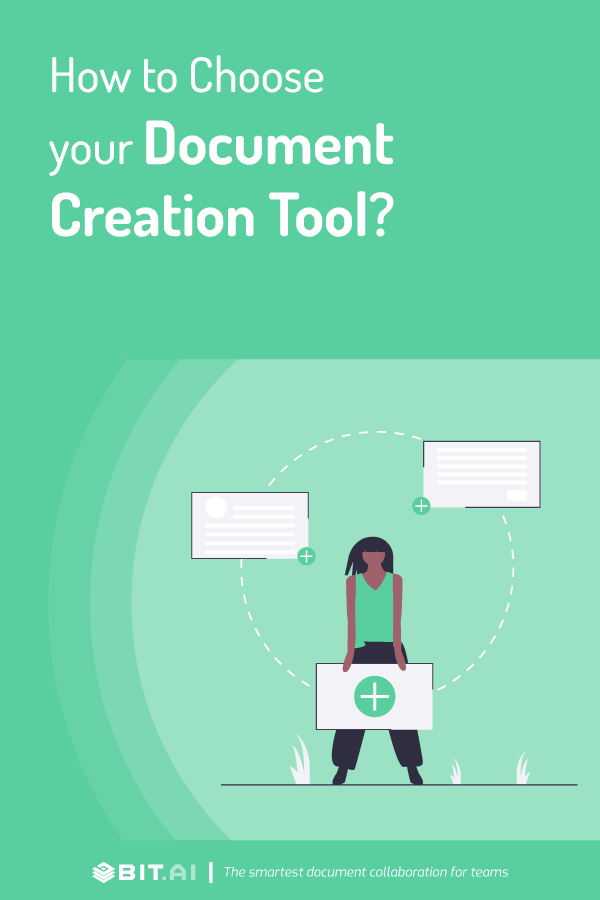 Related posts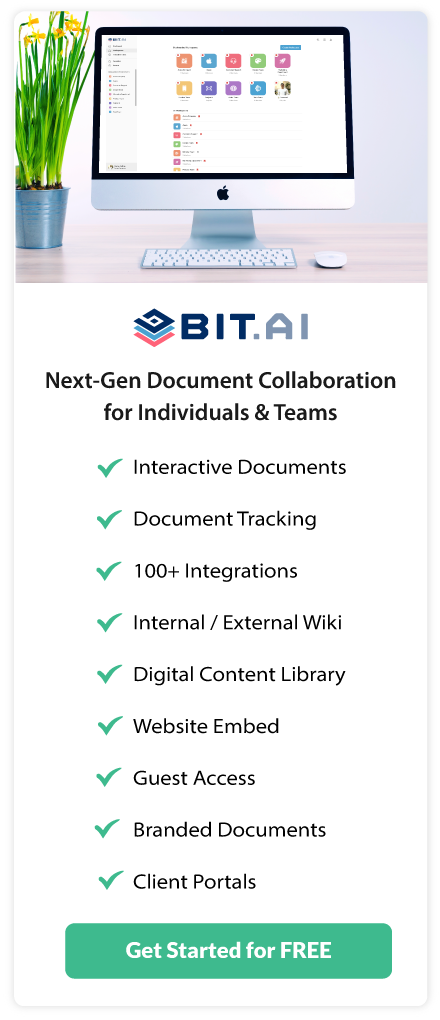 About Bit.ai
Bit.ai is the essential next-gen workplace and document collaboration platform. that helps teams share knowledge by connecting any type of digital content. With this intuitive, cloud-based solution, anyone can work visually and collaborate in real-time while creating internal notes, team projects, knowledge bases, client-facing content, and more.
The smartest online Google Docs and Word alternative, Bit.ai is used in over 100 countries by professionals everywhere, from IT teams creating internal documentation and knowledge bases, to sales and marketing teams sharing client materials and client portals.
👉👉Click Here to Check out Bit.ai.