If you're a small to a medium-sized business trying to figure out the cost-effective way to sort your IT needs, read this article to learn how cloud-based software services can fulfill your needs with minimal investment of your time and money.
Small and medium businesses (SMBs) need to stay focused on growing their business. They often have limited resources, time, and expertise to spend on ancillary functions. Thanks to the rise of software companies there currently are numerous Software as a Service (SaaS) products designed and catered specifically to the needs of SMBs.
The growth of SaaS over recent years has been tremendous with a rapid pace of innovation. SMBs in particular have seen the cost, security, and usability benefits and hence contributed to the rise of the SaaS sector.
Technavio predicted that by the year 2023, the SaaS products market will be worth $60.36 billion, and growing at a CAGR of 9%.
As per a BetterCloud survey, 38% of organizations reported they were running almost entirely on SaaS operations already!
SaaS is ubiquitous for the operation of current businesses and you surely don't want to be left out. To enable you to make an informed decision about which SaaS products to purchase, we have listed down the top ones that SMB's would need. First, though you need to understand the true meaning of a SaaS product.
What is a SaaS Product?
Software as a service (SaaS) (also known as on-demand software) is a software licensing and distribution model in which a centrally hosted software is provided to customers through a licensed subscription over the internet.
Instead of having to procure expensive hardware or installing software, you can easily access an application over the Internet. SaaS products are often called web-based software, rentware, or hosted software.
The SaaS company simply hosts the software on its servers and delivers it to its subscribed end users via the internet. The SaaS company is responsible for providing access, security features, IT support, and performance during the course of its functioning.
SaaS is a part of cloud computing technology, along with the well-known services of infrastructure as a service (IaaS) and platform as a service (PaaS). A Gartner survey found that more than a third of the organizations see cloud investments as one of their top three investment priorities.
Advantages of Using a SaaS Product
Small and medium businesses can use affordable yet powerful SaaS products to manage their business functions. These SaaS products can help increase productivity and operational efficiency enabling the organization to focus on growth.
Some of the advantages of using SaaS products are as follows:

SaaS products can be accessed on any device using a simple internet connection
Flexible user-based pricing
Quick distribution across employees
Continuous functional enhancements
Quick security upgrades
Highly scalable and flexible
Wide range of system compatibility
No tedious hardware investments
Top SaaS Products for Small Businesses
There are SaaS tools for fundamental business functions of accounting, content curation, customer relationship management, document collaboration, email marketing, knowledge management, productivity, etc.
We have listed the top SaaS products we have found to be useful for small and medium businesses to enable smooth functioning:
1. Bit.ai – Document Collaboration Tool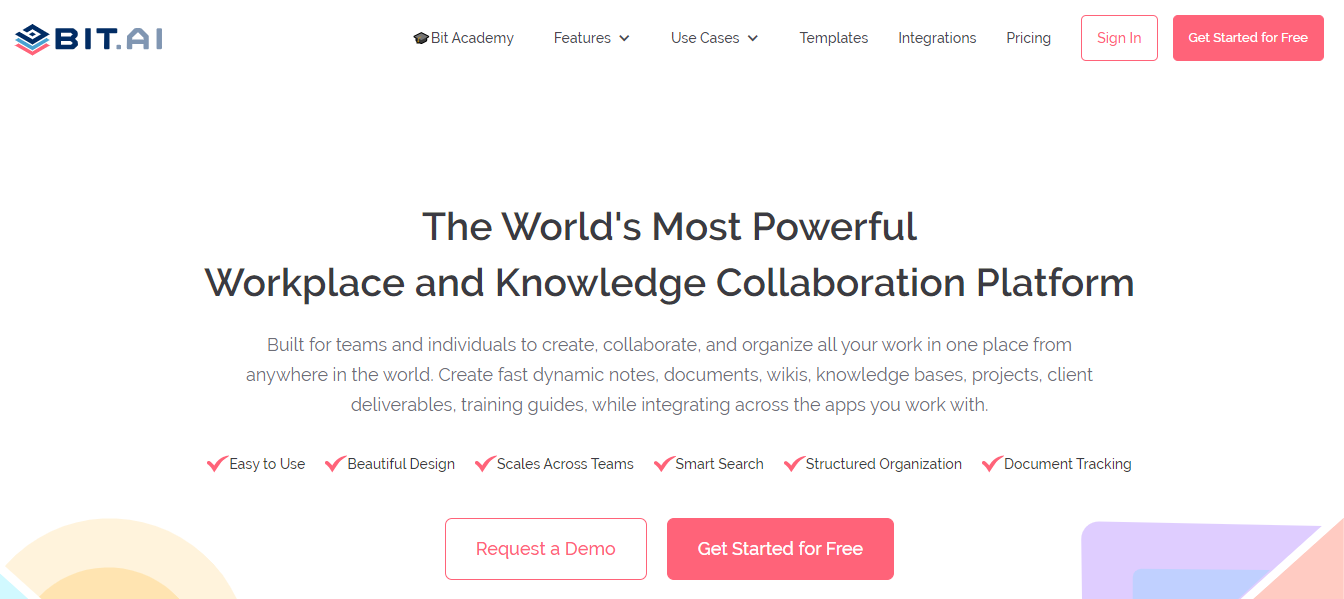 Bit is a new age cloud-based workspace and document collaboration SaaS platform. It helps teams work together while they simultaneously share information across applications, like a virtual office!
Bit lets you create workspaces for any group, project, team, or anything else. Workspaces can be used to create, collaborate, and organize all of your business's work in one place.
Within a workspace, you can create interactive live documents, dynamic notes, documents, company wikis, knowledge bases, instruction manuals, one-pager, client deliverables, training manuals, process documentation, while integrating across multiple apps.
Bit's is a unique SaaS product because of its powerful editor that you can use to collaboratively type in real-time, and add digital assets like PDF files, cloud files, videos, spreadsheets, etc. Content across 100+ popular applications can be added with just a shareable link.
Bit includes a central content hub known as the content library where you can save your companies content in one place. You can bring together files, images, and web links into one central repository to ensure smooth remote collaboration.
Key features:
Simple and intuitive design
Collaborate and communicate
Rich media integrations
2. Elink – Content Curation Tool

elink.io is an amazing all-in-one content curation & content marketing SaaS tool that helps marketers and content creators publish email newsletters, web pages, and embed web content by just adding web links! Turn a collection of web links (articles, videos, etc.) into visual content in seconds.
You can easily convert weblink collections to email newsletters and export to MailChimp, Gmail & all third-party email providers that allow HTML code (including Campaign Monitor, MadMimi, Active Campaign, etc.)
You can track content your performance and engagement levels on the content created and shared.
elink offers beautiful pre-built responsive layouts, so you never have to worry about design and can just focus on collecting awesome content. This time-saving SaaS product will change the way you create and share content.
Key features:
Quick and easy to use
Responsive and interchangeable templates
Provides analytics and key integrations
3. ProofHub – Project management and team collaboration Tool

ProofHub is a project management and team collaboration tool that allows teams to maintain complete control over their tasks, projects, and communications. With simple to-do lists and agile kanban boards, it provides versatile task management alternatives.
A specific section for real-time discussions, an in-built chat app, a robust proofing tool, and custom reports are all included in the software. It's equally effective at managing remote teams and projects as it is at managing in-house teams and projects.
You may add tasks with deadlines to this simple task management and online collaboration software so you don't forget about them. You can choose between a list view, a Kanban board view, a Gantt chart view, or a Calendar view.
With markup tools and threaded comments, you can easily share files, review, proof, and approve them. The built-in chat tool makes it simple to communicate with team members. It functions as a central workstation for all of your teams, projects, and communications. ProofHub is an excellent solution for small businesses because of its flat-rate pricing approach.
Key features:
All-in-one tool

Multiple project views 

Time tracker

Project reports

Team communication tools like in-built chat, discussion boards and notes

Proofing tool

Easy to use
4. Trello – Project Management Tool

Trello helps you create boards, lists, and cards that enable you to organize and collaborate your projects flexibly and productively. You can create a board for your team and add details such as comments, attachments, due dates, and more directly to Trello cards.
Trello is an efficient project management SaaS product that enables small businesses to easily collaborate on projects from beginning to end. You can stay in sync across multiple devices and work on the go easily with their phone apps.
Key features:
Visual appeal with its Kanban-style boards
Simple design and easy to use
Collaboration through comments and notifications
Read more: 13 Best Free Trello Alternatives In 2022
5. Slack – Communication SaaS Tool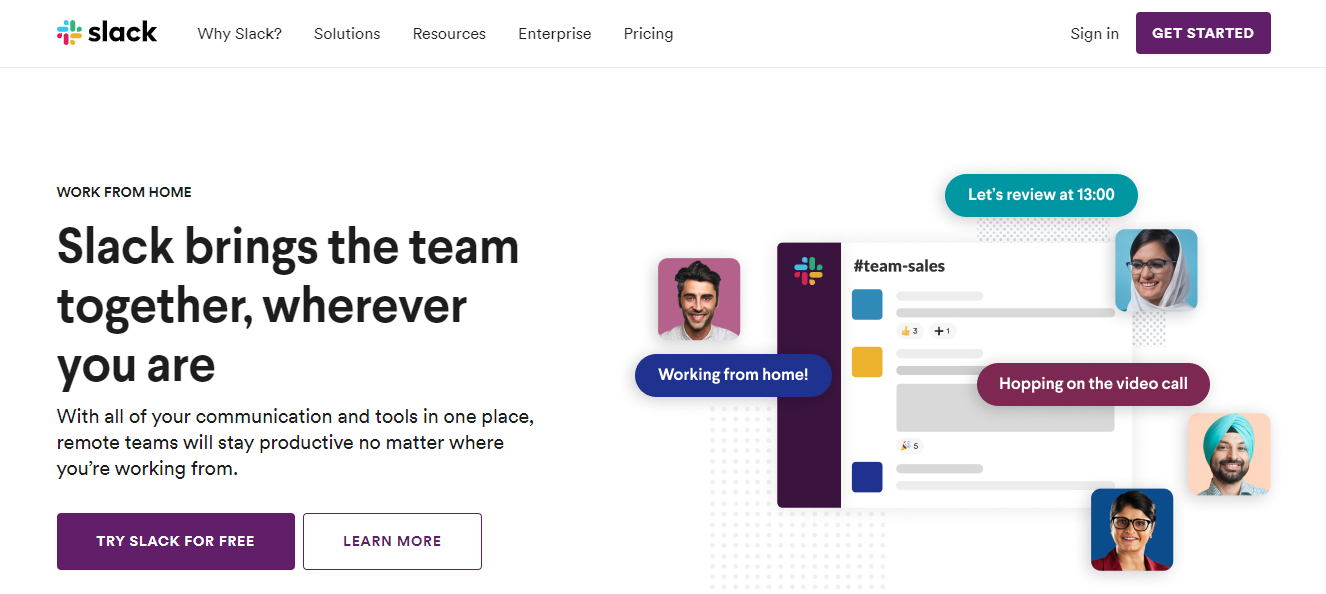 Slack is the most popular communication SaaS tool for remote teams and brings all your communication needs in one place. Users create message groups called 'channels'.
Channels can be created for a team, project, location, client, or anything else! In these channels, the entire team can have conversations, collaborate, and share files. File sharing is super easy with Slack, as it integrates with over 2000+ apps. No wonder it's considered as a savior from those long email chains!
Key Features:
Easy to use
Voice and video calls
Multiple third-party integrations
6. Hubspot – Sales, Marketing & CRM SaaS Software

HubSpot is an inbound marketing platform that also has platforms for sales and Customer Relationship Management (CRM). Hubspot provides sales teams with support to target prospects, conduct email campaigns, convert customers, interact with them, and measure the results of your campaigns.
This SaaS product offers email marketing automation that allows you to create your own workflows, publish created content, seamlessly integrate contact profiles, follow up with your customers, and resolve their queries so you can have effective marketing campaigns.
Key features:
Lead generation
Marketing automation
Covers all aspects of the sales cycle
Read more: 25 Email Marketing Stats That Will Shock You!
7. Buffer – Social Media Management SaaS Software

If you have multiple social media channels to manage, working on them separately can be tiring. A well-known social media management SaaS tool, Buffer allows you to post to multiple social media accounts from a single Buffer account.
You can schedule posts, track content performance, and manage all your profiles in one place. Buffer has smart analytics that can determine which content is performing well and would recommend appropriate strategies to improve your content performance.
Key features:
Content scheduling
Performance metrics and analytics
Browser extensions
8. Intercom – Customer Support SaaS Tool

Intercom is a customer support and communication SaaS software that can help you to study and personalize your interactions with your end customers. Intercom allows companies to send personalized and targeted messages based on customer behavior.
It examines the areas where your customers get stuck or need any sort of help and provide the ability to receive feedback. Companies can also strike a conversation with their customers through in-app messages based on their behavior. The feedback you receive when chatting live with your customers can be used to enhance the customer experience.
Key features:
In-app communication
Track customer behavior
Conversational messages
Read more: The 9 Best Intercom Alternatives And It's Competitors
9. BambooHR – Human Resource (HR) Software

According to BambooHR, 89 percent of their customers are SMBs hence this must feature in your SaaS tool list. HR software and management system BambooHR provides personnel data modules, tracking, and reporting capabilities through your employee's life cycle.
It covers remote teams with multiple performing apps for types of operating systems. With BambooHR you can easily create new job openings, share them on social media sites, manage incoming applications, onboard employees, and prepare their compensation.
Key features:
Application tracking
People data & analytics
Employee performance management
10. Toggl – Productivity SaaS Tool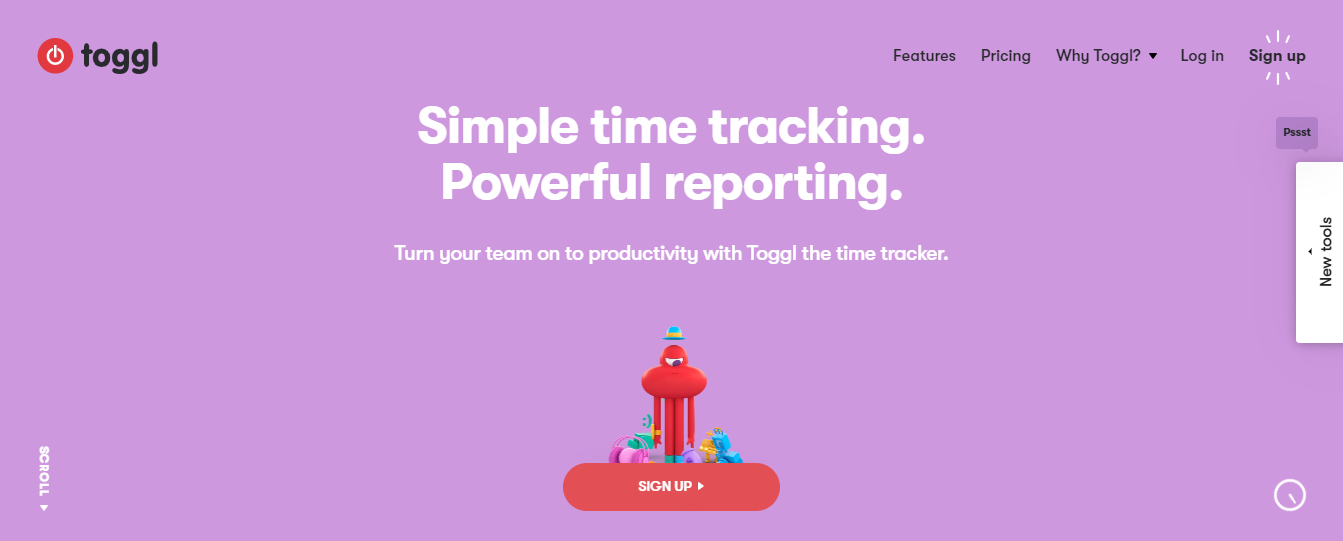 With an increase in the number of screens we use on a daily basis, everyone too often loses track of time. A common challenge for businesses is to be able to keep track of the time employees spends across projects.
Toggl is a simple but powerful time tracking SaaS product. It provides an overview of your team's workload and spots potential issues in their workflow. It's a helpful time tracking system for small businesses as it also comes with auto-synched desktop, iOS, and Android apps.
Key features:
Easy to learn
Manual and automated tracking modes
Profitability analysis
11. Freshbooks – Accounting SaaS Software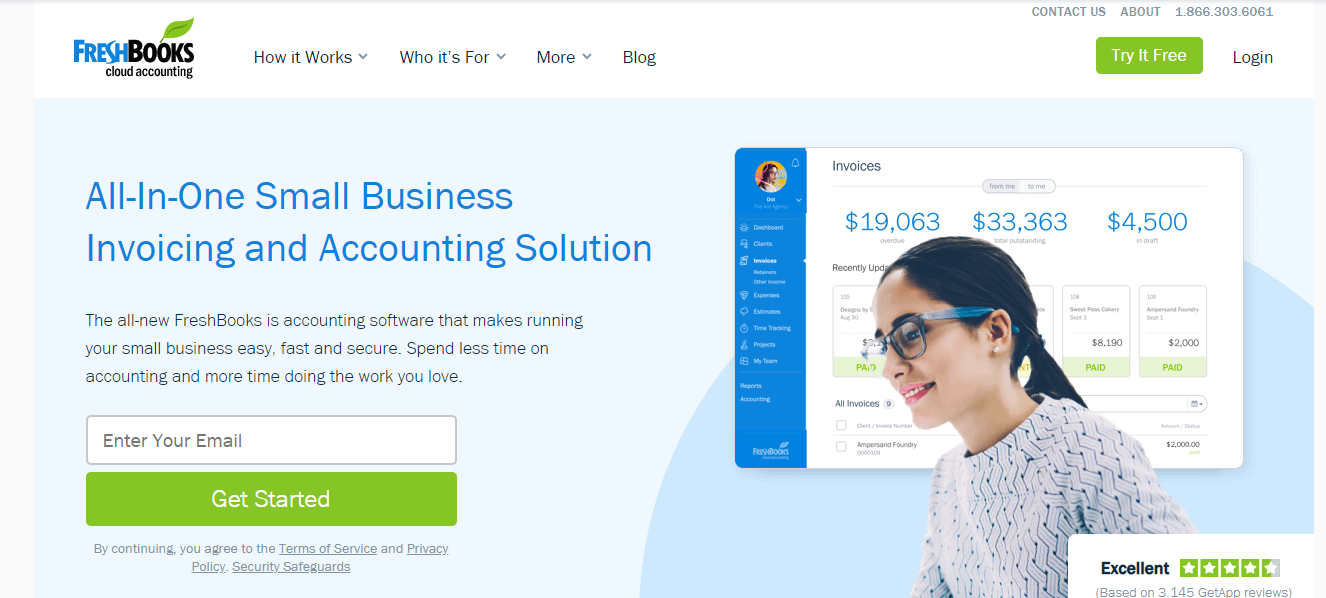 Freshbooks is an award-winning invoice and accounting SaaS software catered to small business owners. It has a reliable and agile accounting suite that can simplify any financial management task.
If you lack an accounting background, Freshbooks' intuitive design and automated processes will be very useful. You can easily run analytical reports and look into financial patterns to grow your business. With the FreshBooks mobile app, you can stay connected and take care of your accounting anywhere.
Key features:
Automated business processes
Robust reporting
Expense tracking
Join the SaaS Revolution
These are our picks for the best SaaS products for small and medium businesses. If your business is yet to join the SaaS bandwagon, you are likely to lag behind your competitors. It's not too late though and now that you know of the best SaaS products you can jump-start your business.

The SaaS revolution is here to stay as more companies continue to reap the benefits of customization, payment plans, scalability, ease of access, low investments, etc.
In case we missed your favorite tool, do let us know by tweeting us @bit_docs.
Further reads: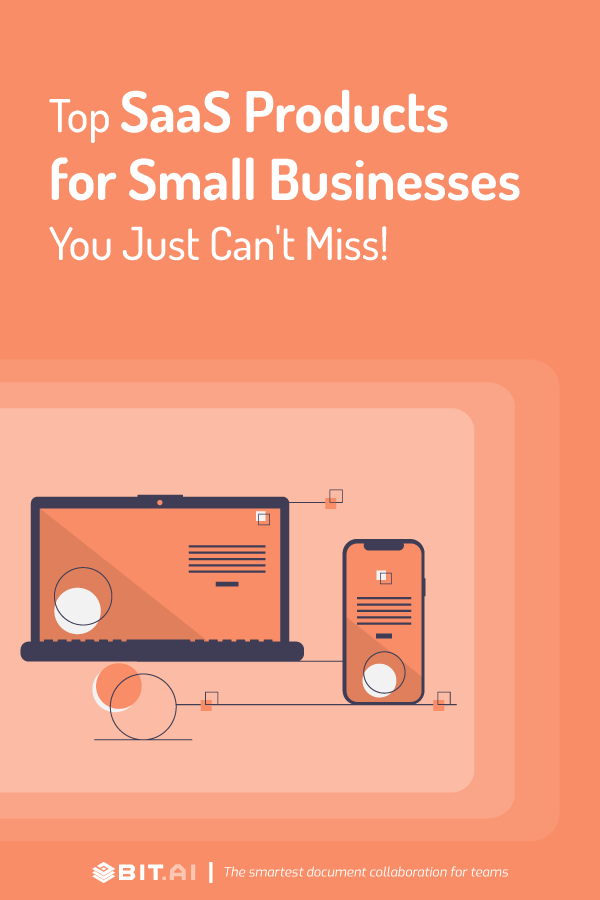 Related posts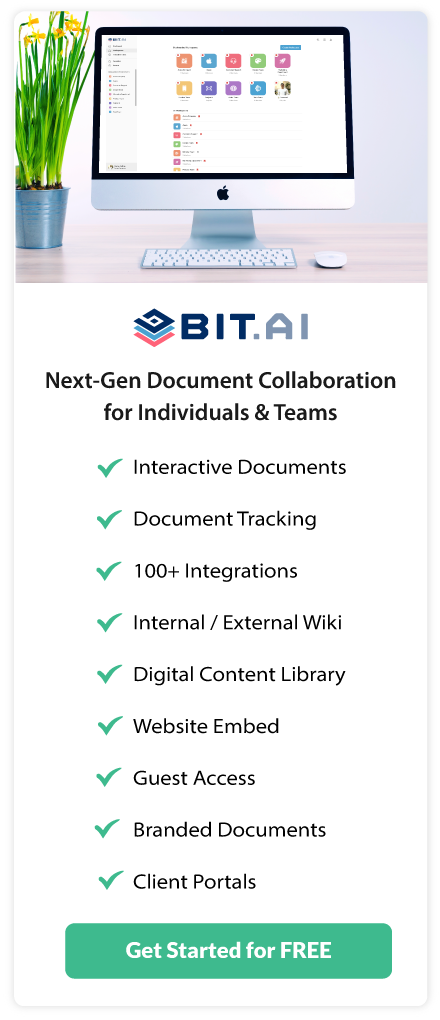 About Bit.ai
Bit.ai is the essential next-gen workplace and document collaboration platform. that helps teams share knowledge by connecting any type of digital content. With this intuitive, cloud-based solution, anyone can work visually and collaborate in real-time while creating internal notes, team projects, knowledge bases, client-facing content, and more.
The smartest online Google Docs and Word alternative, Bit.ai is used in over 100 countries by professionals everywhere, from IT teams creating internal documentation and knowledge bases, to sales and marketing teams sharing client materials and client portals.
👉👉Click Here to Check out Bit.ai.