Our lives have turned upside-down since the coronavirus had us all working from our homes. Our schedules are out of whack, while we manage our home, our kids, work, and of course, the groceries! It might have been difficult at first, but people are now getting the hang of remote collaboration and the numerous advantages it brings.
The spread of COVID-19 across 216 countries (as to date), has required companies to reimagine the workplace. Work from home has become a new norm, either due to government mandates or organizational executive decisions.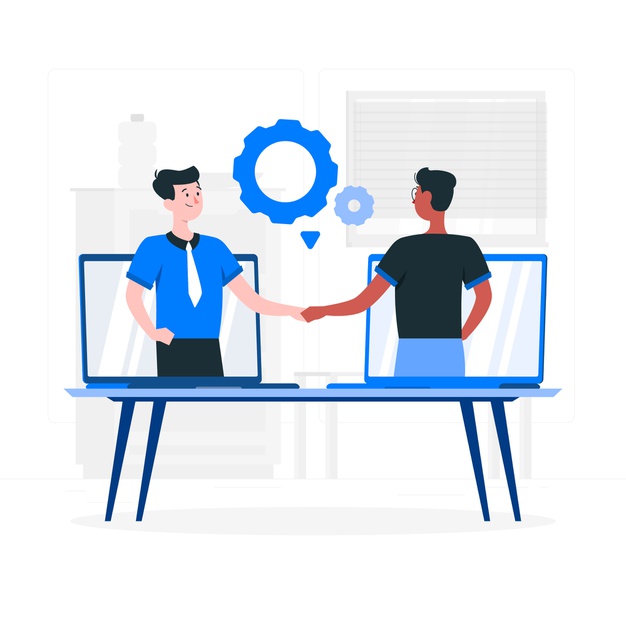 According to the State of Remote Work 2020 report by Buffer and AngelList 98% of remote workers want to continue to work remotely for at least part of their careers! Once they tasted working remotely, 97% would recommend remote work to others! So we can assume, if more people have tried out remote work this year, they would want to continue working from home even after the situation improves.
For Europeans, the journey to work causes more stress than their actual jobs as per a Ford Survey! 26% of people found commuting stressful, compared to 23% who found work stressful. It's unlikely that we will see many workers that want to go back to their daily work commute!
Organizations will now have to rethink how they work to instill remote collaboration and support their employees who want to work from home. But wait, let's slow down, what is remote collaboration and how can we do it? Read on to find out more.
What is Remote Collaboration?
Remote collaboration can be defined as a process where team members work together, regardless of their geographic location, to achieve organizational goals. Thanks to modern-day remote software tools, employees can collaborate without being physically present in the office. During a global health crisis, the ability to work from home is all one could ask for!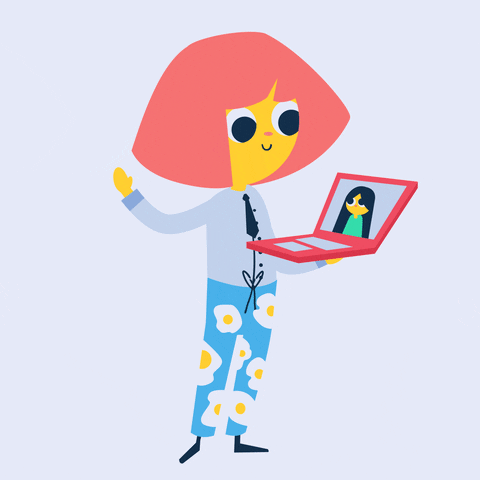 According to a Harvard Business Review article, there are three types of distances involved in remote collaboration:
Physical distance: Geographic location and time zone.
Affinity distance: Unity, trust, and understanding.
Operational distance: Team size, availability, and skill set.
The physical aspect of the team is the fact that your distributed team could be anywhere in the world! A coffee shop in New York could be your head office and a beach in Thailand your tech hub.
This distance can be bridged by creating an online work team, using remote chat and conferencing tools such as Slack, Skype, Google Meet, Zoom, etc.
Affinity aspect is the secret sauce to great remote collaboration! It is the emotional and mental connections among remote team members. Do they trust each other? Do they share a common goal and vision? Do they connect beyond their daily tasks? It takes clear communication, a supportive work culture, and virtual team-building efforts to create a strong team.
An organization's ability to anticipate and prepare for the operational challenges is key to the success of the remote collaboration. The challenges could be diverse, from effective brainstorming, project management, content organization, scheduling, file sharing, and document tracking. How do you go about doing all these things? This is where remote collaboration tools save the day!
About 80% of businesses are using at least one remote collaboration software in their organizational activities. This number will only continue to rise as companies look for innovative ways to communicate and connect with their online work team.

Lucky for you, we have done the digging and have listed below the top 6 remote collaboration tools every organization needs!
Top 6 Remote Collaboration Tools
Let's take a look at some of the major remote collaboration tools any company can use. These collaborative tools vary in their primary purpose, but all cater to the multiple needs of a remote team. You can thank us later! Let's get started.
1. Bit.ai – Knowledge & document collaboration platform
Bit is a new age cloud-based workspace and document collaboration platform. It helps teams dispersed geographically, work together while simultaneously share information across applications, like a virtual office!
Bit lets you create workspaces for any group, project, business, remote team, or anything else you can think of. Workspaces can be used to create, collaborate, and organize all yours or your team's work in one place.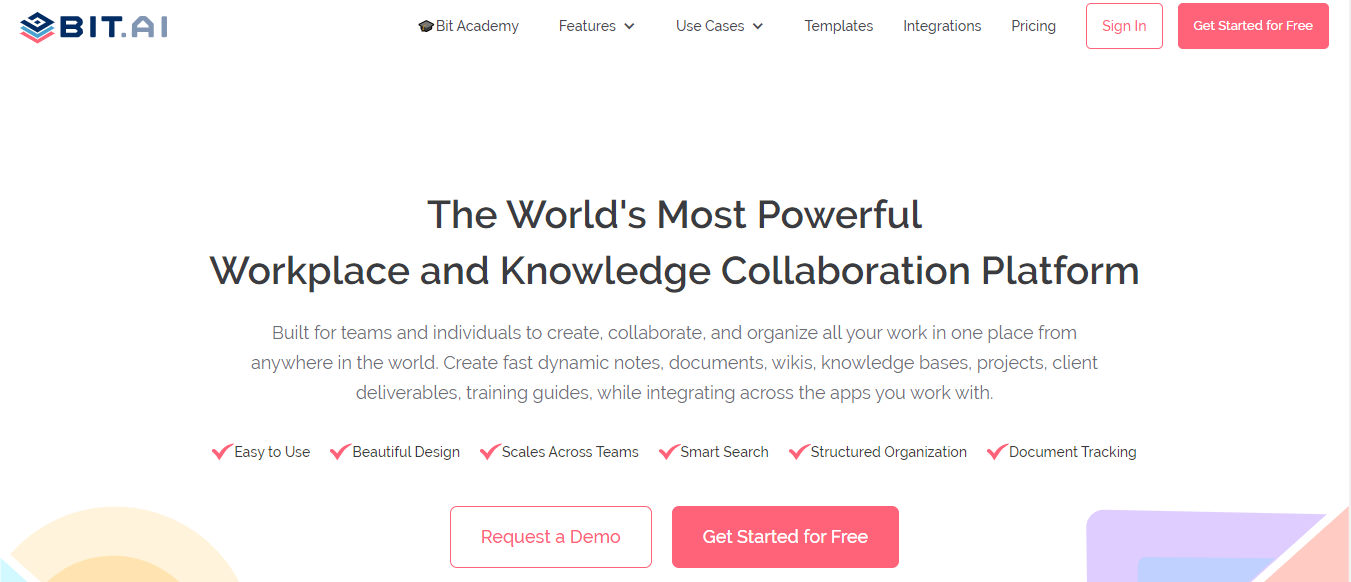 Within a workspace, distributed teams can create interactive live documents, dynamic notes, documents, company wikis, knowledge bases, instruction manuals, one-pager, client deliverables, training manuals, process documentation, while integrating across multiple apps.
Your remote team can use Bit's unique editor to collaboratively type in real-time, and add digital assets like PDF files, cloud files, videos, spreadsheets, and more. Content across 100+ popular applications can be added with just a shareable link.
Bit includes a central content hub known as the content library where you can save your organization's content in one place. You can bring together files, images, embeds, and web links into one central repository to ensure smooth remote collaboration.
Key Features:
Simple, Clean UI: Bit has a simple interface and clean design, which makes it easy to explore features. Its intuitive design is easy to use and enables you to be productive from the get-go.
Content Library:  Bit brings all your information in one place by allowing you to organize information in workspaces and folders from across your devices and cloud storage apps (ex: OneDrive, SharePoint, Google Drive, and Box).
Communication: Your communication can be enhanced by adding web links that automatically turn into interactive visual cards and rich embeds that live in your document. You can easily ping collaborators to get their attention on a document you are working on. With inline comments, email notifications, and @mentions also included, its very easy to discuss a document.
Media Integrations: Bit.ai integrates with over 100+ popular applications (Google Sheets, YouTube, MS Office, Typeform, LucidChart, Spotify, etc.) to help teams quickly incorporate their creations and effectively collaborate remotely.
Sharing and Sync: Bit documents can be shared amongst workspaces and with external clients such that any changes made will update instantly. You can even track documents to get intelligent engagement insights and embed documents onto any website or blog.
Pricing:
Free up to 5 members
Pro Plan – $ 8 per user per month
Business Plan – $ 15 per user per month
Enterprise – Customized
Read More: Make Your Distributed Teams Work More Efficiently With Bit.ai!
2. Slack – A communication platform
Slack is a widely-used communication tool for remote teams as it's built with a team-first approach. Users create message groups called 'channels'. Channels can be created for a team, project, location, client, or anything else!

In these channels, the entire team can have conversations, collaborate, and share files. File sharing is super easy with Slack, as it integrates with over 2000+ apps. No wonder it's considered as a savior from those long email chains!
Key Features:
Ease of use: Slack is simple to use, has an intuitive user interface, and feels like a productive messaging tool. You can easily join or leave a channel and drop files to share them with the team.
Connectivity: You can make voice or video calls and even share your screen directly in Slack. Channels allow everyone in a team to provide real-time analysis and feedback
Search: It is quick to find important information in an easily searchable archive. Your conversations become common institutional knowledge and stay on even after you leave a channel.
Pricing:
Free with limited functionality
Standard – $2.67 per user per month (billed annually)
Plus – $5 per user per month (billed annually)
Enterprise Grid – Customized
3. Trello – Collaborative project management tool
Trello helps you create boards, lists, and cards that enable you to organize and collaborate your projects flexibly and productively. You can create a board for any team and add details such as comments, attachments, due dates, and more directly to Trello cards.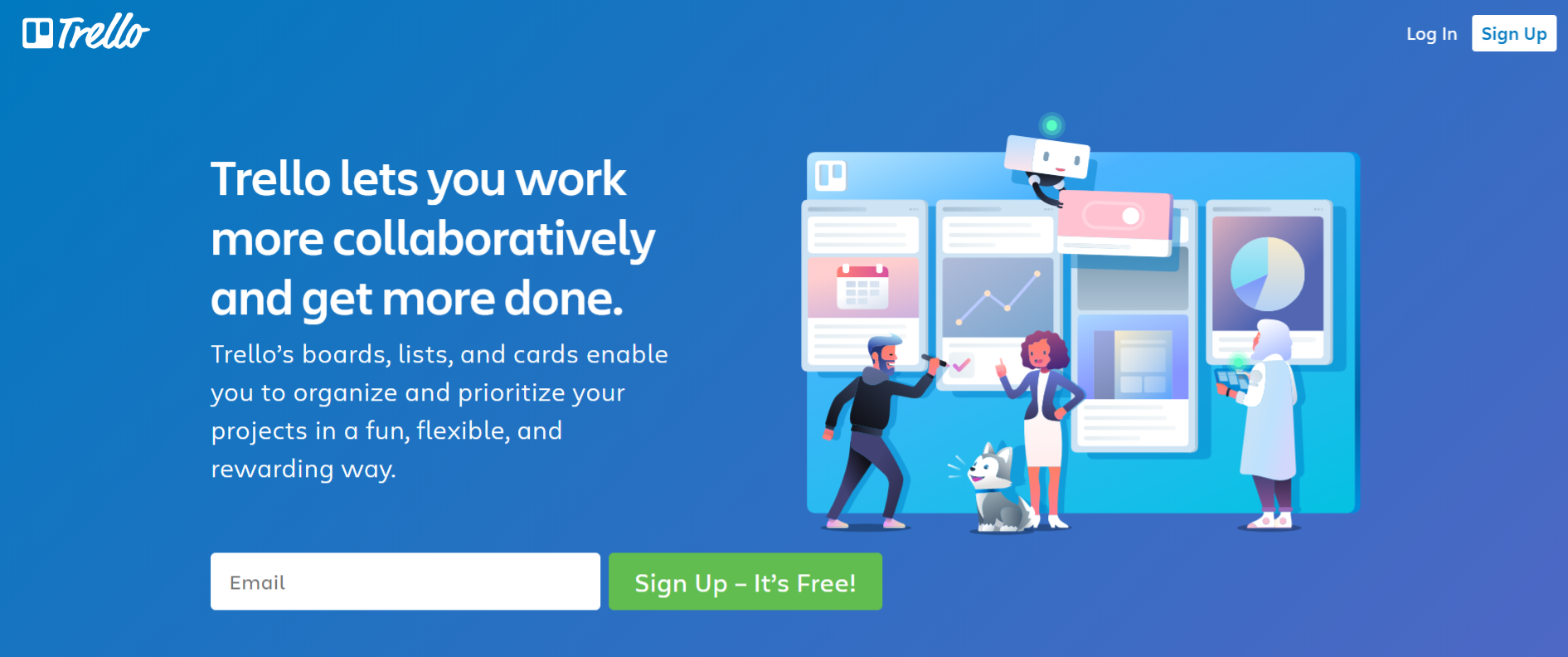 You can easily collaborate on projects from beginning to end! Trello stays in sync across multiple devices and makes work on the go easy with their phone apps.
Key features:
Visual appeal: Trello gives the boring task of project management a fun twist with its Kanban style boards, which contain task lists and cards that can be assigned to different members.
Simple design: Trello makes it easy to add users, lists, tasks with a few steps. You can easily drag a card to various stages of completion. It's super simple even for a tech newbie.
Collaboration: Users can discuss real-time with comments, activity logs, and email notifications. You can easily organize group meetings, share files, use @mention to call members' attention, and even express your emotions through their emojis. 😊
Pricing:
Free for 10 team boards
Business Class – $9.99 per user per month (billed annually)
Enterprise – starts from $20.83 per user per month for 100 users; more users lower the price
Read more: 14 Best Free Trello Alternatives In 2021
4. BlueJeans – Video, audio, and web conferencing platform
If you want the best video conferencing software for a remote team – BlueJeans is a feature-rich option. It has audio, web, and video conferencing combined with the everyday tools you use.

BlueJeans has high definition video and crystal-clear audio powered by Dolby Voice®, intelligent dashboard, encrypted conference calls, and advanced user management, making it a hot favorite among online work teams.
Key features:
Quick set up: BlueJeans can schedule, join, or host meetings from anywhere, using any web browser, on any device, or room system in just six seconds. It's an easy-to-manage cloud service without the hassles of downloading or installing an application or plugin.
Utility: Meetings can be recorded and later be broken down into parts, with highlights, task assignments, and follow-up tasks. While in a meeting you can upload files, share your screen, make annotations on a whiteboard, and allow remote desktop access — just what a remote team needs.
Security: BlueJeans places importance on security, and uses encryption-enabled channels to help keep your meetings and data secure. Administrators have full access control over meetings, remove or mute participants, and add a passcode.
Pricing:
Standard plan: $9.99 per host per month (billed annually)
Pro plan: $13.99 per host per month (billed annually)
Enterprise plan: Customized
5. Miro – Collaborative whiteboarding tool
Miro is an online digital interactive whiteboard that helps in remote collaboration and brainstorming. Like a physical whiteboard, you can add a variety of content – texts, images, maps, sticky notes, drawings, diagrams, spreadsheets, prototypes – and work with visual templates together as an online work team.

Miro can be a starting point to your visual thinking process for any business! You can incorporate Miro designs into a powerful knowledge management tool like Bit for the perfect content collaboration experience.
Key features:
Workflows and integrations: Distributed teams can collaborate; create workflows with product management tools like InVision, Sketch, Jira, Confluence, Dropbox, Box, Google Suite, etc.; conduct collaborative actions like voting, and story mapping; and tracking activity in Slack.
Communication: Miro lets users provide feedback, reviews, and approvals through many text, voice, and video communication options available within the platform.
Templates: Beyond brainstorming Miro can be used for other activities that require collaboration, for example product development, strategy mapping, marketing, agile projects, UX research and design, strategy planning, decision making, customer discovery, and process visualization.
Pricing:
Free: 3 editable boards
Team Plan: $8 per member per month (billed annually)
Business Plan: $16 per member per month (billed annually)
Consultant Plan: $12 per member per month billed annually
Enterprise: Customized
6. G Suite – Productivity tools
Google offers numerous powerful productivity and organizational tools combined in its G Suite by Google Cloud to power your remote collaboration. You can use Google Docs, Sheets, Slides, and their other commonly used applications. Users can also integrate Gmail to make for an effective experience.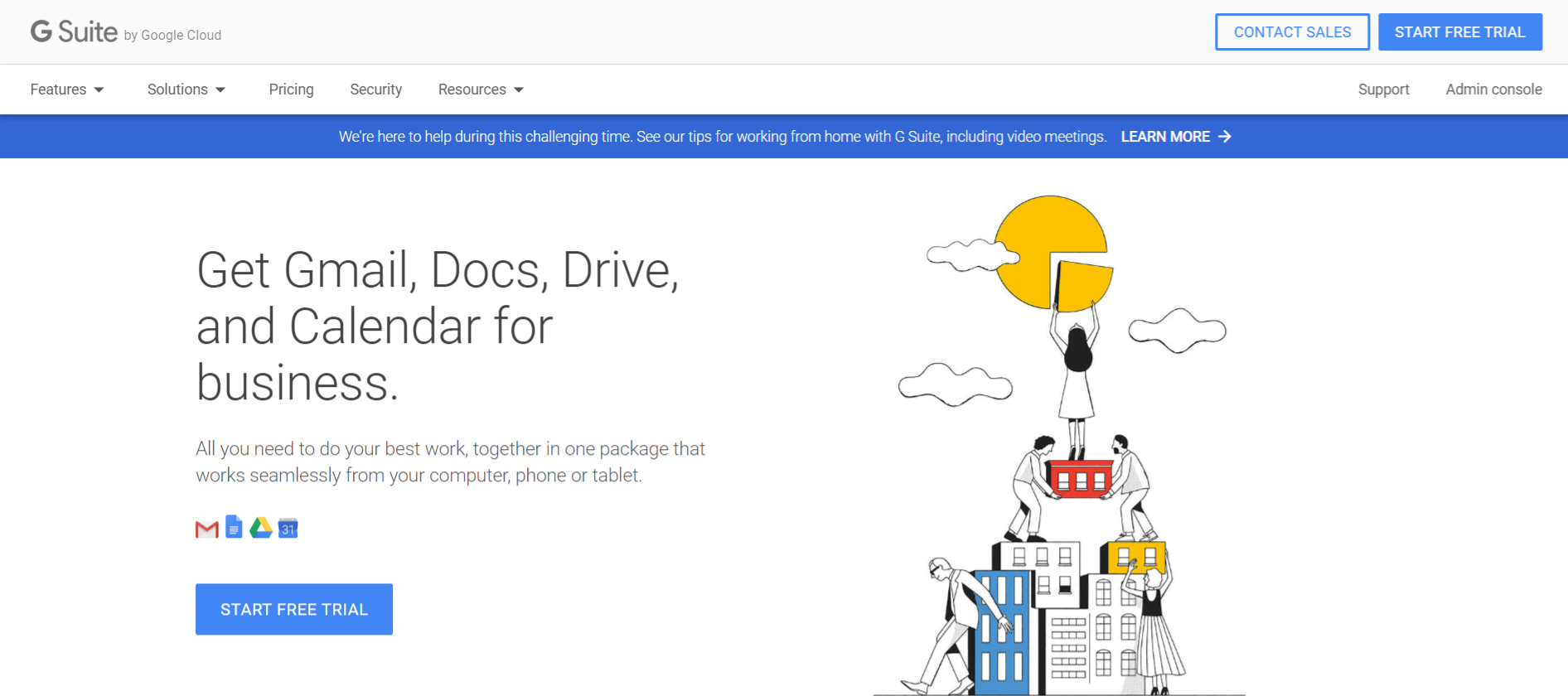 Key features:
Integrations: User experience can be enhanced by using many of the commonly used Google products like Meet, Hangouts, Calendar, etc.
Cloud storage: The cloud storage options differ based on the plan you chose but make it easy to stay in sync.
Control: Access options specify who can view, comment, and edit your files. You can share your files with anyone who has an access link to it.
Pricing:
Basic – $ 6 per user per month for 30GB cloud storage
Business – $ 12 per user per month with unlimited storage
Enterprise – $ 25 per user per month with unlimited storage and advance controls
Read more: Benefits of Remote Collaboration for Distributed Team
Are You Ready to Work Remotely?
COVID-19 will eventually subside, but remote work is here to stay. With so many benefits, it's hard to imagine people going back to the office (at least in full-strength) anytime soon. Thanks to awesome collaboration tools like Bit, it's been easier than ever to have a distributed team and work remotely.
Remote collaboration is here to stay and the sooner organizations start enabling their distributed teams to work from home, the earlier they will reap the benefits.
All of the above tools possess the ability to collaborate in real-time and create documents on the go. Which is your favorite remote collaboration tool? Let us know your thoughts on remote collaboration by tweeting at us @bit_ai
Further reads: 
Tips and Tools to Manage Your Distributed Team
7 Presentation Tools to Create Awesome Slideshows!
8 Key Benefits of Virtual Teams for Your Company!
Workplace Collaboration Tools for Productive Teams!
7 Compelling Reasons Why You Need To Invest In Team Collaboration
Workplace Collaboration For Better Productivity
21 Collaboration Statistics that Show the Power of Teamwork
How to Write a Statement of Work (Template Included)
Communicate Effectively: How to do it in Workplace! (Types & Techniques)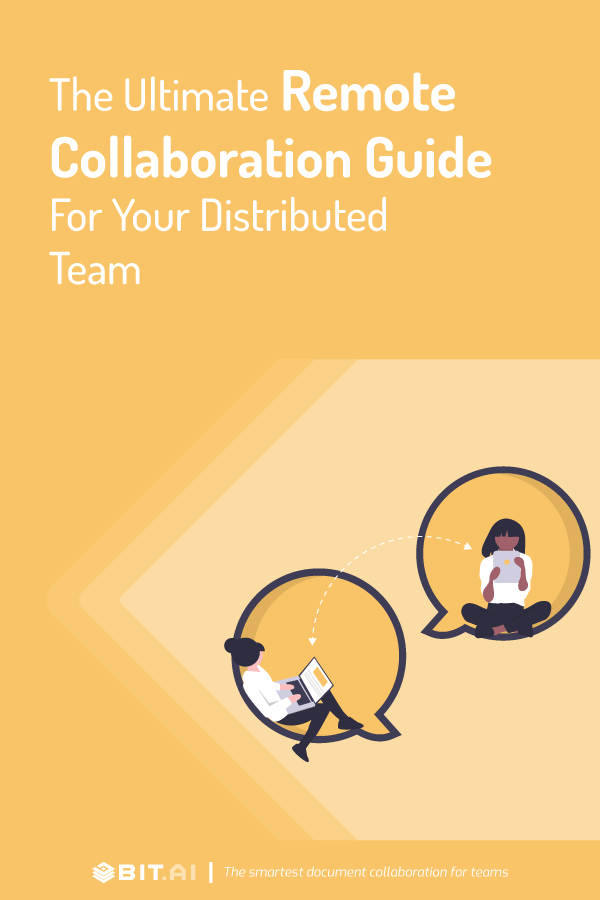 Related posts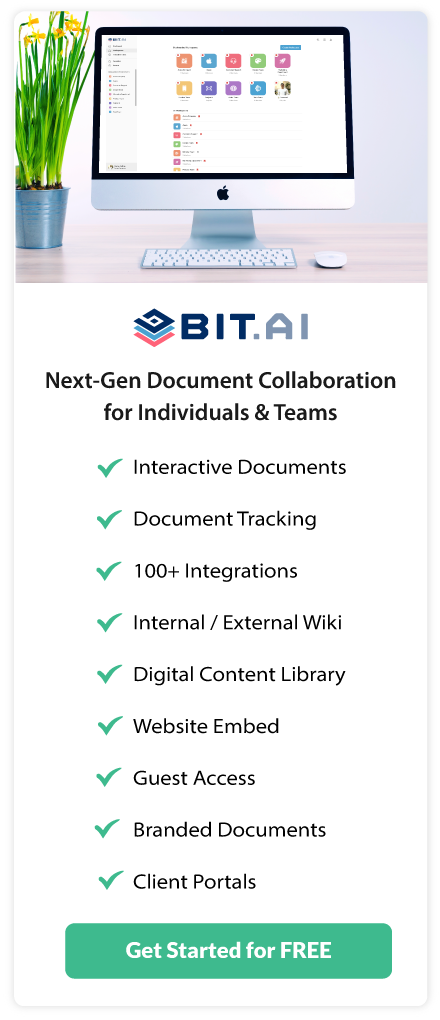 About Bit.ai
Bit.ai is the essential next-gen workplace and document collaboration platform. that helps teams share knowledge by connecting any type of digital content. With this intuitive, cloud-based solution, anyone can work visually and collaborate in real-time while creating internal notes, team projects, knowledge bases, client-facing content, and more.
The smartest online Google Docs and Word alternative, Bit.ai is used in over 100 countries by professionals everywhere, from IT teams creating internal documentation and knowledge bases, to sales and marketing teams sharing client materials and client portals.
👉👉Click Here to Check out Bit.ai.