Have you ever planned a holiday trip with friends? Or had heated discussions with your family trying to decide on the Thanksgiving menu? Or bickered with your friends to choose the perfect Netflix show to binge on?
What do these 3 scenarios have in common? They need a team to collaborate!
"Alone we can do so little; together we can do so much." – Helen Keller
We see collaboration frequently in our personal lives, and it's bound to also be necessary for our workplaces. Workplace collaboration is an integral part of any successful business. Collaborative workplaces show higher levels of trust, an engaged workforce, a strong sense of unity, and improved profitability.
One study of 1,100 companies showed that teams that collaborate, perform 5X better than the rest, as they are motivated towards a shared goal.
However, despite the known benefits of effective teamwork, it's rarely prioritized by managers. A recent study from Salesforce has shown that 86% of employees cited a 'lack of collaboration' was responsible for failures in the workplace.
We thought it was important to highlight the benefits of team collaboration and 3 simple ways you can make teamwork a priority.
What is Team Collaboration?
"Great things in business are never done by one person; they're done by a team of people." – Steve Jobs
Team collaboration is a management practice wherein individuals work together towards a common goal.
The Oxford Dictionary defines collaboration as "the act of working with another person or group of people to create or produce something."
Team collaboration enables a team to attain something that couldn't have been achieved by one person alone. A team would contain a diverse skill set, roles, autonomy, knowledge levels, background, etc. The strength of a team comes into play when they support each other, communicate well, and work towards a unified goal.
7 Reasons Why You Need To Invest In Team Collaboration
"No matter how brilliant your mind or strategy, if you're playing a solo game, you'll always lose out to a team." – Reid Hoffman
Collaboration can improve the way your company works through better communication, joint innovation, process improvements, and shared triumphs. With some investment of time, effort, and financial resources, it is possible to gain multiple benefits from team collaboration.
1. Synergy & Sharing
A Stanford study showed that individual performance greatly improved when there was a perception of working as a team. Team collaboration involves bringing together individuals with a wide variety of skills, knowledge, and background.
When diverse teams are brought together, the sum of their work is greater than their individual efforts. Teamwork can enhance cooperation amongst employees and all have the opportunity to learn from each other's mistakes and accomplishments.

2. Innovative Ideating
A workplace where employees are open-minded, and frequently share their ideas, analysis, suggestions, and concerns can make for better brainstorming. This sets a path for greater dialogue on new ideas and different perspectives – the result is continuous innovation!
Team collaboration in the workplace can increase innovation by 15%. Often employees connect beyond the workplace and bring back ideas that result in 35% greater innovation.
3. Engaged Employees
An engaged employee is a satisfied one – he works with enthusiasm, is ready to help others, and goes beyond the normal call of duty to ensure success. Engaged employees are important for many other workplace benefits – productivity, profitability, happiness, and retention, to name a few.
It's important to prioritize employees to foster better engagement. Working in a collaborative team enables employees to socialize with others and have conversations beyond work.
Working together creates bonds among employees, this results in a sense of belonging, boosts a sense of accomplishment, and uplifts employee morale.
Nearly 75% of employees rated teamwork and collaboration as important and value being part of a team. Employees currently spend nearly 50% more time involved in collaborative work.
Read more: Workplace Collaboration Tools for Productive Teams!
4. Top Talent
In the knowledge-centric digital economy, employees are a key resource. Attracting and retaining talent is a key focus area for most companies. Efforts in good team collaboration practices go a long way in attracting the best talent.
As per a study by Gallup, strong teams are magnets for good talent. Companies need to spend time creating a collaborative work culture. A strong teamwork culture also results in retaining talent.
In a Gusto survey, 37% of employees said "working with a great team" was a major reason they stayed with a company.
It is common for employees to consider leaving a company if they didn't feel like they had a strong bond with their team or felt isolated at their workplace.
27% of employees who planned to leave within 1 year of joining cited feeling "disconnected" from their company.
Read more: 50 Best Team Building Activities For Collaboration
5. Flexibility
Team collaboration can help aggregate the skill sets of a diverse team bringing in an adaptive and flexible workforce. Teamwork and increased collaboration can enhance the company's ability to deal with change or disruption, as employees rally together to tide over the challenge.
As teammates are aware of each other's roles and responsibilities, collaboration enables employees' flexibility in their schedules too.
A survey showed the two biggest demands of recent graduates were work-life balance (67%) and a flexible work schedule (57%).
6. Overcome Obstacles
When teams are faced with hitches or hindrances, their diverse experience, and shared understanding help them deal with difficult situations cooperatively. Partnerships and alliances can help teams network their way to collective solutions.
In a Salesforce survey, 86% said that a lack of collaboration was the reason their projects had failed.
When a team faces a challenge, they can utilize their varied learnings to come up with multiple solutions to tackle the problem.
Teammates also help each other through their difficulties in hopes of reciprocative efforts in the future. Thus the team is better able to handle any hiccups along the way and could even proactively warn each other of foreseeable risks.
7. Powered-up Productivity
All the above factors combine to enhance the overall productivity of individual employees thereby increasing the company's profitability. Collaborative teams are more present and productive, they are perceptive to organizations' processes and are motivated toward company goals.
Highly engaged teams showed a 21% increase in profitability.
Teams that collaborate communicate better and more often in real-time thus minimizing friction and delays which in turn leads to higher quality output. Collaborative teams also engage with external parties such as clients, vendors, and suppliers in a more cohesive manner thus making for a great customer experience.
There are numerous other benefits to collaboration which in the interest of time we shall not cover but we did want to go over some ways that you could improve collaboration in the workplace.
3 Ways to Improve Team Collaboration
1. Invest in Collaboration Tools
The recent pace of technological innovation has changed the way teams collaborate. Teams are now spread out across geographies and time zones, which makes it important for companies to create a central digital environment or a remote workspace where teams can communicate and collaborate. This is where team collaboration tools come to save the day!
Up to 80% of companies use social collaboration tools to improve their business processes.
83% of professionals said they depend on technology to collaborate.
Today there are countless collaboration tools available to keep employees communicating. Each of these tools differs in its purpose, design, features, prices, and usability.
Your company might require a combination of collaboration tools for different functions – project management, document management, conferencing, content curation, messaging, knowledge management, etc.
There are numerous benefits of using collaboration tools, including:
Clearly defined roles & responsibilities
Shared space to work across physical boundaries
Improved and faster inter-departmental process flow
Improved organization of documents and knowledge sharing
Increased productivity
Enhanced tracking, reporting, and analytics
Ultimately you need to choose a flexible tool that promotes teamwork within your company. Bit.ai is a new-age document management and collaboration tool that helps teams to collaborate, share, track, and manage all company information in one place. It's a great tool for teams to get work done together while integrating with numerous other commonly used applications.
82% of professionals felt that they would feel obstructed if the technology was not available to collaborate. Check out our ultimate remote collaboration guide for information on the best collaboration tools for you.
2. Open and Honest Conversations
99.1% prefer a workplace where issues are discussed truthfully and effectively.
33% cited a lack of open, honest communication as having the most negative impact on morale.
Team collaboration depends on open communication and ownership. It's about creating a safe space where employees feel empowered to share ideas, hold discussions, receive feedback, and see their suggestions implemented.
If all can communicate equally and information is shared freely across the company, it creates a sense of workplace community. If you want a collaborative work culture, you need to open multiple channels of communication and provide opportunities for collaboration among teams.
Companies that promote communication effectively are 4.5 times more likely to hold onto their best employees.
It may seem easy to instruct employees to collaborate more, but the truth is collaborative work start from higher management. This communication should not be limited to top-down communication or rigidly scheduled meetings.
This can appear as a lack of transparency to other lower-down employees. Employees who do not have a clear idea of company happenings, tend to engage in unnecessary gossip and rumor-mongering, which could damage team morale, relationships, and company reputation.
By combining knowledge, skills, and experiences, companies can accomplish more than if they worked in silos. It is necessary that collaborating teams trust each other and communicate effectively so that they together work towards company goals.
Collaboration starts with clear communication with all stakeholders. You need to also:
Clearly define and be transparent about company goals.
Provide employees with an understanding of the progress towards these company goals.
Remember to promptly and clearly communicate any changes within the company.
Define collaboration processes and frequently check to see if they are being followed and update them accordingly.
Read more: 31 Teamwork Quotes That Will Fire Up Your Team
3. Organize Team Building Activities
Companies with engaged employees earn 2.5x more revenues than those with low engagement levels.
Moreover, companies with low employee engagement levels experienced 18% lower productivity, 16% lower profitability, and 37% lower job growth over time.
Engaged employees can then make or break your company! So how do you keep your employees positively engaged? One way is through conducting team-building activities.
Team building activities help employees understand each other, serve as great ice-breakers, help each other to communicate better, motivate employees, and ultimately help them develop a strong bond. Teams can collaborate better if they are engaged in team-building activities. Teamwork allows us to have a strong sense of community and belonging.
There are numerous benefits of team building activities:
Increases employee morale
Creates a positive work culture
Improves team communication
Build trust within the company
Enhances cross-departmental integration
Team building activities could range from scavenger hunts, indoor games, office trivia, board games, sports tournaments, video game sessions, online Ludo, etc. Look for activities that are simple to do, easy to execute, and those that all employees could be included – especially remote employees.
Embrace Team Collaboration
"Coming together is a beginning, staying together is progress, and working together is a success." – Henry Ford.
Effective team collaboration is an integral ingredient in the overall success of a team and company. It enables your company to increase productivity, enhance innovation, retain the best talent, and much more. Collaboration also enables teammates to develop shared values, and experience a sense of unity as they work together towards achieving a common goal.
Are you ready to dive into creating a collaborative team? Reach out to us to find out how Bit can help your team work effectively.
Further reads:
Benefits of Remote Collaboration for Distributed Team
15 Team Building Skills You Must Develop for Better Collaboration!
8 Key Benefits of Virtual Teams for Your Company!
Tips and Tools to Manage Your Distributed Team
How Bit.ai Can Improve Your Team Collaboration?
Why Workplace Collaboration is More Important Than Ever?
Collaboration Strategy: Definition, Benefits & Process!
What is Cross-Functional Collaboration & How To Build A Team?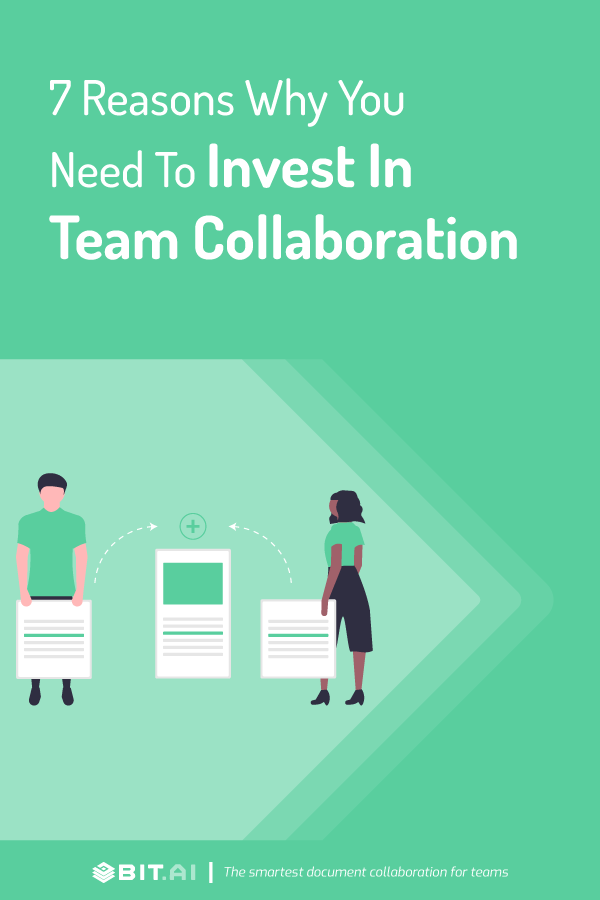 Related posts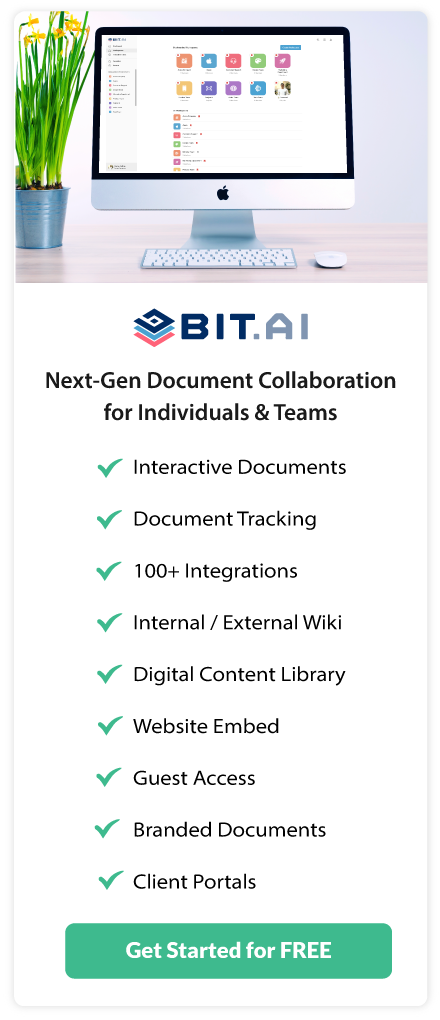 About Bit.ai
Bit.ai is the essential next-gen workplace and document collaboration platform. that helps teams share knowledge by connecting any type of digital content. With this intuitive, cloud-based solution, anyone can work visually and collaborate in real-time while creating internal notes, team projects, knowledge bases, client-facing content, and more.
The smartest online Google Docs and Word alternative, Bit.ai is used in over 100 countries by professionals everywhere, from IT teams creating internal documentation and knowledge bases, to sales and marketing teams sharing client materials and client portals.
👉👉Click Here to Check out Bit.ai.