We are living in the 21st century and most companies are dependent on information technology and data to manage transactions, accept orders, and service customers well.
However, situations can arise that disrupt these technologies and hamper the flow of work being carried out. These issues could be security-related, failures related to the infrastructure, human errors, and much more!
So, it is always a good idea to have a plan of action that helps companies be equipped with the responses they need to make in case there is any sort of disaster.
Moreover, in many types of job roles, such as IT operators, there are various tasks that are carried out every day, even multiple times a day. They involve repeating the same steps, but doing them again and again from scratch becomes repetitive. Due to this mundane nature of work being carried out, employees can become complacent and may miss out on some essential steps in the process.
For all these types of scenarios, it is much more efficient and reliable if there are guidelines that help us mitigate common tasks or disasters. This is where run books come into the picture!
In this article, we'll be covering the meaning of run books, their importance, and the different steps to create a run book for your business processes!
What is a Run Book?(Meaning)
A run book is a group of pre-defined instructions, processes, or procedures that are essential for keeping up with everyday tasks. Run books are especially relevant for tasks related to Information Technology, administration or any other technical functions and areas.
A run book documents all the information that is required for an employee to work through repetitive tasks or for disaster management. It contains material that employees can refer to when facing common problems, including walk-throughs of procedures and processes.
Run books are compiled by the outcomes of problems that have occurred before. Once the solution to the problem has been discovered, it is documented in the run book for future reference. In case the problem arises again, developers need not test for solutions again- they can simply refer to the run book and save time.
Common procedures in a run book would include how to start and stop the program or system, performing backups, resetting or formatting the contents, effectively troubleshooting and debugging, and much more!
A run book is only useful if updated regularly, as it needs to be on par with the latest versions of software and newest developments.
Let's take a look at why run books are so important!

Why Must You Create a Run Book?(Importance)
Disaster Management:
According to research, there are 3 factors that cause the most amount of business disasters: power, telecom, and infrastructural failures. These factors can lead to your website and service being down for quite a bit of time, leading to unsatisfied customers and lost sales.
A run book is the first step in helping you solve these problems as fast as possible. After all, the more time your website or service is down, the angrier your existing customers get, and you lose more number of potential customers.
Since run books note down the decisive steps or actions that should be taken for every type of disaster, they help you mitigate faster and get your service back on track as soon as possible.
Guidelines for New Employees:
Run books are important not only for disaster management but also to note down basic procedures. These are noted so that employees have a checklist of the various steps they need to carry out for completing a particular task.
This is especially useful for new employees that are still getting used to the workings of the firm. They can refer to the run book as much as they want to make sure they are following the formal procedures that have been laid down by seniors.
Now that you've understood why creating a run book is essential for your business, let's dive into the different components that you should include under your run book!
How To Create A Run Book?(Steps)
A run book needs to be updated as often as possible so that solutions to new problems can be documented well. Ideally, your run book should keep evolving over time. Hence, this is not an all-encompassing list of run book components, but it is a good starting point to help start your first run book.
Make sure you include the following things when you make your run book:
Step 1: Compartmentalized Disaster Scenarios
Each scenario or incident that can arise needs a different section altogether. This is so that administrators don't get confused between the different types of problems that can occur.
Problems and incidents can be of varying nature and impact. For example, a technical issue such as power failure or website crash might have a different impact compared to a natural disaster. While both may be problems or risks that a company may face, how you need to deal with them or approach differs.
For this reason, it is crucial that you compartmentalize each disaster scenario so that employees can handle them in the appropriate manner.
Read More: 9 Risk Management Tools & Techniques You Must Try!
Step 2: Problem Identifying Pointers
For each problem, there need to be ways of identifying and confirming that the problem actually exists. Hence, note down which monitoring tools will confirm the same.
Include other problem-checking software that may be useful. If there are any sites, charts, or reference guides, add their links there. This reduces the confusion in identifying the existence of the problem.
Step 3: Delegate Problem Solving Duties
Each problem may require different skillsets from different people. Each type of problem should have a dedicated manager who will carry out the process of solving it.
Hence, this section of the run book should include the details and contact information of specific team members that should be spoken to in case you need to escalate the incident.
Step 4: Problem Solving Guidelines
This section is the "how" for each problem's solution. What are the steps and actions that need to be taken by the dedicated problem solvers? List the exact procedure that needs to be carried out, step by step.
This should be the most detailed section of the run book. Include links, images and videos so that solvers can be aided with visual information. If there are different scenarios or ways of solving a problem, list them down and explain the order in which they should be tested.
Step 5: Notation and Review
While working on the problem, make sure you record notes and update the status of the situation. If there is any new insight, add it to the run book so that it can be of help if there is a similar situation in the future.
Read more: Action Plan: Definition, Importance & How to Steps!
Step 6: Non-Disaster Processes
A run book is used not only for solving emergency situations, but also to document basic processes. Many day to day tasks involve many steps which can be easily forgotten, so a run book can act as a checklist to make sure all the sub-components of the task are carried out.
Run books are used by various people across different teams. They are constantly updated by various administrators when new processes, procedures, or problems are discovered. Hence, creating a run book is collaborative in nature. Normal document-making software like MS Word doesn't allow you to collaboratively work on documents with your team.
Moreover, running books involve adding multiple links, images, and videos within documents to help them be useful and less confusing.
Bit.ai is the perfect platform that solves all of these problems and is hence the right tool to make your run book! Here's why Bit is the perfect solution for your document-making needs!
Bit.ai: Tool For Creating Run Books
Bit.ai is a new-age document collaboration tool that allows you to embed any kind of images, videos, media, and links directly into your documents. This cloud-based platform is perfect for creating various types of documents like run books, agreements, wikis, and more! Here are a few reasons why you should use Bit for document creation:
Collaborate in Real-Time: Bit allows you to work with multiple people in real-time. While creating a run book, the different members of a team can work collaboratively and add their own problems, solutions, and processes as per the format given above. This allows all the parties to work faster and add their own content simultaneously, rather than waiting for the other to finish.
Negotiate Using Comments: Collaborators can comment on individual pieces of text or phrases that they feel need to be altered. This can be used to modify and comment on new problems that come up in the IT system. chat thread can be formed for each comment, so a conversation can occur about a specific problem on the document itself. This removes the need to go back and forth between the document creating an app and a "messenger" app. Having everything in one space removes clutter and allows for more focused work. Once the modification is done, comments can be "resolved" and the parties can move on to solving the next problem.
Create Interactive Documents: Use Bit to embed images, videos, and any type of media right into your document. This is really useful in a run book because you need lots of visual information to substantiate the instructions on how to mitigate problems. The best part is that you can embed youtube videos right within the document, so you don't have to open any new windows or links to watch them! You can also embed PDFs within documents so any how-to guides can be added to the document itself.
Document Templates: Bit has 70+ templates that help you get started with making different types of documents like run books, agreements, and much more! The framework is already laid out, so all you need to do is add the details that are relevant to your specific document!
Conclusion
Run books are essential for any kind of business that has a lot of information technology and infrastructure that can go down at any moment. Prevention is always better than cure, but in case you aren't able to prevent a technical issue, fixing it fast is the next best solution, and running books let you achieve exactly that.
So if you haven't made a run book already, what're you waiting for? Use Bit to make the run book creation process collaborative and interactive!
Further Reads: 
How to Write a Business Case: Step By Step Guide
What is a Progress Report and How to Write One?
Root Cause Analysis (RCA): Definition, Importance, Types & More!
Crisis Management Plan: Definition, Types & Steps to Create!
RAID Log: What is it and How to create one? (Steps Included)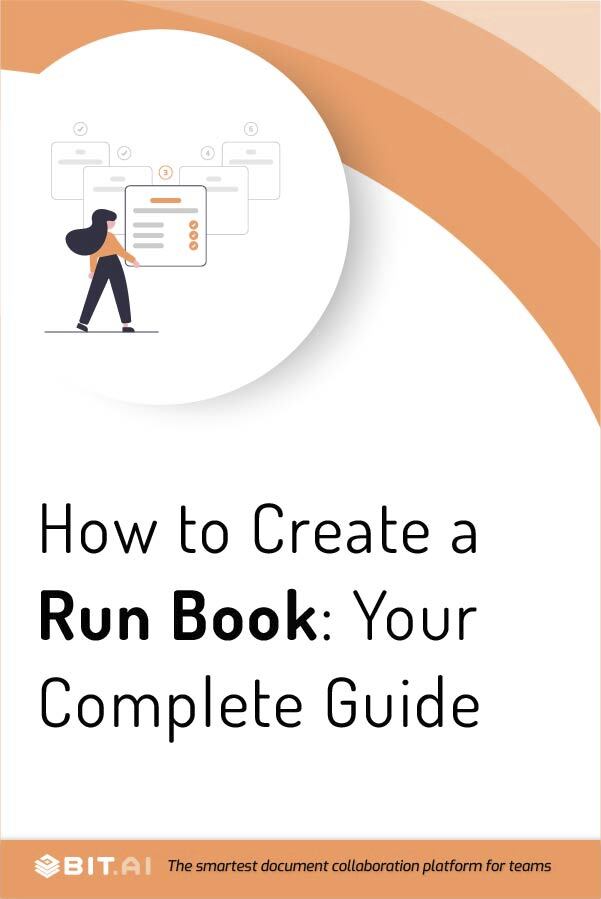 Related posts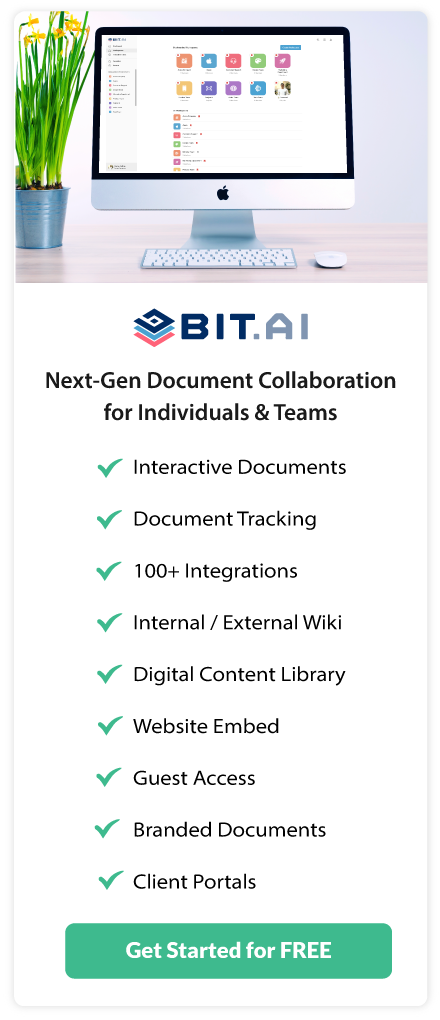 About Bit.ai
Bit.ai is the essential next-gen workplace and document collaboration platform. that helps teams share knowledge by connecting any type of digital content. With this intuitive, cloud-based solution, anyone can work visually and collaborate in real-time while creating internal notes, team projects, knowledge bases, client-facing content, and more.
The smartest online Google Docs and Word alternative, Bit.ai is used in over 100 countries by professionals everywhere, from IT teams creating internal documentation and knowledge bases, to sales and marketing teams sharing client materials and client portals.
👉👉Click Here to Check out Bit.ai.