As Michael Scott said in The Office, the people that you work with are, when you get down to it, your very best friends.
That's a little bit of a stretch. No, you're not Michael Scott, and work-life is not an episode of The Office.
However, there is one thing you can take away from this quote, the importance of making your employees feel important and empowered at the workplace cannot be overstated.
When your employees are happy and satisfied with the work, productivity is increased and results are maximized!
A healthy work environment is a workplace wherein effective communication between all branches takes place and everyone has a sense of freedom and flexibility.
Appreciation also goes a long way. Your employees should feel valued in order to perform at their best potential.
It is very common for companies to miss out on employee empowerment, not realizing the consequences for it. Hear us out, every time an employee leaves, you lose an average of $5000!
This is the average total of hiring costs an average company in the US incurs to hire and get a new talent onboard.
Even then, according to a global survey, 85% of employees said they were not engaged with their workplace and that they just do the work for the sake of getting a paycheck!
So, what are the ideal ways to engage your employees and make them enjoy the work they do?
In this article, we will list the 13 best tips for doing so. But before getting into it, let us understand the concept of employee empowerment a little better.
What is Employee Empowerment?
According to a definition by Bamboo HR, employee empowerment means giving your employees the freedom of making independent decisions and acting upon them.
It is the exact opposite of micromanagement wherein a supervisor keeps a close eye on the employees and gives orders every step of the way.

Simply put, employee empowerment is a tool for you as an employer, to engage your employees by giving them more autonomy and space to take more decisions.
It is to let your employees feel a sense of belongingness towards the organization and be reminded that their voice matters.
This way, they also feel more accountable for the decisions that they make!
For employees, an environment where they lack the authority to take day-to-day miscellaneous decisions can be frustrating. It can also be frustrating for the customers that they are engaging with.
They have to wait for the employees to take permission from higher management when they could have just made the decision themselves. Creates a lose-lose situation, doesn't it?
This is where employee empowerment can come to the rescue.
Let's take the example of Google. It is renowned for its employee-empowerment culture.
Google is known for innovation, which is another reason why they emphasize that their employees should have the opportunity to share their input and ideas.
They even encourage their employees to spend a small percentage of their work hours on things that interest them, so that they are able to come up with creative ideas.
This is what makes them the success that they are!
So, how should you empower your employees to achieve the desired results? Read on as we uncover the 13 best tips for you to do so.
13 Tips to Empower Your Employees
Here are 13 simple tips of how you can empower your employees-
1. Decision-making At The Forefront
Employees who deal with customers first-hand know and understand their problems. By getting rid of the intermediate process of "Let me go ask my manager", you're giving over decision-making power to employees at the frontline.
Less of a hassle for you, and for the customers.
2. Educate and Train Your Employees
For your employees to make effective decisions and to instill a culture of empowerment at the workplace, requires ongoing training.
Training and education about their new responsibilities will help improve their skills and perform better at what they do.
Organize regular training sessions for your employees on areas such as conflict resolution and problem-solving. They will prove to be very useful when they are dealing with real-life customer problems!
Check out this cool template by Bit.ai for training your employees:

3. Encourage Them to Try New Things
Encourage your employees and give them enough space to be able to solve a problem in the way that they think is best.
This will allow them to come up with creative solutions for achieving a particular goal. It might even end up offering a fresh perspective for the entire organization.
4. Frequent Communication
A well-oiled machine is one that works best.
Ensure that the management and employees of all levels frequently communicate about any and everything.
Provide a safe space and make them comfortable in approaching you. When they do, listen to their concerns and questions, and provide guidance wherever needed!
5. Share The Aims and Goals Of The Organization
It is crucial that your employees on the same page as you.
Thus, you must share the direction and goals with the group, so they clearly know what they are working towards.
If the employees have sight of the objectives, it becomes easier for them to envision how their contribution will aid towards that objective.
6. Let Them Know They Are Valuable
Nobody likes doing the work for which they are not valued!
Even things as minor as body language and gestures can communicate a lot from your end to the employees.
It is crucial that the employees feel like they are contributing significantly to the organization, and are not just another cog in the machine.
Give them frequent affirmations, feedback, and even rewards and incentives when your employees do a good job.
This is why so many companies have award titles like employee of the month, hard worker of the month, etc.
It doesn't even require any cost and does a great job at motivating employees to perform better!
7. Provide Them With Enough Information
Employees who understand the organization's data will be able to contribute better.
It is important that you make sure that they have access to complete information that they require in order to fulfill their duties and take effective decisions.
For instance, you can share customer feedback with the employees so they become more aware of customer experience and expectations.
Check out this cool template on the employee handbook by bit.ai:

8. Define Clear Boundaries
While it is important to give more authority to employees, you must also strike a balance.
You can do this by giving guidelines and outlining a clear boundary. This means giving access to information and company data, but only to the extend till the employees need it for doing their job.
This way, your employees will have a better understanding of where they have more autonomy and where it is limited.
It prevents miscommunication and the chance of conflicts.
9. Give Feedback Often
Provide both constructive and positive feedback. It is crucial to maintain a balance of the two to derive optimum returns.
This means you should make sure that your employees are called out for their mistakes in a polite manner and at the same time, they are also guided and corrected wherever necessary.
A culture of frequent feedback not only helps the employees feel more engaged in the organization but also improves the quality of their future work!
10. Be Flexible And Open To Mistakes
As an employer, you should realize that the people working under you are only humans that may make a mistake sometimes.
Being very strict and having severe consequences for every little thing will only make your employees anxious about future tasks.
Moreover, being scared is not a trait of a healthy work environment as well.
Thus, be flexible and open to errors. Let them know what they did as wrong and why. Make your employees understand things from your perceptive to avoid future mistakes.
For instance, an employee lost an important document. You can either shout at him, take actions like cutting wages, or politely make him understand why that document was important and the consequences the company will suffer due to it.
11. Positive Reinforcement 
Help your employees feel rewarded and recognized for the decisions that they're learning to take.
It's important that they do not feel under-compensated or not praised enough for their contributions.
Coach them with positive reinforcement.
There is a learning curve with everything, but support from their management can bring out a lot more in them than you would expect!
12. Assign the Right Tasks To The Right Person
Training your employees is a two-way street.
When you provide them with information for their job role, understand their psychological point of view as well.
Understanding your employees' strengths and weaknesses will help you better assign tasks.
For instance, some employees are good with people, while some may do better behind the curtains.
You should understand the kind of work they're comfortable doing and assign the right task to the right person for maximized returns.
Read More: Make Your Distributed Teams Work More Efficiently With Bit.ai!
13. Trust Them!
Last but definitely not least, trust your employees!
While delegating decision-making power can be a bit difficult in the beginning, it is important that you have faith that your employees are capable of making the right decisions when equipped with optimum training and resources.
Second-guessing their capabilities will make them lose confidence.
Step in and mentor them where ever needed, but remember that trust goes a long way!
Empower your employees with Bit.ai
Empowering employees can be infinitely better if you have the right tools by your side. That's why we want to introduce you to amazing software that will change the way you look at documentation and collaboration.
Presenting Bit.ai, an all-in-one cloud-based knowledge management and document collaboration platform designed for the modern-day workplace. It helps create, collaborate, share, track, and manage information in one place.
Bit provides a commonplace for employees to collaborate in real-time and create documents, brainstorm ideas, assign tasks, store digital and media assets, share knowledge, and get work done collaboratively.
Why is Bit an excellent tool for empowering employees? Take a look!
1. Bit.ai Encourages Teamwork
Teamwork is a major part of empowering your employees and you can easily do this with the help of Bit!
Its real-time collaboration feature lets you seamlessly collaborate with your team and work together on the same document.
It's simply a wonderful way to create a knowledge base for your projects and other work by working simultaneously with your peers or group members.
2. Effective Communication
Bit is the perfect way for you to improve your communication and empower your employees. With Bit, you can brainstorm and collaborate with your team and work together on your documents in real-time via co-editing, making inline comments, chatting via document chat, using @mentions, and much more!
Additionally, Bit sends you notifications if someone leaves a comment or feedback on your document, adds you to a workspace, adds a document to a workspace, updates a workspace, mentions you in a comment, and much more. This ensures that every employee is constantly updated about their work and gets an equal chance to participate.
3. Offers a Cental Location for Resources
What makes Bit an excellent digital workspace is that it comes with excellent content management capabilities. It has a content library that automatically saves images, cloud files, links, PDFs, and other digital content you add to your documents or workspaces for easy access.
You can use the content library to keep all your company resources such as instruction manuals, training manuals, employee handbooks, company policies, and any other company resources in one central location.
You no longer need to use emails, cloud storage, notes, and other applications to store your various digital assets as Bit's content library will keep everything under one roof in an organized manner.
4. Provide Feedback
Providing feedback to employees and receiving from them is a great way to make your employees feel valued. And a Bit allows you to do this! You can add an unlimited number of collaborators to each workspace where everyone who has access can leave their comments and feedback via @mentions, document chats, and inline comments.
You can also create performance reports and reviews on Bit's interactive documents and share them with the rest of the company.
Enrich your documents with Bit's 100+ rich media integrations that lets you add images, PDFs, cloud files, maps, presentations, surveys/polls, charts, videos, GIFs – basically any type of rich media and automatically turn them into interactive visual cards and rich embeds that live in your document.
5. Clutter-free Workspace
Create multiple workspaces around departments, projects, employees, resources, etc., and store everything you have in them so that you can easily access them and efficiently manage them.
Further, organize your contents with the help of folders and files so that you have a clutter-free workspace.
Conclusion
Employee empowerment means giving up some of the power that has long been held by the management.
That, of course, means that you will also take on some new tasks and roles. Empowering your employees does not mean giving up all control and authority. It is a slow process that will evolve with time and experience on both ends – yours and your employees'.
Develop a plan to instill a culture of empowerment and try to implement it, by creating an inclusive environment.
How do you empower your employees?
Do let us know by tagging bit_docs on Twitter!
Further Reads:
40+ Motivational Quotes for Work to Boost Performance!
Teamwork Collaboration Quotes To Get Your Partnerships Pumped Up!
31 Teamwork Quotes That Will Fire Up Your Team!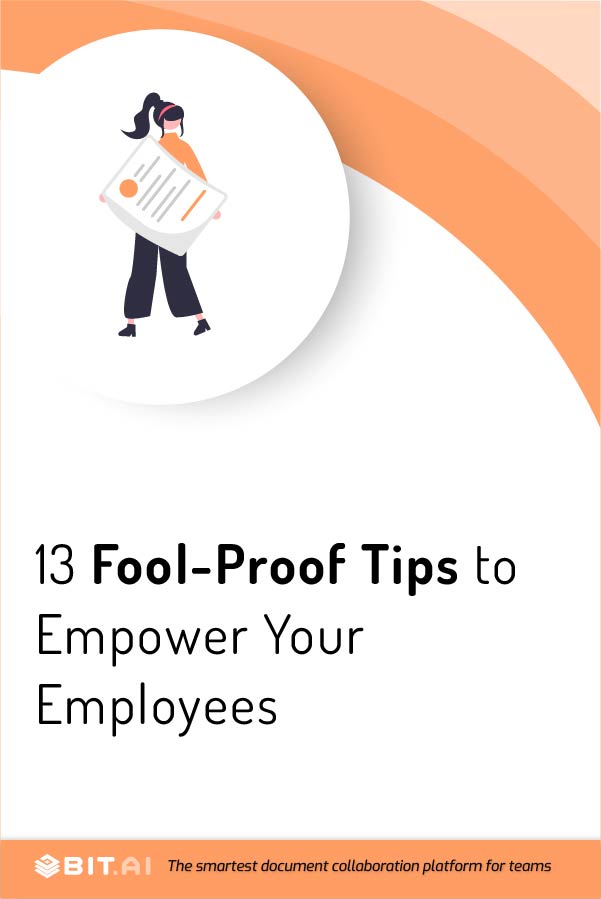 Related posts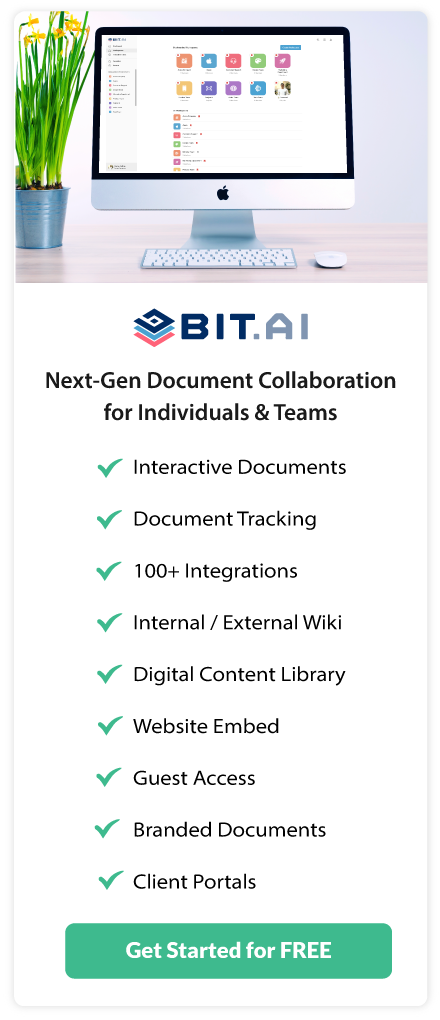 About Bit.ai
Bit.ai is the essential next-gen workplace and document collaboration platform. that helps teams share knowledge by connecting any type of digital content. With this intuitive, cloud-based solution, anyone can work visually and collaborate in real-time while creating internal notes, team projects, knowledge bases, client-facing content, and more.
The smartest online Google Docs and Word alternative, Bit.ai is used in over 100 countries by professionals everywhere, from IT teams creating internal documentation and knowledge bases, to sales and marketing teams sharing client materials and client portals.
👉👉Click Here to Check out Bit.ai.