All of us want to have a successful career and climb the professional ladder, right?
However, setting big goals and having ambition isn't enough. You need to develop strong work habits to foster your professional growth, thrive in the workplace, and be an indispensable employee.
Rightly said by author Brian Tracy, "Successful people are simply the ones with successful habits". And, as Author Sean Covey said, "We become what we repeatedly do."
Whether you work at a big-shot company or a start-up, it's important to develop good work habits. It's the key to having a successful career – and even that's an understatement.
Good work habits fuel your career success, improve your productivity levels, and give you job satisfaction – while bringing confidence, inspiration, and happiness to your life.
Yes, building good and healthy work habits isn't as easy as it sounds. It requires you to challenge yourself on a daily basis, but it's definitely worth it all.
In this blog post, we have compiled a list of 19 work habits that you can incorporate into your work life and get on the path to success. Are you ready? Let's go!
1. Ask Questions
What's one of the easiest ways to avoid mistakes? Ask questions! Every time you're assigned a task, make sure that you fully understand what you need to do.
If you don't understand how to do the task or how something works, ask for clarification. This will make it easier for you to complete your task correctly in one go!
2. Rise to the Challenge
This is one of the fastest ways to grow rapidly in your career. Grab every opportunity that comes your way – unless it's something that is completely out of your skill set.
When you rise to a challenge and take on more responsibility at work, you will be able to develop new skills and increase your value in the organization.
3. Stay Curious
Never ever get too comfortable doing what you do. You should always push yourself out of your comfort zone, learn new skills, gain new perspectives, and try new things.

Just because you've got a good job doesn't mean that you have to stop growing and learning new skills.
4. Take Criticism Nicely
Just because someone is giving you a not-so-favorable feedback doesn't mean that they are criticizing your work because they don't like you.
They might just be trying to help you become better at your role! Always own up to your mistake and apologize to the other person, but don't dwell on it too much.
5. Be a Team Player
Being a team player is all about being collaborative, helping others work towards their responsibilities, and not letting work politics get in the middle of your job.
When everyone works together toward a common goal, the chances of success increase by leaps and bounds.
6. Reach The Office 30 Minutes Earlier
You can get to the office just on time, with a minute to spare.
Or you can slide into the office 30 minutes before you start your day, take some time to reflect on your goals for the day, decide what you want to accomplish, and prioritize accordingly. This way, your day will be less chaotic and you will be fully prepared.
7. Put Your Phone Away While at Work
Texts and notifications on your phone can be a big distraction when you're working! This is why you need to put your phone aside and refrain from checking social media while you're working.
Make a mental note to check your phone only during breaks, so you can stay focused and productive.
8. Proof-Read Your Work
Incorrect and misspelled writing weakens your professional image! Whether you're sending an email or writing minutes of the meeting, always take some extra time to read through what you've written.
These few extra minutes can make the difference between excellent work and sloppy work.
9. Maintain a Positive Attitude
The thing is, challenges and frustration are an inevitable part of work. As long as you take things positively and look for solutions rather than focusing on the problems – you will excel in your career!
Remember that your attitude can be your strength or weakness – depending on the type of attitude that you project.
10. Don't Work Until You Drop
There is nothing wrong with taking a day off from work to recharge yourself – both mentally and physically. You will be more productive when you allow yourself to rest.
All you need to do is set boundaries and never let your work control your personal life. Also, try to work smarter instead of harder.
Read More: Focus at Work with the Help of These 11 Effective Ways!
11. Learn How To Work With Difficult People
At some point in your work life, you will come across a difficult person. It could be a colleague who competes with you for power or a boss who plays favorites.
Dealing with such people is a skill worth perfecting! It won't just improve your own work environment but also your morale.
12. Think Before Saying 'No'
Every time you find yourself about to say 'no' to a new task, ask yourself why you want to say no.
If saying 'yes' won't really cause you any problems and will lead to new experiences, then change your answer and say 'yes' instead. (That doesn't mean that you have to say 'yes' to everything that comes along).
13. Seek Feedback
Actively seek feedback from people you trust and respect – people who will help you identify your strengths and weaknesses and fill the gaps in your knowledge and skills!
Asking for feedback shows that you are committed to improving your skills, and you have the dedication and drive to succeed.
14. Ask for Help and Offer it as Well
No matter how talented you are, you can't do everything by yourself. So, if you ever need any help with something, don't be afraid to ask your coworkers for it.
Similarly, if you notice that any coworker is struggling with something, offer them your support. After all, work isn't always about competition!
15. Audit Your Skills Regularly
Ask yourself: why new skills have I acquired that I didn't have four/six months back? What new achievements can I add to my CV?
How up-to-date I am with the current skills in my industry? Consistently auditing your skills and knowledge helps you track your progress and identify potential gaps!
16. Stay Informed & Vigilant
Yes, you need to stay informed about everything that's happening in the world, but especially on things that directly affect you, your organization, and the industry you work in!
Cultivate a habit of reading every day – whether it's magazines, novels, blogs, or research papers.
17. Don't Underestimate The Perks of a Mentor
Find someone who can guide you through all aspects of your career and share valuable advice. Why?
Because you will be able to climb up the career ladder much faster if you have a mentor to guide you. Your 'mentor' could be anyone who has been working in the field longer than you.
18. Build Trust With Team Members
If you want to succeed in the workplace, developing a sense of trust with other employees and managers is extremely important!
You can foster trust by maintaining open channels of communication, being reliable, and working collaboratively with other employees.
Read More: 15 Team Building Skills You Must Develop for Better Collaboration!
19. Be a Problem Solver
Rather than acting as a critic, try to be a problem solver. If something isn't working the way it should, seek out solutions and collaborate with your team to get through the obstacle.
All in all, don't be too whiny about a problem. Instead, try to think about how you can solve the problem.
Wrapping Up
If you want to build your career, improve your performance in the workspace, and truly excel – you have to stay committed to the work habits we have mentioned above.
All these habits are pretty manageable, however, there's no need to be a superhero and incorporate all of them at once. Start from the ones that work well with your routine!
Remember that simply picking up a habit and dropping it off won't work. You have to incorporate it day-in and day-out. Yes, it's going to be a little hard in the beginning, but it will all be worth it.
Most importantly, if you practice all of the habits above (yes, all of them) and you still don't feel happy at work and you don't get enough recognition from your managers – you should consider changing your job!
By the way, which of these work habits do you already follow as part of your routine? And which ones are you planning to work on? Don't forget to let us know by tweeting us at @bit_docs. Good luck!
Further Reads: 
Self-Care Plan: Definition, Strategies and Steps to Create a Perfect Plan!
Productivity Plan: What is it & How to Create a Perfect One?
Workplace Productivity: Definition, Importance, Tools & More!
Work Breakdown Structure: Definition, Types, Importance & Process!
10 Best Productivity Hacks to Lead a Better Life!
9 Ways to Improve Work Performance in 2022
12 Work Management Software and Tools in 2022!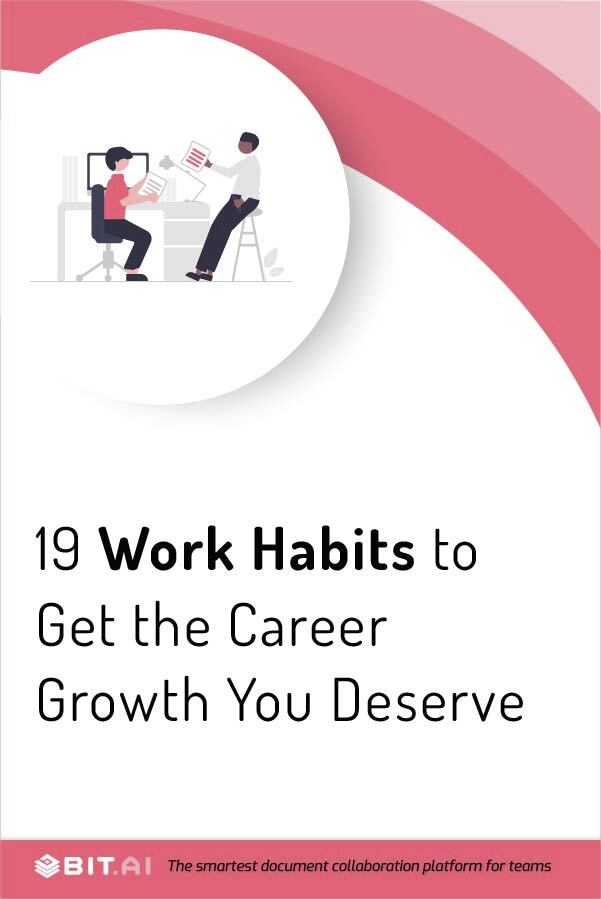 Related posts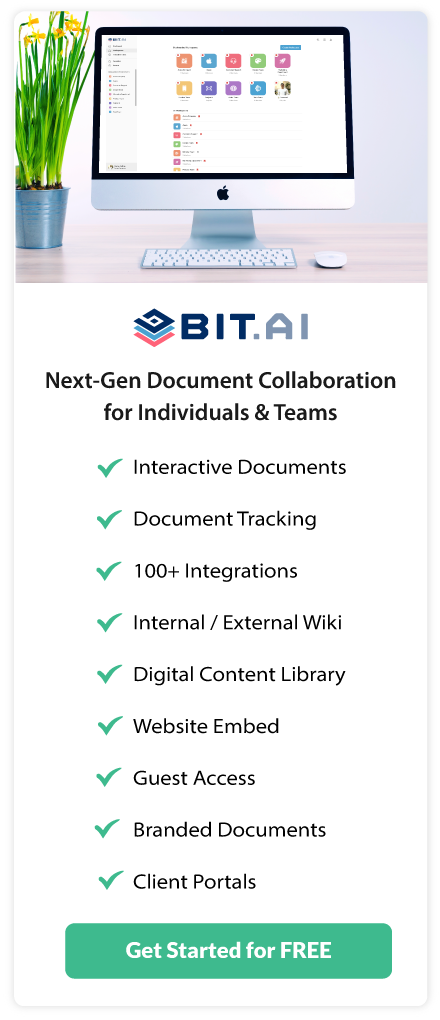 About Bit.ai
Bit.ai is the essential next-gen workplace and document collaboration platform. that helps teams share knowledge by connecting any type of digital content. With this intuitive, cloud-based solution, anyone can work visually and collaborate in real-time while creating internal notes, team projects, knowledge bases, client-facing content, and more.
The smartest online Google Docs and Word alternative, Bit.ai is used in over 100 countries by professionals everywhere, from IT teams creating internal documentation and knowledge bases, to sales and marketing teams sharing client materials and client portals.
👉👉Click Here to Check out Bit.ai.