From task management to client management – there are tons of things that you have to manage and keep track of when you are running a business.
And since there are just too many aspects that you have to keep tabs on, CRM software, project management software, and invoicing software come incredibly handy!
But despite the use of such software, there still seems to be a lack of efficiency in work. In fact, a study conducted by HubSpot showed that 82% of employees lose hours every week in managing different apps and software.
With the ever-increasing competition in the market, it becomes extremely important that your business keeps growing and brings in high profits constantly.
This is where an end-to-end work management software or tool comes into the picture. It helps manage all your business-related work, improves efficiency, and saves time from juggling between multiple software.
In this blog, we have curated for you a list of some of the best work management software that is available in the market so that you can choose one for your organization. But before you do that, let's dig a little deeper into what exactly work management is! Ready? Let's go!
What is Work Management? (Definition)
Work management is a system of organizing your workflows and utilizing a set of tools and techniques to manage time, resources, teams, and tasks. It aims to enhance efficiency, increase productivity and improve performance.
It includes streamlining and transforming crucial business processes, scheduling tasks, meeting stakeholder expectations, managing resources, and evaluating the overall performance of the business. Essentially, it helps put procedures in place so that projects and tasks can be completed.
Now you must be wondering how work management is any different from project management. Yes, they are both used to manage teams and time, but they have their differences. Let's take a look!
| | |
| --- | --- |
| Work Management | Project Management |
| Work management is a continuous process. | Project management is limited in time. |
| Work is repetitive. | Work is used for an immediate purpose. |
| Follows a flexible structure. | Follows a rigid structure. |
| Work management teams share similar skill sets. | Project management teams possess complementary skill sets. |
Now that we know what work management is and how it is different from project management, let's understand what work management software is.
Work management software is a digital tool that allows you to plan, track, organize, and review both projects and non-project-related tasks to boost the performance of your team and improve your business results.
There are several work management software and tools available in the market and we have created a list of some of the best ones! Let's jump in!

List of Work Management Software and Tools
A major part of your work resides in the documents you produce on a daily basis. Bit.ai is the most powerful document collaboration and content management platform that helps you create, manage, share, and track all your knowledge under one roof!
Bit provides a central hub for employees to simultaneously collaborate on multiple smart documents in real-time. It's an excellent way to manage projects, brainstorm, share meeting agendas, create training manuals, share client-facing material, and most importantly, share knowledge.
You can add content from 100+ integrations, hundreds of file types, and much more to your documents and link knowledge sharing and communication workflows in one beautiful place.
What's more? You can create smart workspaces around projects, departments, teams, and clients to keep your documents, data, and knowledge organized. These workspaces make it easy to collaborate and help you make sure that the right team members have access to the right documents.
Pricing:
A free plan is available!

Standard plan costs $12/member/month

Plus plan costs $20/member/month

Enterprise plan – contact sales
nTask is an all-in-one, cloud-based work management tool designed for teams and solopreneurs. It lets you create and schedule tasks, generate reports, share files, monitor progress, and more.
nTask allows you to create multiple workspaces around different teams, projects, work purposes, and departments. It helps you visualize your task with Gantt charts and Kanban boards.
nTask comes with issue and bug tracking services that let you assign issue severity and status, track issue progress, and link it to tasks or projects. It also has a timesheets feature that lets you update work time for specific tasks and get it approved by team leaders.
Pricing
Annual subscription starts at $2.99/user/month.
Read more: Best File Management Systems and Software in 2022
Avaza is an all-in-one work management tool that helps businesses accomplish their projects and tasks efficiently. It integrates resource and expense management, task tracking, time tracking, invoicing, scheduling, and more.
With Avaza, you can instantly convert emails into tasks and view them as lists, Kanban, Gantt charts or even in calendar view. You can even move these tasks around using its drag-and-drop functionality.
Avaza also lets you easily communicate and collaborate with your team and customers. It lets you initiate discussions, exchange email messages, and provide access to project updates and notifications via activity feeds.
Pricing: 
Start free with up to 5 projects
$39.95 for unlimited projects
Next, we have Monday, an award-winning work management tool that lets you create and manage projects, add tasks, automate workflow, track productivity, and more. It has a clean, intuitive, and highly visual interface that resembles a spreadsheet.
With Monday's Kanban boards, you can visualize your tasks in a list-based view and view all your data through its dashboard feature. It lets you sync calendars and set reminders as well.
Monday offers collaboration and communication features that let you upload and attach files, and then invite and collaborate with your team and clients. Moreover, it seamlessly integrates with multiple third-party apps.
Pricing
Pricing starts at $10-$20/user/month.
Pro plan costs $79/month
Up next is Teamwork, one of the oldest work management software in the market and a one-stop shop for all your company needs. It is suitable for small to medium businesses.
Teamwork lets you store all your company's knowledge base and keep all important files, articles, and documents in one central location for easy access. It helps you effectively manage different operations of a project and also allows you to collaborate and chat with co-workers.
With Teamwork's built-in customer service software, you can easily answer all your customer queries. It offers other features such as project maps, reports, milestones tracking, cost-to-completion monitoring, and even integration with various third-party applications.
Pricing
Free with limited functionality
The "Forever Free" plan includes 100MB storage space for up to 5 users.
The pro plan starts at $9/month with 100GB storage and supports up to 100 users.
Asana is a robust cloud-based work management software that helps you plan, organize, and track the progress of your projects and tasks. It has a clean and user-friendly interface that offers drag-and-drop functionality.
With Asana, you can manage multiple projects at the same time and collaborate with your co-workers and teams. It organizes your projects and tasks and helps you track them from beginning to end with real-time status updates.
Other features of Asana include task scheduling, task list views, Gantt charts, Kanban boards, calendar views, bug tracking, roadmap planning, backlog management, and lots more. It integrates with multiple third-party applications and even has an offline feature.
Pricing
Free version available with limited functionality
Premium plan starts at $10.99/user/month
If you're looking for a work management software that can integrate multiple business requirements into a single workflow, then Zoho Workplace is an excellent choice for you.
Zoho Workplace offers tools to help you create, collaborate, and communicate with your teams all under one roof. You can create and save all your work, upload it from email or your desktop, and manage files in the cloud from your phone or tablet.
The best thing about Zoho Workplace is that it can be integrated with other Zoho bundles such as CRM, finance, recruitment, document management, presentation, and other communication tools.
Pricing:
Lite plan costs $1/user/month
Premium plan costs $4/user/month
Workplace Standard plan costs $3/user/month
Workplace Professional plan costs $6/user/month
Read more: 6 Workflow Tools and Apps for Smoother Processes!
Here we have Studio Cloud, a work management software that syncs all your data between cloud, desktop, and all internet-enabled devices so that you can manage your business anytime and from anywhere.
Studio Cloud is easy to use and helps you organize and simplify your work. It has a highly customizable calendar system that lets you schedule multiple clients and employees. It also lets you track and view all your client data.
In addition to a unified system, Studio Cloud offers other features such as task management, online booking, cloud syncing, invoicing, reporting, and lots more. This software is a great option for artists and creators such as photographers, designers, tattoo artists, and so on.
Pricing:
There is a free version available
Studio Cloud pricing starts at $35/per month.
Next on the list is Trello, a cloud-based work management software that helps you visualize and organize your workflow using Kanban boards. It supports an intuitive and easy-to-use, drag-and-drop interface
Trello allows you to assign, organize, and prioritize your tasks, set deadlines, create checklists, and even track your processes. It gives you a calendar view of your task deadlines and sends you alerts and notifications for your task activities.
Trello helps automate processes using rule-based triggers, due date commands, calendar commands, and by creating a custom board and card buttons. What's more? Trello has unlimited storage and supports an unlimited number of users.
Pricing:
Free version available
Business Class plan costs $9.99/user/month
Enterprise plan costs $17.50/user/month
Smartsheet is a leading cloud-based work management software that helps manage projects, automate workflows, and collaborate with the rest of the team.
This software has a user-friendly interface and comes with Gantt charts, Smartsheet templates, work automation, file-sharing, and reporting features. It also offers dashboards and portals that provide real-time visibility into crucial data.
In addition to managing tasks and tracking progress, Smartsheet also allows you to set automated alerts or reminders about upcoming deadlines and tasks. It can be viewed on your phone and shared with anyone, and it can be integrated with several third-party apps like Excel, Tableau, Sense, and others.
Pricing: 
From $15 month/user for teams
Business Plan at $25/user/month
Read more: 11 Smartsheet Alternatives & Competitors You Must Check Out!
Wrike is cloud-based work management software that helps teams track, collaborate, and share projects. It is known for planning, streamlining workflows, and providing full control over communication.
Wrike comes with a highly customizable dashboard that supports an interactive drag-and-drop interface, Gantt charts, Kanban boards, and more. It gives you a 360° visibility of all your tasks and provides you with real-time updates and alerts to keep track of your progress.
With Wrike's built-in proofing and approval system, you can help review and provide approvals and feedback to your team. What's more? It offers several handy integrations and comes with project management templates and enterprise-grade security.
Pricing:
Free for up to 5 users
Professional plan costs $9.80 for up to 15 users
Business plan costs $24.80 for up to 200 users
Enterprise plan – contact for pricing
Up next is Basecamp, another work management software that offers a centralized platform for managing projects and team communication.
With Basecamp, you can break down and organize your tasks and projects, manage multiple tasks simultaneously, track work progress, and quickly identify problems. To keep you on track, it has an automatic check-ins option and a reminder feature.
Basecamp has a customizable user interface and it offers features such as Kanban charts, message boards, schedule boards, to-do lists, uploading files and docs, group chats, and many more. It also lets you share files, updates, and messages with your teams.
Pricing
Free personal plan
Basecamp Business plan $99/month
Conclusion
Whether you have a small startup company or a big enterprise, you will find that work management software and tools are an indispensable part of its daily functioning.
With strong work management software, your internal process becomes more efficient and your production becomes faster.
We hope that our list has provided you with a wide variety of work management software that you can use to organize your business life and boost the productivity of your business.
Now all you have to do is choose one that aligns with your company's workflow and business goals! That's a wrap, folks!
Further reads:
Work Breakdown Structure: Definition, Types, Importance & Process!
9 Ways to Improve Work Performance in 2022
40+ Motivational Quotes for Work to Boost Performance!
10 Workflow Management Software Every Business Should be Using!
Happy & Collaborative Work Culture: 10 Effective Ways to Create it!
Focus at Work with the Help of These 11 Effective Ways!
Top Employee Management Systems You Should Be Using!
Related posts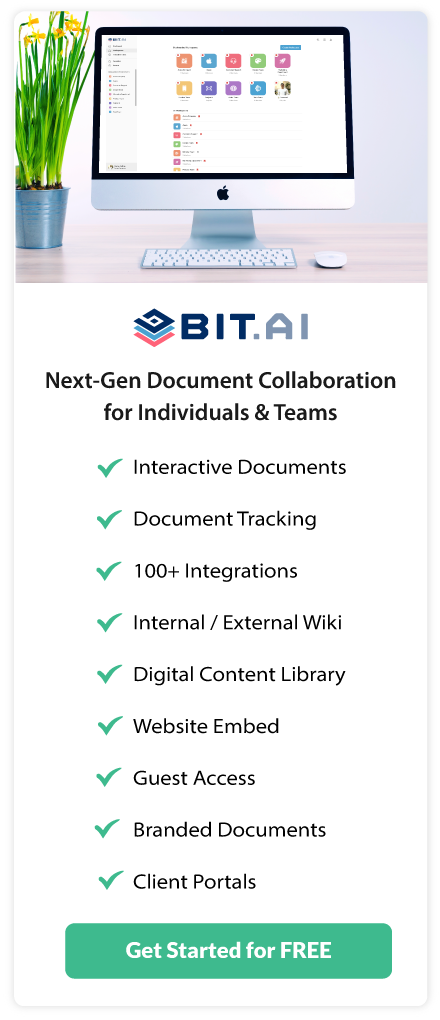 About Bit.ai
Bit.ai is the essential next-gen workplace and document collaboration platform. that helps teams share knowledge by connecting any type of digital content. With this intuitive, cloud-based solution, anyone can work visually and collaborate in real-time while creating internal notes, team projects, knowledge bases, client-facing content, and more.
The smartest online Google Docs and Word alternative, Bit.ai is used in over 100 countries by professionals everywhere, from IT teams creating internal documentation and knowledge bases, to sales and marketing teams sharing client materials and client portals.
👉👉Click Here to Check out Bit.ai.