British entrepreneur Richard Branson once said, "Clients do not come first. Employees come first. If you take care of your employees, they will take care of the clients."
And the more you think about it, the more it makes sense.
Time and again, we have been told to constantly focus on the customers or clients that sometimes we tend to forget about the ones that bring in those clients and customers in the first place.
Now, you may be one of the best managers or leaders out there, but the truth is, even you have your limits when it juggling multiple tasks and roles.
This doesn't mean that you can make your employees less of a priority. So what's the solution?
Here is where an employee management system can help you out! They will help you digitize and manage all your daily tasks relating to your employees and simply make life smoother for you and your team!
That's why, in this blog, we will provide you with a list of some of the best employee management software out there!
Before that, let's try and understand what exactly is an employee management system!
What is an Employee Management System? (Definition)
First off, let's try to understand what employee management means.
Essentially, employee management refers to all the activities that are focused on the employees to ensure that they are able to perform efficiently and achieve their organization's goals.
It usually includes everything from recruitment of employees to onboarding them and ensuring that they perform their best. This helps strengthen the overall efficiency of the workplace.
With that definition of employee management in mind, we can say that an employee management system is software that allows you to store and manage all important work-related details of the employees of your company.
It keeps track of employee information such as salary details, leave records, medical information, performance reviews, and more. It's designed to simplify administrative tasks and improve the smooth functioning of the organization.

Now that you what employee management systems are, let's try and understand why you need one for your organization.
Why Do You Need an Employee Management System?
Studies show that around 53% of HR professionals feel that a smooth onboarding experience positively affects employee engagement.
And it turns out employee engagement can bring in 2.5 times more revenue in comparison to unengaged employees.
This is probably why 78% of businesses prioritize employee wellbeing in their business plan, which goes on to show how important employee management is and further proves the need for employee management systems.
To help you understand better, let's take a look at some of the benefits of having an employee management system for your business:
1. Helps Increase Employee Engagement
With powerful employee management software, you will be able to create an open platform for communication to keep everyone on the same.
It will help you and your employees collaborate and discuss your projects and tasks, thereby increasing the overall employee engagement level.
2. Streamlines Internal Communication
Most employee management systems have chat apps that help you streamline your internal communication.
It allows you and your teams to be up-to-date with all information and connect over the real-time notification, updates, chat groups, and channels.
3. Reduces Manual Errors
With a good employee management system, you can kiss goodbye to all the manual errors that arise from paperwork and handwritten documents.
This will ensure that the flow of information is error-free and accurate, thereby reducing your labor costs as well.
All-in-all employee management systems are a boon to you, your employees, and your company. So let's take a look at some of the best ones available in the market!
List of Employee Management Systems 

Bit.ai is a cloud-based, new-age documentation and knowledge management platform that allows employees to communicate, exchange, monitor, and maintain all company documentation in a single place.
Bit allows you to create workplace documents like employee handbooks, HR guidelines, training manuals, policies, and more, and manage them all in a centralized location.
With Bit, you can create infinite workspaces for personal use, around teams, departments, or the whole company, and simultaneously collaborate with your colleagues using real-time editing, inline comments, @mentions, and more.
You can also get detailed insights about employee interaction via bit's document-tracking feature as well!
Not only does Bit have a distraction-free editor, but it also has a powerful content library where you can save and access all your digital content like images, videos, files, etc. Furthermore, it has other features, such as fully responsive templates, 100+ integrations, smart search, and more!
Pricing: 
Offers a free plan with limited features
Standard plan at $12/month
Plus plan at $20/month
Enterprise plan – contact sales
Read more: Top 9 HR Software and Tools for Human Resource Departments!

Here we have Kissflow, an employee management software that is designed to help streamline and manage the flow of tasks among your team of employees. It has an aesthetic, unified interface that lets you track who is doing what.
Kissflow comes with various HR-specific features, such as applicant tracking, onboarding, performance management, time-tracking functionalities, attendance management, leave requests, and more.
It also offers collaboration features and helps generate reports, and view tasks as boards, kanban tiles or matrix distribution.
What's more? Kissflow offers integrations with Quickbooks, Dropbox, Google Suite, Salesforce, Orale, and lots more.
Pricing
Pricing starts at $360/month for up to 30 users

Looking for an online replacement for group office meetings? Then 15five is a great option for you. It is an employee engagement and performance software solution that helps you give and receive feedback.
offers weekly check-ins, self-review tools, feedback sessions, surveys to gain insights about employee engagement, and even a recognition system that passes along 'high-fives' for good work.
It also has OKR features that keep track of the progress of your organization's goals.
With 15five, you can enlist your goals and track your performance and even generate reports on employee performance. What's more? It has a colorful, gamified, and easy-to-use interface.
Pricing
Basic plan at $7/user/month
Plus plan at $14/user/month

Time Doctor is a multipurpose employee management system that helps you track and monitor your work hours, tasks completed, and project progress.
It lets you view time data in graphical formats to control and manage productivity in your company.
Time Doctor offers an attendance report feature that helps you see the absentees of the week and a project report feature that helps you review and break down the time spent on a certain project.
It also helps you automatically track time and visualize it in the form of various reports.
Furthermore, Time Doctor supports integrated billing with built-in payment features, website monitoring, intermittent screenshots, productivity reports, and more.
Pricing 
Starts at $7 per month per user
Standard Plan – $10/per month
Premium Plan – $20/per month
Read more: Employee Training Software for More Efficient Employees!
Workday is a cloud-based employee management system suitable for medium and large businesses.
It helps you manage everything from recruitment to accepting applications to onboarding and training employees and developing a team – all in one place.
Workday offers various features like onboarding management, 401(k) tracking, head-count visualizations, financial trend analysis, regulations for probation and notice periods, and more.
It has a global payroll solution with integrations with third-party payroll applications that help manage payments across the globe.
What's more? Workday has a user-friendly and clean interface design and can be used as a SaaS app, desktop software, or mobile app.
Pricing
Contact customer support for pricing

Want to manage a remote or distributed team? Then Connecteam is a great employee management software for you.
It is a centralized platform that lets you communicate work schedules, change shift times, task requirements, and updates with your employees.
Connecteam has an intuitive and easy-to-use interface design and comes with several real-time collaboration features.
It also has a robust communication portal that lets you record the number of hours you worked and monitor daily processes and progress.
In addition to this, Connecteam helps streamline daily tasks with digital tasks and even offers remote employee training through its app.
Pricing:
Premium plans start at $39/month for the first 50 employees
Read more: How to Ace the New Hire Onboarding Process?

Up next, we have PeopleSoft, an Oracle-owned SaaS enterprise-grade solution that is widely used by large corporations, government organizations, and academic institutions.
This employee management system offers various tools for absence management, workforce management, recruitment, payroll interface, performance, pension administration, time and labor tracking, and more.
It is extremely easy to use and requires minimal training to get started.
With PeopleSoft, you can manage employee data efficiently and easily streamline administration processes.
It also allows your employees to maintain their profiles and update their personal information. Furthermore, it is accessible on mobile devices and supports various international applications.
Pricing
PeopleSoft by Oracle starts at $35 per license

Zoho People is an all-in-one employee management software that lets you manage employee data and streamline all employee-related activities.
For this, it offers an employee directory, HR functions, and organizational hierarchy charts.
With Zoho People, you can centralize administrative tasks such as payroll, documentation, and expenses and use its functional employee portal for managing time-off, contacting HR, and communicating with your team.
It also helps you manage employee onboarding, timesheets, leaves, performance, benefits, and personal details.
Furthermore, Zoho People integrates with major tools like Gsuite, AdobeSign, Zapier, and DocuSign along with other Zoho products.
Pricing
Free version available
Essential HR plan starts at $1.20/month
The professional plan starts at $2/month
The premium plan starts at $3/month
Read more: Best Employee Onboarding Tools Out There!

Lastly, we have BambooHR, a SaaS employee management software solution suitable for small and medium-sized businesses.
It centralizes employee information in one place and offers HR functions, tracking features, staff data modules, and even advanced reporting possibilities.
BambooHR has an applicant tracking system that helps view all applications to select or eliminate them upon arrival. It also offers an employee self-onboarding feature with pre-boarding packages and IT checklists.
With BambooHR, your employees can record their work hours, use timesheets and automatic reminders to update and approve hours on time.
It also shows employee leave information and provides access to employee performance reports.
Pricing
Essentials package starts at $6.19/employee/month
Advantage package starts at $8.25/employee/month
Conclusion
With an employee management system in hand, you can solve several challenges and issues faced by your employees and boost the overall wellbeing of your company.
Here we have provided you with a list of some of the best employee management systems to help you and your employees be efficient and stay at the top of your game.
Now it's only a matter of choosing the one that is best for you and your team.
Choose wisely and you will have happy employees, happy customers, and a happy business! Ciao!
Further reads:
Top 7 HR KPIs You Should Measure in 2022!
Employee Training: Definition, Importance & Tools to Use!
Onboarding Checklist: What is it & How to Create it?
13 Timesheet Software & Tools to Manage Time Perfectly!
9 Best Payroll Software For Every Business! (Free & Paid)
Best Resource Management Tools and Software!
10 Task Management Tools Every Business Must be Using!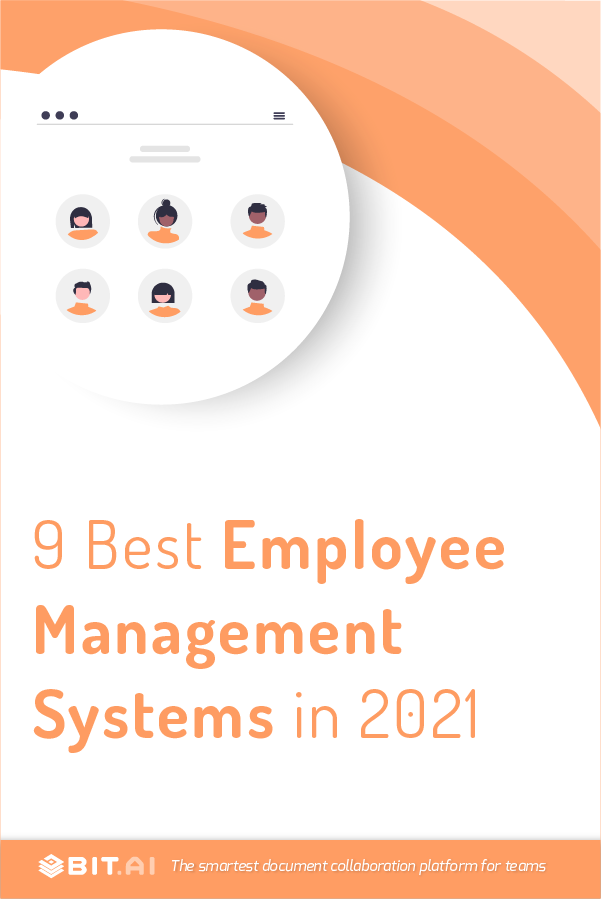 Related posts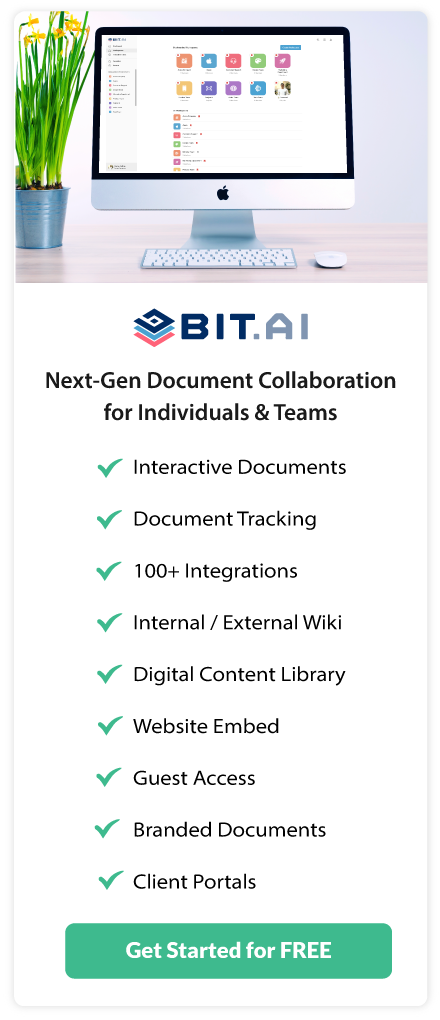 About Bit.ai
Bit.ai is the essential next-gen workplace and document collaboration platform. that helps teams share knowledge by connecting any type of digital content. With this intuitive, cloud-based solution, anyone can work visually and collaborate in real-time while creating internal notes, team projects, knowledge bases, client-facing content, and more.
The smartest online Google Docs and Word alternative, Bit.ai is used in over 100 countries by professionals everywhere, from IT teams creating internal documentation and knowledge bases, to sales and marketing teams sharing client materials and client portals.
👉👉Click Here to Check out Bit.ai.