The fast-paced world we live in now has made employee training the need of the hour.
Technological advancements are progressing at a rapid speed and in order to keep up, reskilling and upskilling employees have become a necessity.
That's why is it crucial that you invest in employee training and employee development.
While employee training and employee development might sound like it is one thing or that they are two very similar things, that isn't the case.
Employee training is the instruction imparted to an employee that relates to his immediate job description and equips him with the relevant skillset for it.
Employee development is a long-term development process that serves the purpose of wholistic growth for the employees and generally provides a more transferable skillset which helps them even after they receive promotions or are transferred to different departments.
In this blog, we will be focusing on employee training. We will help you understand what exactly is employee training, why it is of utmost importance, and what steps you have to take in order to train your employees!
Ready? Then, dive right in!
What is Employee Training? (Definition)
Employee training is a process of instruction provided to help improve the skills and performance of employees to enhance productivity in their current work environment.
It is carried out in order to improve the future productivity and efficiency of the organization.
Employee training focuses on helping employees get better at the job that they do, or that they are about to do.
It empowers them with solutions to the problems that they may face in the course of their work as per their current job description. It focuses on the immediate needs and requirements of the employee.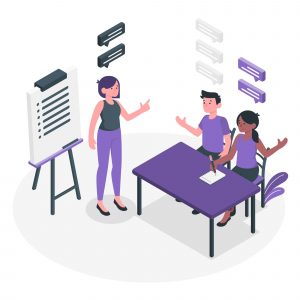 Employee training can look like this:
Training the employees in the marketing department to use the latest software used for advertisement
Training a new employee to use the accounting system your organization uses.
A school could train its teachers to use online teaching software as job descriptions and responsibilities shift.
Training is basically strengthening the capabilities, knowledge, and skills of your employees in a way that increases job efficiency.
Why is employee training so important? Read on to find out!
Why is it Important to Train Your Employees?
A well-planned training program helps companies reduce employee turnover and prevents the loss of talent because of an outdated skillset.
Being able to keep employees engaged for longer is also profitable to the organization.
Employee training helps the growth of the organization along with its employees. It is also an effective way for the company to tell its employees how valued they are, which in turn enhances their loyalty and productivity.
Training employees isn't just beneficial to those being trained, but also to the organization.
Learning to adapt to the changes in the field and embracing them helps productivity not just at the level of each employee but for the organization as a whole. Here are some reasons why it is important to train your employees.
1. Employee Satisfaction
When companies provide training for their employees, employees see that the organization cares for them and values them. This is an important factor in job satisfaction and high productivity.
Providing spaces where your employees grow and improve their skills is also a great way to cultivate loyalty and helps reduce employee turnover in the long run.
2. More Accountability
When your employees are properly trained to do the work that they do, they will require less supervision and can be expected to hold more accountability for their work and the tools and machinery or software that they work with.
3. Safer Work Environment
This is an important benefit of training employees, especially where heavy machinery is involved. Investing in training your employees properly helps reduce the risk of accidents and errors on the job.
4. Better Performance, Productivity, and Profitability
As you ensure that your employees are trained to keep their skills updated, it is only natural for overall performance and productivity to increase.
Increased productivity and efficiency achieved through employee training are bound to help increase profits. Training goes a long way in helping companies avoid other costs arising from the loss of talent and the occurrence of errors and accidents.
5. Company Reputation
Investing in training your employees also helps you stand out against your competitors and helps not only in retaining talent but also in attracting talent to your organization.
Need we say more about the importance of training your employees?
Now, the main question lies in how exactly you can train your employees. Keep on scrolling to find out!
Read more: Best Employee Onboarding Tools Out There!
How to Train Your Employees? Follow These Simple Steps!
As training is an important process and it can be a difficult task, it helps to have certain guidelines to use when you plan to develop a training program for your employees. Here are some steps you could follow:
Step 1. Set Goals
When you decide you want to develop a training program, you have to begin with recognizing the goals you want to achieve through the training program.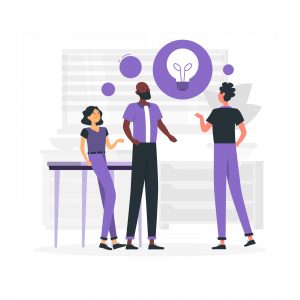 This is where you think of the issues that you wish to fix or the improvements you want to make in your organization with the help of the training program.
Set goals accordingly, in a way that they are both ambitious and attainable.
Step 2. Determine Your Competencies
Competencies are a set of skills that help an employee improve their job performance.
Teamwork, the use of new software or machine, and a new method of working could be just some of the few skills you would want to develop in your employees through a training program.
Figure out what skills and strengths your employees already have and work from there.
Step 3. Analyze the Gap
You now know what you want to achieve through training, and you've already determined the level of skill your employees are currently at. Now, analyze the gap and look at how much needs to be achieved through the training process.
Step 4. Consult Your Employees
A training program designed for your employee will benefit from the input of the employees. There may be things you may have overlooked while planning that they can help bring to your notice.
So make sure that you consult your employees, seek their opinions and suggestions to enrich the overall training process.
Step 5. Provide Formal Training
Once you have a complete picture of what the training program should cover, you can look into ways of offering formal training for your employees.
You could do this by organizing a mentoring system, a workshop, or a short crash course to teach your employees a new skill set.
Step 6. Finding the Right Training Tools
Effective training involves the use of the right tools in the right combinations.
The tools used can be videos, conferences and seminars, guides and manuals, discussions and question-answer sessions, and coaching programs.
Step 7. Bring in Professional Trainers
It's always best to get some external help and bring in professional trainers. This can help take employee training to the next level.
Getting a professional to guide the training process helps in making the training process more effective and efficient. Professional training can also help bring new skills and knowledge to your organization.
Step 8. Encourage Self-Learning
While you provide training for your employees, encourage them to learn a little for their job on their own too.
A self-motivated employee is a great asset and while teaching themselves they may be able to bring to the organization new ideas and methods of doing things too.
Step 9. Evaluate the Outcomes
Once your training program is complete, evaluate how effective it has been.
Ask yourself questions like, "Were you able to achieve what you had set out to achieve? If yes, what helped you succeed, and if not, how can you make sure that doesn't happen again".
This will help you in making future training programs as successful if not more successful each time.
Now that you are well informed about the steps involved in employee training, it's time you got to know some amazing employee training tools that you can use to train your employees.
Want to find out what they are? Then scroll down!
Read more: Employee Development Plan: What is it & How to Create it? (Steps Included)
Tools You Can Use to Train Your Employees

Bit.ai is a cloud-based, new-age documentation and knowledge management platform that enables employees to communicate, share, monitor, and update all organizational material in one place.
Bit docs are simple to use and interactive, with options to co-edit and give inline comments. All of your information and work can be stored in bit's workspaces and accessed in real-time by your colleagues. It allows you to create multiple workspaces for individual use, teams, departments, or the entire company.
Bit empowers your HR team to create employee handbooks, training manuals, and other documents. These documents can be created in a variety of formats, including photos, files, videos, visual links, and charts.
Pricing: Bit.ai offers a free plan with limited features, and its pro plan starts from:
Standard ($12/month)
Plus ($20/month)
Enterprise (contact sales)

iSpring Learn is a simple cloud-based LMS for educating and assessing staff remotely.
The iSpring Suite, a powerful authoring toolkit integrated with the LMS, sets iSpring Learn apart from its competitors. Unlike some LMSs that feature built-in course builders, iSpring Suite lets you do more than just embed a YouTube video and create introductory text courses.
You may construct high-end immersive eLearning for your staff with its help, specific examinations, multimedia tutorials, and communication simulations.
Pricing:
For 100 users, iSpring Learn's plans range from $3.66/active user/month to $2.82/user/month for 500 users.
Personalized package for more than 500 users

Docebo is a scalable and adaptable framework that offers a complete enterprise learning solution.
Docebo's white labeling and branding options are two advantages that stand out right away after signing up. You may customize almost everything, from the background of a sign-in page to the layout of a course catalog; you can even customize the mobile app's logo and colors.
Docebo also supports complete localization in addition to graphic customization. It is available in 40 languages and assists huge international corporations with employee training. Staff can also contribute their expertise and best practices by uploading presentations, manuals, or visual instruction to Docebo.
Pricing
Annual pricing starts at $2,000 and can go up to $500,000.

LearnUpon is a flexible platform that can be used for both internal and external training for employees and stakeholders. The platform interface is clean and easy to use. Each client gets a personal relationship manager who is available to help with any issues that may arise.
Another amazing feature of LearnUpon is the ability to quickly switch between learning sites. This enables all groups of learners, staff or colleagues, and organizations to create and customize their own learning spaces.
Pricing
LearnUpon starts at $599 per month for 50 active users and one client portal

SAP Litmos is a cloud-based learning management system (LMS) that allows thousands of employees to instantly take, deliver, and track on-demand training. The user interface is easy to use and straightforward.
SAP Litmos has created a vast marketplace with over 15,000 ready-to-use instructional assets. The courses are delivered in a bite-size video format (5 to 20 minutes in length), which is great for employee interaction. They also have an advanced editor to assist in the creation of eLearning content.
Pricing
Starting at $6 per user (for 150 to 500 active learners), per month
For more such tools check out our post on: Employee Training Software for More Efficient Employees!
Conclusion
The success of your organization doesn't depend on your being able to hire the top talent from the best schools, but it is more about regularly training the talent you have and keeping the skill set and the knowledge of the organization up to date.
Being open and accepting of the changes in this fast-developing world go a long way in establishing your company as a reliable and dependable brand and employee training and development is the best way to do that.
Further reads:
Top Employee Management Systems You Should Be Using in 2022
Gap Analysis: Definition, Techniques & How to Perform it?
Employee Documentation: What is it and Types?
How to Ace the New Hire Onboarding Process?
Top 7 HR KPIs You Should Measure in 2022!
Onboarding Checklist: What is it & How to Create it?
Boost Employee Morale with these Effective Tips!
Run Book: Meaning, Importance and How To Create It?
Job Aid : What is it & How to Create an Impactful One for Employees?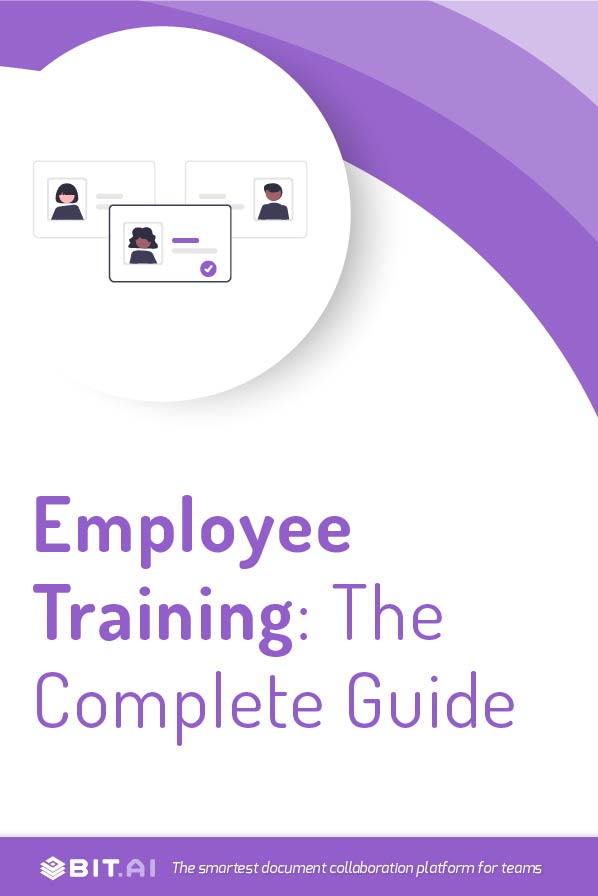 Related posts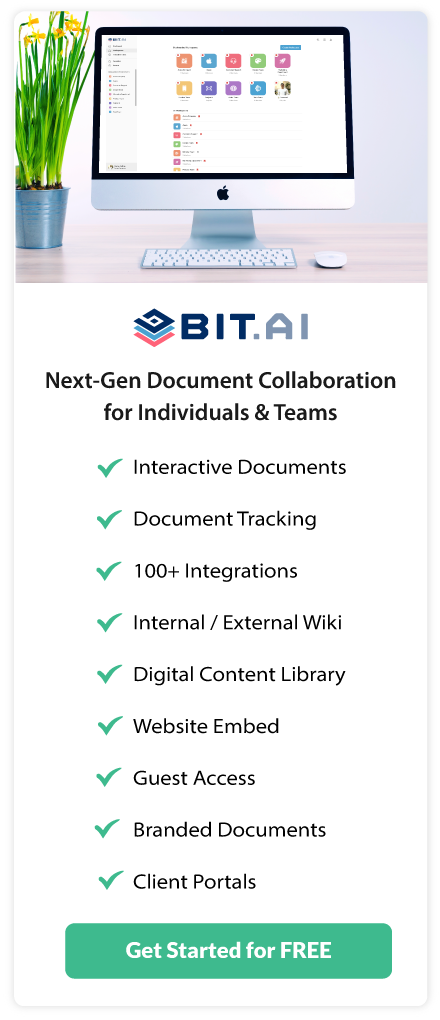 About Bit.ai
Bit.ai is the essential next-gen workplace and document collaboration platform. that helps teams share knowledge by connecting any type of digital content. With this intuitive, cloud-based solution, anyone can work visually and collaborate in real-time while creating internal notes, team projects, knowledge bases, client-facing content, and more.
The smartest online Google Docs and Word alternative, Bit.ai is used in over 100 countries by professionals everywhere, from IT teams creating internal documentation and knowledge bases, to sales and marketing teams sharing client materials and client portals.
👉👉Click Here to Check out Bit.ai.