Here's the thing: how your new hires feel in the first few weeks of joining your company will impact their performance, productivity, and their willingness to work at your company. These stats prove just that:
69% of employees are a lot more likely to stay with a company for three years if they experienced good onboarding. (Source).
Companies with a standard onboarding process experience 50% more new hire retention. (Source)
Up to 20% of employee turnover happens in the first 45 days itself. (Source)
The bottom line is, you need to set up an onboarding process that results in happiness, job satisfaction, and most importantly, long-term employee retention! Keep reading to find out how you can do all this and more!
What Exactly is New Hire Onboarding?
New hire onboarding is all about hiring a new employee and making them familiar with the company culture, their roles, and responsibilities, and their colleagues.
The new hire onboarding process starts the moment you recruit an employee and echoes throughout their tenure at your company.
It involves giving the new employees the information and tools they need to do outstanding work. The ultimate goal is to transform promising candidates into top-performing employees.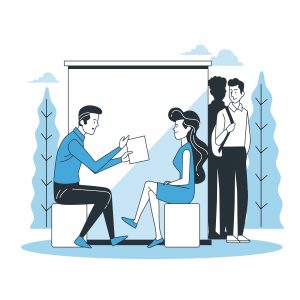 Now that you know the gist of what new hire onboarding actually means, let's take a deep look into the entire new hire onboarding process.
The New Hire Onboarding Process (Step-By-Step):
Step 1. Releasing The Offer
As we mentioned above, the new hire onboarding process starts when you recruit your employees! Once you select the right candidate after the interview, you have to present them with an offer letter, onboarding forms, and other paperwork that needs to be cleared.
Make sure that you keep this approach clear and transparent so that you can gain the trust of your employees, and they can become more comfortable with the work environment.
Step 2. Accepting The Offer
Now that you've shared the offer letter with the candidate, the next step is about accepting the offer. You can schedule a phone call or an in-person meeting to review the terms of the offer letter.
By actively answering the candidates' queries, you will be able to forge strong relationships with them. This is undoubtedly one of the most important steps when it comes to new hire onboarding!

Read more: Onboarding Checklist: What is it & How to Create it?
Step 3. The Waiting Period
More often than not, there's a gap between when an employee accepts the offer and when they join your company. Remember that even if an employee has accepted your offer, it doesn't necessarily mean that they will show up on the date of joining.
So, during the waiting period, it's extremely crucial to build a good relationship with the employee. Stay in touch with them, and make them feel excited to join the organization!
Step 4. The Big Day
Usually, employees feel happy, excited, and nervous during their first day at an organization. Therefore, it's your responsibility to make them feel comfortable and welcomed.
After they've joined, you can send them a welcome email, introduce them to the team, make a lunch plan, and provide them with the resources they need to start the work.
Step 5. Coordinating With Other Departments
When a new employee joins the company, it's very important to make them familiar with the department they will be working in, and the departments they will be co-ordinating with.
It could be the IT Team, the HR, the managers, and the subordinates. To ensure a smoother new hire onboarding process, these departments can schedule orientation meetings for the new employee!
 Step 6. Training & Orientation
When you hire a new employee, the most important thing that you need to do is give them an insight into how your company works, and what exactly their role would be.
Introduce them to the vision and goals of your company, as well as the departments in your company. This orientation and training will bring the employees up to speed and get them started quickly.
Good job! You are now familiar with the complete process. In the next section, we have listed some tips you can use to win the new hire onboarding game. Ready? Let's go!
5 Ways You Can Improve The New Hire Onboarding Process
1. Prepare The Existing Employees For The New Employee
Before a new employee joins the company, inform all the existing employees about it. In the announcement, you can share the role of the new employee, their past experience, and what they would be doing at the company.
When employees are aware of the new staff that would be joining them soon, they would be more prepared to assist them. This would make the new employee feel more welcomed!
Read more: Best Employee Onboarding Tools Out There!
2. Keep The New Employee's Workstation Ready
As we all know – the first impression is the last impression. As a new employee, nothing can be worse than not having the tools that you need to start work.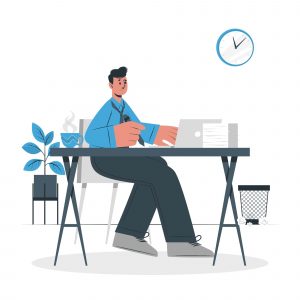 So, make sure to set up the new employee's computer, email, and all other software in advance. Also, provide them with all the necessary supplies so that they feel valued from the very first day!
Skipping this step can actually stall the new hire's onboarding process, and their ability to get to work. This would, in turn, affect their perception of your company.
3. Introduce Them To The Key People
Take some time out and introduce the new employee to all the key people and departments. They obviously won't remember everyone's names, but it will help them understand where to go if they need something.
Moreover, these brief introductions will also help them understand the work culture of your company, and what's their role in the big picture.
4. Organize a Team Lunch
A team lunch is a perfect way to break the ice and allow new employees to get to know their immediate team members – in a less stressful environment.
The best part? You don't even have to leave the office to perform this step. All the employees can bring their lunch and gather in a conference room!
5. Don't Forget to Follow-Up
This important step is often overlooked by employers! Even if you feel like an employee is doing well and they don't really need an evaluation, you need to keep checking in with them.
This is your opportunity to learn whether your new hire onboarding process is working or not. Find out what the new employee liked and disliked about the process, and make the necessary changes!
Since technology has completely transformed the way we work, it's only logical to take some help from a tool and make your new hire onboarding process more robust and efficient. Read on to know more!
Bit.ai: The Tool You Need to Make Your New Hire Onboarding Process Better

Considering that employee onboarding requires a ton of documentation, this robust, new-age workplace collaboration, and document management platform is just what you need!
On Bit, you can easily create multiple workspaces and folders around the onboarding process for each employee in order to store and manage information in an organized manner.
The best part? Bit.ai integrates with over 100+ web applications (Ex: YouTube, PDFs, LucidChart, Google Drive, etc.) so you can just embed all your important files into a Bit document and share it with your new employees.
HR managers can also get detailed insights on whether new employees opened the document given to them and how they interacted with the documents via document tracking!
That's not all! With Bit's real-time collaboration features, you can easily collaborate and work together with multiple people while creating documents. This allows your team members to edit, add and proofread the document in real-time. So cool, right?!
Wrapping Up
Here's a simple truth: your employees are only going to stick around for a long time when they feel valued – on both a personal and professional level.
Keep in mind that the first few days have the most impact on a new hire's perception of your company. It literally sets the tone of their relationship with the company.
So, be thoughtful, do your homework, implement the steps and tips that we've shared, and work on your onboarding process. Good luck!
Further reads:
Top 9 Customer Onboarding Software Platforms For Businesses
How to Create a Talent Acquisition Process Documentation?
Top 9 HR Software and Tools for Human Resource Departments!
Job Aid : What is it & How to Create an Impactful One for Employees?

Related posts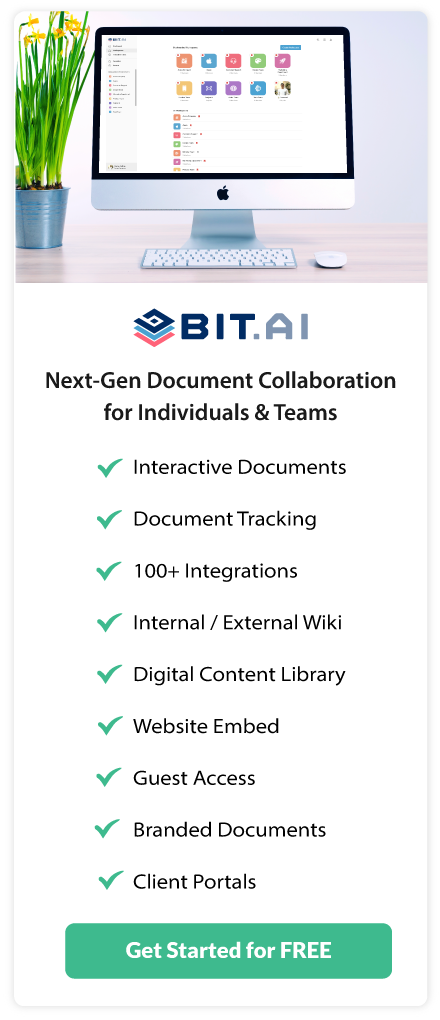 About Bit.ai
Bit.ai is the essential next-gen workplace and document collaboration platform. that helps teams share knowledge by connecting any type of digital content. With this intuitive, cloud-based solution, anyone can work visually and collaborate in real-time while creating internal notes, team projects, knowledge bases, client-facing content, and more.
The smartest online Google Docs and Word alternative, Bit.ai is used in over 100 countries by professionals everywhere, from IT teams creating internal documentation and knowledge bases, to sales and marketing teams sharing client materials and client portals.
👉👉Click Here to Check out Bit.ai.