Looking for awesome sales and marketing tools to grow your business? You've come to the right place!
Did you know that 73% of sales teams say collaborating across departments is absolutely critical or very important to their overall sales process? On top of that, a massive 86% of employees and executives cite a lack of collaboration or ineffective communication for workplace failures.
Collaboration and teamwork not only result from having great people around and delegating tasks in teams. Our tools- PCs, laptops, software, apps, etc. all play a huge role in determining our degree of collaboration and willingness to collaborate.
Regardless of the industry or field, you belong to, every profession requires a quality set of tools to get their jobs done efficiently. These tools, whether it is a desktop or mobile app, allow us to get our work done quickly, improve quality, serve customers, and hence, provide a competitive advantage.
List of Top Sales and Marketing Tools in 2022
There is no one-size-fits-all toolset for all organizations. Every business has different goals, wants, and needs and thus, requires different sales and marketing tools like:
Social media automation
Customer service
Website analytics
Team collaboration
CRM systems
Let's dive straight into our picks for some of the best sales and marketing tools on the market right now.
Next-Gen Document Collaboration for Teams & Clients.
Marketers and salespeople often find themselves creating a lot of documents in the form of presentations, project proposal documents, case studies, blogs/articles for content marketing, research documents, sales decks, etc.
Bit is a modern-day collaboration tool that empowers sales and marketing teams to collaborate on client deliverables, marketing campaigns, reports, projects, proposals, and much more while in a common workplace. Bit documents allow users to add rich digital content across various platforms like Google Spreadsheets, Typeform, YouTube videos, and much more. Communicate more effectively by weaving together various forms of digital content to communicate more effectively.
Bit helps sales and marketing teams track audience engagement levels on the documents they share. You are able to track how much time was spent on your smart document, how far your audience scrolled (scroll ratio), how often they viewed it, and much more. This insight allows teams to improve the content that is being shared and created to increase engagement levels on the content created and follow up with prospects, clients, and partners appropriately.
Key Features
Embed rich media to boring docs
Track documents
Read more: 16 Best Business Tools Every Business Needs in 2022

Create Newsletters and Web Pages in Minutes.
Here's one especially for content marketers. elink.io is an amazing all-in-one content curation & marketing tool that helps marketers and content creators publish email newsletters, web pages and embed web content by just adding web links!
Turn any web links (articles, videos, etc.) into visual content in seconds. You can convert collections to email newsletters and export to MailChimp, Gmail & all third-party email providers that allow HTML code (including Campaign Monitor, MadMimi, Active Campaign, etc.).
Users can also track content performance and engagement levels on the content you create. elink offers 30+ beautiful prebuilt responsive layouts, so you never have to worry about design and can just focus on your content. This time-saving tool will change the way you create and share content.
Key Features
Analytics
Awesome templates
Quick and easy to use

The one place for all your projects and team collaboration
If your sales and marketing teams are looking for a powerful and effective tool to manage all their work and collaborate from a single location then ProofHub can be the right choice. 
ProofHub is a simple yet highly functional project management and team collaboration tool that enables teams of all sizes across various departments to access, share, and collaborate on all their tasks and projects in the most efficient way possible.
ProofHub's File management tool allows users to create, store, and organize all their docs and files in a single location while the task management tool enables team managers to create, allocate and monitor tasks. Communication features like Group chat, Discussions, and Real-time updates ensure that vital information is shared quickly. 
ProofHub allows sales and marketing teams to create custom reports and visualize overall project progress. An inbuilt time management tool enables users to track how much time they end up spending on various tasks while the Table view makes it easy to prioritize and sort tasks. 
Key Features: 
Custom fields

Proofing tool

Gantt charts

App integrations

Scheduling calendar

Stickies and Bookmarks

Project templates 

Grow Your Business with Interactive Campaigns
Woorise is the easiest way to create viral giveaways & contests, landing pages, and engaging forms such as surveys and quizzes from a drag & drop builder. Woorise helps small businesses connect with an audience, collect leads, and close sales.
With Woorise you can create a wide range of interactive campaigns for your business including promotional campaigns, lead magnet campaigns, NPS campaigns, marketing and feedback surveys, event registration and signup forms, collect payments and subscriptions, and much more.
Woorise integrates with popular marketing platforms such as Mailchimp, Aweber, ActiveCampaign, Hubspot, Google Analytics, Bitly, Zapier, PayPal, Stripe, and many more to automatically send the data to the apps you already use.
Key Features:
Build beautiful, cross-device online forms, quizzes, surveys & more
Easy and fast design with a drag and drop builder
Get a quick start with templates
Export data to CSV or Excel files
Hundreds of different field types & social actions
Send personalized Email Notifications
Create campaigns in any language
Geo-Targeting to make your campaign available to specific countries
Multi-Page Forms
Conditional Logic
GDPR Compliance
Real-time analytics
Read more: Employee Training Software for More Efficient Employees!

A new and better way to acquire, engage and retain customers
Intercom is a customer communication platform that helps companies study and personalize their interactions with customers and allows them to send highly personalized and targeted messages.
Intercom allows businesses to track and understand their customer behavior. It helps in understanding and examining areas within the platform where customers get stuck or need any sort of help. This helps you identify trends and find ways to improve the user experience.
Businesses can also send in-app messages to their users based on their behavior and strike a conversation. The feedback you can receive when you're chatting live with your customers is incredibly useful to form relationships, gain insights on how well you're doing at meeting their needs and expectations.
Key Features
In-app communication
Track customer behavior
Push messages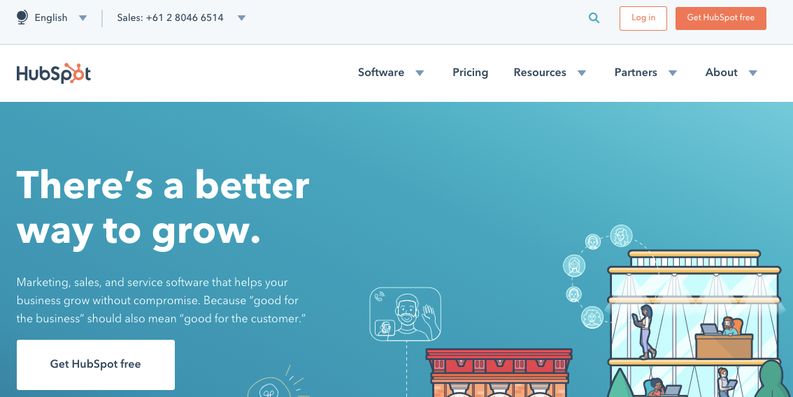 There's a better way to grow.
If you or your team use inbound marketing to generate leads, then you'll love HubSpot. HubSpot is an inbound marketing platform with a supporting suite of sales and CRM platforms.
It is a well-known and widely used digital marketing software with over 34,000 customers worldwide. Hubspot provides salespeople with all the bells and whistles they need to convert customers, interact with them, provide customer support, target the right audience, and measure the results of your campaigns.
Hubspot offers various solutions for different sales objectives. These include:
HubSpot Sales Free
HubSpot CRM
HubSpot Sales Professional
Key Features
Lead Generation
Marketing Automation
Knowledge Base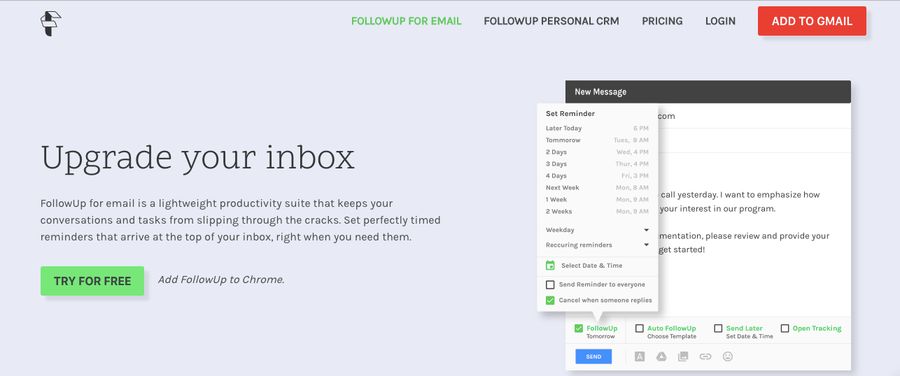 Upgrade your inbox
Did you know that 80% of sale conversions require five follow-up attempts and yet, over 44% of salespeople give up after the first attempt?
A critical activity that can make or break your sale is following up on a sale. However, following up becomes a mess as the number of prospects you are dealing with increases. This is where FollowUp.cc comes in to save the day.
FollowUp.cc is a chrome extension that seamlessly integrates with your Gmail account and helps you organize your follow-ups. Whenever you are sending an email, the extension reminds you to schedule a follow-up for the future.
You can even snooze low-priority emails and focus completely on the things that matter the most. It also allows you to auto follow-up on emails, tracks email opens, set recurring reminders, and much more.
Key Features
Set reminders
Schedule follow-ups
Email open tracking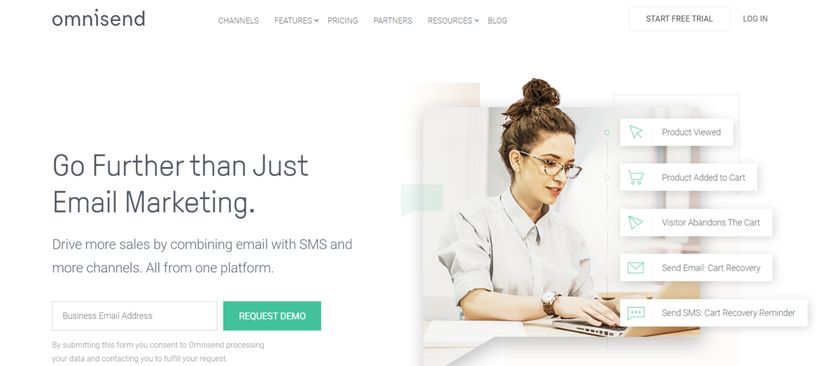 Start selling more today!
Omnisend is an omnichannel marketing automation platform built for eCommerce with the main focus to increase sales.
Omnisend allows customers to send highly personalized and targeted messages using different channels: email, SMS, push notifications, FB Messenger, and more.
Email marketing is the core channel at Omnisend. Customers can use a drag-and-drop visual builder that allows them to create messages in just a few clicks. Advanced email automation and segmentation solutions, pre-built automation workflows, subscriber capture forms like popups, and landing pages help to scale and automate business communication with customers.
Key Features
Omnichannel Marketing (email, SMS, push notifications, and other channels)
Advanced Email Marketing Automation
Email Capture Forms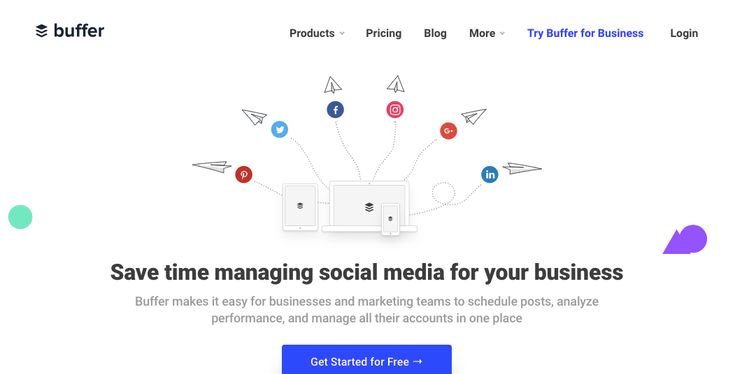 Save time managing social media for your business
If your sales and marketing strategy revolves heavily around social media, then you might want to try out Buffer. A well-known social media management tool, Buffer allows you to manage posting to multiple social media profiles from a single dashboard.
Buffer is an easy way to schedule posts, track the performance of your content, and manage all your accounts in one place.  With smart analytics, Buffer determines which content is performing the best and thus allows you to make strategies accordingly.
Buffer's browser extension integrates with WordPress, Chrome, and RSS readers. It is a handy addition that allows you to save content on the go and schedule it for later.
Key Features
Content scheduling
Analytics
Browser Extension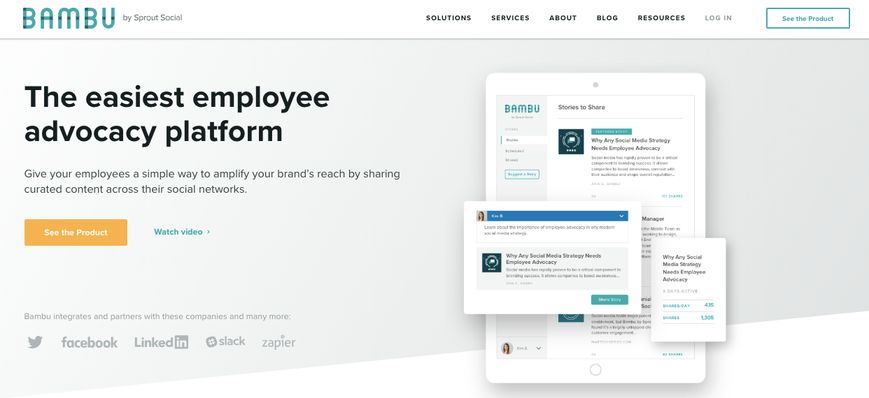 The easiest employee advocacy platform
Here are some interesting stats for you:
Did you know that leads developed through employee social marketing convert 7x more frequently than other leads?
Or the fact that content shared by employees receives 8X more engagement than content shared by brand channels?
Companies are beginning to experiment with employee advocacy to raise brand awareness, increase trust, and drive revenue. Bambu helps you do just that. It helps convert your employees into brand advocates by providing them the tools to share their company's content on the social web and measure results.
In case you are unaware of the term, employee advocacy is the promotion of an organization by its employees and staff.
According to Bambu, each employee has, on average, 846 social connections. Bambu aims to exploit those untapped connections to increase market reach, broaden sales audience, boost social recruiting and increase brand awareness.
Key Features
Full onboarding support
Dedicated meetings
Premium customer care
Read more: 12 Sales KPIs Your Sales Department Should Measure!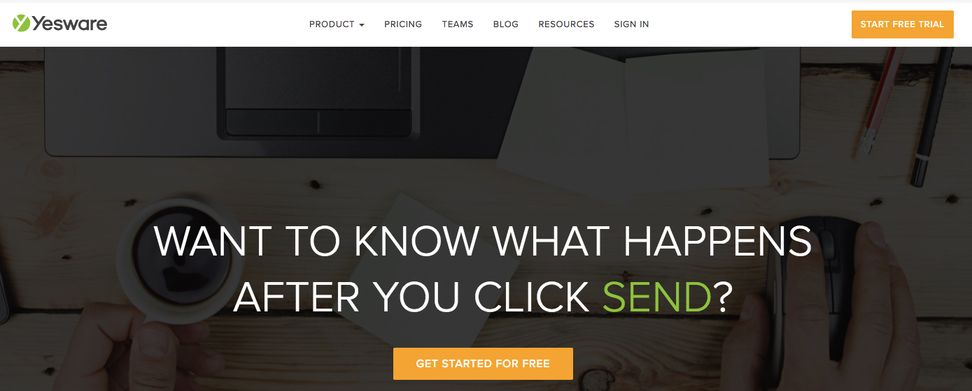 Want To Know What Happens After You Click Send?
Email is the go-to communication tool for salespeople to reach out to prospects and clients to discuss business. However, with email, you don't get critical data insights like open rates, link clicks, or page views.
You never know whether that email you sent to your prospects ever opened or read. This is where this Gmail plugin comes in. Yesware is a useful Gmail plugin that gives you the ability to track your email after it is sent.
Just click the "track" button next to the email and hit send. You can then easily track whether they have opened your email or clicked on your link. You can also create and save email templates to reuse later and test different subject lines.
With the intelligent data you receive from Yesware, you can easily determine which template or subject line works best and up your email marketing game.
Key Features
Create personalized campaigns
Automatically log activity data
Tracking

Send a Video, Not a Thousand Words.
Loom is a Chrome Extension that lets users communicate with each other using videos. It is a simple plugin that you can install on Google Chrome which then lets you create instant video responses and share it with others.
Loom is a simple tool that lets you record videos for any business purposes- whether you want to record a detailed video response to an email, share a video response to a customer for better explaining the troubleshooting steps, embed video tutorials on your website, share quick videos on social media, etc. Loom can help businesses in a number of areas:
Close more deals by sending video pitches
Give product or design feedback
New employee onboarding training material
Team announcements
Team training & Wiki
Walkthrough a Product Demo
Key Features
Seamless integrations
Video chat
User-friendly interface
Read more: 10 Best Video Conferencing Software For Teams

Don't let another conversation disappear into thin air.
According to Chorus, only 5% of the information on customer-facing calls ever makes it into the CRM. Chorus.ai is the first platform that allows users to capture all customer-facing conversations and seamlessly search, share, and analyze them. "The platform for VPs of sales", Chorus automatically records, transcribes, and analyzes meetings in real-time.
Chorus helps salespeople and employees by providing them critical insights regarding their sales calls and meetings. It basically "eavesdrops" on your calls and extracts insights from audio.
This helps you see how your meetings went, why the deals were won or lost, and how you can further improve the buyer's experience. The information collected by the chorus can also be useful in training new hires about the best practices and the things to avoid.
Key Features
Transcribe meetings in real-time
Employee training
AI-powered insights
Conclusion
These are our picks for the best sales and marketing tools out there. From customer management, employee advocacy, to social media management and team collaboration, we have covered a broad range of tools for you to choose from.
These sales and marketing tools can significantly improve the performance of your business, enhance productivity, streamline workflows, and drive revenue.
Now that you have this list, there is no need for your sales and marketing teams to lag behind their targets and be disjointed in their efforts!
In case we missed your favorite tool, do let us know by tweeting us @bit_docs.
Further reads :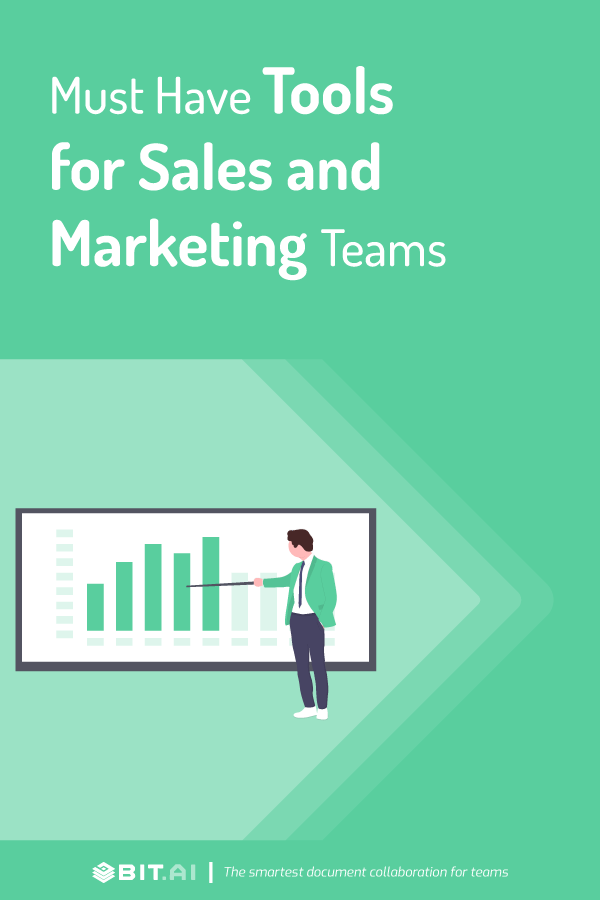 Related posts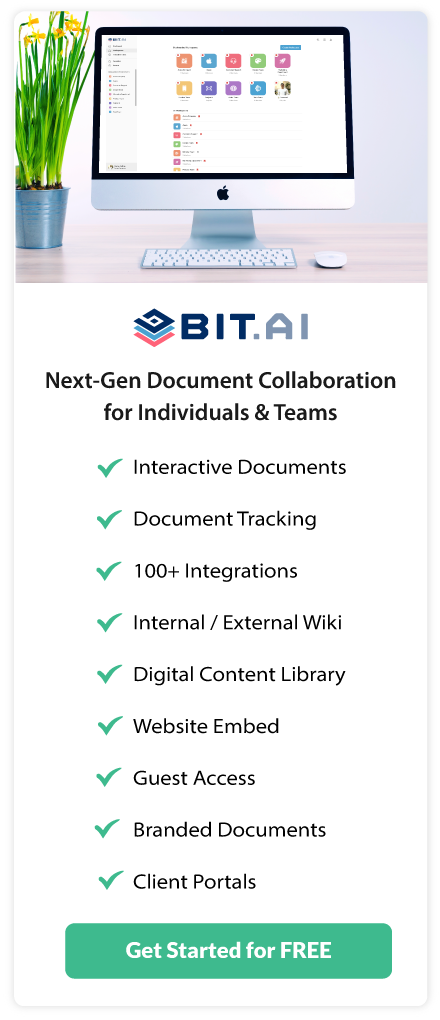 About Bit.ai
Bit.ai is the essential next-gen workplace and document collaboration platform. that helps teams share knowledge by connecting any type of digital content. With this intuitive, cloud-based solution, anyone can work visually and collaborate in real-time while creating internal notes, team projects, knowledge bases, client-facing content, and more.
The smartest online Google Docs and Word alternative, Bit.ai is used in over 100 countries by professionals everywhere, from IT teams creating internal documentation and knowledge bases, to sales and marketing teams sharing client materials and client portals.
👉👉Click Here to Check out Bit.ai.