What if you want to become an entrepreneur and want to make money online but have no product or service to sell? Sounds familiar? If this is you, affiliate marketing is the concept you need to know right now!
Selling other people's products or services and getting a commission on the sale is the core concept behind affiliate marketing. Affiliate marketing is based on the concept of revenue sharing and is as old as the internet itself. If you are interested in making some passive income online and want to learn more about how affiliate marketing and joining affiliate programs can earn you money while you sleep, this blog post is for you!
But first, let's start with the basics…
What is Affiliate Marketing? (Definition)
According to Wikipedia, "Affiliate marketing is a type of performance-based marketing in which a business rewards one or more affiliates for each visitor or customer brought by the affiliate's own marketing efforts."
In other words, affiliate marketing is a method of monetizing your blog or social presence by recommending digital products or services to people and earning a commission if someone buys the product.
It's a commonly used marketing tactic by Brands and merchants as they can have people (affiliates) sell products on their behalf and offer a financial incentive, i.e. a commission on every sale they make. A win-win situation for all parties involved! Just take a look at the following stats to understand the popularity and legitimacy of affiliate marketing:
81% of brands and 84% of publishers leverage the power of affiliate marketing
There is a 10.1% increase in affiliate marketing spending in the United States
About 0.67% of Youtube videos contain at least one affiliate URL.
Affiliate marketing will be a $6.8 billion industry by 2021.
Affiliate marketing accounts for 16% of online orders.
38% of marketers think affiliate marketing is a top acquisition channel.
As of August 2019, Google searches for "affiliate marketing" are at a record high level since tracking began in 2004.
For bloggers and influencers to become eligible to sell a company's products, they need to apply to their affiliate program. Which begs the question…
Read More: 11 Awesome Affiliate Marketing Tracking Software To Skyrocket Sales!
What is an Affiliate Program? (Process)
An affiliate program is nothing but an agreement following which a brand pays a blogger/ influencer ("the affiliate") a payment (commission) for sending traffic and/or sales their way.
You have to first apply to the affiliate program and wait for your account to be approved. Different companies have different acceptance criteria which could be the number of monthly views on your website/blog, the number of YouTube subscribers, the number of social media followers, or something else.
Once you get selected in an affiliate program, you will get a unique link by the merchant, often referred to as an "affiliate link". This affiliate link is trackable using cookies, and it is what allows the merchant to find out how many sales you sent their way so they can pay you your commission accordingly.
Some common terms associated with Affiliate Programs: 

Acceptance Criteria: While many businesses don't have any acceptance criteria and allow all affiliates to join their program and get a shot at earning commissions, some businesses do have certain restrictions. For example, Airbnb requires an affiliate to have an audience consisting of no less than 1M visits or app openings each month!!
Affiliate Programs Commission: Different affiliate programs offer varying degrees of commissions (a percentage of sales offered to the affiliate).
Coursera, an online education platform offers a 20-45% commission on every paying customer while Shopify offers a whopping 200% commission on the cost of a monthly subscription!
Cookie lifetime: The cookie lifetime is one of the most important aspects of an affiliate program. The cookie period is the time window the merchant will track your sales. For example, if an affiliate program has a cookie lifetime of 30-days, your referral needs to make a purchase within 30-days of clicking your affiliate link for you to get paid, or you will lose your commission. The shorter the cookie lifetime, the more difficult it becomes for the affiliate to get paid.
Payout Conditions: Most companies don't want to pay you every time you make a sale and usually require you to cross a certain threshold before they can pay you. For example, most companies don't pay you until you have made at least $100 worth of sales. Your payment is usually transferred every month.
Read more: How To Create An Effective Marketing Strategy For Your Business?
Different Types of Affiliate Programs
Before signing up for an affiliate program, you need to understand the various types of affiliate programs there are. The most important thing consider is your audience while looking for an affiliate program. No matter if you are a brand looking for affiliates or an affiliate looking for products to promote, keeping your customer at the center of this whole operation is key.
Does your customer spend more time Googling questions or getting their information from social media sites? Are they always asking you for discount coupons or are they into doing extensive research before purchasing a product?
Once you know what your target persona wants, you can choose an affiliate program that better aligns with your overall marketing goals. Here are a few different affiliate programs for you to consider:
1. Email marketing
Email still rules in the age of social media and continues to provide massive ROI for brands.
Many bloggers and influencers have massive email lists while some operate newsletters as their primary mode of business. You can reach out to such companies and negotiate a deal.
2. Bloggers/YouTubers/Influencers
 If your industry has a lot of social media influencers with a massive following and great engagement, you can reach out to them for an affiliate partnership. For example, if you work in the smartphone industry, you can reach out to top tech YouTubers on YouTube and ask them for a product review or giveaway contests.
3. Search affiliates
For affiliates, the affiliates pay for search advertising with their own money to sell a brand's product or service. These are usually SEO experts or people who have mastered social media advertising like Facebook ads. As a brand, you need to make sure that these affiliates follow every search and advertising guideline before they start promoting your product or service.
4. Review websites
There are a ton of review sites out there that help a consumer compare products. If your audience usually goes to a review site before purchasing your product, it would be helpful if you partner up with such sites and ask them to review your product or mention it in any of their content.
5. Discount coupon sites
If your brand is offering a product that is new in the marketplace, you can generate an initial buzz around it by forming an affiliate partnership with a coupon site. Such discounts can help propel your product to the mainstream, helping it gain traction amongst the masses and generating an initial sale.
Now that you know everything there's to know about affiliate programs, we know that you must be itching to join an affiliate program and see it for yourself. However, finding a decent affiliate program with longer cookie life and a hefty commission is not easy. Add to the fact that there are over 11,000 affiliate programs in the United States alone, and finding the best affiliate program becomes an impossible job.
Don't worry though, we got you covered. We decided to search every nook and corner of the internet to bring you some of the best affiliate programs out there in 2022. So, without further ado, let's dive in…
Read more: What is a Marketing Plan and How to Create One for Your Business?
8 Best Affiliate Programs you can join immediately!

Simple, beautiful, and ridiculously easy to use: Bit.ai helps individuals and teams to create documents quickly. Bit pays an industry-leading 25% commission on all sales generated from your referrals that convert to a paid plan within 90 days.
For two-year and one-year plans, you'll receive commissions on the first billing cycle. For monthly plans, you'll receive recurring monthly commissions over the first year of billing cycles. When your referrals upgrade you'll start earning commissions! You can also track all activities on your affiliate account. Awesome, right?
To get started with Bit's Best Affiliate program, just include your personal Bit affiliate link to any website, blog, YouTube video, social media account, forum, or email – the choice is yours!
Commission Rate: 25% commission on all sales generated from your referrals.
Cookie period: 90 days

elink helps marketers, influencers, businesses, and educators make content quickly and save valuable time creating email newsletters and web content!
There are no special skills required to get started with elink's Affiliate program. Just include your personal elink affiliate link to anything you want and when your referrals upgrade, you'll start earning commissions!
Just like Bit, elink.io offers a 25% commission on all the sales generated from your referrals!
For one-year and two-year plans, you'll get commissions on the first billing cycle. For monthly plans, you'll receive recurring monthly commissions over the first year of billing cycles.
It's easy peasy to join elink's affiliate program – just click the join button on this page and fill out the form. elink's affiliate team will get in touch with you shortly!
Commission Rate: 25% commission
Cookie period: 90 days
Kicking off our list is one of the most popular affiliate programs out there- Amazon Affiliates. Responsible for nearly 40% of all online sales in the US, Amazon is a great marketplace for affiliates to sell products and earn commissions. Since people are already familiar with Amazon and love to shop on its platform, there's no customer education required on part of the affiliate.
Bloggers, publishers, or any sort of content creator can sign up for the Amazon Affiliate program and start posting affiliate links to earn money. For social media influencers, Amazon recently started their Amazon Influencer Program which people can join without having any website or blog. However, you do need to have a significant social media following (Twitter followers, Facebook fans, etc). Influencers can also create their own Amazon storefront and start adding their recommended products (with unique affiliate links) to start earning commissions.
Commission Rate: 1-10% (depending on the product category)
Cookie Period: 24 hours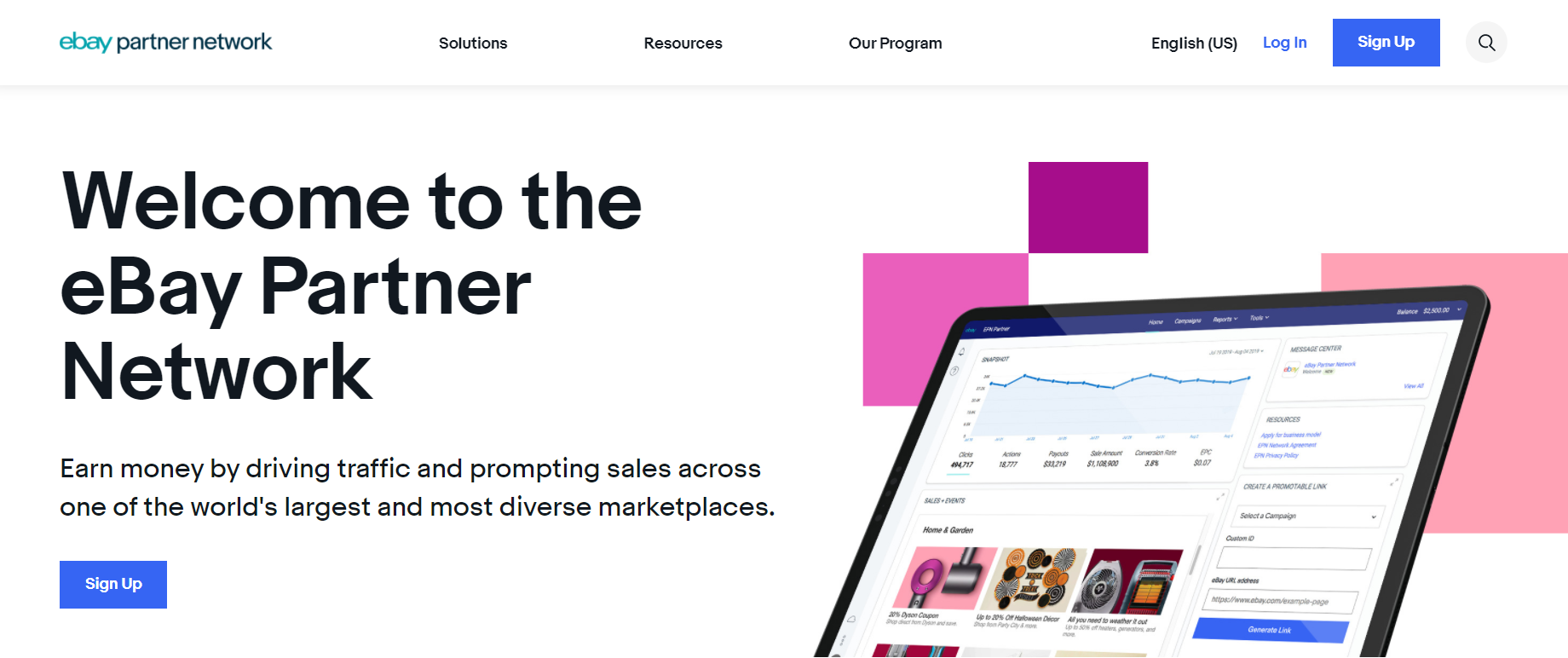 With over 200 million active buyers on the platform, eBay's Partner Network is a lucrative affiliate program for bloggers and influencers.
Depending on the product category, you can get a 50-70% commission on auction fees (not the sale price). However, the downside is the 24-hour cookie life which means that your referral must make a purchase within 24 hours for you to get your sales commission.
With eBay's reporting tools, you can quickly see all your data related to affiliate sales in one neat dashboard and optimize it easily. Find out your performance by day, campaign, category, top sellers, and more. Influencers can integrate their mobile, web, and social platforms with eBay's global inventory and get all eBay data in one place. With a global inventory of over a billion listings, eBay is a great affiliate program for you to sign up for.
Commission Rate: 50-70% of auction fees (depending on the product category)
Cookie Period: 24 hours for "buy it now" items & 10 days for auction items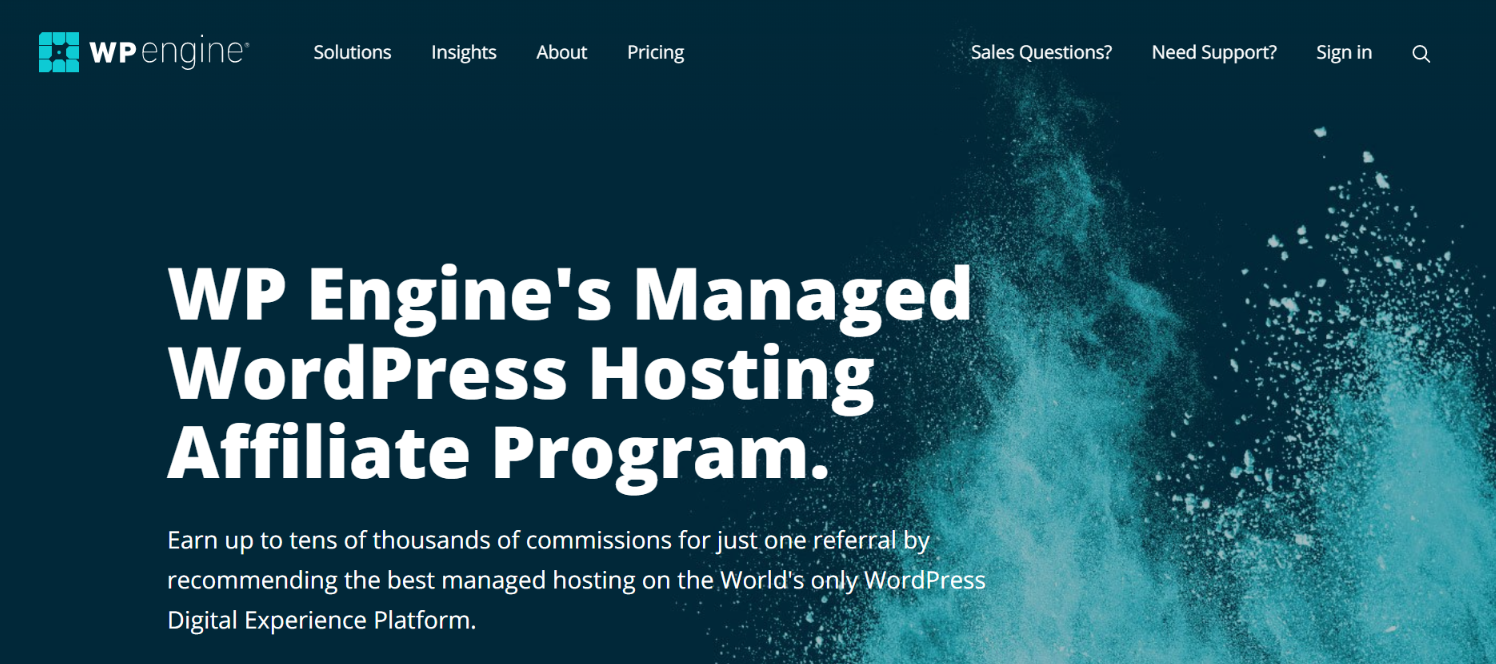 Did you know that more than 30% of the websites on the internet are built on WordPress? Every WordPress website requires hosting and that's where Wp Engine comes in. WP Engine offers a lucrative affiliate program with commissions up to $200 or 100% of the first-month payment for WP Engine & Genesis Pro sales. Apart from the hosting, you can also promote StudioPress's themes and earn a 35% commission on each sale.
WP Engine also provides exclusive, custom discounts and promotions you can share with your audience and create custom landing pages or take advantage of pre-designed ad banners. The best part of this affiliate program is its long cookie life, 180 days, or 60 days for StudioPress theme sales. WP Engine also rewards its affiliates with bonuses if you send more than 4 referrals a month. Not only can you refer WP Engine to your readers, but you can also refer it to fellow affiliates and you get $50 for each of their referrals.
Commission Rate: $200 per signup
Cookie period: 180 days
With over 500,000 active stores on the platform, Shopify is one of the biggest players in the e-commerce market. Shopify is easy to set up and has everything from website builders and hosting to analytics and payment processing. If you have an audience interested in eCommerce selling, then the Shopify affiliate program just might be for you.
Anyone can signup for the Shopify affiliate program and start referring customers. Shopify affiliates can earn an average of $58 for each user who signs up for a paid plan with their affiliate link, and $2000 for each Shopify Plus referral. Shopify has a plethora of training videos and blog posts for you to quickly understand their affiliate program and start selling quickly.
Commission Rate: 200%
Cookie Period: 30 days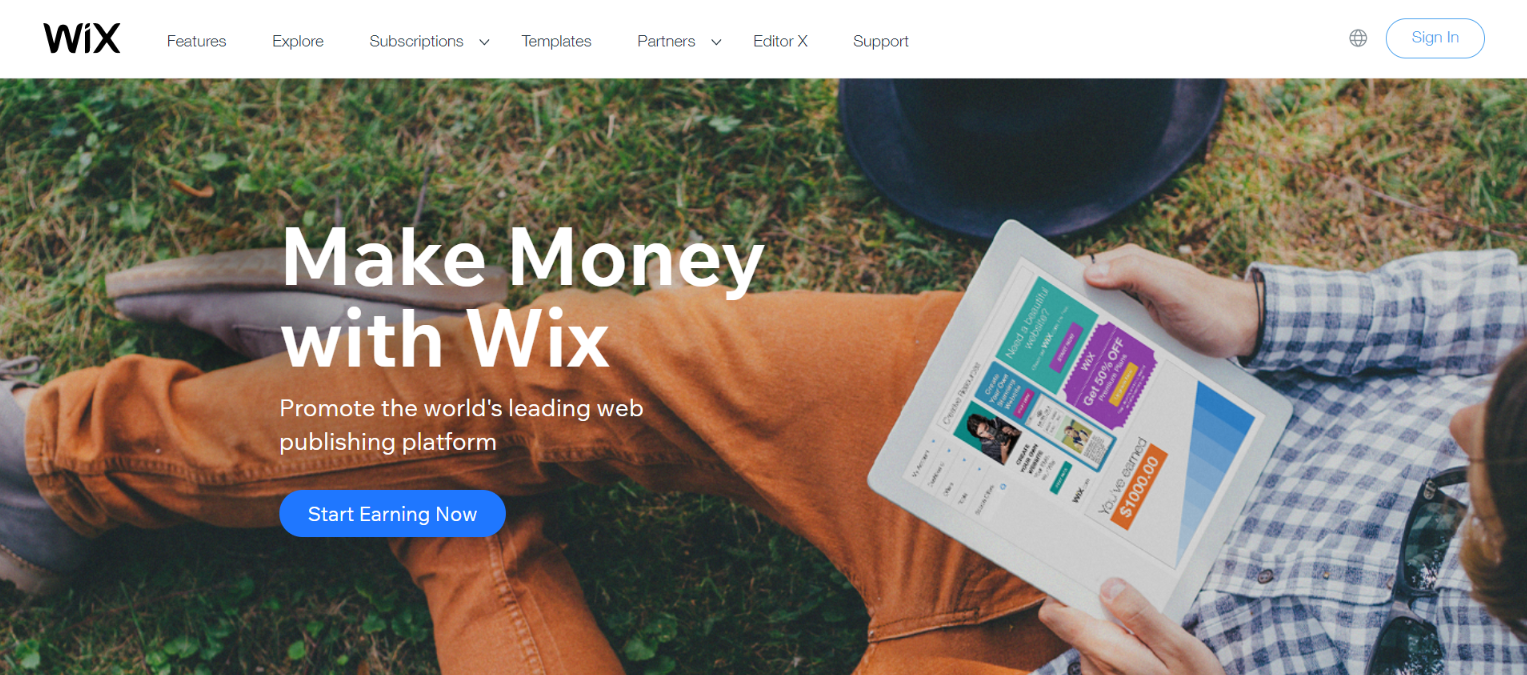 Wix is a popular website builder with over 400,000 websites on the internet powered by Wix. The platform has a $100 commission rate with no limit on how many people you can refer to, making it an amazing affiliate program for you to join. However, affiliates must earn a minimum of $300 per month to get paid.
Once your application is approved, you can go to your affiliate dashboard and start using your affiliate link on your blog or website. Wix offers a bunch of ad banners and landing pages in all languages for you to take advantage of and sell to your readers. Go to "reports" and track your traffic, view statistics, check your payments, and more.
Commission Rate: $100
Cookie Period: 30 days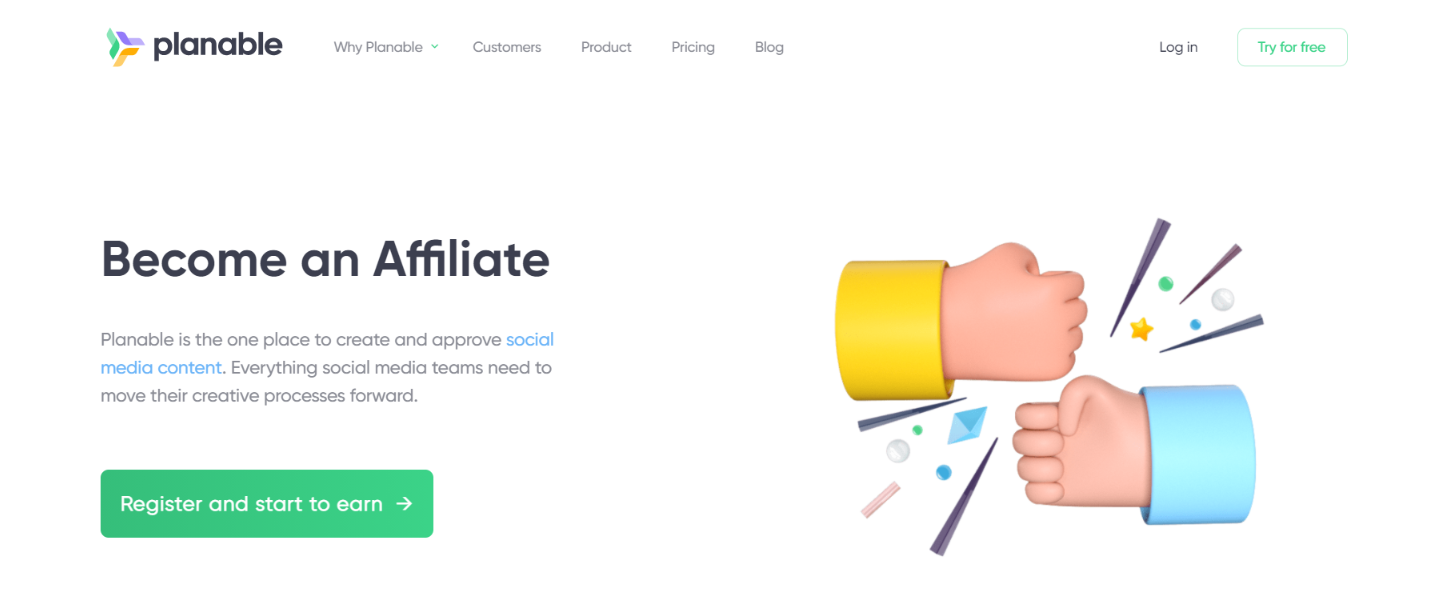 Planable is a content collaboration platform for social media teams. They help marketers collaborate to create, approve, and publish social media content faster. The Planable Affiliate Program was recently revamped and it offers a generous commission of 20% for the first 6 months of all active subscriptions you bring.
They have two standard plans: the Starter which is $33/month and the Premium plan $83/month. It's super simple to sign up and you'll receive constant materials and news to promote the product. Their cookie life is 60 days and their payments are timely.
Commission Rate: 20% for the first 6 months of any active subscription
Cookie period: 60 days
Final Words
There you have it, some of the best affiliate programs you can join in 2022. Based on your audience and their preferences, you can join any of the above-mentioned affiliate programs and start making passive income online.

Since there are no limits to the number of affiliate programs you can join, you can apply to each and every one of the above and start earning money right away! Which are your favorite affiliate programs? Did we miss out on any good one? Do let us know by Tweeting us @bit_docs
Further reads:
The Best Productivity Hacks You Can Find
Top Chrome Extensions Every Digital Marketer Should Use in 2022
25 Email Marketing Stats That'll Shock You!
How To Create A Marketing LaunchPad Document?
13 Growth Marketing Strategies You Must Know About!
17 Marketing Terms You Must Be Aware Of!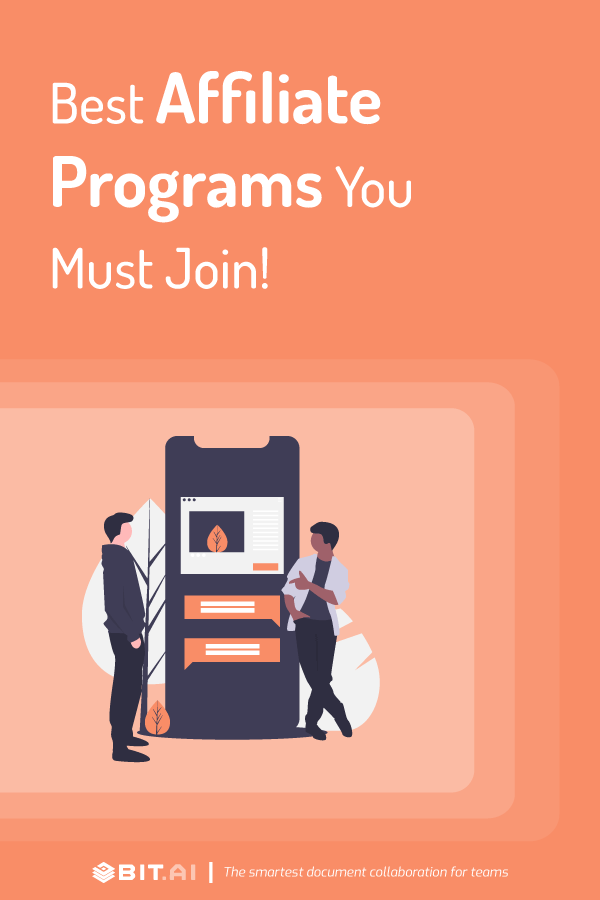 Related posts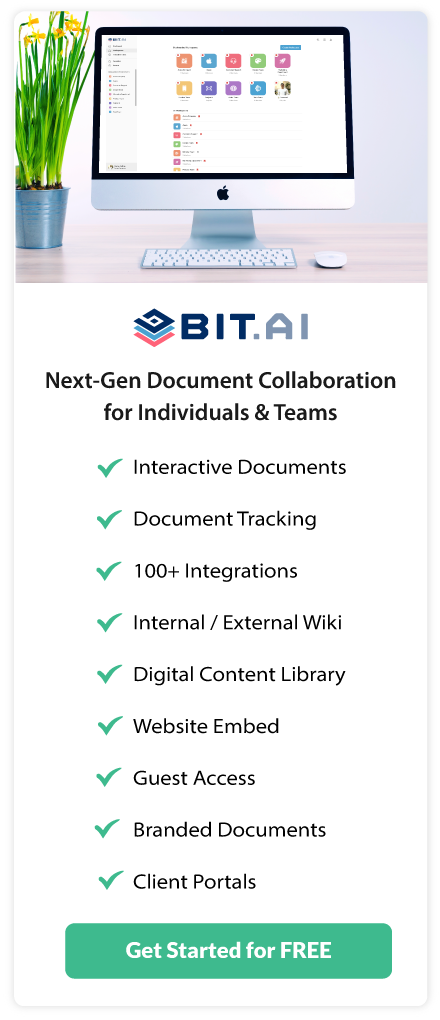 About Bit.ai
Bit.ai is the essential next-gen workplace and document collaboration platform. that helps teams share knowledge by connecting any type of digital content. With this intuitive, cloud-based solution, anyone can work visually and collaborate in real-time while creating internal notes, team projects, knowledge bases, client-facing content, and more.
The smartest online Google Docs and Word alternative, Bit.ai is used in over 100 countries by professionals everywhere, from IT teams creating internal documentation and knowledge bases, to sales and marketing teams sharing client materials and client portals.
👉👉Click Here to Check out Bit.ai.