Looking for the best sales enablement tools? Your search ends here with our carefully curated list of the top 21 sales enablement tools on the market. From cloud-based CRMs to nifty browser extensions, we have it all covered. 
We are hopeful that you will find "the best sales enablement tool(s)" on this list and take your sales efforts up a notch. If you find this list helpful, do share it with your team and peers. Cheers!
One of the biggest revenue-driving forces behind most organizations is its salespeople. Your sales force helps give your organization a chance to grow by representing the company, going out in the field, interacting with customers, building relationships, establishing trust, and closing deals!
With such massive responsibilities resting on their shoulders, salespeople need tools to help them optimize interactions with the clients and prospects to close more deals.
This is why sales enablement tools play a crucial role in the development and success of any organization. We have handpicked a list of 21 of our favorite sales enablement tools that will help your salespeople close more deals.
Before we jump into the list of sales enablement tools, let's take a refresher course on what sales enablement really means.
What Does Sales Enablement Mean?
For those of you who don't know, sales enablement can be defined as the process of providing the tools, knowledge, and data to sales professionals to help them maximize every sales opportunity.
According to IDC (International Data Corporation), sales enablement is about, "getting the right information into the hands of the right sellers at the right time and place, and in the right format, to move a sales opportunity forward".
Sales enablement is really just a fancy term for tools that help salespeople connect to their prospects and customers. Today's consumers are informed and more tech-savvy than ever. In fact, 70% of the buyer's journey is complete before a buyer even reaches out to sales.
In a world of empowered customers, salespeople need to be more digitally inclined than ever to reach their customers. We have the best sales enablement tools to do so. Let's dive in!
Read more: The Ultimate Guide To Sales Enablement Content
Our Recommended Best Sales Enablement Tools
There is no one-size-fits-all tool for every organization. Every business has different goals, wants and needs. As a result, every business will require a different set of tools. If your priorities are:
Aligning sales and marketing
Providing sales with actionable data
Forming meaningful relationships with customers
Increasing sales conversions
…one of these sales enablement tools will surely fit your needs perfectly.
Note: The sales enablement tools in this list are not ranked in any particular order. They stand out as being best-in-class. 
[/vc_column_text]
Related posts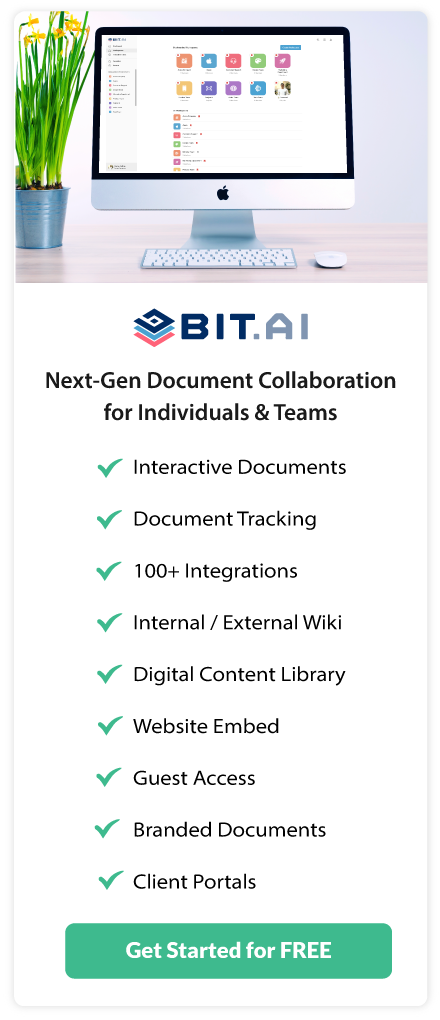 About Bit.ai
Bit.ai is the essential next-gen workplace and document collaboration platform. that helps teams share knowledge by connecting any type of digital content. With this intuitive, cloud-based solution, anyone can work visually and collaborate in real-time while creating internal notes, team projects, knowledge bases, client-facing content, and more.
The smartest online Google Docs and Word alternative, Bit.ai is used in over 100 countries by professionals everywhere, from IT teams creating internal documentation and knowledge bases, to sales and marketing teams sharing client materials and client portals.
👉👉Click Here to Check out Bit.ai.