Looking for sales deck examples? Your search ends here, with our top picks for some of the best sales deck examples. Read on…
A sales deck is an essential aspect of the sales process. It is the tipping point that decides whether or not you are going to convert your prospects into customers. Thus, taking the time to create a great sales deck is time well spent.
What is a Sales Deck? (Definition)
A sales deck is defined as a presentation, in slide format, that you can present or pitch to clients. Sales decks help prospects feel connected to your company, understand your product/services, get 'wowed' by your results, and ultimately end with a call to action. Remember your ABCs of sales…always be closing!
Bottom line, your pitch deck should give your prospects the big picture, in a concise manner.
If you're in need of a sales deck makeover, these sales decks will inspire you to revamp your messaging and imagery to help you captivate your prospective clients and close more deals. Without further ado let's dive in!
List of Best Sales Deck Examples:
We have curated a list of 20 of the best sales deck examples from companies all over the world. They will inspire you to make meaningful improvements and highlight your company, product/services, and value in captivating ways.
1. Zuora's Sales Deck Example: Visuals Help Sell Your Story
One of our favorite sales decks comes from Zuora, an enterprise software company that provides accounting software tailor-made for subscription-based services. Zuora offers three significant features, commerce, billing, and finance.
The sales deck is comprised of main images with minimal text that contain thought-provoking statements, facts, stats, etc. The image-rich backgrounds help to personalize and differentiate their brand from their competitors.
The modern and exciting imagery plays perfectly to Zuora's pitch deck message of how important it is to adapt to the changing times and those who haven't adapted failed. Zuora's pitch deck positions itself perfectly to be the solution to their prospective clients. Spot on!
Read more: Pitch Deck: What is it & How to Create an Impressive One?
2. SalesForce Sales Deck Example: Simplify the Complex
Salesforce, if you are not aware, is the company behind the world's #1 CRM solution, Sales Cloud. Salesforce's cloud-based applications have completely transformed the way enterprises communicate with customers.
With major fortune 500 companies as their customers, Salesforce's marketing cloud sales deck focuses on the high-level benefits of a complex product.
This sales deck is perfect if you need to simplify your sales and help your prospect walk down the sales journey.
You'll notice that complex processes are turned into visual diagrams and flowcharts, along with images and text overlay slides that make it easier to comprehend. It's definitely worth checking out!
3. Uber for Business Sales Deck Example: 3 Point Rule
Global taxi-hailing service Uber has a professional-looking sales deck with big, bolder images and underlying text. Uber starts with its features and goes on to discuss frequently asked questions about safety, policy control, and management in its sales deck.
Most of the slides have been created to focus on a central image and the main text. For some of the more complex slides, you will see no more than three bullet points or three boxes filled with information. By compartmentalizing detailed content, it helps audiences follow the message.
Ending sales decks and presentations with customer quotes is a powerful way to leave a lasting impression. You help them visualize how your product/service can help them too!
Read more: How To Create A Sales Process Document The Right Way!
4. Reddit Ad Sales Deck Example: Show Off Your Brand Identity
One of the largest social networking sites, Reddit, starts its sales deck with an image of a cat riding a unicorn. By sharing something visually unexpected, you likely leave your audience with a lasting impact.
Throughout the deck, Reddit focuses on maintaining it's brand identity. This sales deck example engages the audience and is not afraid to throw in memes and other pop-culture images to get their message across. Of course, this plays right into the community that Reddit has helped create. Reddit tries to stand out from boring sales pitches and aims for the "x" factor.
"Creation. Conversion. Cats." – summarizes this sales deck!
Another technique Reddit uses is that they draw in their audience right away with impressive data points. It's easy for your audience to digest nice round figures and helps clients measure how a product/service can potentially help them.
Read more: Presentation Tools That Enable Better Collaboration!
5. Snapchat Ad Sales Deck Example: Get the Headers Right
Snapchat is the pioneer of the newest form of communication- disappearing photos, videos, and messages. It is certainly a crowd favorite amongst 13-30-year-olds. Snapchat is known for having a relatively complex user interface and initially, they had difficulty in getting marketers and brands excited about promoting via Snapchat.
In 2014, Snapchat created a detailed sales deck explaining their product's basics, it features, and examples of how people are using Snapchat to engage with one another.
Although Snapchat created a detailed sales deck filled with fine print and explanations, they broke their sales deck up by major points that their reader couldn't miss. This technique is really helpful when a user is reading through your sales material and maybe skimming it. The bold highlighted text that screams 'Our Story' or 'What Do I Snap' helps clients to choose their own adventure. 
It's important to remember that all of your prospects have different levels of understanding about your product/service and space. By creating sales decks that can help prospects of varying levels of knowledge is important as you work to close your deal!
Read more: 6 Awesome Video Presentation Software and Tips to Follow!
6. Tumblr Ad Sales Deck Example: Less Slides & More Content
Blogging giant Tumblr released a new "web-in-stream" ad product that allows brands to be a part of the 'greatest content stream' on the internet. With a short six-slide-long sales deck, Tumblr gets straight to the point of what in-stream ads mean and why brands should care.
By choosing to keep their sales deck brief with only 6 slides, they were able to add more content inside of each slide. However, it's difficult to use the same technique on a slide deck of 20 slides filled to the brim with information, because you could potentially lose your client's attention.
If you can get straight to the point, this technique may work for your sale.
Read more: Sales Pitch: What is it & How to Create a Killer One?
7. WeWork Sales Deck Example: Variety of Visual Charts & Graphs
The pioneers of the co-working space mania, WeWork, provides shared-workspace, communities and services for entrepreneurs, freelancers, startups and small and large businesses. WeWork operates in over 16 countries and is now valued at $20 billion.
WeWork's sales deck example begins by explaining what they do and how the industry they are serving needs their solution now more than ever. They have heavily relied on charts and flows to get their message across.
It's important to note that they have taken the time to add images, logos,  highlighted colors and a variety of chart styles to make each slide unique and interesting.
8. ProPad Sales Deck Example: Focus on the Prospect
Propane is a product management software that allows managers to share ideas, review, get feedback and create product roadmaps that keep the team informed and aligned.
This sales deck starts off by describing the problem they intend to solve and slowly moves into their value proposition. One technique Pro Pad deploys with their pitch deck are simple slides trickled throughout that have one bold sentence and bullet points on nearly all of their slides focusing on the words you & your.
It's important for prospects to understand and subtly visualize how your product/services can help them. By speaking directly to their prospects, they help answer the what, why & how questions audiences have as features are presented to them.
9. Office 365 Sales Deck Example: Use Color for Impact
Office 365 is Microsoft's subscription-based productivity suite that offers apps like Word, Excel, PowerPoint, OneNote, Outlook, Publisher, and Access.
Office 365's sales deck follows the color scheme of all their productivity apps to maintain synergy. They have images of professionals working in the background to promote productivity and collaboration, and on each screen, they highlight important text behind a bright, vivid block of color.
Color is a great way to grab the attention of your audience and get their eyes to move around a page and focus on what's important.
10. Crew Sales Deck Example: Keep it Minimal 
The crew is an online marketplace for hiring freelancers, graphic designers, illustrators and software developers. Crew's freelancers have completed work for companies like Dropbox, Eventbrite, Medium, and Tinder.
Crew's sales deck is a perfect example of what a minimal deck looks like. As you go through this deck, you'll see that it mainly comprises of single images, graphs & sentences entered in the middle.
This technique conveys your message succinctly on each slide. These types of sales decks are great when you are presenting so your audience doesn't get distracted by the presentation behind you.
11. LeadCrunch Sales Deck Example: Play with Text Hierarchy
LeadCrunch uses artificial intelligence to mine quality, top of the sales funnel leads for B2B businesses.
LeadCrunch sales deck plays with font styles and sizes to create hierarchies on each page. They are subtly telling their audience what words/phrases to read first and which ones are the most important.
They have done a great job of making sure that each slide feels different with colored backgrounds, charts, and fonts. Although the deck is 20 slides deep, it goes fast because they have done such a great job with their visuals to help get their message across.
12. Mattermark Sales Deck Example: Define the Problem You Solve
Mattermark is essentially Google search for B2B businesses. Mattermark allows users to search for companies, employees, and investors in order to create an actionable list of leads. Mattermark's sales/pitch deck does a great job of showing the problem they solve and their solution.
Whether you are selling to investors or prospects, it's important that they understand the problem you are solving and how your solution is the best one out there.
Remember if you can't define your problem, unfortunately, no one is going to care about your solution! We all want to buy services/products that help us solve the problem we have.
13. Relink Sales Deck Example: Play with Backgrounds
Relink is a technology startup that makes use of artificial intelligence and data science to connect applicants to jobs and jobs to applicants. Relink's sales deck really makes it a point to stress the problems in current recruitment processes and how Relink's technology can be used to be future-ready.
Relink's sales deck example has done a great job playing with background images to draw in audience interest and create visual appeal. It's important to note that your slide deck backgrounds should never take away from your central message.
You can see from Relink's sales deck example that they play with transparency and color on top of background images to make sure their text is the central focus of each slide.
14. LinkedIn Sales Deck Example: Long Decks Can Be Interesting Too
Everybody's favorite professional social network, LinkedIn was founded in 2002. It is a social networking website/app that allows individuals to connect with other professionals in their industry. Just like their site, LinkedIn sales deck is as professional as it can be.
LinkedIn's sales deck checks all the boxes of a great sales deck filled with information, visuals, and graphs. One important thing that stands out, is its sheer length. Depending on your product/service or sale, there are times when you need a longer pitch deck.
It's important that you capture your audience's attention all the way through from the beginning to the end. LinkedIn created a perfect combination of a captivating, interesting and informational sales deck.
15. Buzzfeed Sales Deck Example: Straight to the Point
Buzzfeed is an internet media company that delivers entertainment, celebrity and trendy news to millions of people across the internet. Buzzfeed's sales/pitch deck oozes confidence.
Starting their sales deck with the "where we are" section shows how much pride Buzzfeed has as they walk their audience on a journey of where they are headed.
Buzzfeed keeps their deck to the point. It's difficult for the audience to be confused as they go from slide to slide. Sometimes less is more!
 16. YouTube Sales Deck Example: Sometimes What You Do is More Important than How it Looks
With over a billion users, almost one-third of all internet users are on YouTube. On mobile devices alone, YouTube reaches more 18-34, and 18-49 year-olds than any cable network in the U.S. YouTube has come a long way after being acquired by Google for $1.6 billion in 2006.
Their sales/pitch deck shows the early stages of YouTube and how it was meant for bigger things. YouTube knew they wanted to be the "primary outlet for user-generated videos" and succeeded in getting the message across to the investors and the public in general.
What is fascinating about this deck is the focus on the large font, with no visuals. There are times when your idea, product & service are so great that your audience might not mind a simplistic message via plain text on slides.
17. Moz SEO Sales Deck Example: Tie It Together with a Call to Action
Started way back in 2004 as an SEO company, Moz has grown to become a pioneer in content and inbound marketing. With a plethora of experience in getting visibility across the internet, Moz is an SEO and content marketing powerhouse.
It works perfectly for both beginners and advanced users, from keyword research tools, an SEO keyword generator, to link analysis to help companies improve their link quality.
Moz SEO's analytics experience comes handy on their sales deck, which is full of rich data, key insights, and market trends. Graphs, charts, and tables- you name it, Moz's sales deck got it all! This visually pleasing sales/pitch deck helped them raise over $18 million.
As you create your pitch deck, keep in mind what you ask. There's a reason you created your sales deck. Make it clear to your audience that they need to act as you make your case. Check out the last slide of this sales deck and how they delivered their call to action.
18. Foursquare Sales Deck Example: Add Details for Self Service
Foursquare is a local discovery platform to find the best places to visit in your area. Foursquare's sales deck does a phenomenal job of explaining the product, its features and incorporating social-proof to quickly gain credibility amongst investors.
There are times when you want your sales deck to be read thoroughly and fully understood by your audience. This is a great example of how to add details to your slides to make your sales/pitch deck 'self-service.'
19. Buffer Sales Deck Example: KISS – Keep it Simple 'Silly'
Buffer is a well-known social media management tool that allows you to manage multiple social media profiles from a single dashboard. Buffer is an easy way to schedule posts, track the performance of your content, and manage all your accounts in one place.
Below is the sales/pitch deck they used to raise half a million dollars from angel investors. Buffer's sales deck is fast-paced, starting with the impact of social media on the internet. Buffer then goes on to discuss their milestones and how they plan to continue growing their product.
20. AppsFlyer Sales Deck: Why speak when you can show!

Appsflyer is a mobile attribution and mobile analytics platform based out of Israel. AppsFlyer helps app marketers to measure social ads, CPIs, in-app events, QR-codes, etc to make better-informed marketing decisions.
AppsFlyer's sales deck is a classic example of "images trump written text" as their entire sales deck is filled with images, graphs, charts, and tables. Analytics can be a tough topic to explain and you don't want to bore your clients with lengthy text-filled slides describing how the product works.
AppsFlyer does an amazing job by making use of pie charts, flow charts, and lots and lots of data to make a case and explain how AppsFlyer is the go-to mobile analytics platform. Take a look…
Conclusion
So there you have it. Our picks for the top 20 best sales deck examples of all time.
These sales deck examples will surely inspire you and get the creative ball rolling. Now go raise some money, impress some clients, and convert those prospects into customers!
Did we miss any sales deck examples that you think should have made the list? Which ones are your favorite? Do let us know in the comment section below!
Further reads: 

Related posts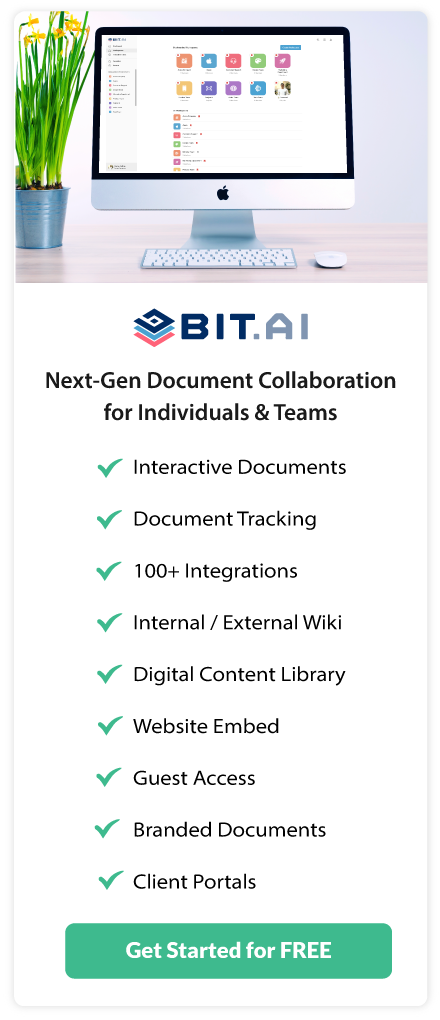 About Bit.ai
Bit.ai is the essential next-gen workplace and document collaboration platform. that helps teams share knowledge by connecting any type of digital content. With this intuitive, cloud-based solution, anyone can work visually and collaborate in real-time while creating internal notes, team projects, knowledge bases, client-facing content, and more.
The smartest online Google Docs and Word alternative, Bit.ai is used in over 100 countries by professionals everywhere, from IT teams creating internal documentation and knowledge bases, to sales and marketing teams sharing client materials and client portals.
👉👉Click Here to Check out Bit.ai.